This article was originally published in the Global Soft Power Index 2022.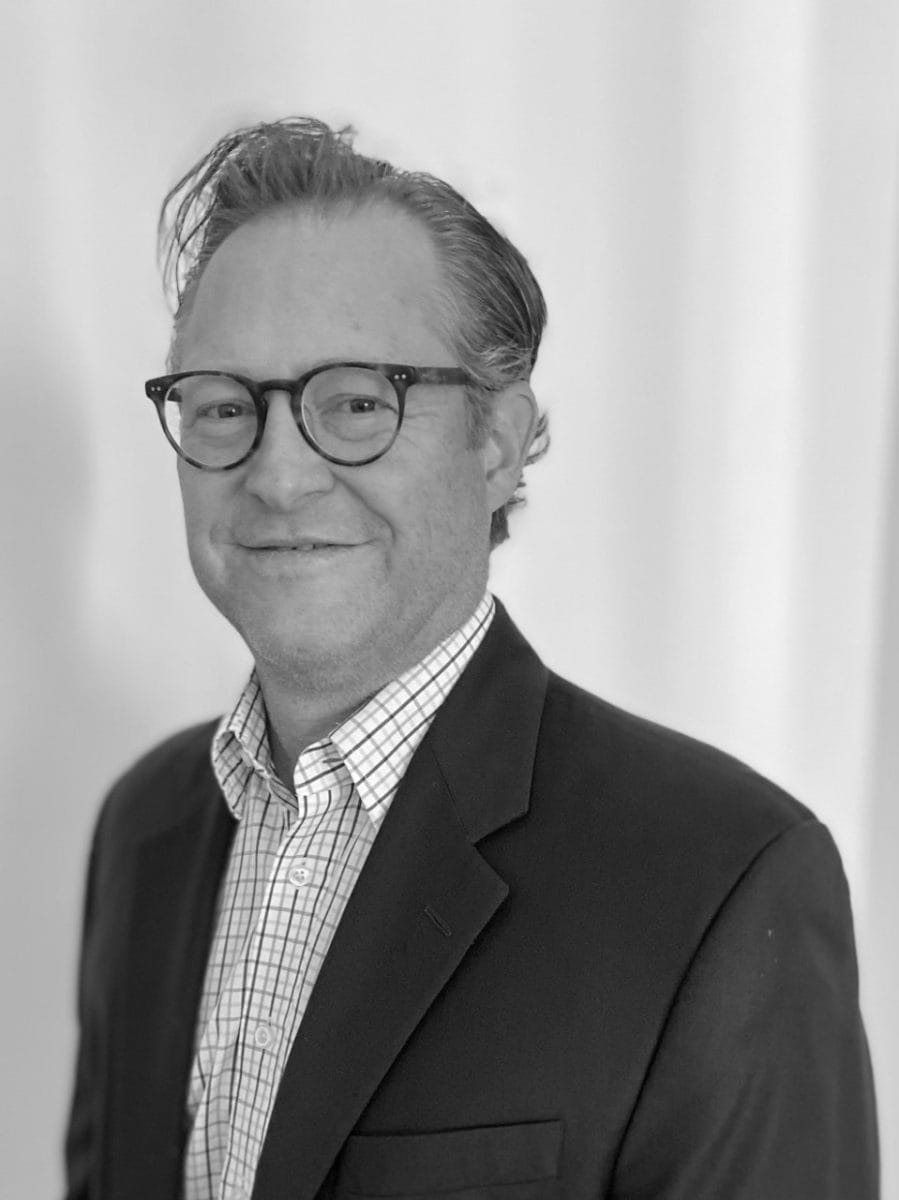 According to the Global Soft Power Index 2022, Colombia achieved remarkable growth over the last year, jumping up 4 spots to become the 4th ranked nation in Latin America. Colombia has also scored well across the soft power metrics, outperforming its neighbours in Business & Trade (ranked 4th), International Relations (ranked 6th), Governance (ranked 9th), Media & Communications (ranked 5th), and Education & Science (ranked 7th).
The nation continues to be regarded as a leader in its food and other products, which were commended by respondents around the world. Alongside this is Colombia's rising influence around the world, with the nation being highly regarded as helpful to other countries, reflected in a 0.4-point rise in the International Relations metric. Colombia's domestic issues have also contributed to its improved performance this year, reflected in the nation's Governance score rising by 0.1 points. Within this metric, global perceptions of Colombia's ethical standards, safety, human rights laws, and corruption have improved year-on-year.
Aside from this, the nation's improved score for its handling of the Covid-19 pandemic contributed to its strong performance, as Colombia contained the spread of the virus efficiently and the economy began its recovery.
Over the last year, Colombia's scores for Influence and Familiarity rose by 0.8 and 0.6 points, respectively, as the nation took its place as the 4th most influential and 5th most familiar nation in the Latin America and Caribbean region. Starting off the year with this firm footing, Colombia remains poised for further success in terms of perceptions of its soft power in the coming year, particularly considering its commitment to Environmental, Social, and Governance (ESG) initiatives. As part of this strategy, Colombia has committed to becoming a regional leader in hydrocarbon production, as the nation continues to prioritise and invest resourced to meet its goal of oil and gas self-sufficiency by 2028.
Interview with Flavia Santoro.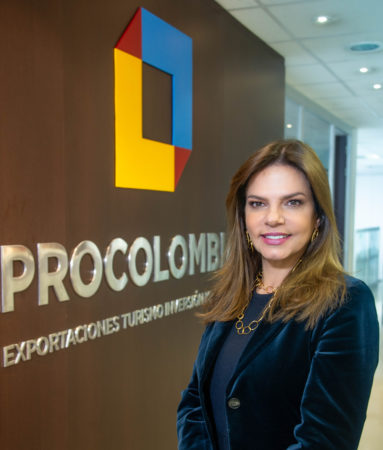 Colombia is in the top 4 nations in Latin America in the Brand Finance Global Soft Power Index 2022. How has Colombia grown its reputation as an influential nation, especially in the wake of COVID-19?
Colombia has a favourable reputation thanks to its economic growth and its ability to face external circumstances, along with legal security, stable macroeconomic indicators, a highly qualified workforce, and access to global markets. We are also showing the world a country that is a safe, reliable, sustainable, and a high-quality business destination, based on principles such as innovation and trust.
President Iván Duque's leadership and commitment to promoting Colombia in distinct international arenas has driven the arrival of new projects, reinvestments, and strategic partnerships with Colombian companies, as well as other initiatives that have transformed and are transforming Colombia with opportunities for skilled labour and technology transfer, thus contributing to competitiveness.
We have a comprehensive country promotion strategy that is implemented from ProColombia offices throughout the world. This has allowed us to coordinate our opportunities and potential with the interests of investors and buyers in various markets. In this effort, we are supported by the Ministry of Foreign Affairs and the Colombian Embassies through the CO-nectados initiative.
Colombia is known for its vibrant products and warm people. What role do your people and their values play in your national identity, and how do you communicate them abroad?
Making visitors feel at home is easy in Colombia, since warmth, service and empathy are part of our DNA. That is why last year we launched a new brand manifesto inspired by our people, and we called it, 'Colombia, the most welcoming place on Earth'.
It was the result of a quantitative and qualitative investigation of Colombians and visitors through more than 1,500 surveys and focus groups. The studies discovered the essence of the Colombian people - their warmth and kindness - which were evident and the clear evidence that allowed us to design and validate the manifesto.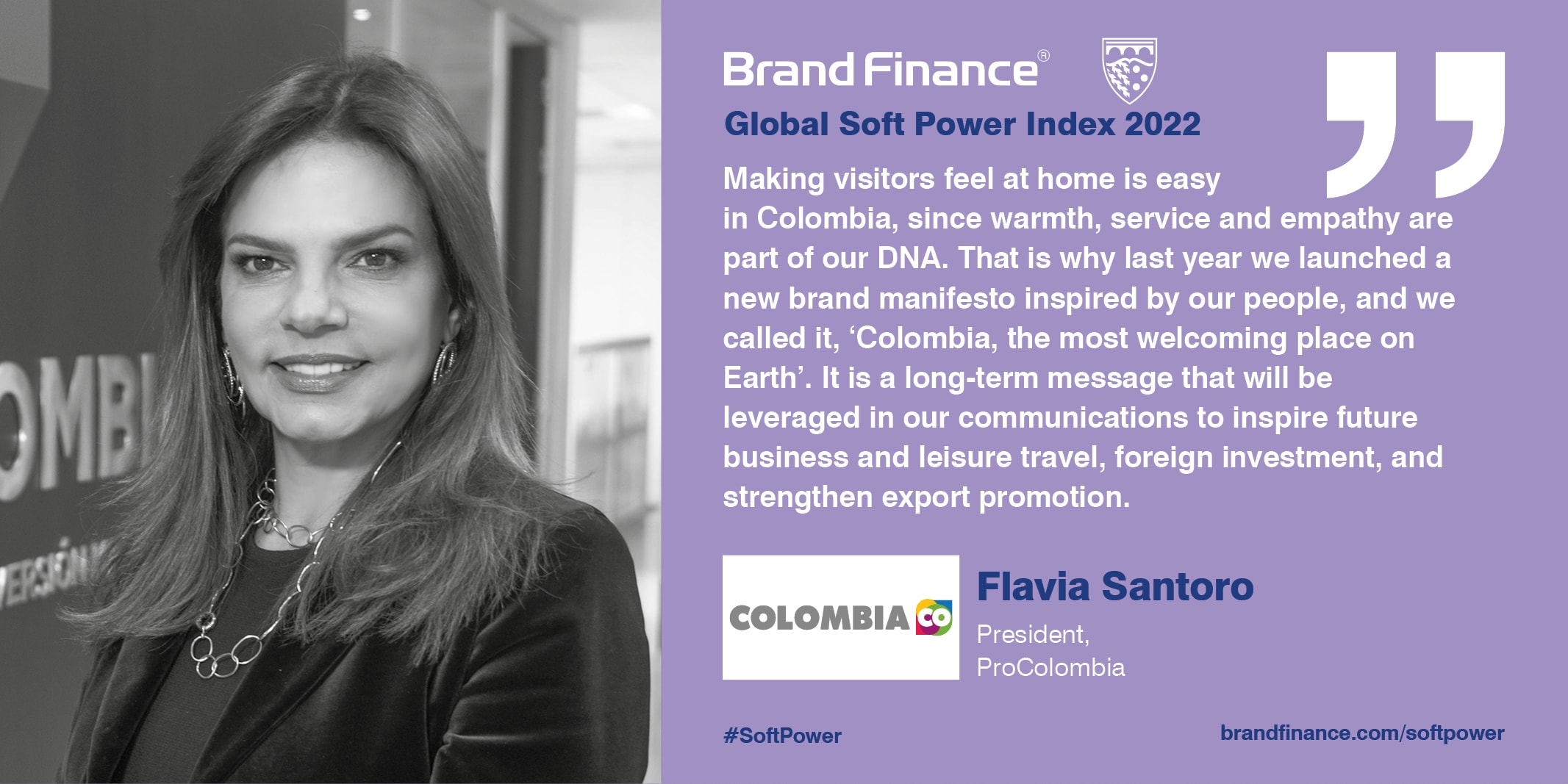 It is a long-term message that will be leveraged in our communications to inspire future business and leisure travel, foreign investment, and strengthen export promotion. The manifesto gives us the opportunity to convey a coherent message to the world about our country and, most importantly, about our people.
As a leading country for food and its products, what is the importance of sustainability and quality when it comes to nation brand building and communications?
It is very important. We promote Colombia as a sustainable and high-quality destination for business. In tourism, for example, our country has led major projects such as the Sustainable Tourism Policy and the General Tourism Law, both focused on strengthening the sector from a responsible perspective and retaining natural and cultural wealth. Colombia is amongst the 12 countries in the world that has developed a public policy to promote sustainability.
At the end of 2020, the Ministry of Trade, Industry and Tourism achieved two main projects to promote best practices that conserve and protect Colombia's natural and cultural heritage through responsible tourism, a development that ProColombia helped push through. These are: the General Tourism Law, placing sustainability at its core, and the Sustainability Policy.
This has made a positive impact on the economy. Last year, tourism generated more than US$3.1 billion in income for Colombia. This is 59.5% more compared to 2020.
Sustainability is also the central focus of foreign direct investment attraction, considering that Colombia is the most bio-diverse country per square meter in the world. During 2021, FDI inflows to the South American market reached over US$ 9,4 billion, 26% more compared to 2020.
For years, Colombia has been characterised as one of the countries with the greatest political stability in Latin America, is one of the 30 countries that attracts the most investment globally, and is the third largest investment recipient in Latin America, according to the United Nations Conference on Trade and Development (UNCTAD).
Furthermore, the International Monetary Fund has forecast that the Colombian economy will remain buoyant, and that it would top the region regarding growth, which will expand by 5.8%, according to the latest projections. Exports are on a positive trail as well. In 2021, Colombia achieved the largest non-mining exports to date, reaching over US$18,1 billion, 24.5% more as compared to 2020 and 18.7% as compared to 2019.