2022 was a difficult time for the automobile industry. Chinese growth was muted; supply chain shocks, particularly for semiconductors remained an issue; electric vehicles continued to grow in importance both politically and among consumers, putting traditional OEMs under significant pressure; and the business model continued to shift fitfully towards one led more by digital services than drive trains and chassis. So, what does the immediate future for car brands look like?
Automobile brands in trouble
All this contributed to a rather disappointing outlook for automobile brand values in 2023. For the first time since 2017 – when Brand Finance first created a dedicated Automobile brand value ranking – aggregate brand values have fallen from $611 billion to $600 billion USD. Across the table, this meant that 68 brands out of 2022's top 100 automobile brands ranking fell in value.

This fall in value highlights a trend for automobile brands that may be worrying for those looking after brands in the industry. This is the falling importance of automobile brands in the global brand ecosystem. Despite massive falls in the value of Tech brands and an overall fall in value for our Global 500 top most valuable brands ranking, automobile brands continue to fall in aggregate terms in overall value terms.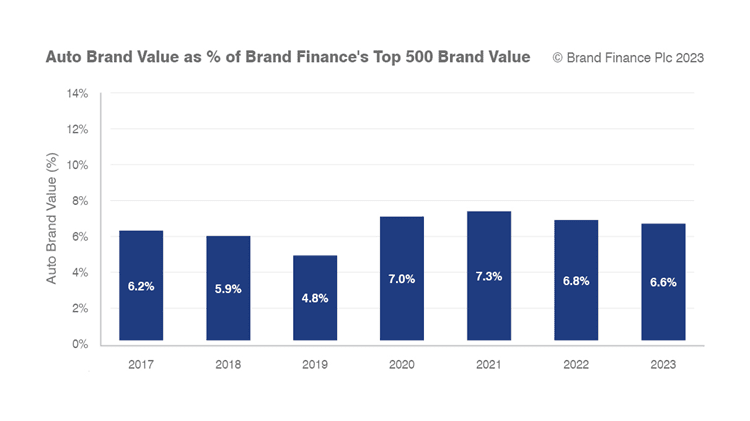 What you can see from the graph above is that this fall is relative to a peak in 2021, which occurred just as government COVID relief payments had made their way to consumers, leading to strong growth in demand for physical products that people could enjoy despite social distancing rules. It remains to be seen whether this trend will continue, but there are some reasons to think that headwinds for the industry will continue in the medium term.
Rising costs, a warming planet and cooling interest among the young
As The Economist reported in a recent article, the young in many parts of the rich world are falling out of love with cars[1]. As the article points out, in the USA, one fifth of Americans between the age of 20 to 24 do not have a license up from one twelfth in 1983 with journeys travelled also down significantly.
Rising concerns around climate change and the corresponding support for alternative modes of transport are putting pressure on demand. On the other hand, inflation, rising interest rates for car finance, volatile fuel prices and expensive electric models mean that costs remain high and unpredictable for consumers.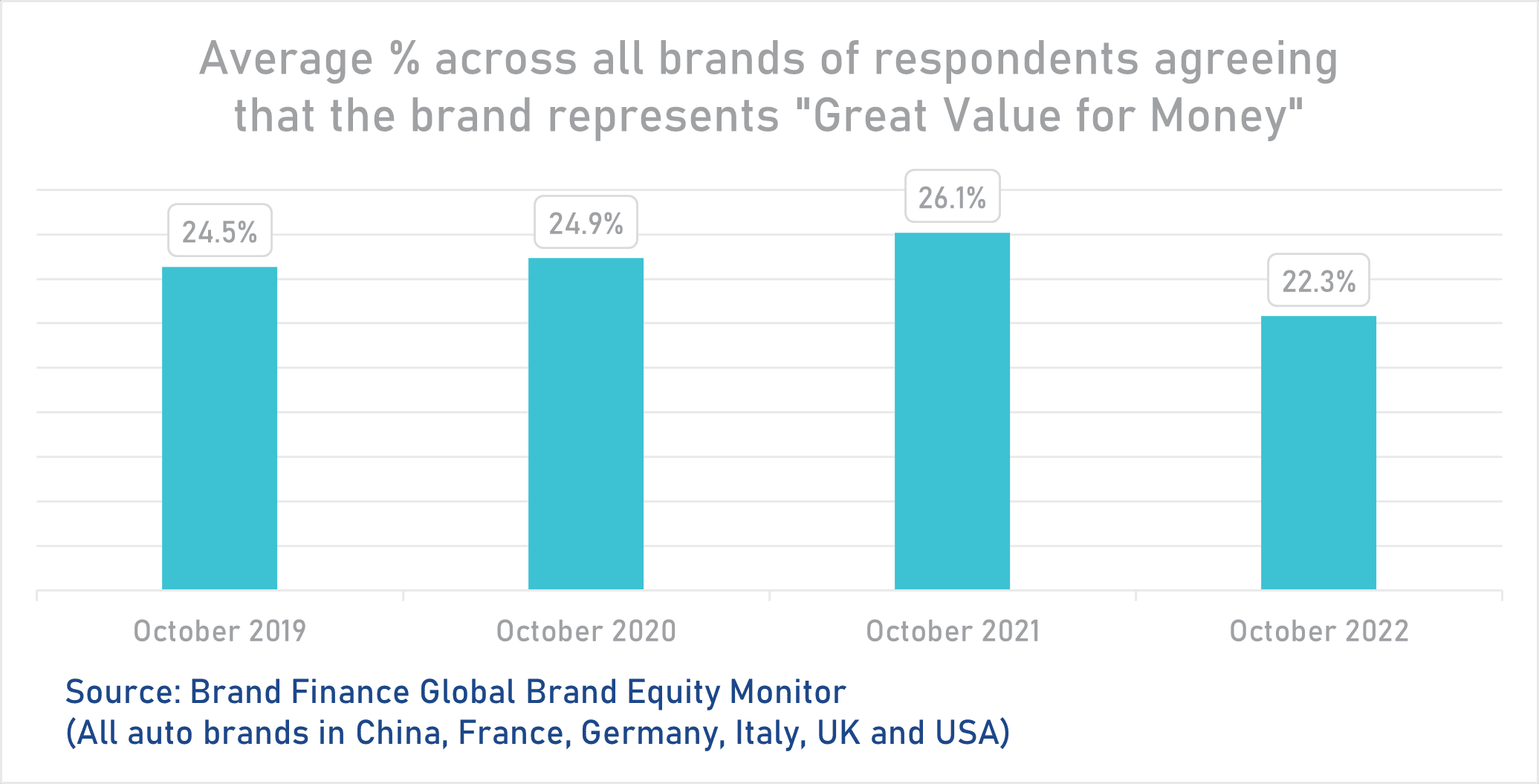 In order to complete our valuation analysis, every year we research the perceptions of around 150,000 respondents on 4,000 brands in over 35 markets across over 30 sectors within our Brand Finance Global Brand Equity Monitor study.
Within this study, you can see these cost pressures starting to affect consumer sentiment. Whereas last year, an average of 26.1% of respondents believed each brand represented "Great Value for Money", this has dropped 15% in relative terms to 22.3% this year. It is clear that consumers are feeling the pinch.
Additional to rising costs, there is also a sense that cars may be losing their 'cool' factor. Steven Bartlett – known for his company Social Chain, which made him a multi-millionaire, being the youngest CEO on the UK's Dragon's Den (equivalent of Shark Tank) and now running a successful interview-based podcast series – was asked by guest Louis Theroux on a recent episode whether he owned a Bugatti. Steven's response was that he didn't own a car at all, a response that was met with no surprise by Theroux. This passing comment belies a growing truth for many young people. This is that cars are less aspirational for many compared to what they once were.
Automobile brands are not getting the promotional support they used to
This is not helped by a continuous decline in the amount spent on automobile brand promotion.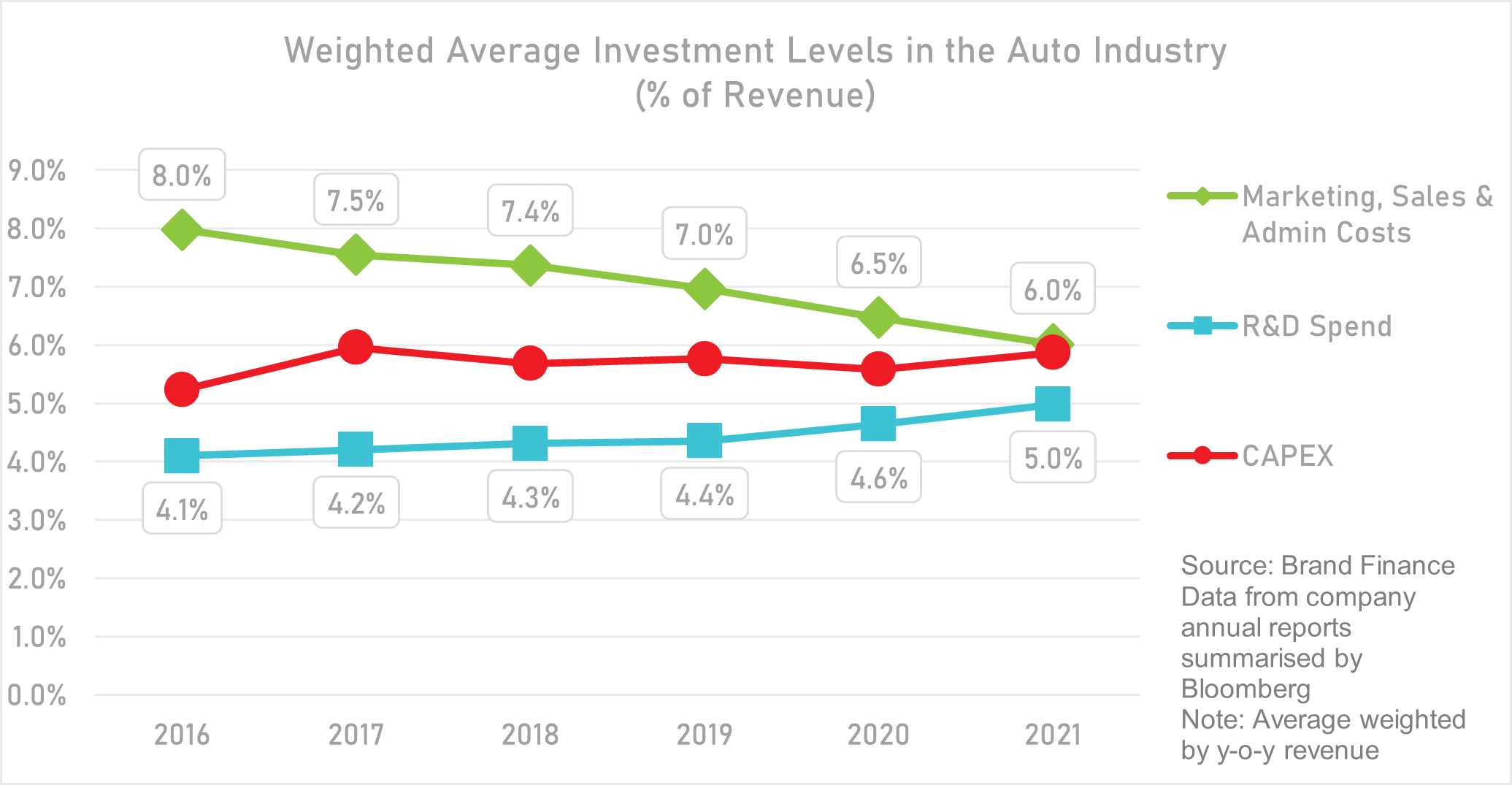 True to longer term trend, total marketing sales and related administrative costs continue to fall from 8.0% in 2016 to 6.0% in 2021.
This drop has come due to increased demands on Research and Development and CAPEX – as most OEM's invest heavily in the Electric Vehicle transition. Pulling back from promotional spend could though be sacrificing a long-term benefit for the category on the altar of short-term cost-saving.
As Mark Ritson, the online marketing professor, pointed out in an article on Tesla's recent need to discount[2], you need considerable amounts of advertising spend to reach the whole market (i.e. not only those who will soon buy a car) in order to continue growing after you reach a certain scale. Tesla was fortunate to have a very timely and innovative product proposition, strong 'word of mouth' approbation by influencers, and the unlimited PR value of a charismatic and often controversial CEO who is happy to be in the spotlight of world attention. For almost everyone else this fortune is not bestowed on all brands.
Importantly, marketing spend builds brand familiarity and salience which Brand Finance's simple BrandBeta® model highlights is an important predictor of sales growth.
Derived from our Global Brand Equity Monitor, the model is called BrandBeta® and is calculated as a combination of brand familiarity and consideration conversion, being the proportion of people familiar with a brand who are willing to consider it. The BrandBeta® model is highly predictive of share.
The graph below shows the results of all automobile brands in the US car market according to our BrandBeta score compared against their market share in the relevant year over the last five years.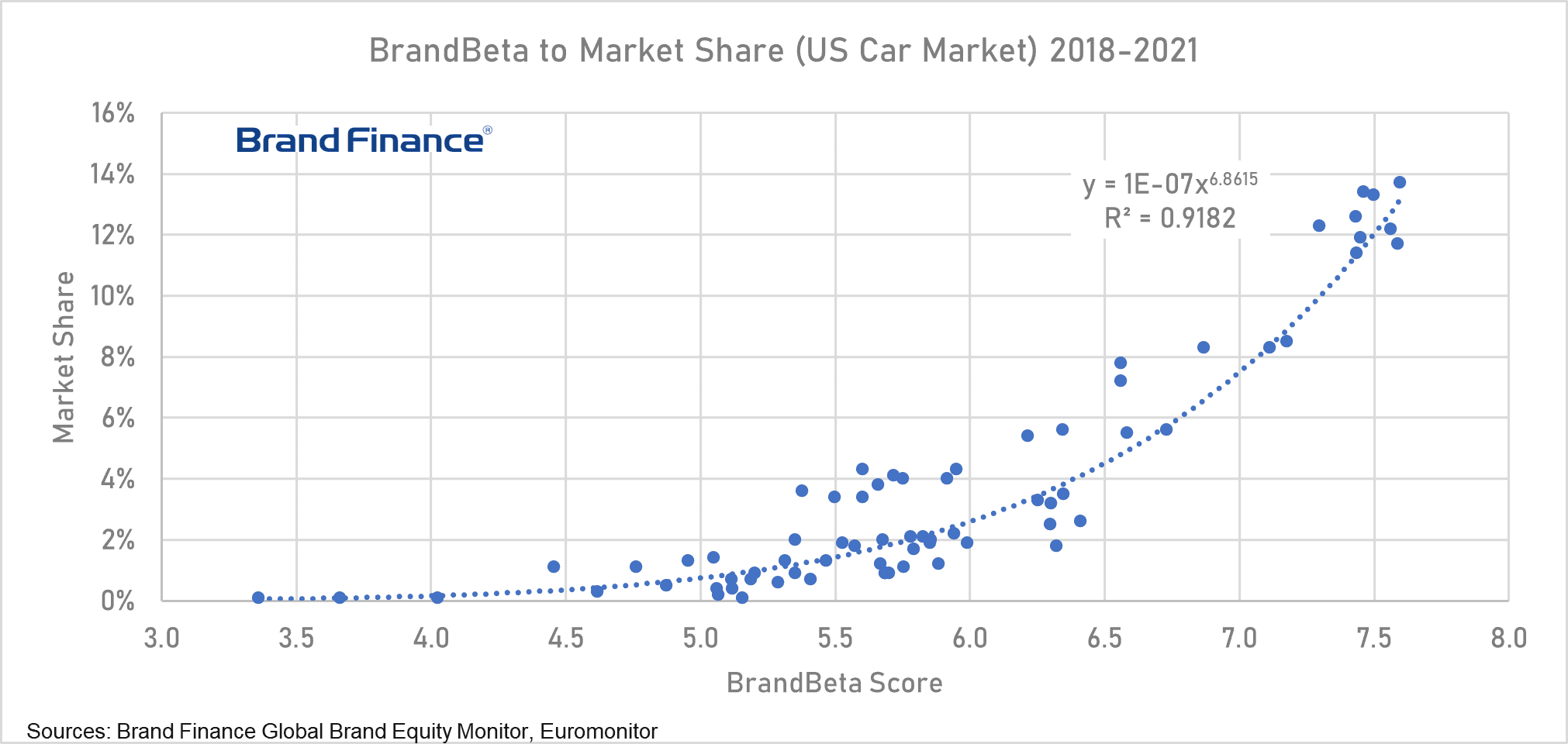 The R2 figure shows the fit of the results to the trendline with a number closer to 1 indicating a perfect fit. The figure is above 0.9 indicating a very strong relationship.
What is particularly interesting with this is that there appears to be a double jeopardy rule. In other words, the higher a brand's familiarity and consideration the more their market share will grow per additional combined unit of familiarity and consideration (i.e. continuous economies of scale).
While this can partly be explained by the propensity for customers of larger brands to be more loyal, it also highlights another fact. The fact that not only is general familiarity important but depth of familiarity too.
Those brands with higher general familiarity (encompassing knowing the brand "a little" up to knowing the brand "very well") have a much higher level of those respondents knowing the brand "very well". For these respondents, the brand is (one of) the first to mind and therefore a much likelier purchase choice.
This strength of relationship is, of course, driven by experience but promotion is also key and reducing marketing spend will make this relationship harder to maintain and improve.
But consumer interest and government support show potential for a turnaround.
Despite this immediate gloom, there are reasons to be cheery. The passing of the USA's Inflation Reduction Act paves the way for significant support for the transition to electric vehicles. As do the measures taken by other countries, particularly in Europe.
Electric vehicle (EV) focussed OEMs are storming up Brand Finance's Top 100 Auto brands ranking: Tesla is now the most valuable automobile brand in the world for the first time; BYD was the fastest growing brand in the whole of Brand Finance's top 500 most valuable Global brands ranking across all sectors and countries; Polestar, Rivian and other EV brands have made their way into and rocketed up within our table over the last couple of years.
And we appear to be close to an inflection point where costs of EV's reach parity with traditional models as economies of scale work through.
As well as being pushed by governments, this trend is being pulled by consumers interested in buying more products that help them live more sustainable lives.
That needs to be borne in mind by OEMs. In the short run, the drive train is key, but in the longer-term there will be more comparison of the credentials of the full production process – from the use of rare minerals to the recycling of materials.
So, what does this mean for brands?
Much of what we highlighted last year remains true.
Cleaning up the production process of EVs and communicating that as a benefit will be key for the brands that are able to differentiate on this attribute. Careful coordination needs to be taken to avoid overclaiming while maintaining a perceived advantage over competitors. Brand Finance's sustainability strategy team has put together a series of approaches explaining how this can be done effectively.
From a branding point of view, models need to avoid becoming copy-cats of others. As cars become integrated digital products, there has been a tendency to use nomenclature which references the digital aspect of the product for example with the prefix " i ". This approach could end up making it more difficult to make these models distinctive and differentiated compared to the other brands.
Finally, it is important to track both brand equity and brand value. The market for cars is changing in all markets quickly – from model types to sales channel and more. Keeping an eye on what attributes are important and where your brand stands from a brand equity point of view is key. Tracking brand value over time is also vital because it helps to highlight the need for long-term and effective marketing spend to support long-term demand. As pressures on marketing spend mount in the sector, assessing both equity dimensions and value will be vital to meet evolving consumer demands and to sustainable growth.
[1] "Driven away: Throughout the rich world, the young are falling out of love with cars", The Economist, February 2023
[2] Tesla is about to experience the seven perils of discounting, Mark Ritson, 19 January 2023, Marketing Week, https://www.marketingweek.com/tesla-seven-perils-of-discounting/