BOC has retained the position as the most valuable banking brand in Sri Lanka with a marginal increase in brand value. The banking brand has seen strong growth over the last 4 years, reaching a value of $53,919 USD.
Interview with Mr K. E. D. Sumanasiri.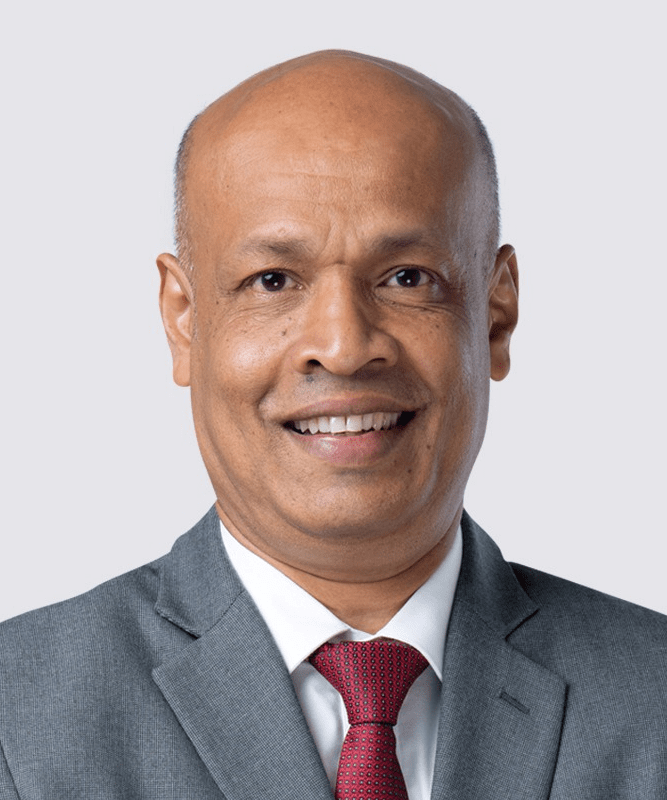 BOC continues to be the Most Valuable Banking Brand in Sri Lanka and has seen the brand's strength grow over the last 4 years. What does it mean for BOC to be recognised as the Most Valuable Banking Brand and what measures will you take to be recognised as such?
BOC is humbled and appreciates the recognition as the Most Valuable Banking Brand in the country. The recognition, which is the result of an unbiased, data-driven research and scientific methodology on Sri Lankan brands is truly a testament to the brand's worth within the community.
When building BOC as the No. 1 banking brand, we have always prioritised sustainability above all other criteria, which is epitomised by our purpose as "Bankers to the Nation", which underscores the values we uphold as the leading financial services entity. Brand BOC has always been very keen on developing brand presence, both physically and digitally, while improving its product offering through a process of continuous research and development.
In terms of reach, the Bank's physical network includes over 2,000 customer touchpoints locally, while overseas operations include Chennai, India, Male and Hulhu-Male in the Maldives, the Seychelles, as well as a banking subsidiary in London. In the sphere of digitisation, the bank continues to engage with its customers at all levels through a strong social networking drive, which has significantly enhanced its brand performance.
In terms of real numbers, BOC's financial strength has grown exponentially, where its asset base exceeds Rs. 4 trillion, deposits exceed Rs. 3.1 trillion and its loan book stands at an impressive Rs. 2.4 trillion plus, as at 31st March 2022, which equates to the largest balance sheet in the industry.
In terms of performance, profit before tax was over Rs. 43 billion for 2021, which in turn is the highest in the industry. Significantly, BOC grew its brand strength recording a brand value of Rs. 53 billion. With a strong focus on its national mandate, BOC continues to prioritise foreign remittances through legitimate banking channels with a strong communication campaign to reach our migrant and resident workforce across the globe.
At an operational level, BOC's foreign representatives situated in strategically important locations ensuring the security and the convenience of remitting money to Sri Lanka.
Continuing to invest in building strong partnerships with all stakeholders, the bank has strategically combined elements of operations together with investments in human capital to ensure the sustainability of its services across the entire customer experience landscape. By communicating a cohesive message more consciously and effectively, that all functions and resources are seamlessly aligned with the vision and strategic objectives of the brand, BOC is geared to ensure brand dominance within the industry.
With a strong focus on its core purpose, and successful implementation of key strategies, BOC aims to further enhance value generation towards the nation and its stakeholders, while further enhancing customer consideration, brand loyalty and brand equity.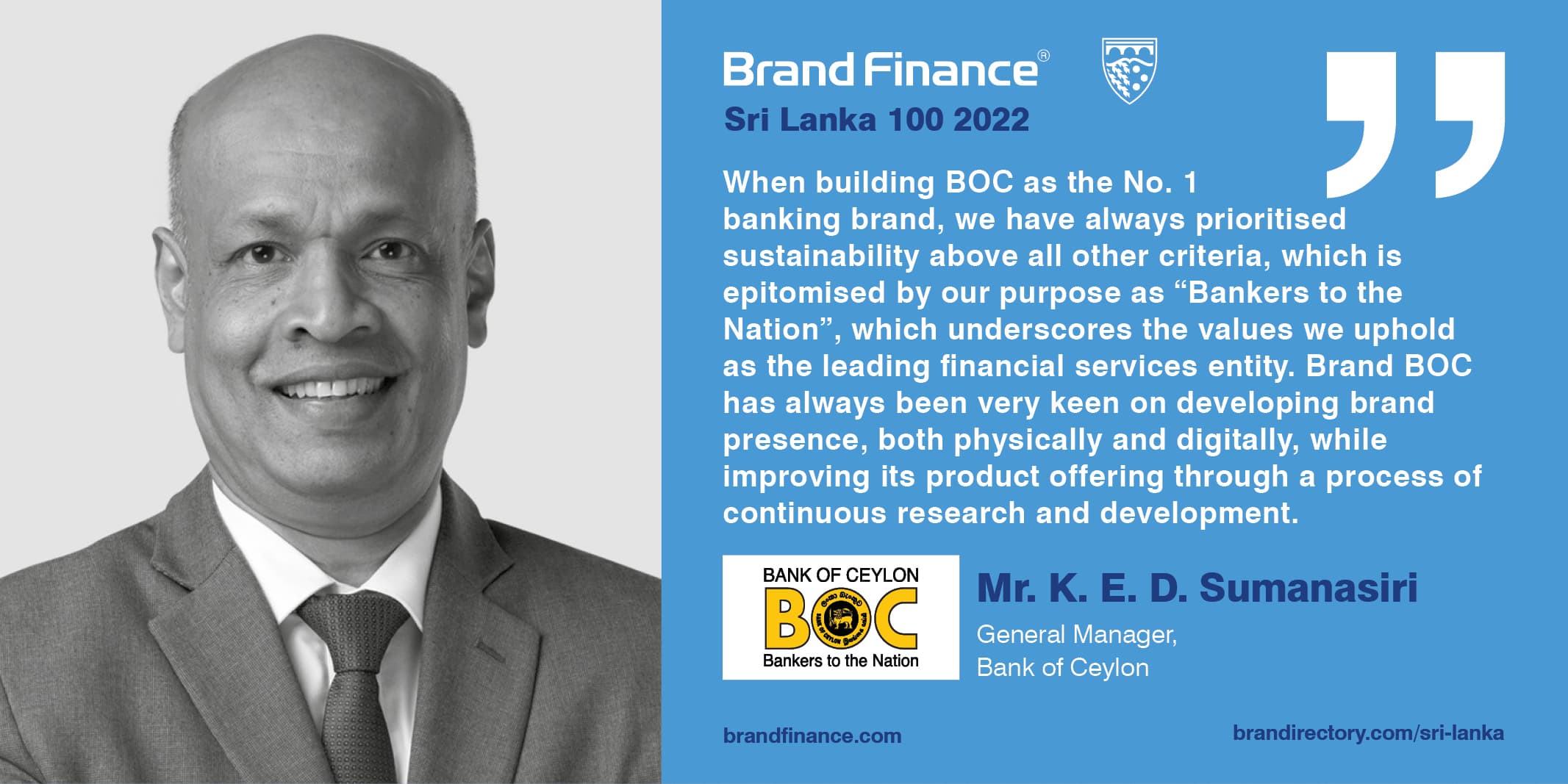 How important are sustainable practices to the brand and what has BOC been doing to be seen as a sustainable brand?
The success of a banking brand largely depends on the customer's perception vis-à-vis the trust and confidence the brand holds within the customer's psyche. Profits, while a critical objective of any brand, is not the sole objective of a brand that is sustainable.
Having achieved success in sustainability as a brand, BOC strives to maintain alignment to its core purpose, while maintaining a good balance between the interests of profit maximisation and sustainable business practices addressing the critical elements of environment, social and good governance. By incorporating sustainable practices to the operational structure, BOC has gained an edge in building trust and confidence in stakeholder management, especially customer loyalty, which is a critical component in the long-term growth of a brand.
From good governance practices, channel management, financial inclusion, and innovation, with an emphasis on digital transformation for process improvement, BOC has reduced its carbon footprint within the concept of 'Green Banking', while enhancing its value generation to all stakeholders.
Pioneering digital transformation of banking in Sri Lanka, BOC continues to prioritise timely innovations by offering first-in-class digital products that add tangible value to its stakeholders, resulting in an economy that is both digitally and financially inclusive. BOC Connect and SmartPay QR scan app are examples of resent additions to its digital product portfolio.
In its broader role as a leading corporate citizen, BOC's CSR initiatives focus on the areas on education, sports, health and wellbeing, the environment, as well as culture and national heritage. Incorporating the United Nation SDGs (Sustainable Development Goals) as a guideline to its sustainable Green Banking practices allows the bank to measure its progress against its sustainable objectives.
Significantly, the bank implemented a number of landmark initiatives during the pandemic period. Among them was the launch of the home-based care initiative in collaboration with the Ministry of Health and a leading private sector corporate, which enabled Covid 19 patients and those with suspected symptoms to access a dedicated call centre and be connected with healthcare professionals to receive immediate care and advisory services nationally.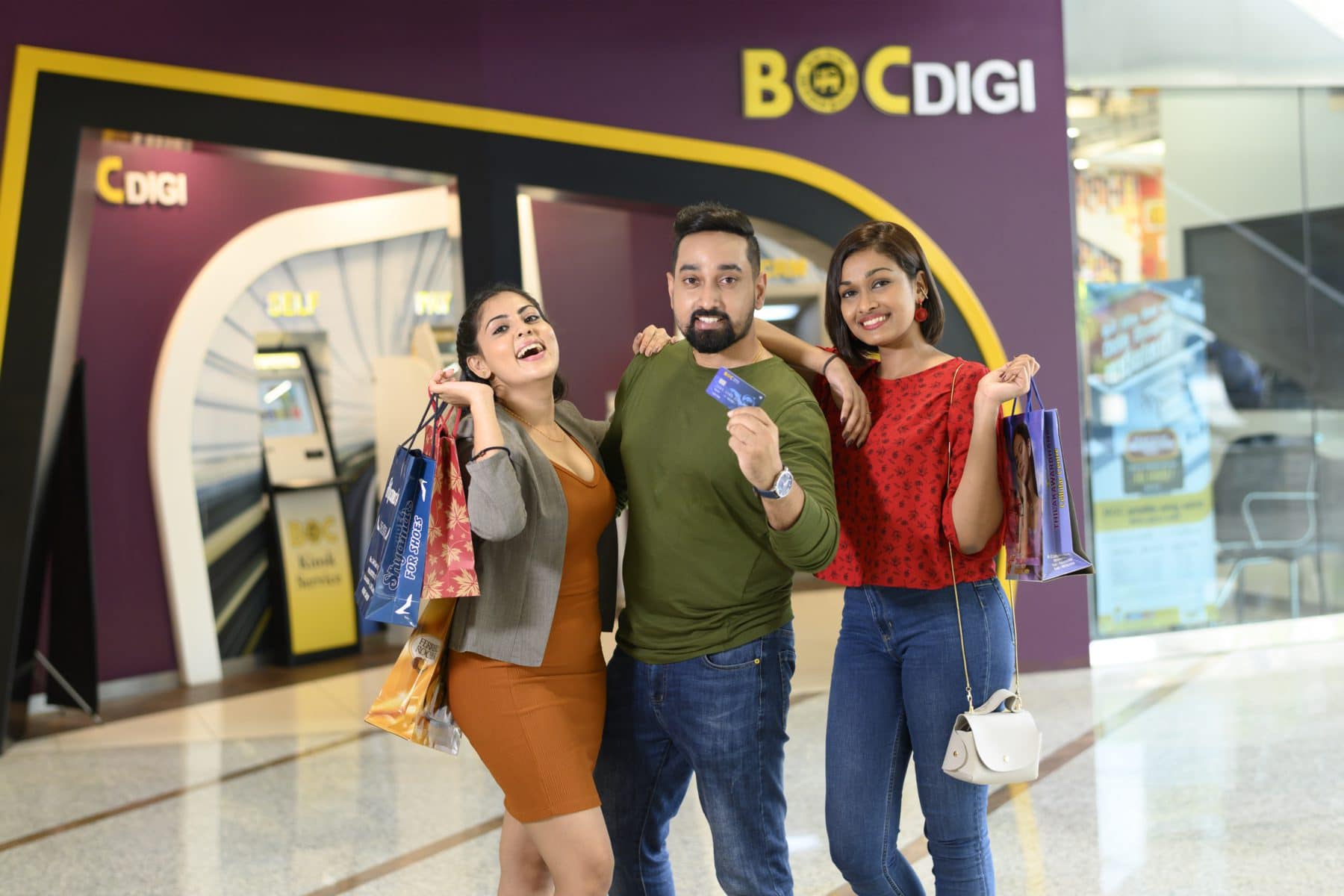 How has the pandemic affected the operating landscape of banking in Sri Lanka and how has BOC met these changes? What role has the brand played in meeting these challenges?
The pandemic prompted players in the banking industry to adapt operating models to, not only be more cost effective, but to be innovative and increasingly digital-driven to ensure the continuity of its services. Most manual tasks were centralised and redesignated to be managed by a smaller team of banking professionals as a consequence of mandated lockdowns and stringent health and safety protocols.
While physical communication in banking leads to greater understanding and trust, the pandemic completely transformed the banking industry. BOC heavily leveraged social media and other digital media channels to engage with clients to ensure uninterrupted communication. As a result, the bank's digital and social media reach improved significantly during the period.
A surge in creativity and innovation were the biggest payoffs for many banking institutions throughout the pandemic period and beyond. The industry experienced high demand for unconventional banking products that could add convenience and value to customers under the 'new normal' scenario. It is of note that the demand was generated from both urban and rural customer segments as the effects of the pandemic was experienced throughout the country.
This unprecedented wave in digital adaptation and self-banking compelled banking institutions shift to digitally driven alternatives to meet customer demand. As BOC embarked on full-scale digital transformation as early as 2017, covering all aspects of operations, the IT infrastructure required for agile deployment during the pandemic was in place, allowing the bank to improvise and execute timely strategies and extend their services seamlessly to the meet the demands of the customer and the community in general.
On average, the growth in the bank's overall digital product usage by the end of 2021 rose by as much as 300% as compared to the previous year. The trend adoption of going cashless gained momentum which has led to lower operational costs and mitigate the risks associated with physical cash transactions.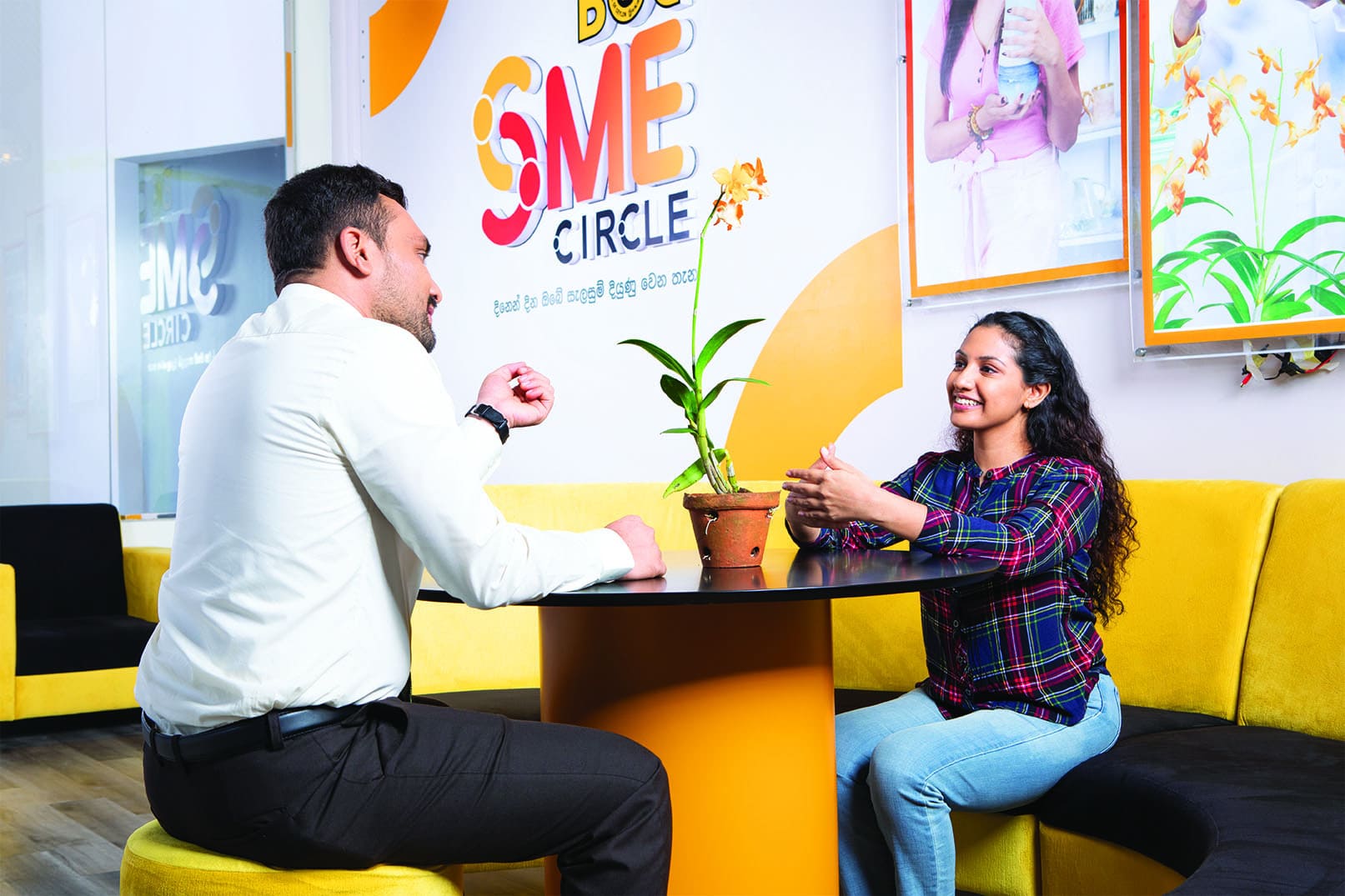 In turn, the industry was compelled to address the threats to the industry in terms of cumulative NPA and assist individuals and businesses facing difficulties in finding working capital as a result of the economic downturn. BOC formulated innovative strategies to assist customers beyond mere financial assistance, ranging from advisory services and other supply chain services through the bank's Business Revival and Rehabilitation Unit (BRRU), the SME Centre and Export Circle, targeting different customer segments.
In particular, the "Divi Udana" loan scheme rolled out 17 specialised schemes to assist the SME sector by taking a holistic view of the national economy. Through these initiatives, BOC was not only able to revive businesses but also assist them in building a sustainable stakeholder network and ensuring job security for their employees.
The resultant post-pandemic fallout, the banking industry was faced with a critical depletion of foreign currency reserves, that has now resulted in a socio-economic crisis. In order to strengthen the country's foreign currency position BOC continuous to encourage foreign remittances through its global agent/representative network by promotional activities and a special incentive scheme.
BOC continued to retain its position as the largest player in foreign remittances with around a 40% market share and was able to service the national requirement, as well as households that are dependent on overseas remittances.
It is noteworthy to mention that the bank's staff who served as foreign representatives, continued to work through the pandemic, without reporting back to the country. This dedication enabled the brand to stay visible and assist the Sri Lankan expatriate community throughout the pandemic.
Placing the highest importance on the bank's human capital, BOC ensured adherence to the highest standards in health and safety for its human resources and its valued and loyal customers during the pandemic. In addition to standard medical and welfare benefits to employees, the bank incorporated several health and safety protocols and special benefits to safeguard its employees and access to all services for customers at all touchpoints and operational locations.