This article was originally published in the Brand Finance Football Annual 2020.
For the 2020 Football 50 Report, we conducted market research among football fans in seven key markets. We polled fans in the five major markets of football's European heartland (France, Germany, Italy, Spain, UK), together with those in two key emerging/maturing football markets – China and USA. Any football club with aspirations to build a global fanbase will need to connect with fans in many, if not all, of these seven markets.
We conducted an online survey among 1,000 football fans in each market, broadly representative of the fan base (in terms of age and gender).
Our research assesses fans' perceptions of major football leagues, competitions and clubs, and their level of engagement and enthusiasm towards them. For the 2020 report the research covered 10 major club competitions and their participating clubs, with particular emphasis on the 40 clubs with the largest fanbases.
The research provides insight into how football is consumed, how this varies across markets and demographic segments, and the different ways and channels that fans employ in supporting their favourite clubs. We identify the leagues and clubs that engage and excite fans the most, and the attributes which drive fan appeal. We also assess which sponsorships are most salient among fans.
These insights enable clubs and leagues to assess the underlying strength and appeal of their brand and 'product'. Of course on-field performance has a significant impact on these, but – as with brands in any walk of life, a really strong brand and fanbase ensures that the club's support and commercial performance has a degree of resilience that cushions the impact of a disappointing season on the pitch. Witness the presence of Newcastle United in the top 20 of our brand value rankings, despite only one major trophy win in the past 60 years.
For potential sponsors of leagues and clubs, our research is used to assess the value of partnering with both global giants (are the biggest clubs as popular as their sponsor pitches suggest?) but also smaller leagues and clubs heading in the right direction where individual sponsors can perhaps stand out from the crowd more easily.
Furthermore, clubs and sponsors need to decide whether a multinational partnership generates the best returns, or a larger portfolio of national partnerships is more suitable. Potential sponsors must base their decisions on an independent assessment of how clubs and leagues are perceived and not gut feel alone – it's a commercial decision.
Similarly, clubs and leagues hoping to attract sponsors are increasingly aware of the need to present a business case for partnership and investment based on data and evidence that brand owners require before they commit their marketing dollars.
Football is #1
Across the 7 markets we surveyed, football is the most popular of ten spectator sports tracked, and of course is the undisputed #1 sport globally.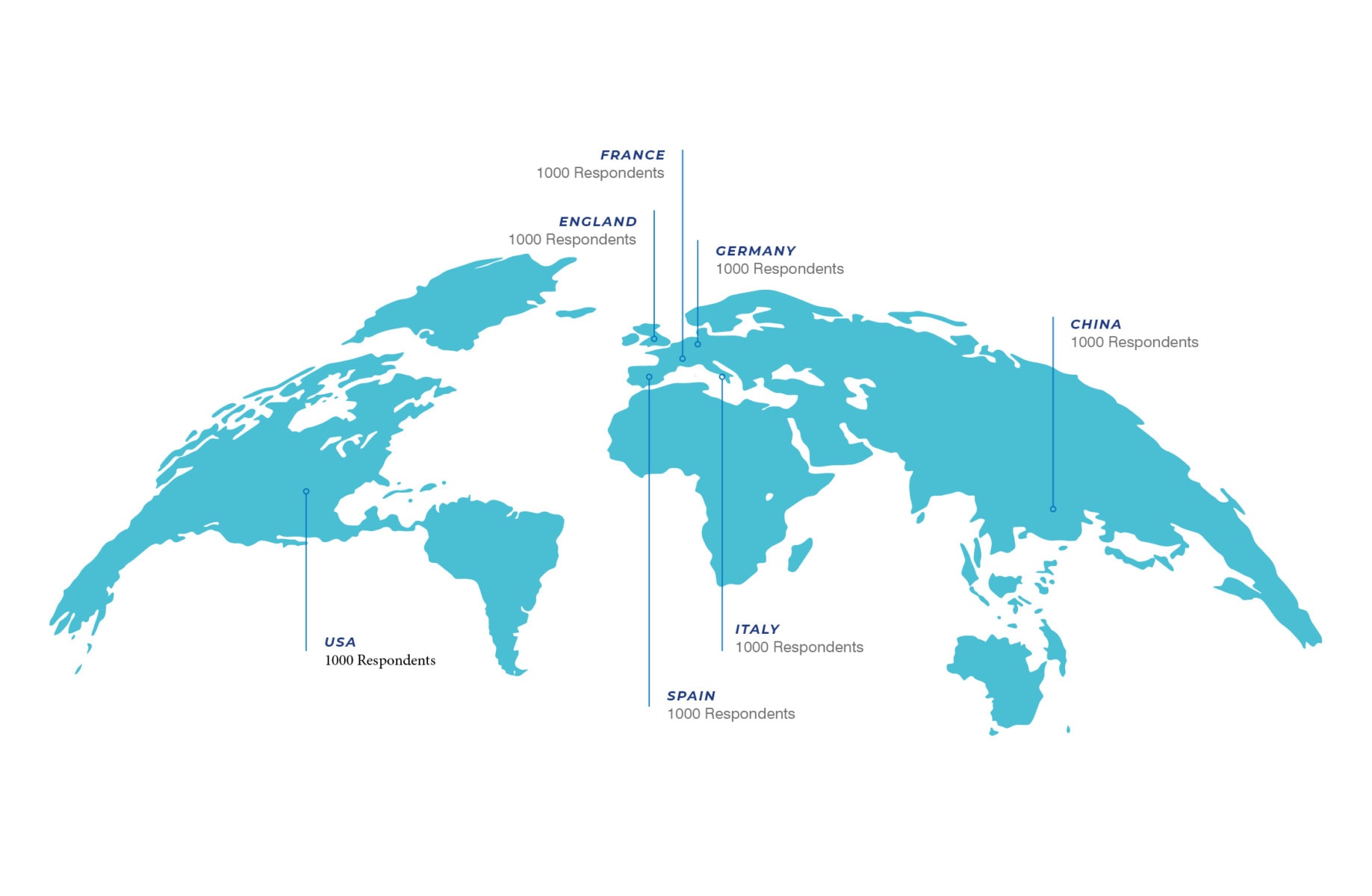 Europe is the cradle of football and the sport's most mature market. But China is catching up fast, and only basketball (54%) ranks higher. In contrast, football in the USA could be said to be catching up at a more modest pace – but in our research (and in terms of actual attendance) football has overtaken the NHL among the 'big 4'.
Universal Interest
Football's attraction to sponsors and other commercial partners is the sheer breadth of its appeal. Although fans tend to be a little younger than the population profile in each country, the skew is not pronounced. Moreover, the appeal of the sport to women is a strong selling point – a high % of fans are female, and the gender balance is generally better than for most other major sports (e.g. NFL and baseball in the USA). This is further evidence of the opportunities for clubs and sponsors within the woman's game.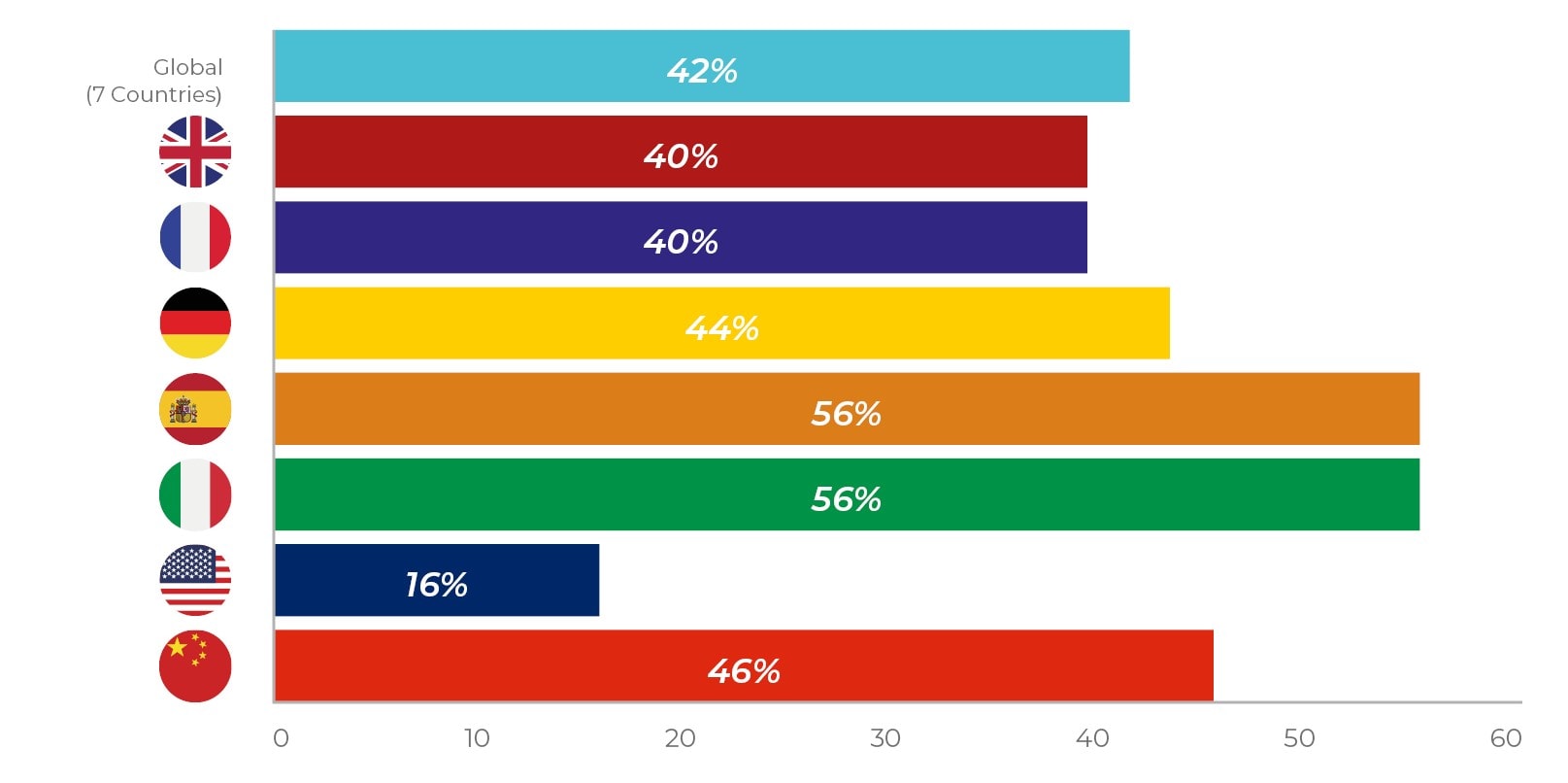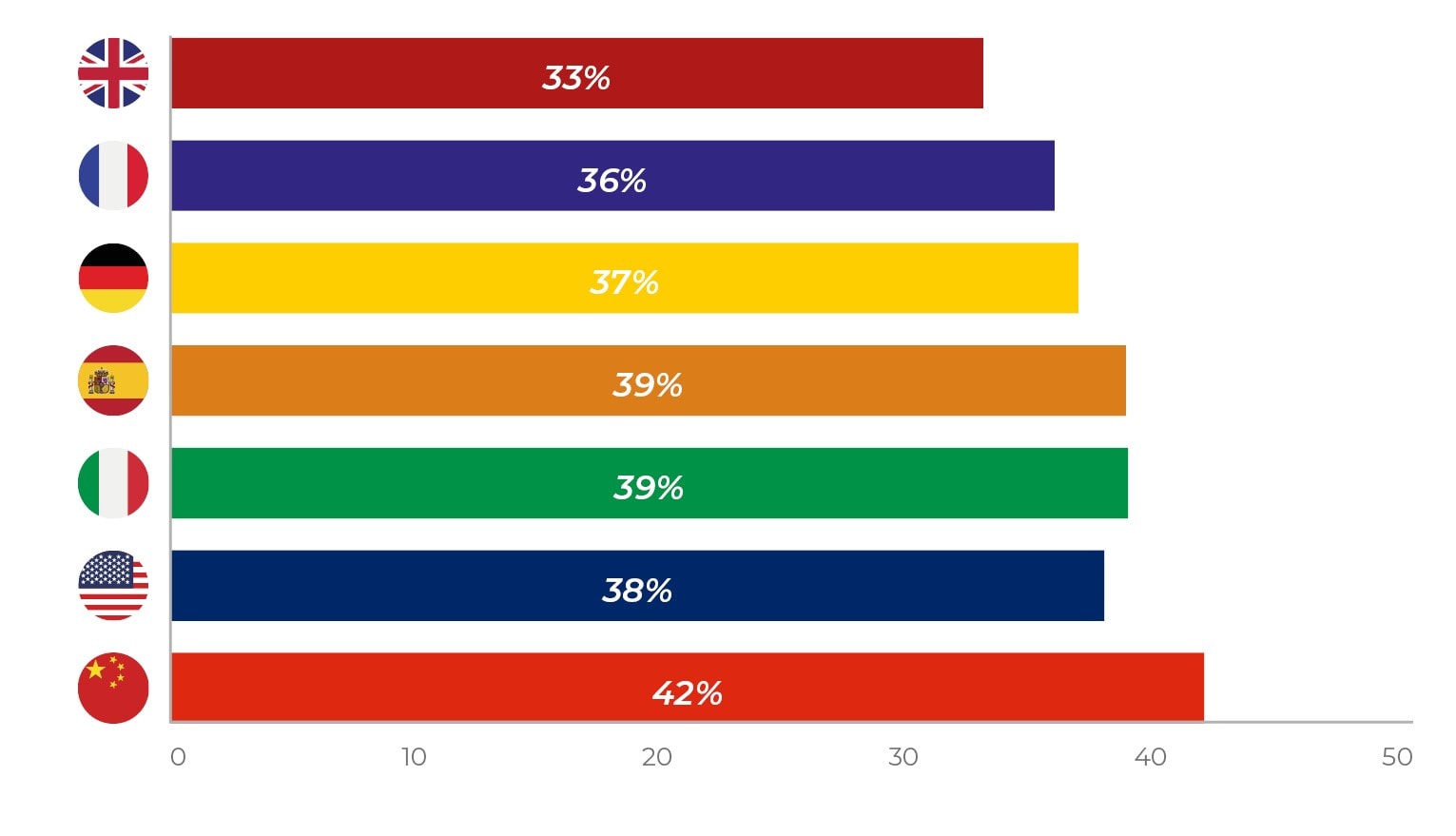 Home or Away? Which Competitions Do Fans Follow Around the World?
Among football fans in these 7 countries, the UEFA Champions League has the broadest appeal of any club tournament, as befits the pinnacle of competitive club football in its global stronghold.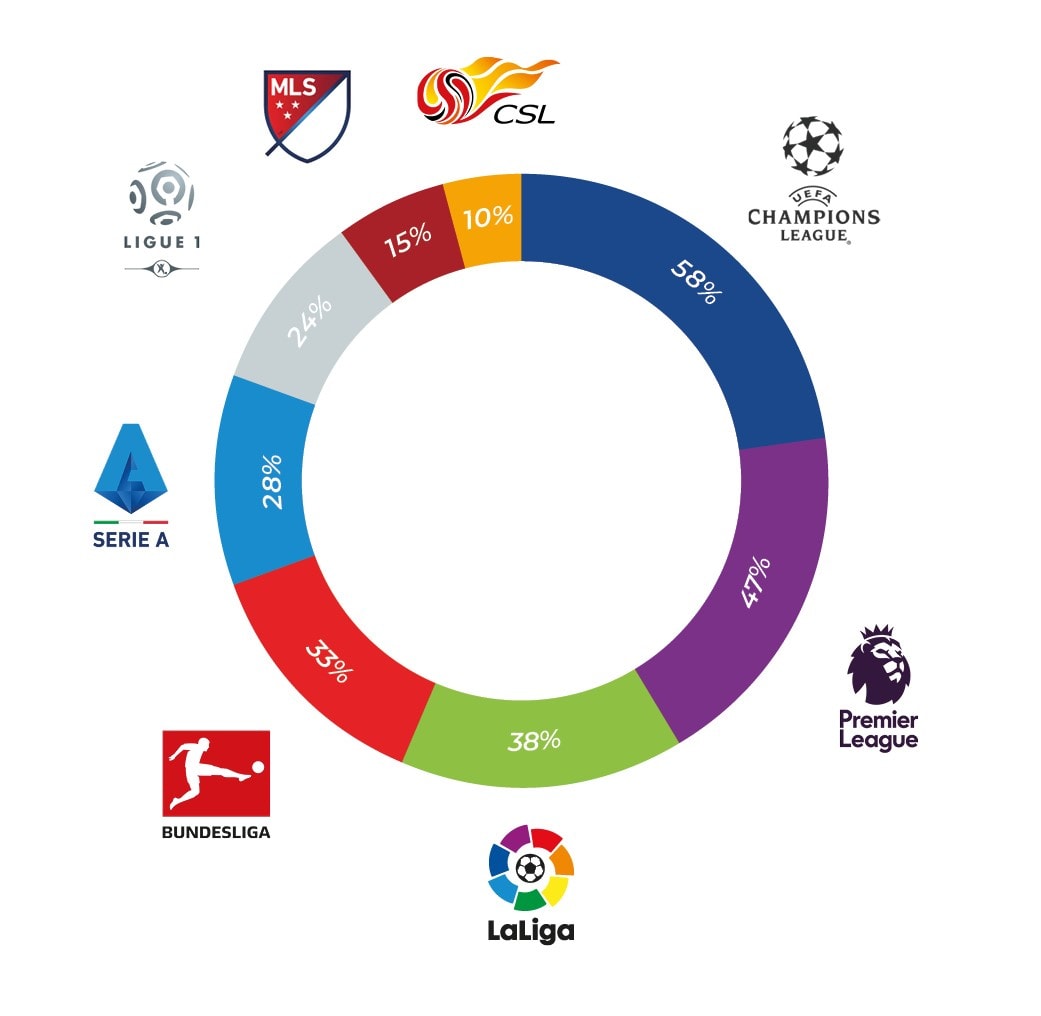 However, the UCL is top-ranked by virtue of its international appeal, and it is not the most widely followed competition in any single country. Domestic leagues unsurprisingly hold sway in Europe – but the more recent development has been the surge in interest in domestic leagues in China and the USA: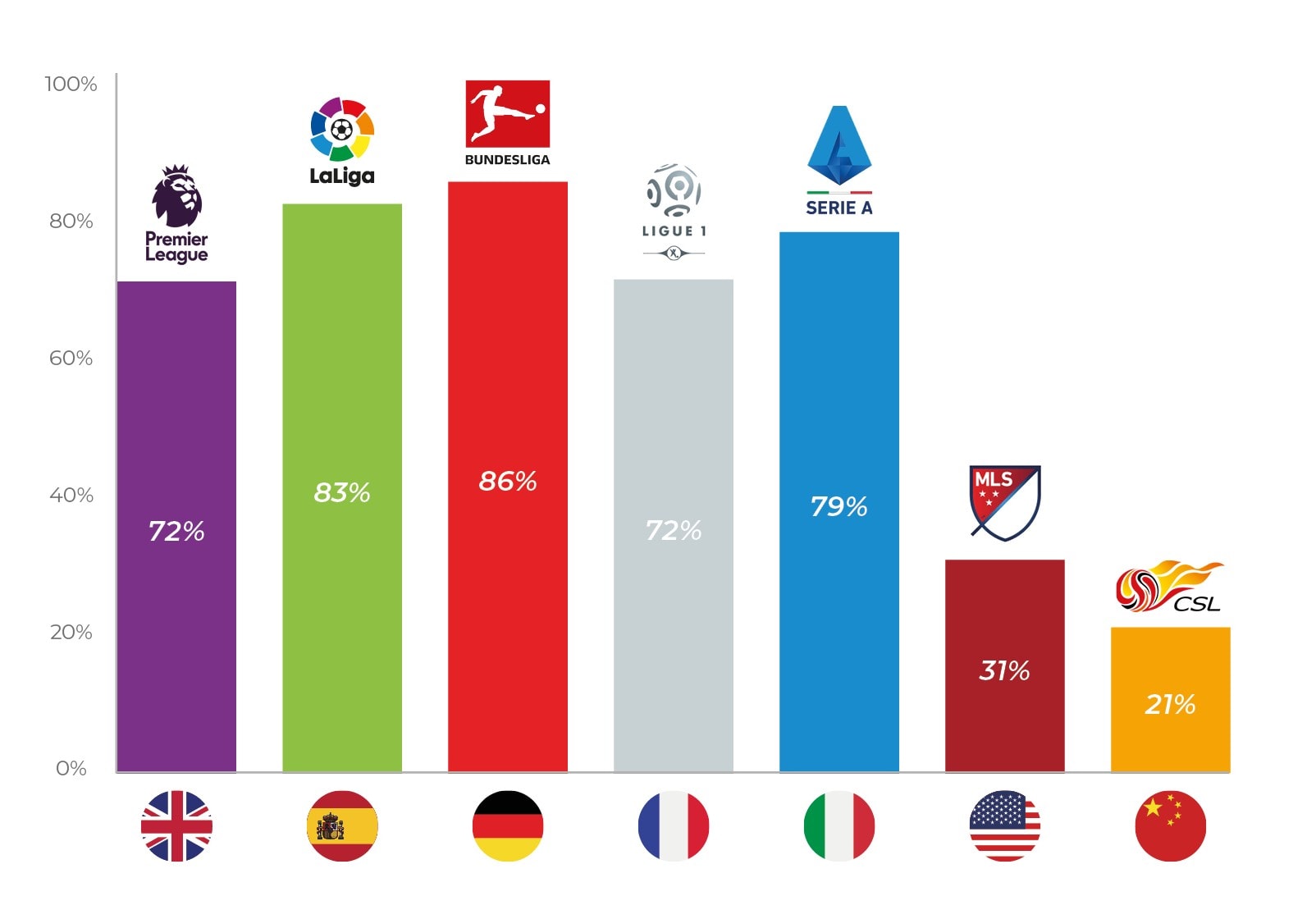 The Premier League remains the domestic competition with the broadest global appeal, the virtue of its widespread appeal in China and the USA (though in China La Liga and the Bundesliga are close competitors in a fast-evolving market). In particular, the Premier League rates well in terms of quality, being seen as the 'best' competition by a similar number of fans as the Champions League, well ahead of the other European leagues on this measure: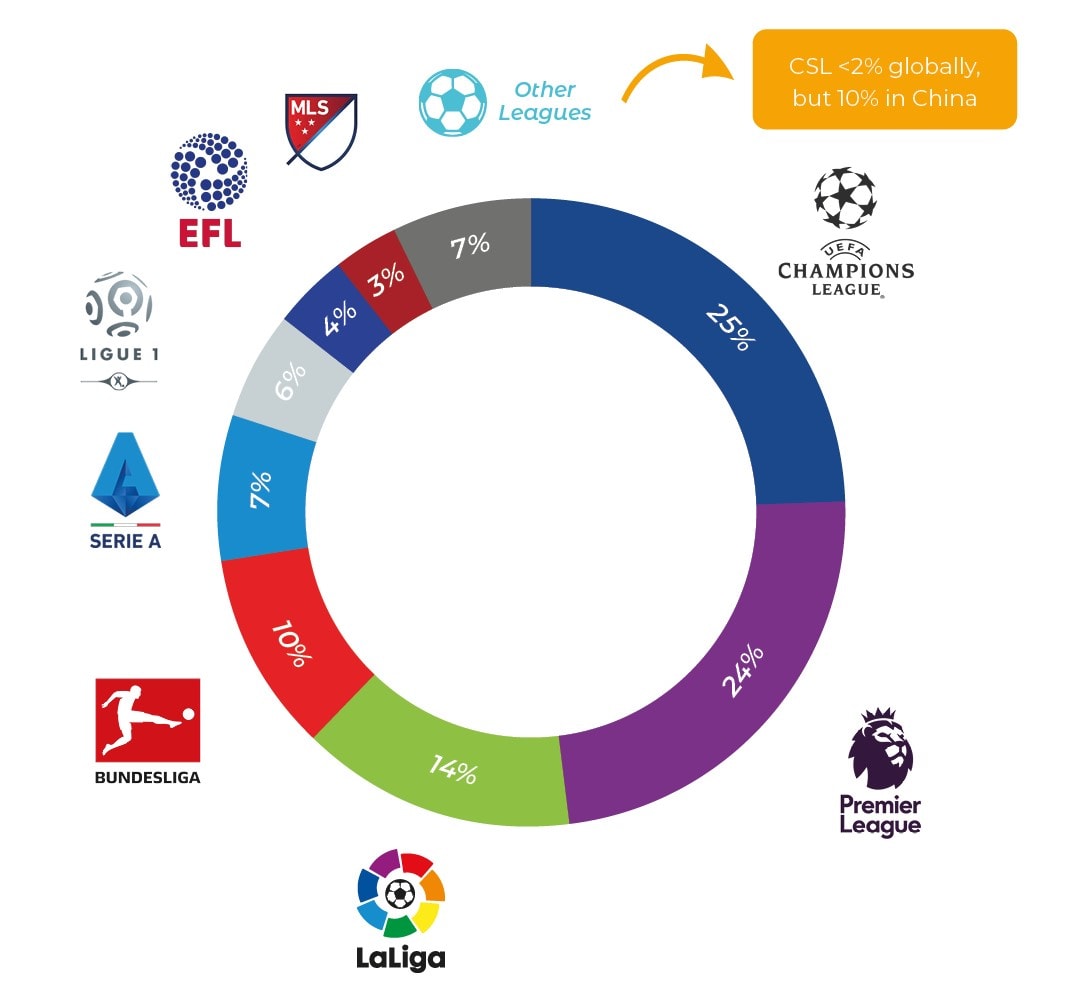 Among those who follow each competition, perceptions of them are on the whole positive (why follow a poor competition?). But it is revealing that:
La Liga fans are emphatic that their league has 'world-class' clubs and
Premier League fans have a strong belief that this league is the most competitive, with great stadia and passionate fans
MSL & CSL followers see these leagues as growing in appeal and have increased social capital with friends and family
Shift to Digital Engagement Continues
Broadcast TV continues to drive engagement – it remains the #1 way for fans to follow live football. But increasing numbers of fans are streaming games online, and the dominance of broadcast is diminishing, as with most TV/video content. The USA is particularly advanced, with much (European) football being only available via this channel.
Following football via social channels is widespread, too. But claimed usage of news sites has dropped dramatically – fans are able to get content through more tailored football sites/apps and these appear to be gaining ground.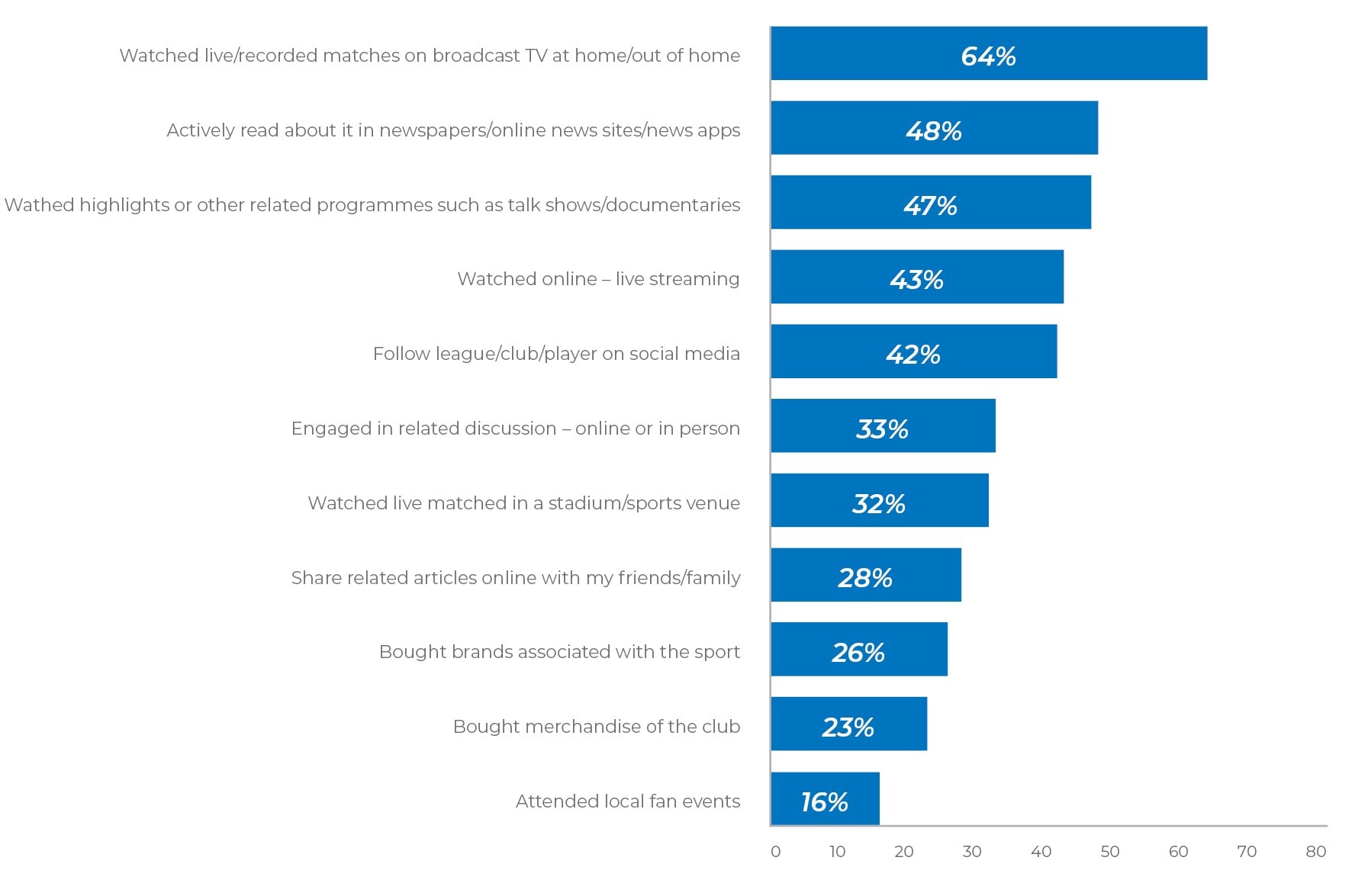 Only Half of Club Fans Can Name Their Main Sponsor
Sponsorship can pay off even if fans are not overtly aware of sponsorship activity (see Sponsorship section). Nevertheless, it is remarkable that for some of the highest-profile clubs less than half of their fans can name their main shirt sponsor: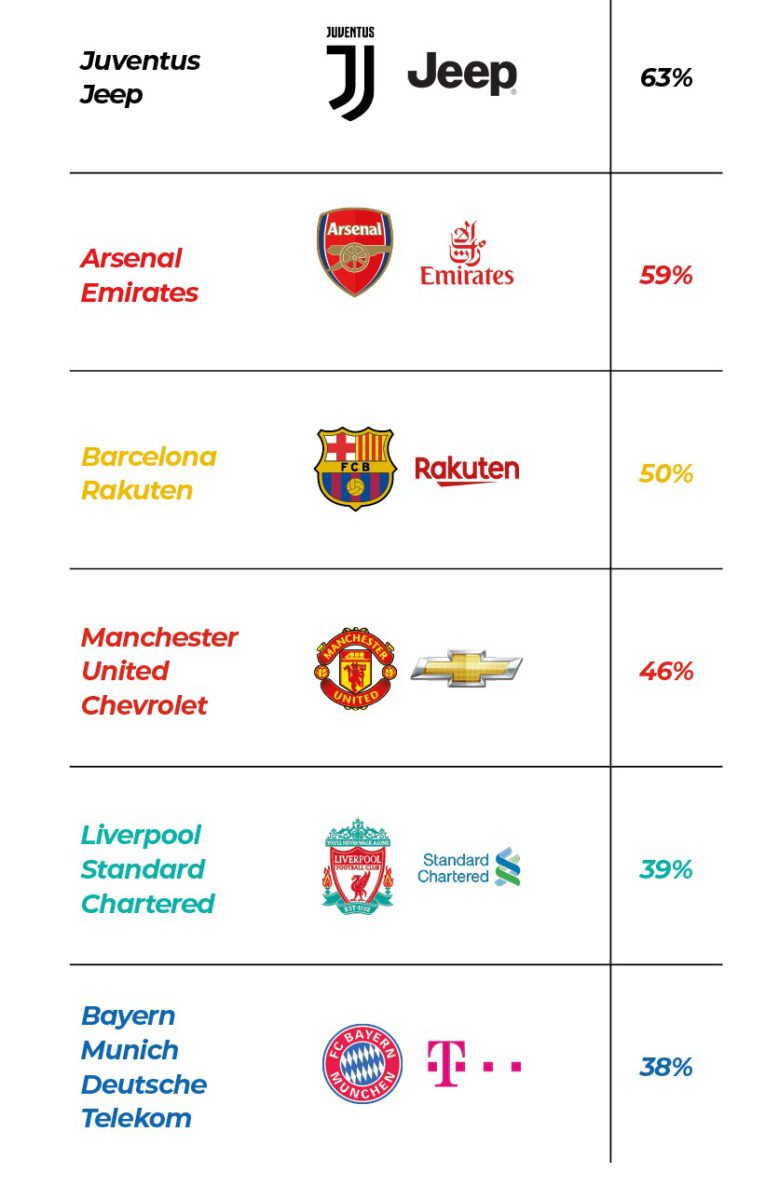 Jeep can therefore be very satisfied with their score.
Increasing Opportunity for Women's Game
Across the seven countries, interest in the women's game is healthy – 38% claim to watch the women's World Cup, for example (with interest stronger among male fans in all markets apart from the USA).
Football's challenge, therefore, is to increase levels of interest in women's club competitions. Clearly, at the moment these cannot match the male game in terms of passion, matchday experience, social capital, or overall appeal. But the potential is there, as is the opportunity for sponsors to get involved.
Brand Finance Football Annual 2020
What are the world's most valuable football brands? The 150-page-long second edition of the Annual provides in-depth analysis of brand and enterprise values, sponsorship effectiveness, league reputation, stadia performance, and the role of Esports.