This article was originally published in the Global Soft Power Index 2023.
Ranked 40th in the Brand Finance Global Soft Power Index 2023, South Africa has dropped seven places since its last ranking. Despite this, South Africa remains the continent's highest ranking nation on Soft Power. Propelled by its proactive response to the Covid-19 pandemic, the nation is optimistic about its future growth across various industries, from healthcare to infrastructure.
Read Brand Finance's interview on the subject with Pumela Salela, Country Head of the UK for Brand South Africa, below.
To read more about South Africa's Soft Power, see the insight by Jeremy Sampson, Managing Director for Brand Finance Africa.
Interview with Brand South Africa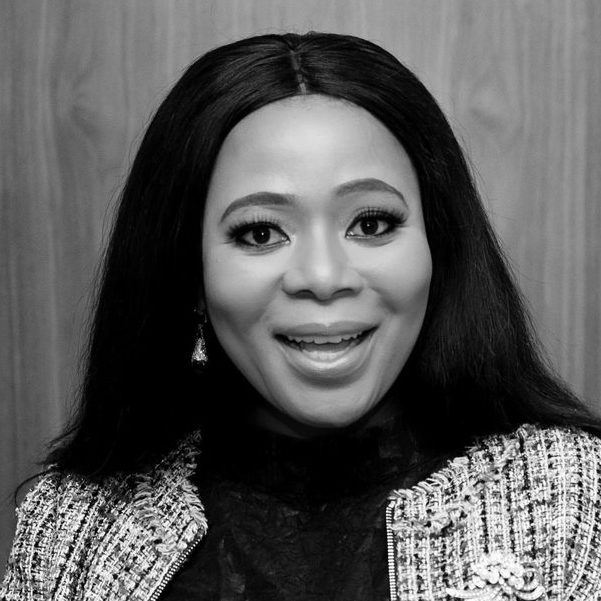 South Africa leads the ranking of Sub-Saharan nation brands in the Global Soft Power Index. It also has a significant tradition of moral leadership personalised by Nelson Mandela. What does leadership mean to South Africans and how can they help other African nation brands find their voice on the global stage?
Visionary and collaborative leadership is at the heart of our regional engagement strategy. Key initiatives such as the South Africa Investment Conference (SAIC) and the AfCFTA, South Africa are working towards challenging the notion that it is the exception to the continent, when in fact it is a committed partner to attaining the collective goal of regional growth and prosperity.
As the oldest nation branding agency on the continent, Brand South Africa has been tried and tested in the area of effective reputation management and nation brand marketing. As we and the rest of the continent navigate through the storms of COVID-19, we have had to look to the potential of the AfCFTA in that it holds the promise of an autonomous Africa, which is both self-sufficient and fit for purpose. The pandemic showed us that, when all is said and done, Africa must unite, not only in the rhetorical sense but in all senses: economic, political, security, health, food security, climate, and technology. Also, as the youngest continent we have an obligation to future generations to actively change the growth trajectory so we can create an environment that is conducive to solution-driven innovation and sustainable growth, that is focused on social mobility and increased inclusion.
As Brand South Africa, we understand the power of narratives and perceptions. It is for that reason that we are extending our knowledge and expertise to our regional counterparts. The success of the AfCFTA is directly linked to how Africans see themselves and how they use positive images and messaging to reach out to the rest of the region and by extension, the rest of the world. There is so much untapped potential in the region and in true African spirit – we remain true to attaining the hopes and dreams of our founding fathers of a united, peaceful, and prosperous Africa.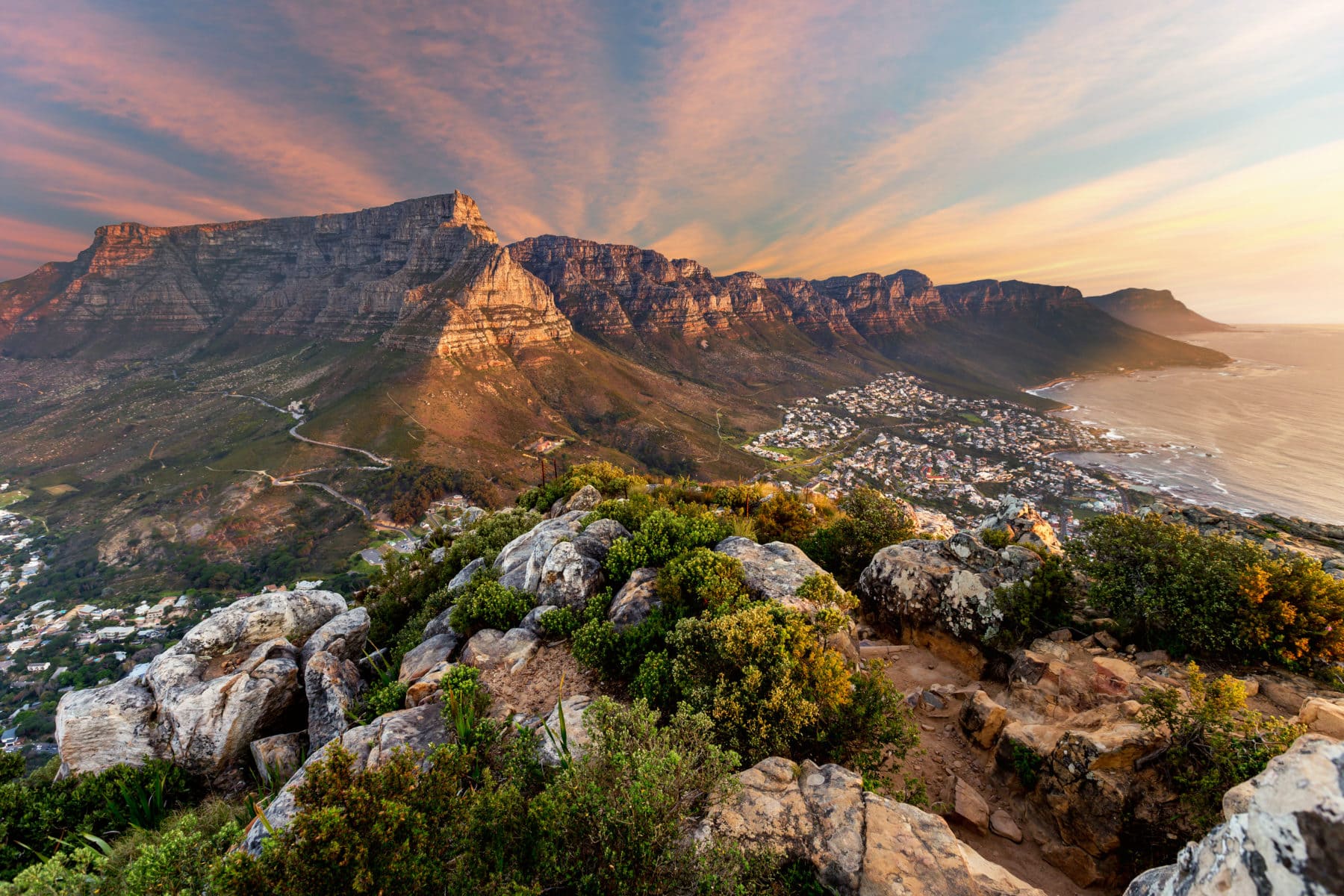 'Future growth potential' is where South Africa registers its highest score. Turning that potential into economic benefits requires focused policies. What are the key industries that South Africa is currently investing in to lay ground for future growth?
Some of the key milestones of South Africa's Economic Reconstruction and Recovery Plan speak to Infrastructure and Innovation. With regards to Infrastructure, President Ramaphosa highlighted that a programme largely premised on Public-Private Partnerships would unlock investment in the sector with the goal of rebuilding world class network infrastructure to boost aggregate demand. Additional incentive programmes include the Infrastructure Fund, where the Government of South Africa has pledged a commitment to use public funds to leverage private investment on a larger scale, by positioning "South Africa as a leading market for global business services, leveraging our unique strengths in customer service, broadband infrastructure, and expert skills"
The COVID-19 pandemic showed South Africa and the region, that healthcare security is essential for a nation - and more so a region - to successfully navigate a health crisis. As a country, health crisis is a phenomenon that we are very familiar with, having dealt with some of the highest numbers of HIV/ AIDS cases in the world. We had to not only gain the knowledge, but also work towards creating domestic solutions that ensure that we contain the virus and educate our citizens.
The HIV/AIDS crisis was slightly different than COVID-19 in that the fake news/ misinformation phenomenon did not influence the public at the kind of level that it currently does. Various media platforms and social media drove a narrative that dangerously influenced global policy. For an emerging economy like ours, the goal was to use the lessons and structures we built in response to the HIV/AIDS crisis to successfully navigate through another health crisis.
On the positive end of things, South Africa saw its innovation capabilities as a necessity to the region and the rest of the world. As such we, through initiatives like TRIPS, were able to look to our existing pharmaceutical manufacturing capabilities to step in and display the true potential that the region has. The collective good faith that was displayed by the international community was instrumental in ensuring that South Africa became one of the first countries in Africa to manufacture and distribute a COVID-19 vaccine.
The various endorsements from the World Health Organization (WHO) and the African Union (AU), provided the necessary buy-in for the rest of the region and world, to chart a new course for African self-sufficiency. It also showed the world our innovation capabilities through the well-established Aspen Pharmacare and Afrigen Biologics, and the newly established Biovac Institute, which is a public-private initiative. These projects will greatly aid South Africa in our quest to become a hub of scientific innovation, research and development, especially in vaccine manufacturing for COVID-19, cancer, tuberculosis, and other potential pandemics.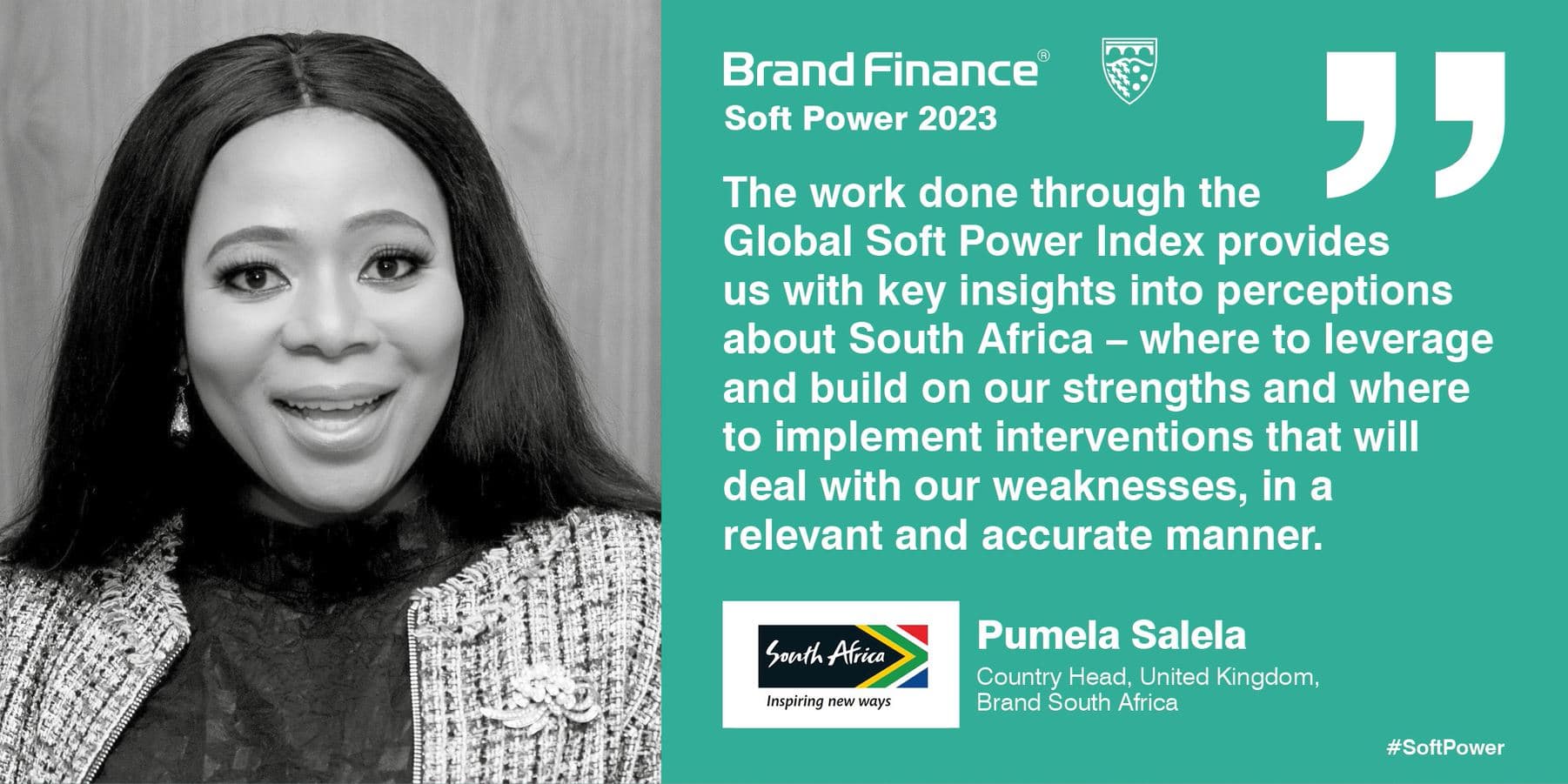 Brand South Africa has been following the Brand Finance rankings for many years. How does understanding nation brand perceptions help inform your marketing strategy?
As the custodian of the South African nation brand, our primary mandate is to ensure that we understand how the country and by extension the nation brand is perceived. Perception by its very nature is driven by a set of ideas and narratives that are directly and indirectly created by particular events, dynamics, and characteristics. As such, it is our goal to firstly understand the drivers of those perceptions and work towards curating a narrative that seeks to shift the focus of particular perceptions. The work done through the Global Soft Power Index provides us with key insights into perceptions about South Africa – where to leverage and build on our strengths and where to implement interventions that will deal with our weaknesses, in a relevant and accurate manner. Simply put, research insights provide us with the analysis and interpretation of human behaviour and trends, so we may improve the effectiveness of our targeted marketing efforts.
Insights on South Africa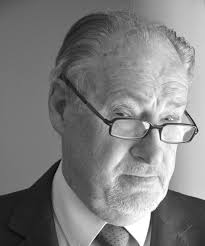 South Africa is currently facing many challenges that are holding it back from realizing its full potential. Its political leaders are more focused on personal gain and maintaining their grip on power rather than serving the country. The African National Congress (ANC), which is South Africa's ruling party and a "liberation party," has been plagued by corruption. With a general election scheduled for next year, the ANC is concerned about losing control.
Despite these issues, South Africa has much to offer. As the UK's The Economist magazine wrote earlier this year: 'South Africa has world class miners, manufacturers, and farmers. But its exporters cannot get their goods out of the country, they cannot make any money. South Africa is regularly referred to as Sub Saharan Africa's most industrialised country. That is still there for the moment.' However, none of the State Owned Enterprises (SOEs), which include electricity, roads, rail, ports, and the post office, are well-managed, and none of them are profitable.
South Africa has been suffering from power cuts for over 15 years, which are worse than ever and have had a debilitating effect on the country. This is due to bad planning, lack of maintenance, lack of investment, and corruption that continues to plague the country.
Businesses have invested heavily in generators and solar power, and even private homeowners have had to invest in batteries, inverters, and solar. This has led to a major supermarket chain spending over GBP 3 million a month on diesel fuel, while KFC is reducing its number of branches to manage the situation. Smaller brands are similarly struggling to survive as a result.
Despite its challenges, South Africa still ranks highest in Soft Power in Africa, with a score of 42.5 and 40th place globally, which is still way ahead of Mauritius (67), Rwanda (85), Nigeria (93), Botswana (96), and Kenya (100). South Africa's high score is largely due to its familiarity with other countries.
However, on most other metrics, it ranks either average or below average. For example, its scores on 'education and science' and 'governance' are particularly low. These issues impact the overall mood of the country, and many people are either emigrating or thinking about it. Some are moving to the Western Cape province, which is home to Cape Town and is governed more efficiently by a different political party than the rest of the country, which is still in the hands of the ANC.
Joining the BRICS liaison, which consists of Brazil, Russia, India, China, and South Africa, had the potential to benefit South Africa. However, South Africa's mostly neutral stance on Russia is creating issues. Even Brazil has criticized Russia's aggressive actions, particularly the ongoing war in Ukraine.
Presently, war games are taking place in the Indian Ocean off the coast of South Africa, involving warships from Russia, China, and South Africa. As a result, the leading South African daily newspaper released an editorial on February 17th, stating: "Our shameful relationship with a rogue state - we are navigating stormy waters with nothing to gain. How much harm will South Africa suffer from its naval exercise?"
South Africa's Soft Power, which is the ability to influence and attract others through cultural, political, and economic means, has been affected by various factors, including its neutrality on Russia and its participation in war games with Russia and China. The country has also faced challenges in areas such as education, science, and governance, which have impacted its international ratings. Nevertheless, South Africa remains a popular destination for tourists due to its stunning scenery, wildlife, and wine.
To improve its Soft Power, South Africa needs to address its challenges, such as corruption and poor governance, and allow the private sector to play a more significant role in the country's development. With a wealth of talented people and natural resources, South Africa has the potential to move forward and achieve its full potential.