This article was originally published in the Brand Finance Banking 500 2022 and the Brand Finance Africa 150 reports.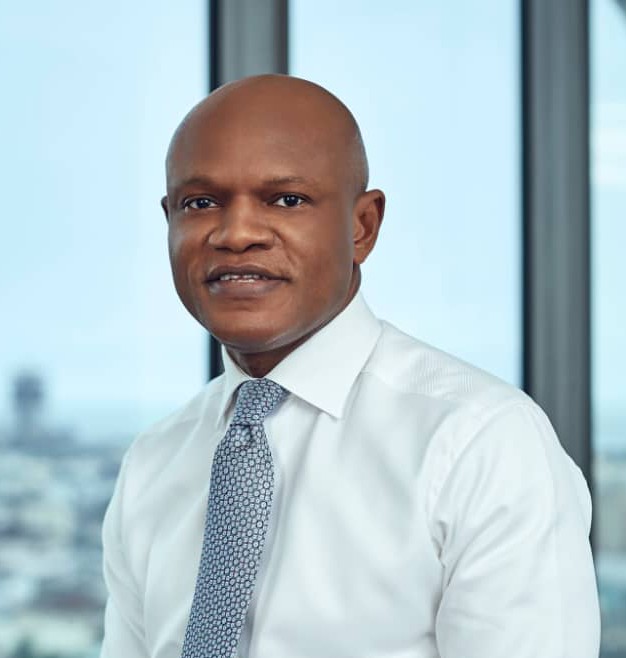 Access Bank is now the most valuable banking brand in Nigeria, with a Brand Value of $379m (45% increase YoY). To what do you attribute the incredible growth in 2021?
Access Bank recorded a solid performance despite the challenging and fast-changing macro, characterized by inflation and low-interest rates. This is a testament to the resilience of our business model, a strong risk management culture, and effective execution of our strategy.
In September 2021, the Bank recorded a 17% year on year growth in gross earnings to ₦693.1bn (9M 2020: ₦592.8bn), leading to an improvement in the Profit After Tax of ₦121.9bn (9M 2020: ₦102.3bn). We continue to grow our diversified revenue lines through the optimization of our channels and electronic banking platforms. Consequently, our annualised Return on Average Equity (ROAE) stood at 21.0% tracking in line with our commitment to stakeholders.
In the same period, the bank sustained robust capital and liquidity positions, well above regulatory levels. This positioned the bank to support our customers across various markets and adequately execute our expansion strategy. We also successfully completed acquisitions in South Africa, Mozambique, and Zambia, emphasizing our footprint in key markets around the globe. Our plan is to expand our presence in geographies with significant growth potential, especially where they support our global customers.
In September, we successfully issued a USD500 million Senior Unsecured Eurobond with record levels of oversubscription and pricing, a large stride towards the realisation of our vision. Also, we issued the first Additional Tier 1 (AT1) Eurobond out of Nigeria, further demonstrating our leadership in the marketplace. These remarkable transactions showcase the confidence of investors in the Bank. The AT1 instrument enhances our capital ratios, in view of the new Basel III framework, and provides significant room for growth and the execution of our strategic objectives.
These successes have been pertinent and instrumental to the improved brand value and perception of the bank, both in the local and international markets. We are confident that our purposeful strategy, diversified model, and investment in innovative digital solutions will ensure that we remain resilient and continue to support our customers and communities. We remain committed to our corporate and brand vision to be the World's Most Respected African Bank and Africa's Gateway to the World.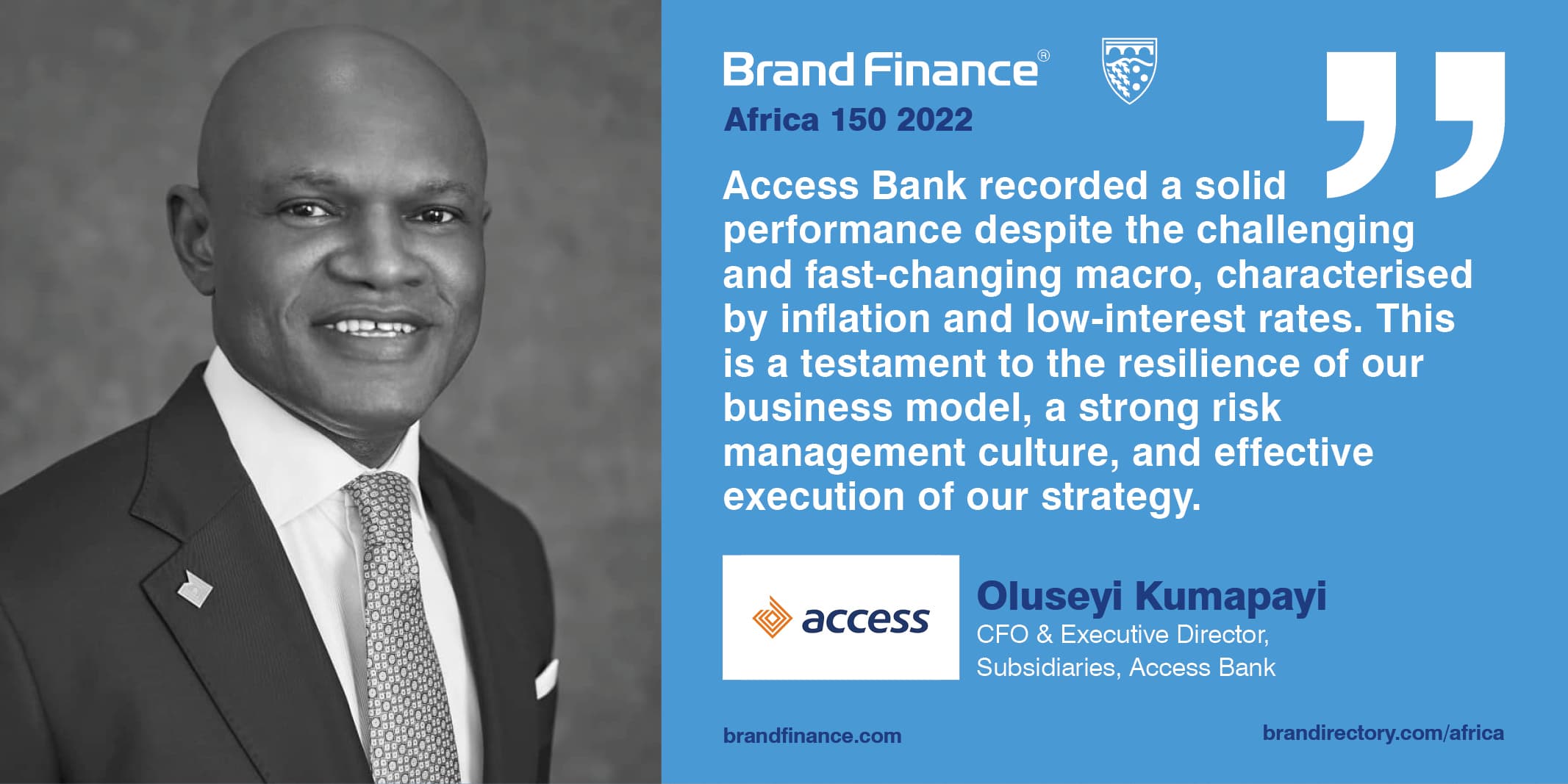 Access Bank has a corporate vision, and brand vision, of being "the World's most respected African bank", why is this vision so important for the success of the bank, and how important is it to increase the bank's African footprint?
The corporate and brand vision of Access Bank to be "the world's most respected African Bank" is key as it serves as the strategic plan for Access Bank's goals, objectives, and success. Access Bank's next phase of growth is to become a top 5 bank in Africa, and this will require assets and revenue to grow more than US$100bn and US$10bn respectively. The bank's success is heavily dependent on the bank increasing its footprints to achieve its vision in line with the set goals and growing revenue. This brings to light the importance of increasing our footprint in Africa. In addition to growing revenue and assets, this can be done by having a strong global franchise solidified by a robust capital base and best practice governance structures.
Our current expansion strategy in Africa & globally is deliberate and disciplined, with a targeted focus and approach to be the world's most respected African bank. This will see us becoming an aggregator in Africa and consequently lead to the bank's success by building a global payments gateway, offering holistic trade finance support, and offering correspondent banking leveraging Access Africa connections to wallets and payment platforms. The African franchise is complemented with our strategic global presence in the United Kingdom (with a branch in Dubai, UAE) and offices in China, Lebanon, and India, with planned presence in Paris, Malta and Hong Kong. This is a significant part of our business as it supports our strategic objectives to facilitate intra and inter trade across the Africa.
The Bank's global presence is essential for providing innovative solutions for the worldwide financial market as this not only aids cultural understanding, that makes it easier for diplomatic agreements to be made, but it also facilitates trade. This is an essential step to being Africa's payment gateway to the world, as these strategic foundations laid in Africa, Asia and Europe will lead to a boost in the Bank's global reputation and reach.
In addition to this, it is important to take advantage of the opportunities coming from the new African Continental Free Trade Area (AfCFTA), as it is expected to expand intra-Africa trade to 53% this year. It is noteworthy that there is an opportunity for Access Bank to expand to high-potential markets, leveraging benefits of the AfCFTA off over 1.3bn people which is expected to expand intra-Africa trade providing real opportunities for Africa with increased financial flows. With this goal and the vision engraved at the back of our minds, Access Bank will continue to deliver growth and create value over time to be and remain "the world's most respected African Bank".  
Access Bank has experienced phenomenal growth over the last 20 years, which is in part due to the strategic takeover of Diamond Bank. What are the bank's growth opportunities over the next 20 years?
The next phase of our growth is to be a top 5 African bank, which will require our assets to top excess of USD10bn respectively. Access Bank's aspiration can be further expressed by 5 key metrics: the number of customers, return on equity, customer experience, brand value, cost of funds, and cost to income ratio, with implications across the bank.
Access Bank has a strong retail banking operation. However, to achieve its aspiration, Access Bank will have to expand on the proliferation of payments and digital consumer lending, as well as the enhancement of MSME banking which is essential to drive growth in the retail space.
Our focus in the coming years will be:
Become an aggregator in Africa by building a global payments gateway, offering holistic trade finance support, and offering correspondent banking
Focus on key markets to support regional trade by targeting new opportunity markets and positioning the Bank as a trade and payments gateway to the world
Transform payments & remittances using cheap FX from international remittances to feed trade, leveraging Access Africa connections to wallets and payment platforms.
We will target expansion opportunities across Africa and beyond. Our approach to our African expansion plan will be to:
Target scale in countries of presence: targeting an impactful presence, reaping economies of scale, and leveraging digital and access to cheap funding sources
Diversify risk and earnings: taking advantage of the expansion strategy to diversify our earnings and risk—that said, Nigeria will remain our largest market
Build on partnerships: modeling expansion strategy on partnerships with financial investors, DFIs, etc. and providing strategic support to protect and grow partners' value
Innovation and sustainability are at the heart of the Access Bank strategy, having issued the first green bond in Nigeria in 2018. How does the bank think about Innovation and Sustainability as core pillars of success in Nigeria?  
Innovation and sustainability sit at the core of our corporate strategy. As such, we have over the years aligned our business decisions and product innovations with the Sustainable Development Goals. The launch of the Corporate Green Bonds was an innovative step in driving our sustainability agenda in line with our vision to be the World's Most Respected African Bank.
The N15Billion Corporate Green Bonds certified by the Climate Bonds Initiative (CBI) is a key aspect of our portfolio greening developed in line with our sustainability strategy to mobilise funding for long-term societal, environmental, and economic goals. The proceeds of the corporate Green Bonds were utilized for the financing and refinancing of environmentally friendly projects such as renewables which leads to an estimated flood defense projects.
To promote green financing across the bank, we have also created subsidised green loans to increase financing for environmentally friendly projects that support decarbonization. These climate challenges have provided a great opportunity for the bank to increase social investments, thereby achieving our ambitious sustainability targets.
In 2020, Access Bank successfully implemented the sustainability standards under the Sustainability Standards and Certification Initiative (SSCI) administered by the European Organisation for Sustainable Development (EOSD). As a result, we became the first commercial bank in Africa to be sustainability certified, scoring the highest possible points in the programme. This certification provided a practical tool for the bank to transform its organisational culture, attain measurably high impact goals, and become more profitable, among other benefits.
2020 was a dynamic year that changed the lives of everyone across the world and beyond our imagination. The COVID-19 pandemic birthed great uncertainties for individuals and businesses. For Access Bank, it was an opportunity for us to be closer with our customers and hold their hands through the exceedingly tough time. We had to summon the resilience, dedication, and innovation of our teams, as well as our partnerships, to respond to the combined public health and economic crisis. Our core values as an institution were instrumental to our stellar overall performance in a year that was difficult indeed.
As a leading financial institution, Access Bank continues to promote responsible environmental stewardship, stimulate socially responsible development, and engage in ethical practices. Our management approach to sustainability is grounded on best practices and encompasses the triple bottom line of people, planet, and profit. Our sustainability strategy has continued to evolve as we constantly seek to meet the demands of a dynamic and fast-changing world. We have kept our finger on the pulse of sustainability innovation, and we continue to improve performances in our core business, environmental footprint, and the social wellbeing of the communities where we operate.
In conclusion, sustainability is strategically embedded into our business processes and organizational practices and has placed us as a leader in driving ESG investments in the Nigerian banking space.