This article was originally published in the Brand Finance Global 500 2022 and Brand Finance Commercial Services 100 2022 report.

The professional services company Deloitte is the world's most valuable Commercial Services brand within the 2022 Brand Finance Global 500 report.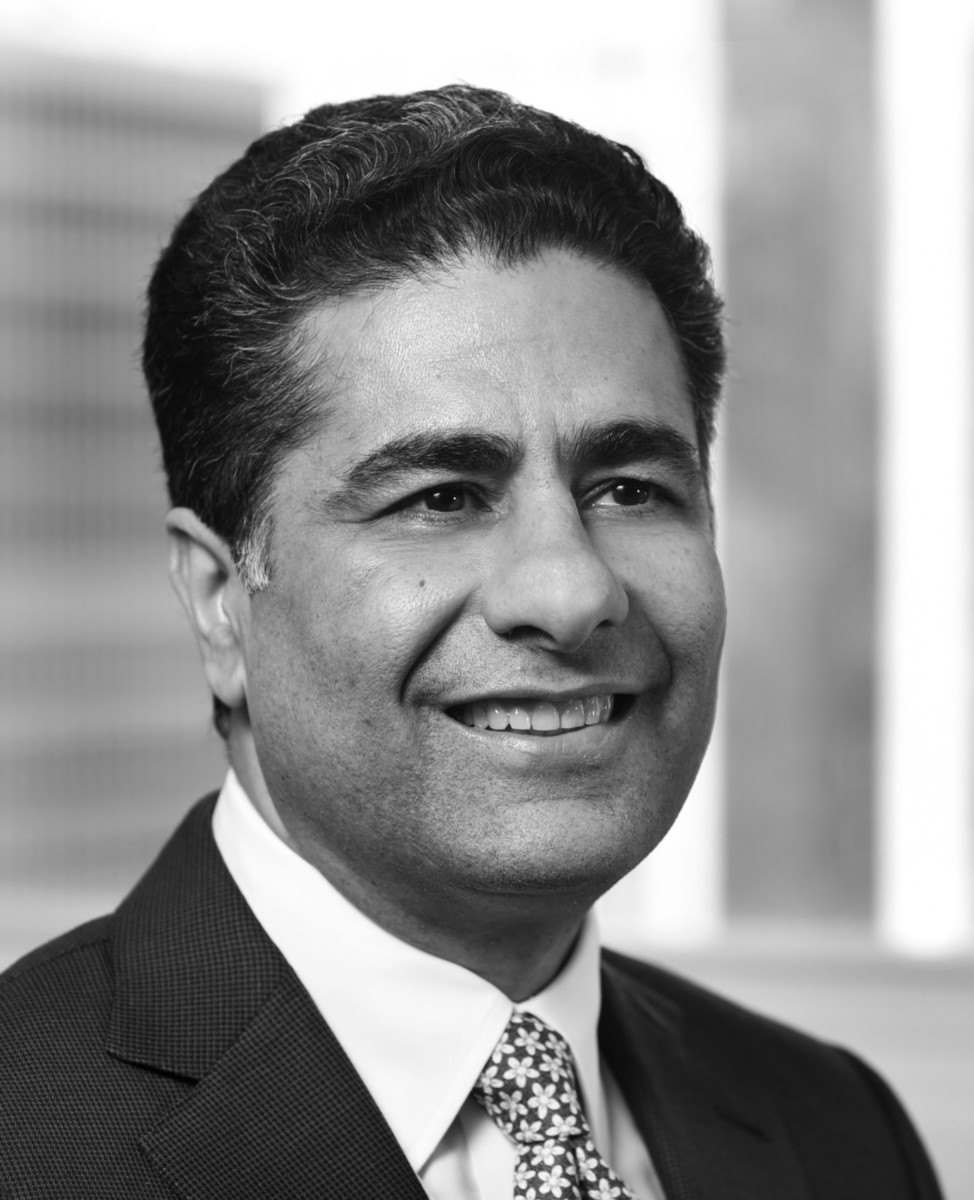 What do you think has been the most important factor(s) that has allowed Deloitte to retain its lead position for both Brand Value and Strength over the last 4 consecutive years?
Strong year-over-year performance has helped us retain our position – and that's because our purpose is clear – to make an impact that matters, not only for our clients but also for our people and the communities that we live and work in. Our multi-functional approach connects the talent and expertise of more than 345,000 professionals globally to provide clients with consistently innovative solutions, new working methods, deep specialisation, and increased market opportunities.
How do you see the role of professional services brands and business in the sustainability transition? How is Deloitte addressing the challenge?
The climate crisis is one of the most important societal challenges of our time.
To support a world where humanity can thrive, climate change must be a top
priority on the corporate agenda.
Addressing it will require large-scale transformation across industries and sectors. Professional services organisations, like Deloitte, will play a leading role in helping companies and governments innovate and manage the transition.
Whether it's climate risk identification and mitigation, decarbonization strategies, enhanced delivery of business transformation solutions involving strategy, innovation, data analytics, or supply chain reengineering, we provide clients with integrated solutions that evaluate opportunity, risk, and value creation. Importantly, to advance marketplace trust in companies' claims regarding climate change action, we also provide assurance of climate-impact reporting and metrics.
Two years ago, we launched WorldClimate, our strategy to drive responsible climate choices within our organization and beyond. We have committed to achieving net-zero greenhouse gas emissions by 2030 and our goals have been validated by the Science-based Targets Initiative (SBTi). As part of our net-zero objective, we have committed to reducing business travel 50% per FTE by FY2030 from FY2019 levels; sourcing 100% renewable energy for our buildings; switching fleets to 100% electric vehicles; and engaging with our major suppliers with the goal of having two thirds of them (by emissions) adopt science-based targets.
The opportunity to create a more sustainable world is at our collective fingertips and the case for action is clear.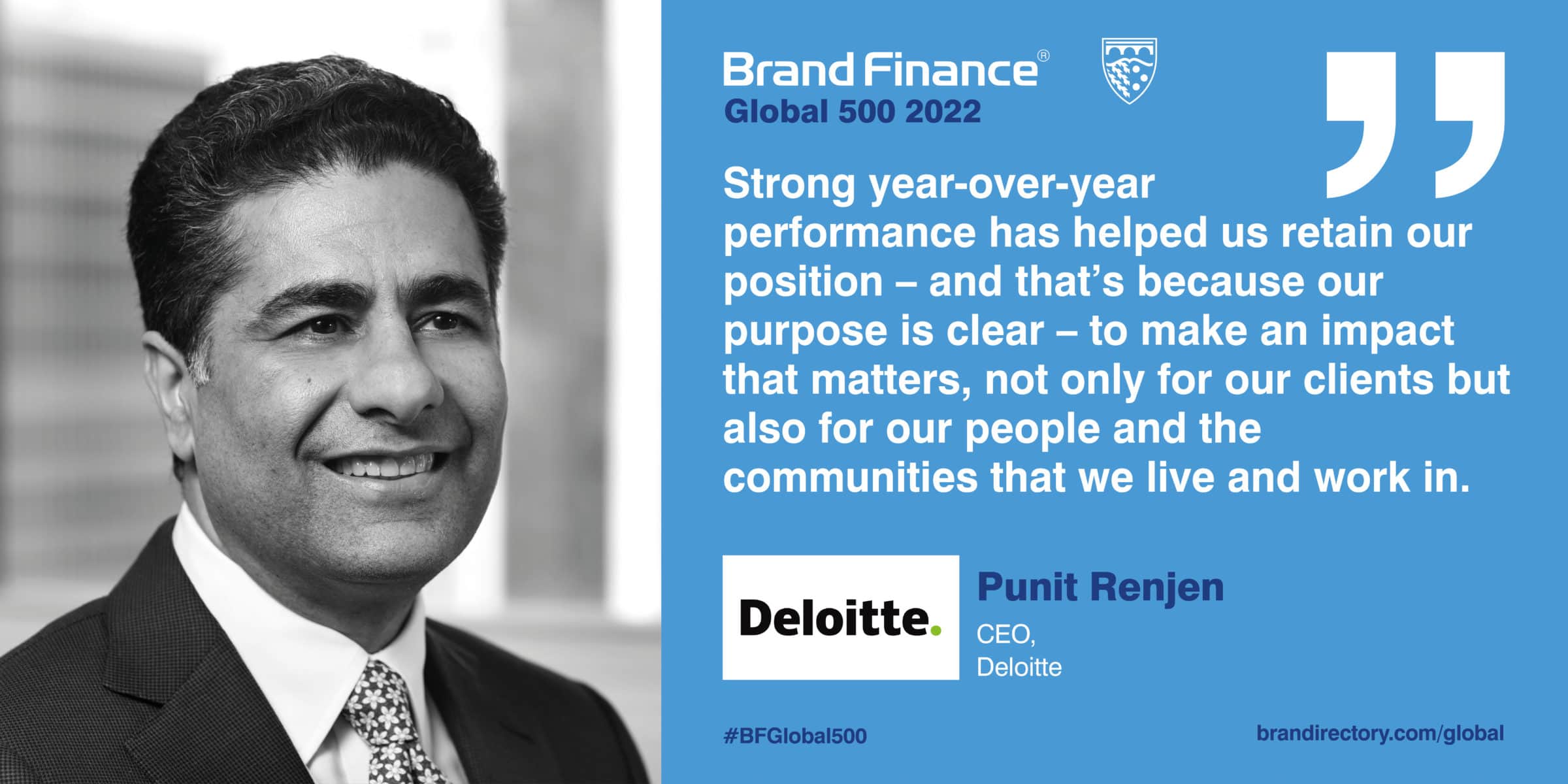 Looking forward, what dimensions and strengths of the Deloitte brand will enable long term sustainable growth?
For more than 175 years, Deloitte has been anchored by our values and strengths – the global depth and breadth of our industry and sector expertise, our commitment to our shared values and purpose to make an impact that matters in society. These attributes will continue to serve us well as the issues we face become more complex and societal expectations on businesses and leaders increase.
Solving today's toughest challenges requires all of us to work together. Our growth comes from the priority we place on figuring out the big issues and our ability to form ecosystems to address the issues that require collaboration and multiple actors to solve. We believe that a better, more sustainable and prosperous future for all, is within our reach if we work together to bring about the positive change the world wants to see.
Deloitte places a lot of importance on creating a positive impact on society. What have been some of your key learnings over the last year in doing so? What initiatives are you most proud of in that space?
As a people business, we have learned we can make the greatest societal impact by enabling our professionals to use their skills and knowledge to help solve some of the world's most complex problems.
Our impact is anchored across many different programs aimed at addressing local market needs. But two signature programs stand out. First, our WorldClass program established in 2017 which aims to prepare the millions of people who are being left behind, in school and work, to fulfil their aspirations and to meet current and future job demands. We have reached 20 million individuals to date, with a goal to impact 100 million by 2030. Second, our WorldClimate program, established in 2020, which aims to drive responsible climate choices within our organization and across our broader ecosystem. We are aligning our climate policies, practices, and actions across our organization and educating our people through dedicated climate learning programs to enable them to make positive climate choices to reduce their individual and collective impact.
In FY21 we invested $223M in our communities including donations, volunteering time, and pro bono services. Over the past five years, this amounts to approximately $1 billion.
Making meaningful, measurable progress on society's most intractable challenges – from education to climate to health care or social equality - is a monumental task. We have learned that such progress is possible only if we act together, and act with a sense of purpose and urgency.