This article was originally published in the Brand Finance Global 500 2022, the Brand Finance Telecoms 150 2022 and the Brand Finance Middle East 100 2022 reports.
Etisalat defends the title of Middle East and Africa's strongest brand and claims the crown of the world's strongest telecoms brand, with Brand Strength Index score of 89.2 out of 100 and AAA rating.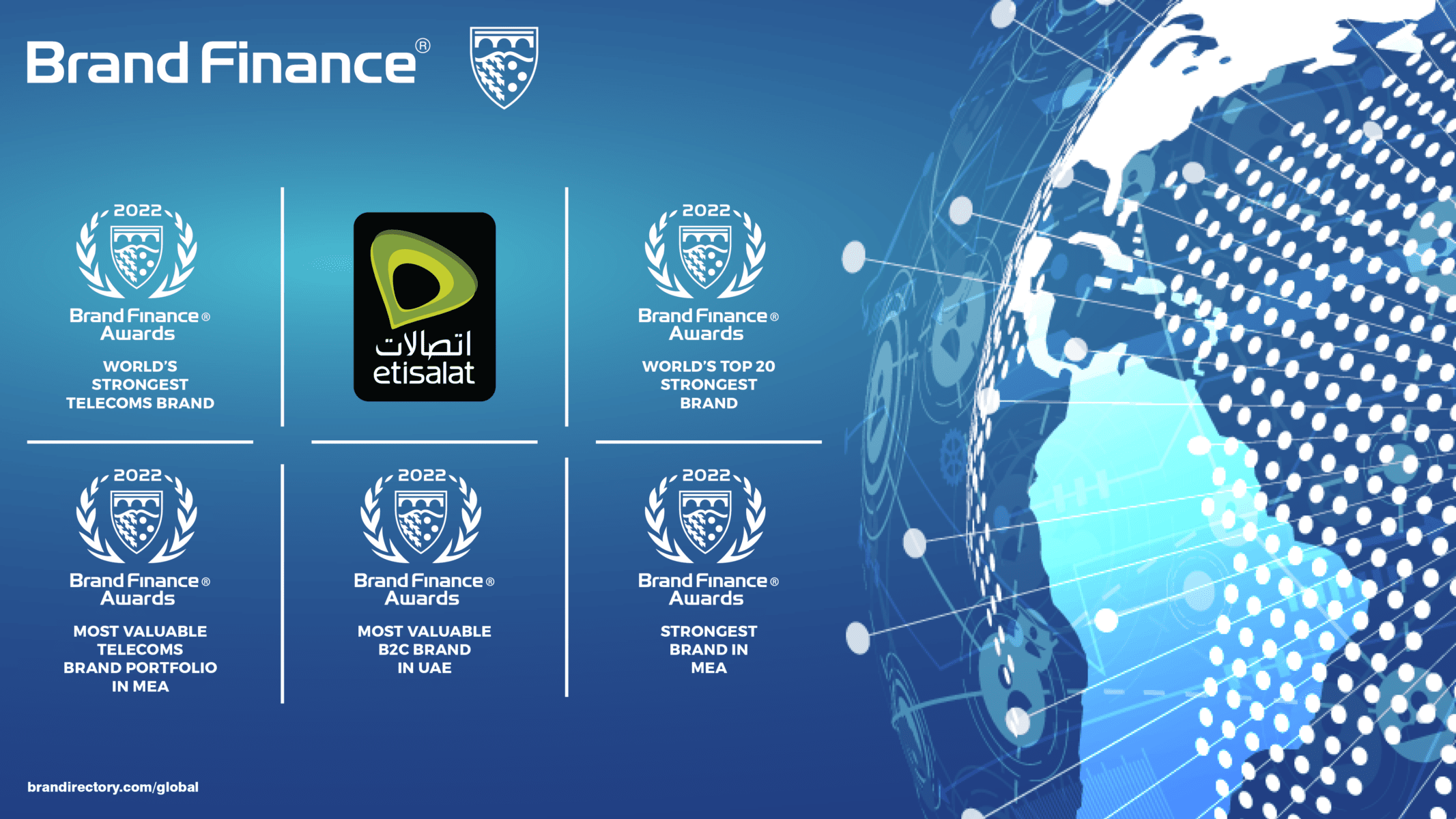 Etisalat is the region's strongest brand for the second consecutive year with a score of 89.2 out of 100 and a corresponding AAA rating. Expo 2020 has offered Etisalat the platform to demonstrate itself as a strategic enabler of the UAE's digital transformation. Etisalat's focus on enhancing customer experience and living the ethos of "Together Matters" has helped the brand in increasing its BSI score by +1.8 points, breaking into the top 20 strongest brands globally, claiming 18th place, as well as making it the #1 strongest telecoms brand globally.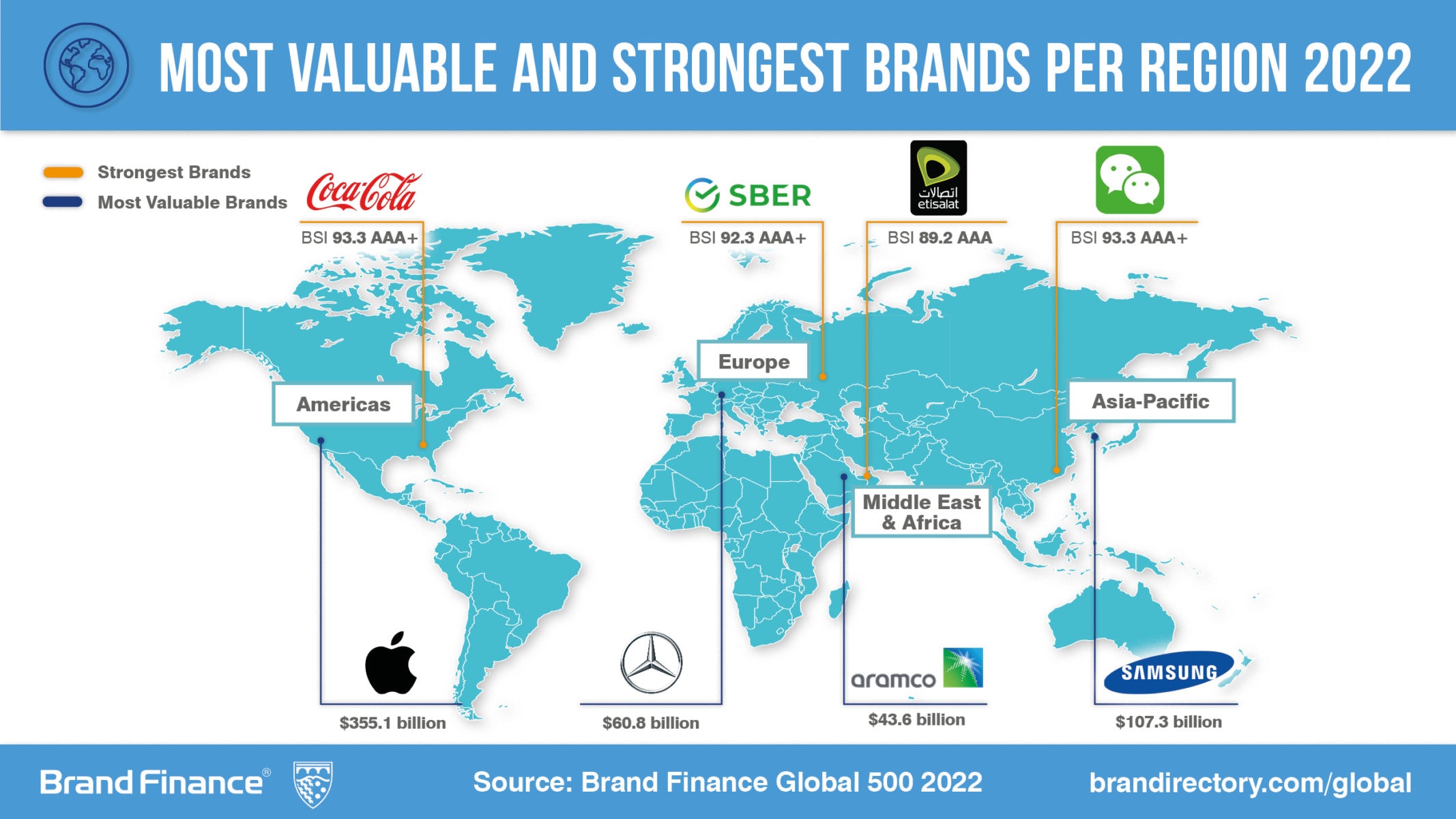 In addition to the strong BSI performance, Etisalat saw its brand value increase from US$8.5 billion to US$10.1 billion, pushing it into the top 200 of the Brand Finance Global 500 ranking this year.
Etisalat has subsequently released a new brand strategy related to the launch of a broader group identity under the name e&. e& also operates a portfolio of brands across North Africa and the Middle East, including the fast-growing Moov. When aggregated together, the value of e&'s portfolio of brands exceeds $13bn this year, making it the most valuable portfolio of telecom brands in the Middle East. The group now faces the challenge of transferring equity to the new brand over the course of 2022.
"Etisalat's brand strength is driven by product innovation and delivering on customer needs. Delivering the fastest mobile network in the world is a massive achievement by Etisalat, and their core stakeholders recognize the brand's ability to deliver impressive performance."

David Haigh, Chairman & CEO, Brand Finance
Interview with Hatem Dowidar.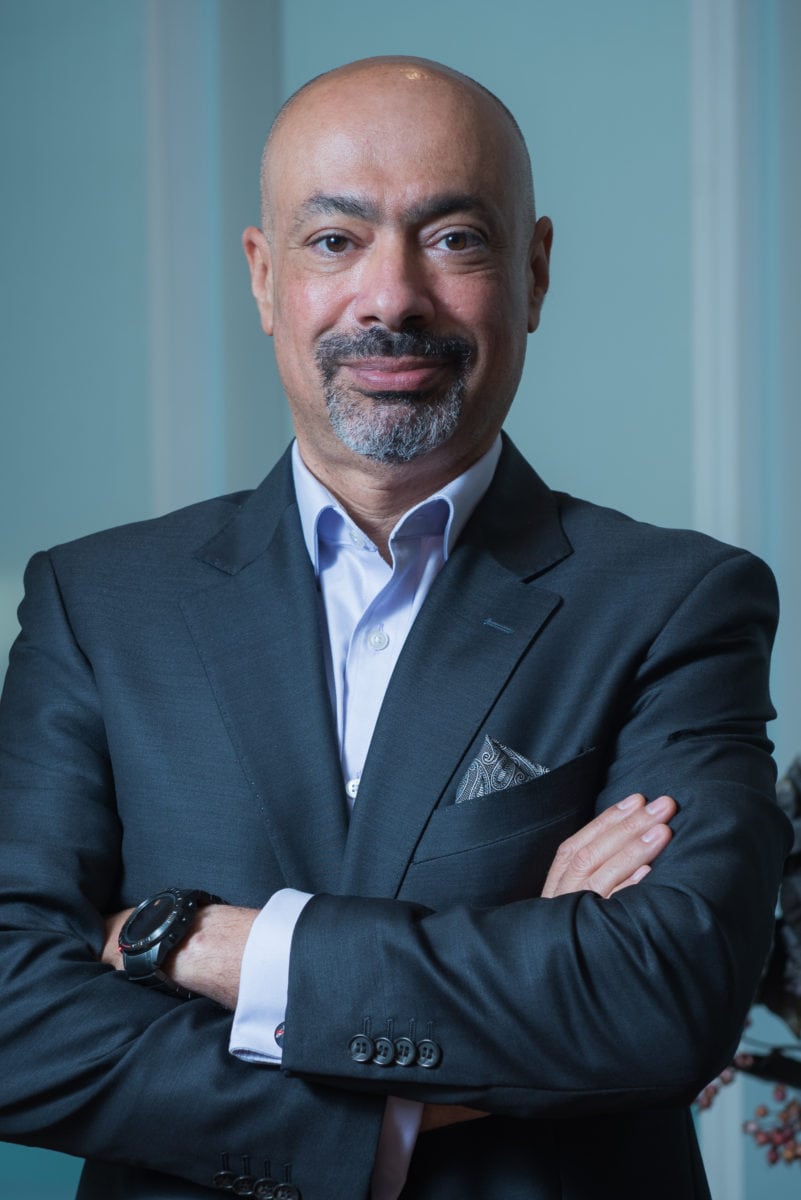 This year Etisalat has become the Strongest Telecoms Brand in the world, and in doing so retained its place as the Strongest Brand in MEA and entered the ranks of the Top 20 Strongest Brands globally. To what would you attribute this success?
Being recognised as the strongest telecoms brand in the world amongst the most outstanding brands is an extraordinary achievement for Etisalat, and one that we are very proud of and thankful for.
First and foremost, this outcome is a result of a long journey and relentless effort by Etisalat team over years to build the brand through consistency and world class customer experience. Our operations have led the way to achieve digital transformation and stood out in meaningful ways by exemplifying resilience, continuity, and digital connectivity. Etisalat Group has undertaken numerous impactful brand initiatives to ensure togetherness and connectivity as we continue to drive the digital future. The profound relevance and Etisalat's growing role in today's world contributed to ranking Etisalat as the world's strongest telecoms brand and helped us retain the title of the strongest brand in MEA region across all sectors for 2nd year in a row.
Our keen focus on sustainability initiatives, demonstrating the ethos of "Together Matters" through our actions, community interactions and sponsorship of popular sports, like Manchester City FC, have contributed towards this success. This win is underpinned by the UAE leadership's support, vision and encouragement, which have helped Etisalat achieve this significant milestone despite the headwinds posed by today's market dynamics.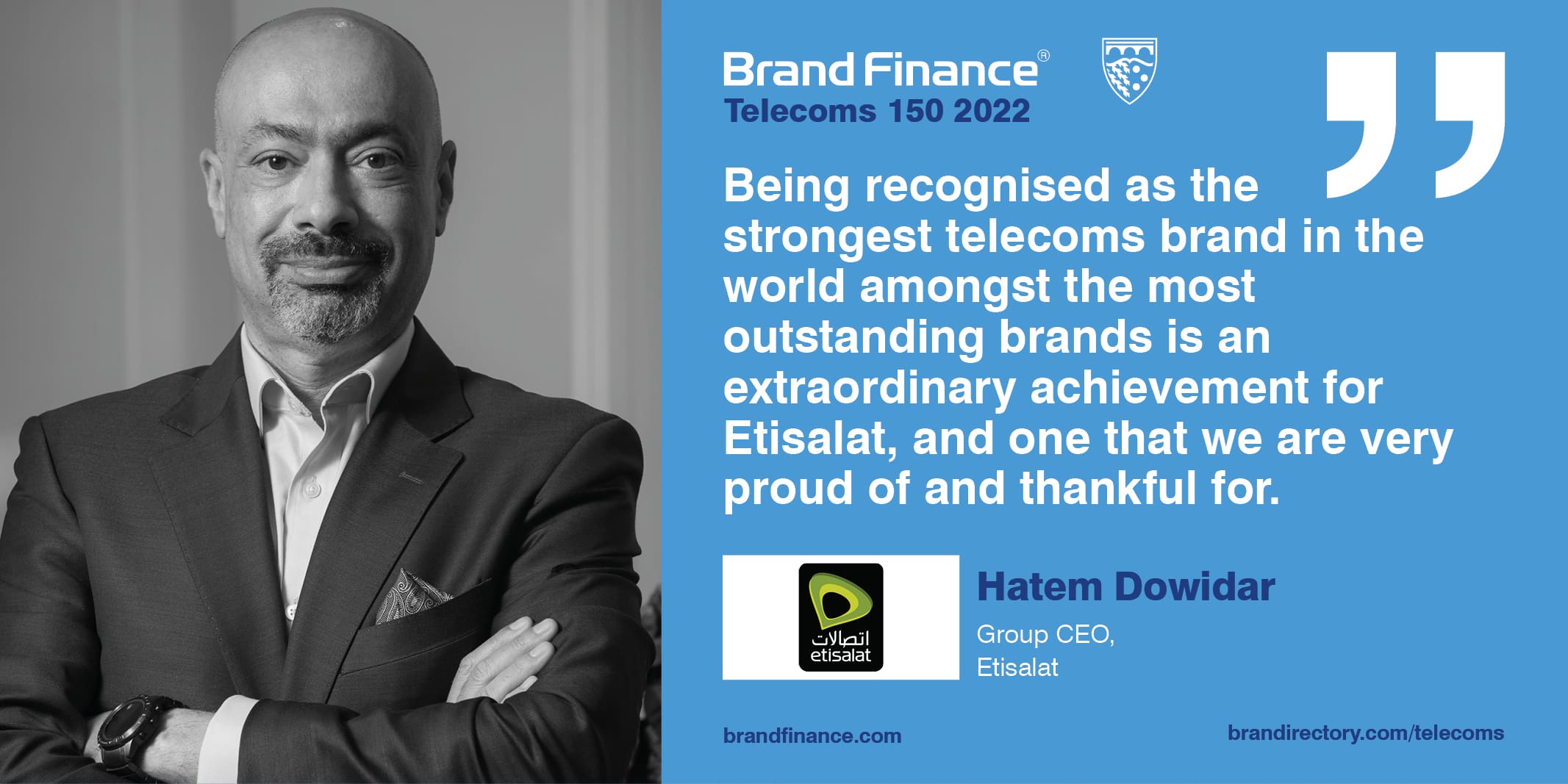 The telecommunications industry is facing huge disruption as the fourth industrial revolution changes the landscape of customer experience. What can brands around the world learn from Etisalat's mantra to the digital future and what have you done to further that goal?
At Etisalat, digital transformation has been a momentous journey during which we reinvented business models that improved productivity and customer experience. This has been transformational, both internally and externally.
Moving ahead, in the context of 'Metaverse' technologies changing so many things in our lives, Etisalat is gearing up for the next phase of communications, where virtual technologies will dramatically change experiences with the coexistence of the physical and digital world.
With our advanced 5G network, futuristic use cases get a platform to combine multiple technologies to bring the internet to life, translating these experiences into meaningful enhancements in our daily lives. Collaboration is key as well; along with the network, the rest of the industry will have to develop applications and services to enable these experiences.
Etisalat is a key partner of Expo 2020 this year. How are you taking advantage of this opportunity to showcase the brand to the world?
Expo 2020 is probably the most important event of cultural exchange and a catalyst for millions of people around the world, bringing national and international exposure to numerous innovations. This unique celebration allowed people from around the globe to witness history in the making.
The largest world expo is connected to the fastest, smartest, and most connected places on earth. Etisalat has enabled this connectivity. We did that through a seamless, cutting edge, immersive digital experience with a state-of-the-art network that is highly resilient built exclusively on-premise to serve the requirements of Expo 2020; all the participating pavilions, and visitors.
As the official telecom and digital services partner, Expo 2020 was an amazing opportunity for us to make a difference, and for our brand to shine and demonstrate our capabilities as a telco and digital player, enhancing visitors' digital experience with technologies such as AR/VR.
This is the first world expo to witness the 5G revolution and a significant breakthrough in our 5G journey providing the most advanced digital and telecoms services with a unique and memorable experience for millions of visitors.
Here are some representative facts for our Expo impact:
700km of the latest fiber optic technology (4x the distance between Dubai and Abu Dhabi)
Over 8,000 wifi access points and over 8,500 mobile access points deployed
Host and manager of Expo 2020's multi-cloud environment to enhance operational capabilities at Expo, from ticketing to workplace and general monitoring.
Smart solutions to enhance the visitor experience, including powering the visitor website and portals and the mobile application.
Over 100 expert technicians on site available to collaborate with expo teams to deliver the UAE's promise to host the best Expo in history
Now you have had a chance to settle in as Group CEO, what can we expect in regards to your plans to continue the growth of Etisalat and it's broader portfolio of brands?
Etisalat is at the cusp of transforming from a traditional telco player to a technology conglomerate. We believe that our major sustainable drivers of growth continue to be our international portfolio and the digital space. There are considerable future growth opportunities in the cloud, IoT and cyber security space that will fuel digital growth.
In order to fuel this growth, Etisalat continues to develop unique competencies both organically as well as through selected mergers and acquisitions. As part of this strategy, Etisalat Digital acquired Help AG's businesses in the UAE and KSA which is one of the leading cyber-security companies in the Middle East and North Africa (MENA) region.
Similarly, Etisalat's acquisition of elgrocer was to support its digital ambitions by enriching its services and bringing it closer to the daily lives of the consumers and unlocking synergies that drive a diversified and integrated product portfolio. This is in line with our strategy to empower consumers, enhance engagement through our digital marketplace platform and drive diversification of our business.
As part of Etisalat Group's transformation journey and the success of the business unit Etisalat Digital, it has also now carved out 'Etisalat Enterprise Digital' with the vision to become the regional digital champion. This is a continuation of its ongoing transformation journey and delivery of its next phase of growth and expansion.
Etisalat Enterprise Digital is an extended arm of Etisalat Group that brings agility into the business as well as drive digital transformation in the region with a robust agenda to grow as a regional leader in the Internet of things, cloud, security, edge computing, and Artificial Intelligence (AI). This can be achieved by capitalising on opportunities such as megaprojects, smart city and Industry 4.0 projects across multiple verticals, including health, education, logistics, and oil and gas.