This article was originally published in the Brand Finance Global 500 2022 report and Brand Finance IT Services 25 2022 report.

Infosys has seen the fastest increase in brand value from among all brands in the ranking this year. Following 52% growth to US$12.8 billion, it is now the world's 3rd most valuable IT services brand. Over the past two years of the COVID-19 pandemic, the change is even more impressive with the brand recording an 80% gain.
Strong business results can be attributed to the brand's ability to credibly adapt its offering to fast-evolving needs of today's economy as well as to its continued investment into innovative solutions that help clients securely accelerate their journey to the cloud. Infosys has also continued to build brand recognition globally by nurturing sports collaborations with ATP, Roland Garros, and the Australian Open, while also forging new ones with Madison Square Garden and media-heavyweights – The Economist, Financial Times, Bloomberg.
"Infosys has shown impressive growth this year, making it the fastest-growing IT services brand of 2022, thanks to its commitment to clients and focus on innovation. While the COVID-19 pandemic spurred the necessity of a digital transition across the globe, Infosys stepped up to the challenge, resulting in its monumental 80% leap in brand value over the course of the past two years. Also looking into the future, Infosys is a brand to watch and one that can be expected to see continued brand value growth in the years to come."

David Haigh, Chairman & CEO, Brand Finance
Interview with Sumit Virmani.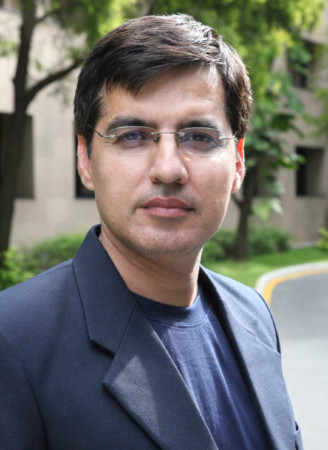 Infosys is the fastest growing IT Services brand. What role does 'performance marketing' play in this growth and Infosys' overall brand strategy?
Performance marketing - where marketing outcomes directly influence business outcomes – is our foundational approach to elevating the brand in a way that it accelerates business growth. We invest energy in delivering on goals that matter to the business by equipping ourselves with a deeper understanding of the internal and external customer, as well as insights into campaigns that work, and those that don't. By integrating data and insights across touchpoints, we seek to drive better marketing decisions. For example, we've integrated technology across marketing, sales, and operations to create one sentient tech stack that captures data to generate intelligence from both internal and external systems.
An expert team oversees the integrity of the data and offers us all a single source of truth. As a result, we are now more able to efficiently manage marketing investments, drive more effective marketing and offer better support to our colleagues in the sales teams as well. Rigor in tracking ROI, backed by a best-in-class marketing technology stack, helps us with the groundwork needed to bring the right measures and metrics. Our approach has always been to get out of the marketing comfort zone of familiar vanity metrics, that few others understand, and speak the language that makes sense to a broader executive audience. For example, we understand that an attempt to convince the C-suite about the value of digital impressions will almost certainly prove futile. So, to better demonstrate the value marketing brings, we find ways to articulate it in relation to the top and bottom line. Partners like Brand Finance, who help connect brands to business performance by evaluating the return on investment of brand-based decisions and strategies play a valuable role here.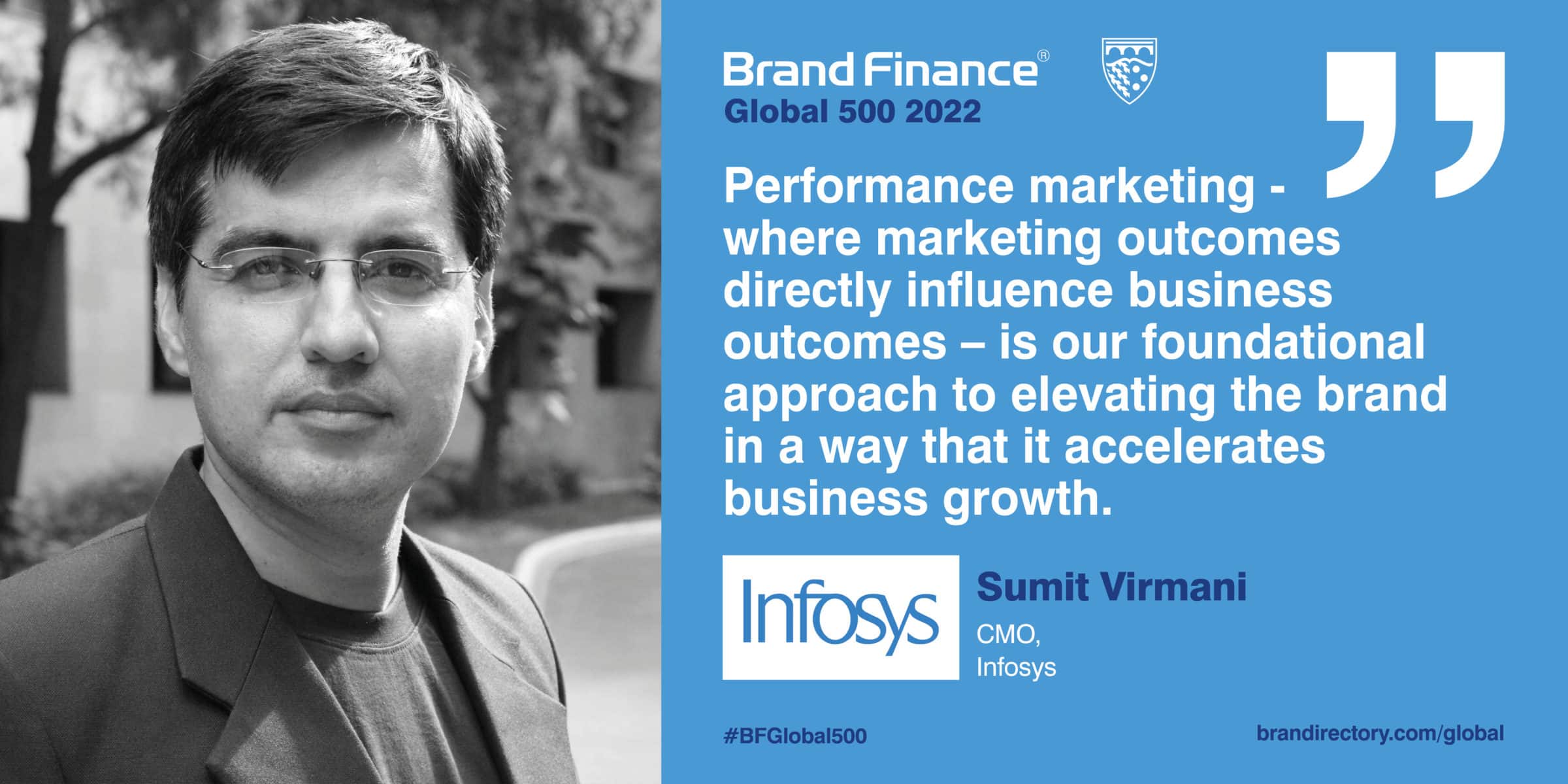 There's a real battle for talent in the IT Services sector. How does Infosys invest in its talent? What do you do differently?
The war for talent has indeed intensified across the board. Building a truly differentiated and credible employer value proposition while nurturing vocal bands of employee brand-advocates are worthy pursuits for all brand custodians. At Infosys, however, the biggest investment we make in our people is learning. Lifelong learning. Whilst we do hire for skills, the balance often tilts in favour of attitude and aptitude. This lets us get creative and enables us to hire from diverse pools because we are confident in our ability to systemically build the necessary skills through on-job training in an entrepreneurial environment. Our people know they can go as far as their ideas do and are encouraged to stretch both their imagination and aspiration. For example, in marketing, we like to complement our creator talent pools with analysts across our team, and they are constantly encouraged and recognised for learning complementary skills. Else we know we risk doing great marketing and failing to communicate it in empirical terms, or, on the other hand, report meaningfully but miss out on pushing the art of the possible.
What do you expect are the biggest opportunities and challenges in the IT services sector, and how is Infosys prepared to meet those?
If anything, the pandemic has greatly accelerated and intensified a digital awakening of the world. Every kind of business now has a strong digital agenda, very often led from the boardroom, and that naturally is a great opportunity for our industry. However, it brings with it two significant challenges. The first is the ability to answer the question – what next? What tech investment will be the most valuable for our clients to navigate to the next? What then should we invest in? The ability to look around the corner will serve us all well. For example, our well-timed, industry-first launch of a cloud services brand Infosys Cobalt in 2020 offered global enterprises capabilities to navigate their journey seamlessly and securely through the cloud. There is also the challenge of fulfilment – there simply aren't enough readily skilled and experienced people in all the markets that we operate in that can tackle all the digital work that needs to be done. Finding alternate talent pools, reskilling, nurturing, and retaining them is a challenge for us all.
We must also find ways to address the challenge of creating talent pipelines for the future by simultaneously tackling digital talent creation at the grassroots level – at our schools. This is a strategic focus for us all – the industry, educators, and policy makers. It will take concerted collaboration to make it work. At Infosys, our immense global training infrastructure and localisation strategy geared to hire talent where we can find them – anywhere in the world - are serving us well. The fact that we can also share with them a vision of deep purposefulness, both as a business making massive impact, as well as beyond business with a holistic ESG charter straddling climate change, technology for good, diversity and inclusion, ethics and transparency is helpful too.