Started as Malaysia's National Oil Company (NOC) in 1974, PETRONAS was always envisioned to be an International Oil Company (IOC), both culturally and operationally. PETRONAS was the first Malaysian company to cross the brand value mark of US$15 billion and become the strongest Oil & Gas company globally in 2020.
With a significant footprint of both upstream and downstream business, PETRONAS leads the retail fuel and energy solutions network within Malaysia and around the world, with a production capacity of more than 2,400 thousand barrels of oil equivalent (BOE) per day.
Brand and business transformation, and the constant challenge to the status quo has been at the heart of PETRONAS' strategy in their quest to become one of the top global Oil and Gas players.

With a unified brand strategy put into place a few years ago, PETRONAS has since consolidated their brand strength and positioning globally. With the CEO as the brand guardian, PETRONAS benefits from a strong brand marketing strategy that is supported by the top management, and the consolidation and investment in the brand and global sponsorship platforms, such as F1, has resulted in growing their global awareness. As a result, PETRONAS continues to explore new growth avenues across the world with committed partners across its business worldwide.
Interview with Tengku Muhammad Taufik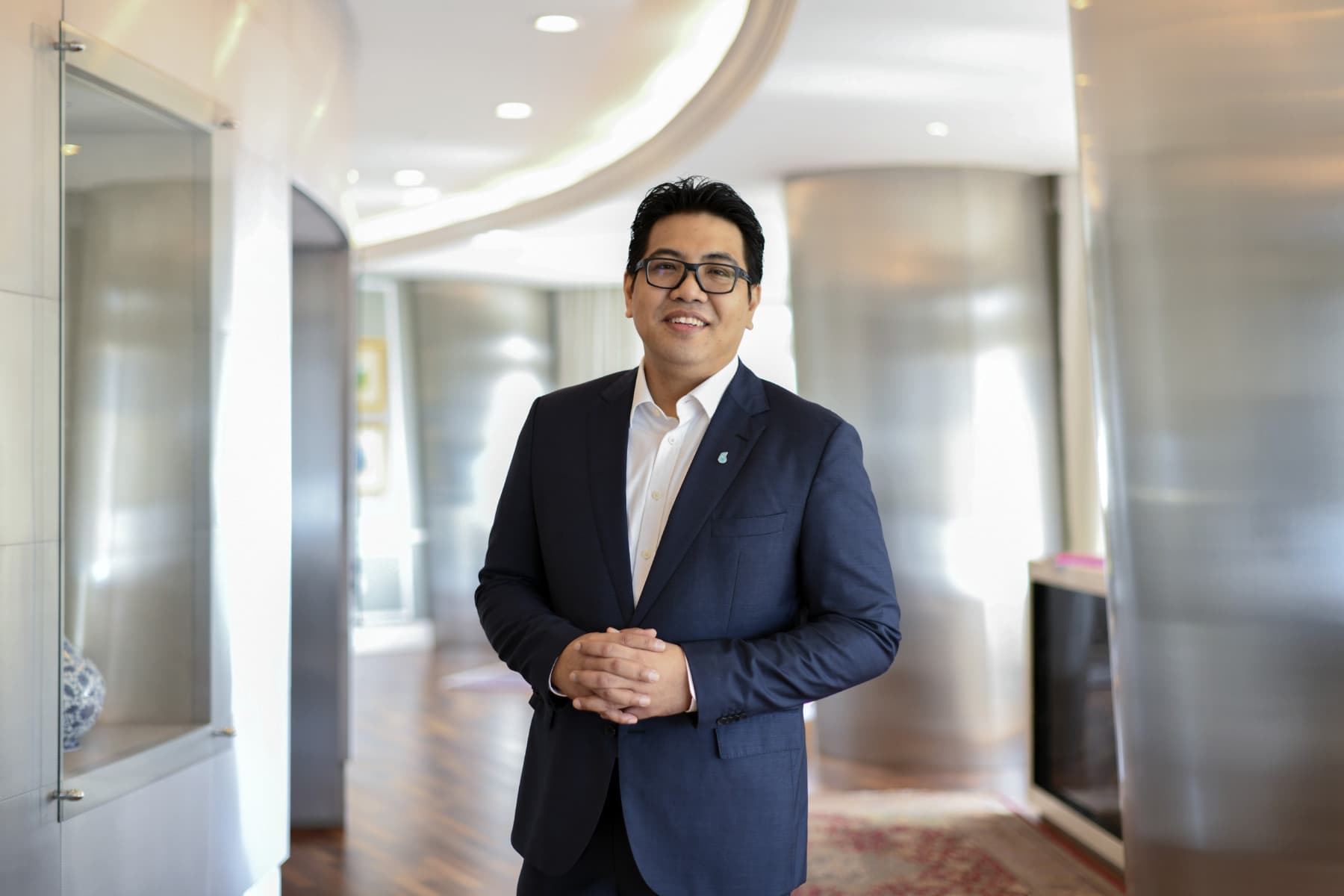 What role does technology play in PETRONAS brand building and your reputation among key stakeholders?
Technology and innovation have been- and will remain- integral elements of the PETRONAS DNA that enable us to discover, extract and monetise oil and gas resources with increasing efficiency, while also expanding the horizons of what we can achieve or offer.
Driven by our Statement of Purpose as a progressive energy and solutions partner enriching lives for a sustainable future, PETRONAS is committed to tap the potential of the technologies at our disposal to enhance the safety of our operations, optimise cost to maximise our core business value, meet our sustainability commitments and pursue the next generation of carbon neutral energy sources and petrochemical feedstock.
With the strength and expertise as an integrated energy company, PETRONAS is well-positioned to provide end-to-end digital and technology solutions for our customers globally. At the heart of our efforts, we fully recognise and embrace technology as a key enabler for PETRONAS to achieve its Net Zero Carbon Emissions by 2050 aspiration and fulfil its purpose to be part of the solution for a cleaner and more sustainable future.
What future challenges do you foresee emerging from technology that will threaten the O&G consumption?
Changes in the operating environment of the energy industry that we see today are both far-reaching and more immediate, requiring oil and gas players to innovate and further exploit technology to deal with the challenges and needs of the industry and the world.
The most immediate challenge is the impact of the pandemic-induced demand destruction and a fragile oil price, following a sustained rout due to a prolonged supply glut which have severely impacted the industry. Within the broader energy space, we are also seeing the accelerated drive towards energy transition and the rise of shifting consumer behaviour demanding cleaner production of energy. As a result, renewables were the only energy source that posted a growth in 2020 supported by priority access to grids and low operating costs driven by technological improvements.
For oil and gas players, the combined operational challenges and low-price environment may force some companies to move investments in technology down the priority list. However, within the corridors of PETRONAS, we believe this current period marks the beginning of a Great Reset for the oil and gas industry.
Therefore, PETRONAS is focusing on clear, calculated and deliberate steps into what can be economically delivered in a cleaner and more efficient manner within the lens of sustainable practices. We are progressing at pace in our decarbonization agenda through sustainable technology programs that will move the needle for PETRONAS towards reducing its carbon footprint, specifically developing targeted action plans for our Scope 1 and Scope 2 emissions.
On the renewables front, PETRONAS has taken solar and wind as the immediate focus under its Stepping Out strategy into the broader energy space. We believe that complementing renewables with our natural gas portfolio as a transition fuel will address the intermittency issues of the renewables play.
As owners of established energy infrastructures combined with the expertise to innovate solutions towards reducing our carbon emissions, we recognise that there is potential to unlock a more coherent and calculated transition into the energy space where oil and gas will continue to be part of the solution.
Has Technology been a business enabler or disruptor for PETRONAS so far?
PETRONAS considers technology a "disruptive enabler" for greater innovation in developing solutions and creating new toplines for the business of tomorrow.To illustrate, there are several key areas where technology and innovation have unlocked and maximised further value for the company.
Firstly, technology offers us the avenue to operate safely and sustain business continuity which have proven critical as we navigate the risks of the COVID-19 pandemic. We will continue to mature the capabilities of our digital infrastructure for remote working in plants and offshore platforms to include robotics, automation, artificial intelligence and remote operations.
Secondly, technology plays a key role in maximising business value by supporting cost optimisation for PETRONAS - from technologies that integrate data to allow faster and informed decisions to technologies that simply reduce the costs of developing our resources.
Thirdly, applied technologies and innovation to reduce carbon emissions from existing production, incorporate carbon capture into our production methods and a move towards zero carbon production will enable PETRONAS to achieve its sustainability commitments. We are developing a Carbon Capture, Utilisation and Storage (CCUS) programme to unlock our gas reserves and monetise the CO2 for use in our downstream and petrochemical products.
Fourth, we will continue to leverage on technology to pursue the next generation of carbon neutral energy sources and petrochemical feedstock. In addition to PETRONAS' position in solar and wind, we are also pursuing hydrogen, algae-based fuels and hydrates as well as potential opportunities in green or bio-based petrochemicals.
On the retail front, PETRONAS is constantly improving its Fluid Technology Solutions™ to deliver fuel efficiency, improve performance and reduce overall greenhouse gas emissions.
How do you continuously drive the brand competitiveness in the O&G sector? Looking forward, what dimensions and strengths of the PETRONAS brand will enable long term sustainable growth? How has the response to this tough year (COVID-19, oil price volatility) helped differentiate the PETRONAS brand and business?
At its core, PETRONAS' very existence is already a differentiated one. We are more than just a company, we are an institution that carries out a trustee role in maximising the value of Malaysia's hydrocarbon resources for the benefit of the nation and its people. Since our incorporation in 1974, PETRONAS has grown its presence across 50 countries and returned north of RM1 trillion to the Malaysian Government in the form of dividends, taxes and oil royalties from an initial seed fund of RM10 million. As a global energy player, PETRONAS has demonstrated its ability to balance its responsibility as a National Oil Company while fulfilling its obligation as a fully commercial entity- as we go forward, this balance will need to be managed even more carefully.
Taking into account the acceleration of energy transition, heightened by stakeholder expectations and its vast opportunities, PETRONAS introduced its new Statement of Purpose – 'a progressive energy and solutions partner enriching lives for a sustainable future' – to signal its expansion beyond oil and gas into the broader energy space as part of its dynamic growth and aspiration to develop solutions for the greater good.
The foundation of our strength as a company lies in its people who are PETRONAS' greatest asset. The women and men from across the world who make up the 48,000-strong workforce of PETRONAS embody the same passion and pioneering spirit for progress. Time and again, it is their tenacity to remain resolute in pursuing the company's purpose that has seen us overcome repeated and varied adversities.
Since the onset of the COVID-19 outbreak, PETRONAS has taken immediate measures focused on our people's health and safety as our utmost priority. With strict compliance to safety guidelines and protocol, we continued to work with over 4,000 Oil and Gas Services & Equipment (OGSE) vendors, connecting and collaborating with contractors and partners to ensure energy continues to flow safely and reliably for our customers around the globe.
Amidst the unfolding crisis, PETRONAS is resolute in ensuring that we continue to contribute to the well-being of the communities where we operate. To date, our contributions have aided first responders and healthcare providers with the required equipment and supplies to support local efforts in managing the COVID-19 cases. PETRONAS Group's total contribution towards the COVID-19 efforts and initiatives stands close to USD10 million (approximately RM44 million).
What other critical challenges do you foresee for the O&G sector in the next 3-5 years?
With fresh waves of COVID-19 cases surging across the world, the economic outlook remains uncertain and challenging. While we remain hopeful by the pockets of recovery we are seeing in some parts of the world, until the deployment of vaccines brings the pandemic under sustained control, the timeline for eventual recovery remains to be seen.
For the oil and gas industry, I believe that 2021 – and much of the future beyond this year - will still be heavily shaped by the unfortunate events that unfolded in 2020. Together with the still-prevalent impact of pandemic-induced demand destruction and oil price fragility due to what is fundamentally a supply glut, evidence pointing to the acceleration of energy transition has also become increasingly evident. In totality, these developments have converged to become an undeniable imperative requiring immediate reforms along the whole value chain.
Looking ahead, the immediate challenge will be in seizing opportunities amidst the crisis. Collectively, however, as an industry, we must step up from doing business as usual and compel innovative long-term solutions through non-conventional partnerships at all levels to cushion short and medium-term impacts to the business while navigating a path to recovery. For PETRONAS, we are committed to pursuing our 3-pronged growth strategy and will continue to strengthen our resiliency and long-term sustainability - as a progressive energy and solutions partner, enriching lives for a sustainable future.