This article was originally published in the Brand Finance Banking 500 2022 and the Brand Finance Middle East 100 2022 reports.

QNB Group has steadily grown to be the biggest bank in Qatar and the largest financial institution in the Middle East and Africa region. The Group continues to be the most valuable banking brand in the MEA region with a brand value worth US$7.056 billion, according to the latest Brand Finance Banking 500 report.
QNB's brand value has grown to US$7.056 billion compared to last year's value of US$6.107 billion. QNB's brand ranked at 45th in the top 50 global banking brands worldwide, up from the 48th place in 2021, while its Brand Strength Index (BSI) increased to 83, up from 82 in 2021.
For the financial year ending 31 December 2021, the Group's Net Profit reached QAR13.2 billion (US$3.6 billion), an increase of 10% compared to the same period last year. QNB recorded total assets of QAR1,093 billion (US$300 billion), representing an increase of 7% from December 2020.
Through its subsidiaries and associate companies, the Group extends to more than 31 countries across three continents providing a comprehensive range of advanced products and services. The total number of employees is 27,000 operating through 1,000 locations, with an ATM network of more than 4,500 machines.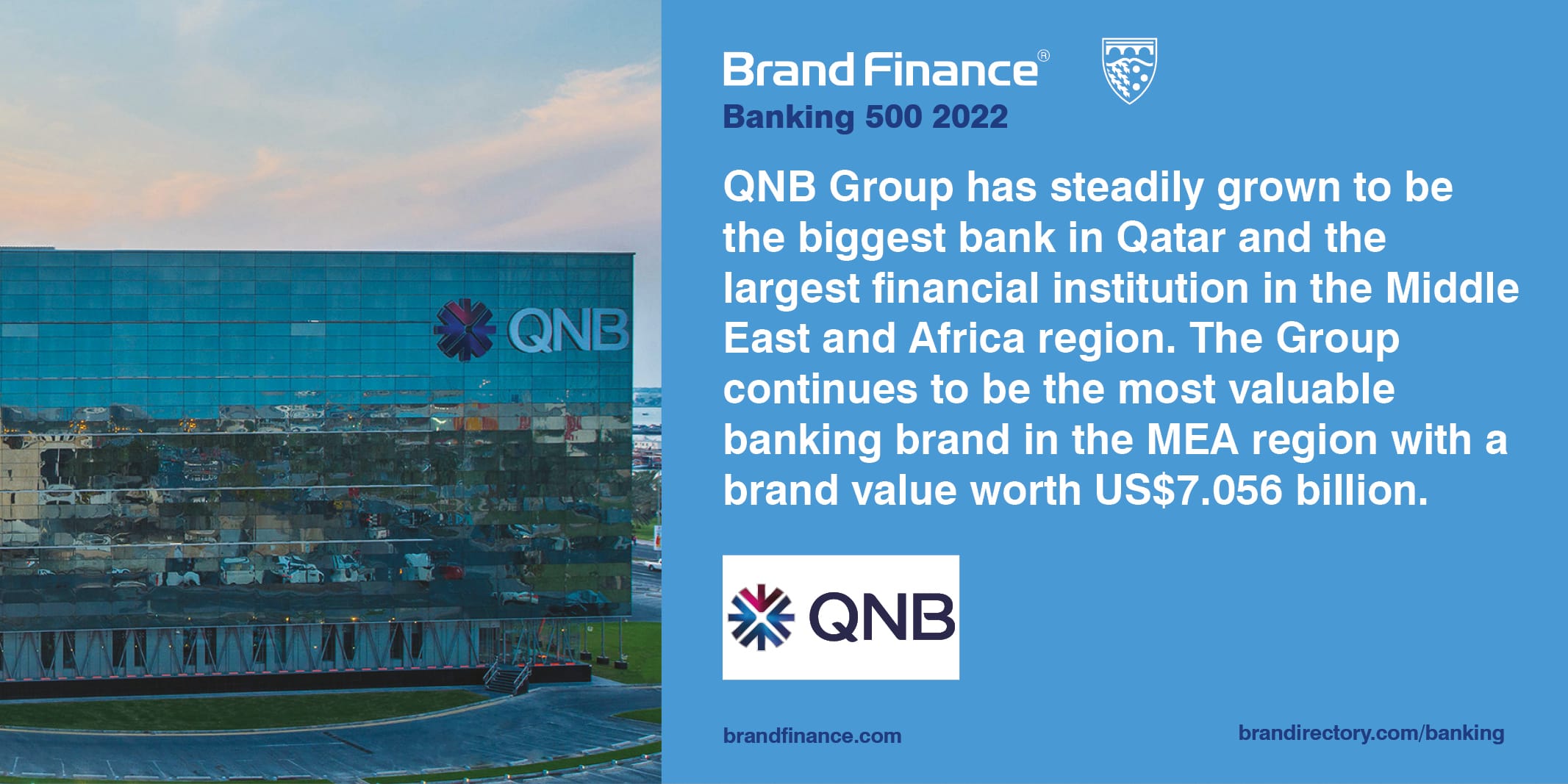 QNB Group has maintained its position as the highest-rated bank in Qatar and one of the highest rated banks in the world from leading credit rating agencies including Standard & Poor's (A), Moody's (Aa3), and Fitch (A+). The bank has also been the recipient of many awards from leading international specialised financial publications.
The Group provides an array of investment banking services through its subsidiary, QNB Capital, to corporate, government and institutional clients within Qatar and globally. QNB Capital has one of the best corporate finance teams in the GCC region offering extensive transaction experience and in depth advisory – including mergers and acquisitions, equity and debt capital markets, and project financing advisory.
The Group also offers brokerage services through its subsidiary, QNB Financial Services (QNB FS), the first independently regulated, licensed brokerage company launched by a bank in Qatar. QNB FS offers a multi-market, multi-currency trading platform with access to several markets.
QNB Group has an active community support program and sponsors various social, educational and sporting events.