This article was originally published in the Brand Finance Middle East 100 2022 and Brand Finance Chemicals 25 2022 reports.
SABIC has retained its position as the 3rd most valuable brand in Saudi Arabia and the 7th most valuable brand in the Middle East. This year, it saw its brand value increase by 16% to US$4.7 billion, meaning it is now more valuable than it was before the COVID-19 pandemic. The chemicals brand saw its profits rebound last year, with revenues up 56% year-on-year thanks to increased sales volumes and higher average product prices.
SABIC is keenly aware of the important part its brand plays in helping it achieve its vision of becoming the world's leading chemicals company. Last year saw increased synergies between SABIC and Aramco, following the announcement that SABIC would be taking responsibility for the marketing and sales of several Aramco petrochemicals and polymers products. At the same time, Aramco took responsibility for the offtake and resale of a number of SABIC products. These changes will help to strengthen both brands through improved customer offerings, as well as increasing operational efficiencies.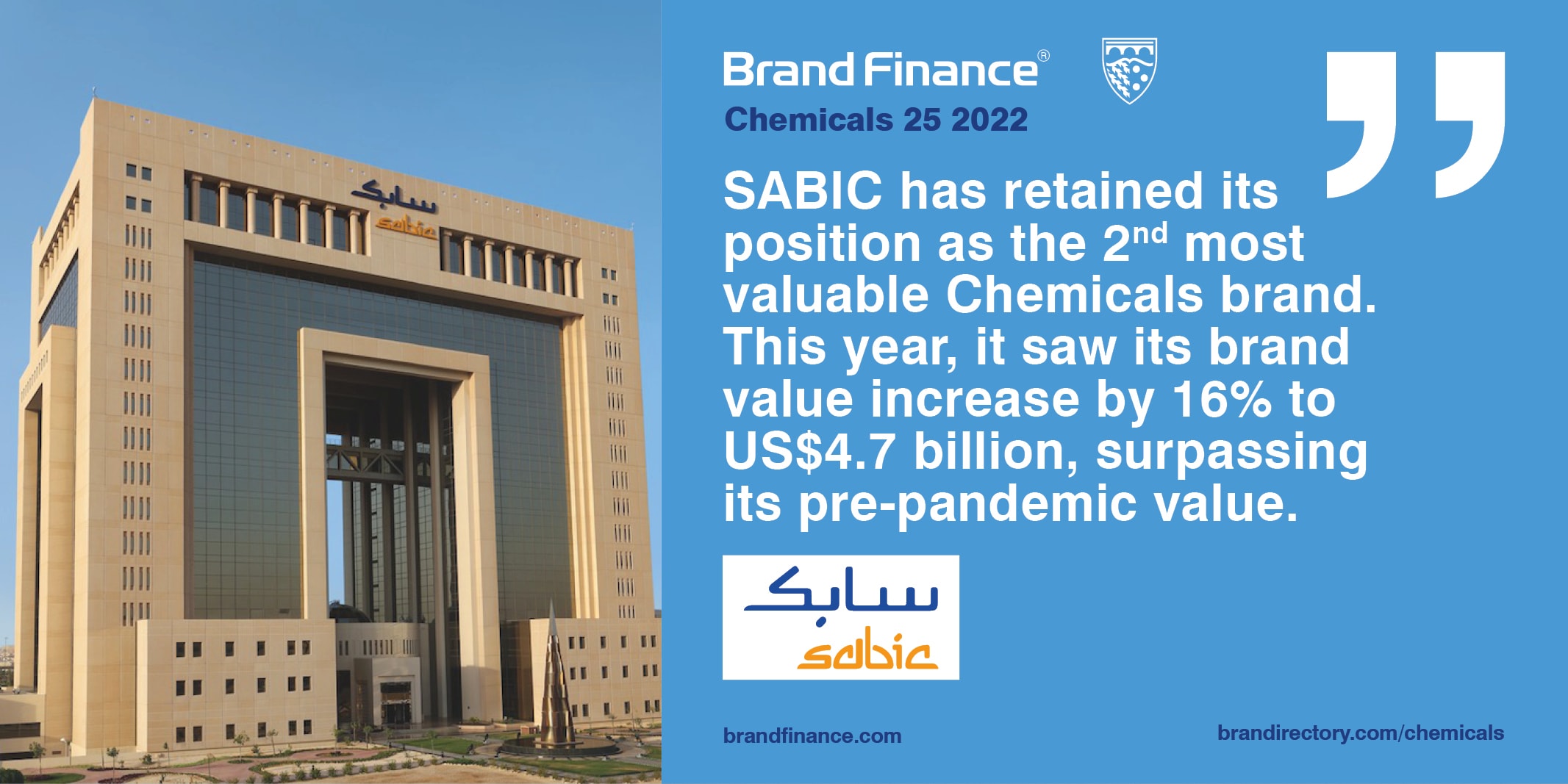 In line with its purpose of 'Chemistry that Matters™', SABIC reaffirmed its commitment to sustainability following its announcement at the Saudi Green Initiative Summit that it plans to achieve carbon neutrality by 2050 and reduce greenhouse gas emissions by 20% by 2030. This year saw SABIC launch the first certified circular polycarbonate resin and blends in the industry, which are created by upcycling mixed plastic.
Last year, also marked the strategic evolution of their brand presence in the agricultural sector with the implementation of a focused strategy utilising the established equity of the SABIC brand to launch the newly established SABIC Agri-Nutrients Company.

"Our brand strategy is carefully designed and implemented in partnership with the wider business to strengthen our customer engagement and reach. Our leading industry position and ranking among the world's most valuable global brands reflect our agility and success in navigating a changing world. The chemicals industry is anticipated to grow significantly in forthcoming years and our distinguished brand will help us compete and secure growth with new and existing customers and markets."

Faisal Al-Bahair, VP, Corporate Affairs, SABIC
"Our global brand campaign has been at the core of our brand growth since launching in 2019 and with additional focus on our solutions around the emerging megatrend of Health last year, we have kept the campaign relevant in the eyes of our target groups. We have achieved deeper levels of pride, passion, and commitment to our brand amongst our employees, a testimony to the multiple brand activation programs executed over the years."

Richard Crookes, Director, Global Brand & Marketing Communications, SABIC