Would you like to learn more about the most valuable Canadian brands? You can download Brand Finance Canada 100 2019 or browse our brand value database here.
Subsequent to the mergers of BCTel, AGT, and Clearnet in 1999, the TELUS brand as we know it today, has continued year on year to solidify its status as one of the big 3 telecoms companies in Canada. This year TELUS is the second most valuable Canadian telecoms brand (passing Rogers), with a total brand value of $8,966m.
The backbone of TELUS' branding success is in its brand strength. TELUS is the strongest Canadian telco brand and third strongest brand in the Canada 100 table, with a brand strength index score of 84.4 and brand rating of AAA-.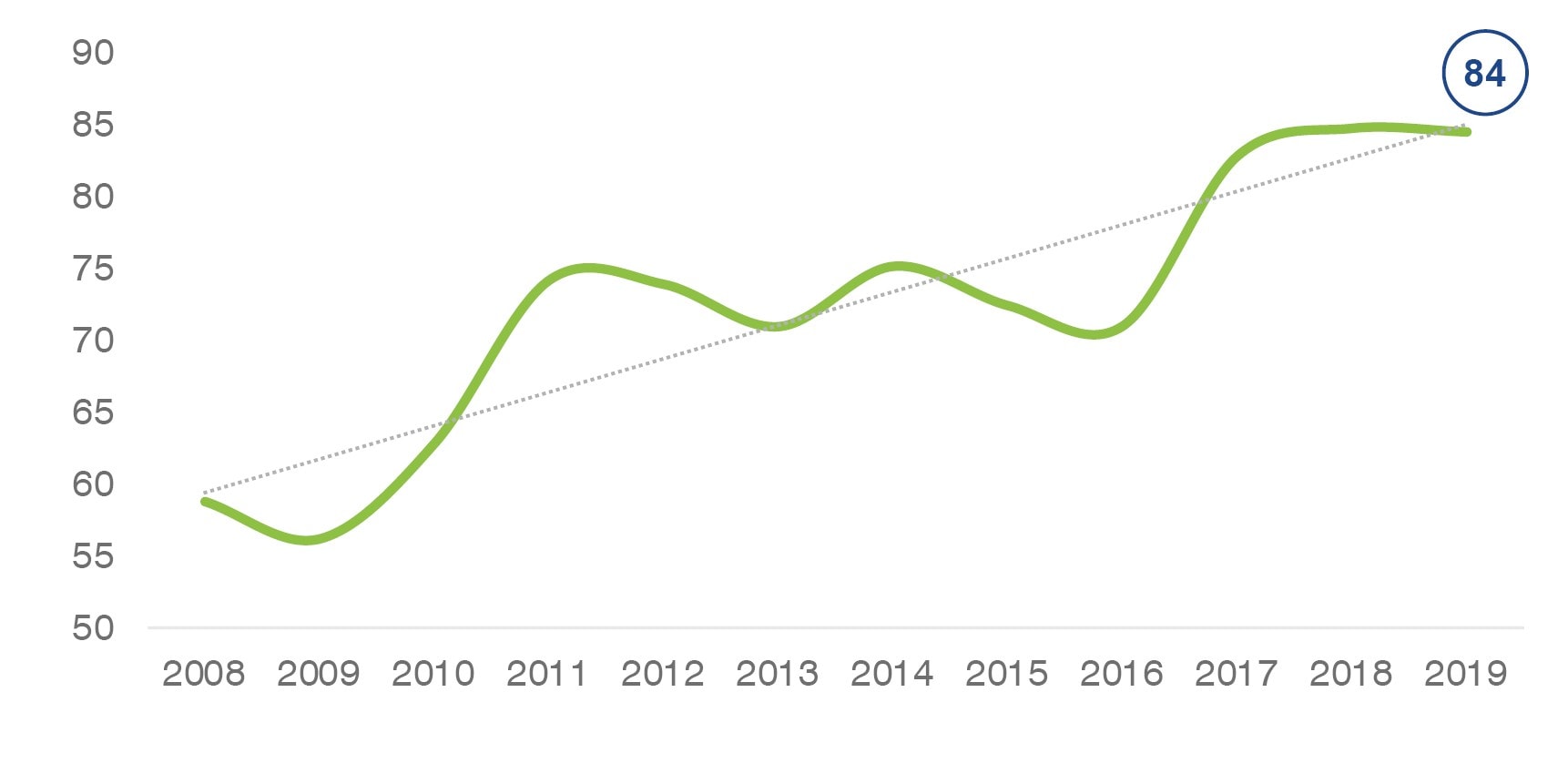 One of the key pillars of TELUS' brand strength is the company's consistent investment in building strong ties with the Canadian public, from both a customer service and a social responsibility standpoint. Of the premium carriers, TELUS scored highest in corporate social responsibility* (CSR), and reputation.
Another future-facing pillar of TELUS' brand is in customer experience enhancement and innovation. Brand Finance market research shows that TELUS is the top Canadian telecoms brand in terms of quality and innovation.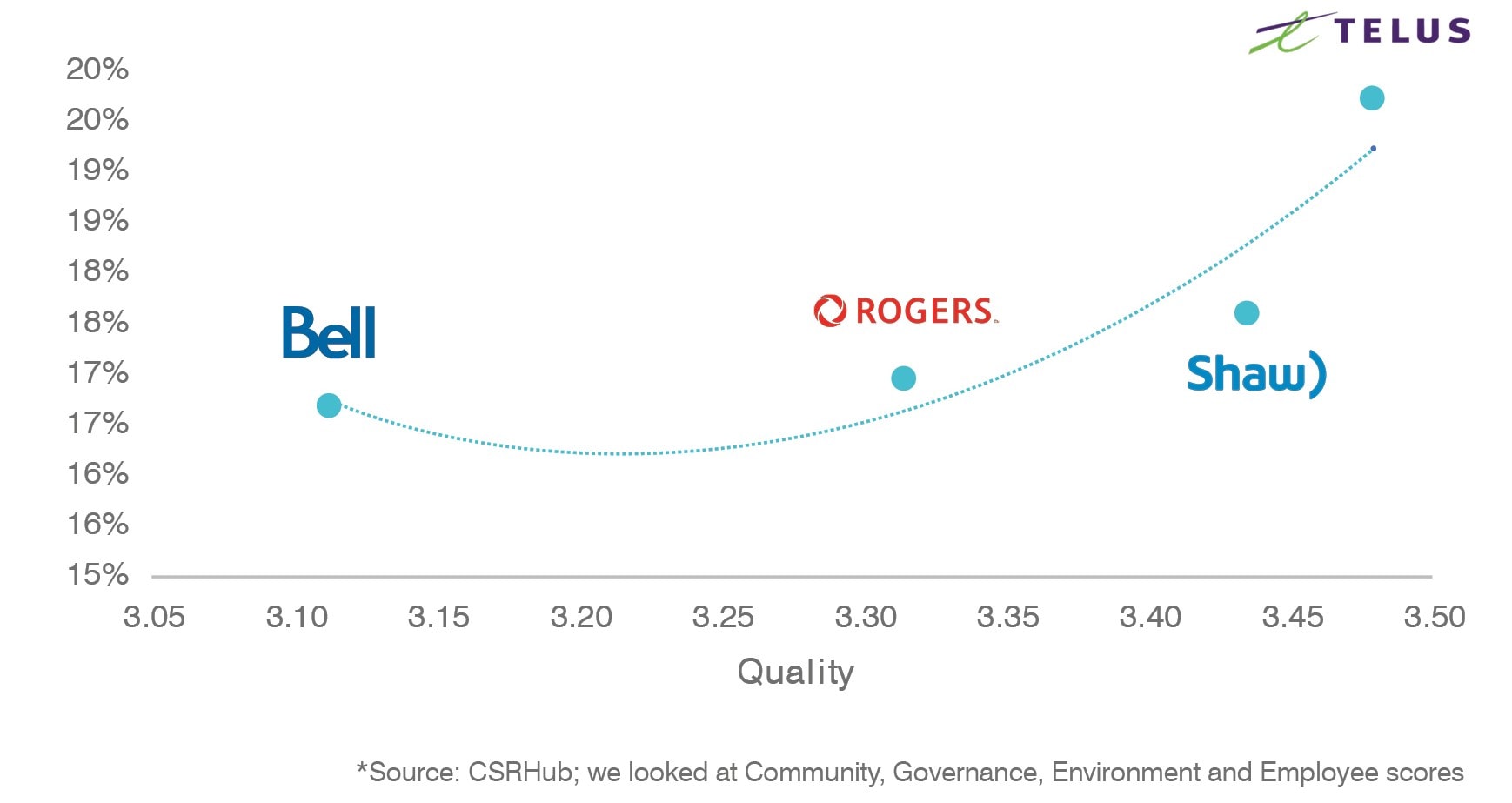 Of the premium carriers, TELUS still has room to establish itself in the Canadian telecoms market. As the market trends towards a saturation point, and competitive rates continue to shrink profit margins, building and maintaining a strong brand has never been more essential for brand value growth.
Interview with Jill Schnarr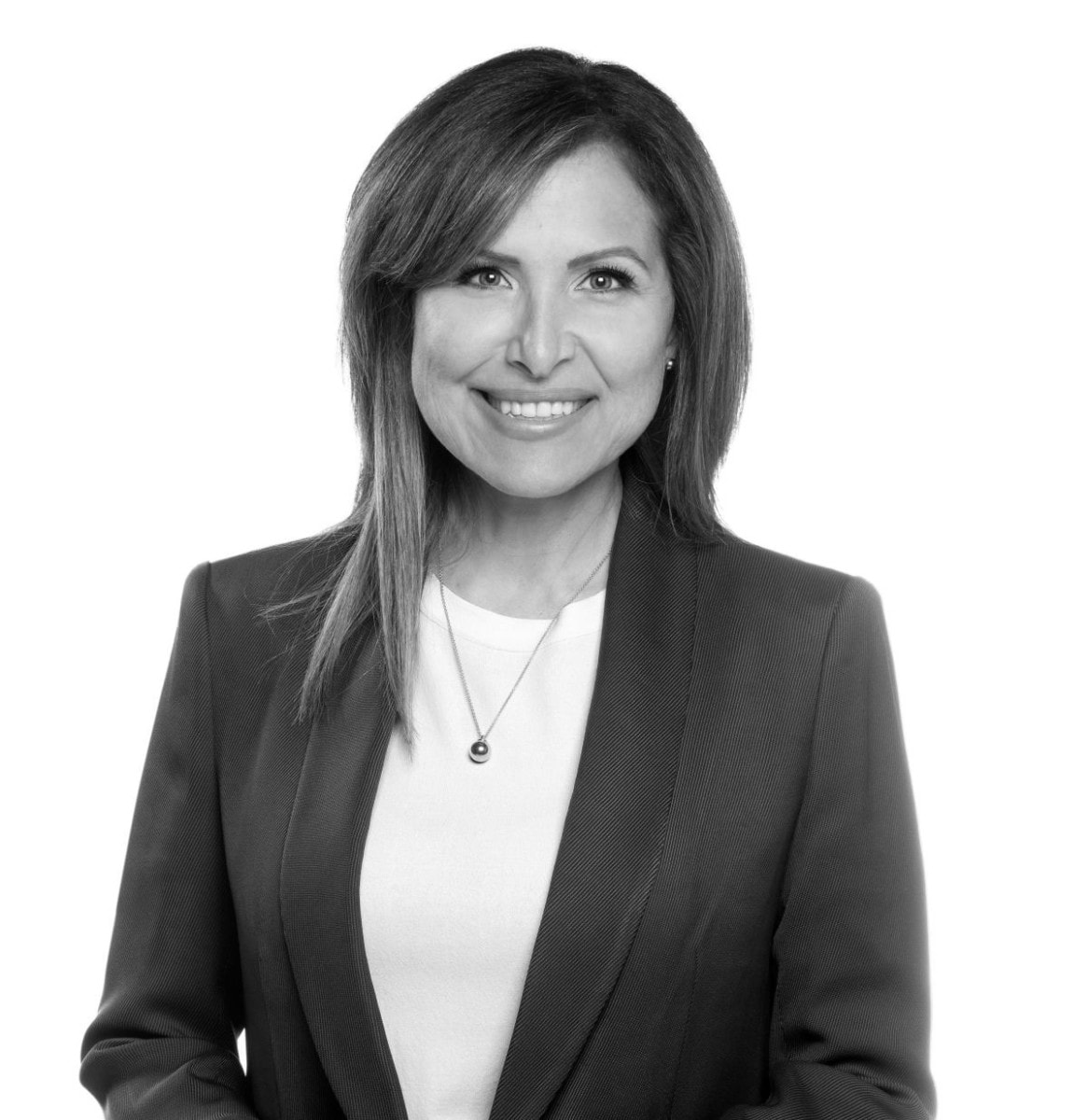 Canadian telecoms brands are ubiquitous, but that often results in a reputation of being disconnected from the Canadian public. How does TELUS break the mould?
We break the mould because TELUS leads the world in respect to social capitalism. We use our core connectivity and technology to serve a greater social purpose that benefits all of our stakeholders, from employees to those marginalized in society.
Thanks to the extraordinary dedication and generosity of our TELUS team members and extended family, since 2000, we have contributed $1.2 billion, through $682 million in financial support and 1.3 million days of volunteerism. This past year, 36,000 volunteers participated in our TELUS Days of Giving events across the country, enabling 1 million hours of volunteer service donated in both 2017 and in 2018. With the spirited volunteerism of the 85,000 team members and retirees worldwide, TELUS is the most giving company in Canada.
Over the last decade corporate social responsibility (CSR) has become a key part of brand building – where does CSR slot into TELUS's branding goals?
Corporate social responsibility, or what we call 'Social Purpose', is core to what we stand for as a brand. At TELUS, our social purpose is to leverage our world-leading technology to enable remarkable human outcomes in our all-connected world. Social purpose is built into our strategy, technology investments and culture. It is also explicitly aligned with our brand and the promise it represents: innovation, simplicity and driving social change.
This past year, we contributed $150 million, representing 7% of pre-tax profits to charitable organizations across Canada, more than any other company in Canada, all guided by our philosophy: we give where we live.
Now that the traditional telco business is maturing, how is the TELUS brand able to drive continued growth in emerging opportunities?
With TELUS Health, we are harnessing the power of our network infrastructure to digitize the healthcare ecosystem. In fact, we have invested more than $2.5B over the last decade to revolutionize access to care and facilitate the seamless flow of information to improve health outcomes and patient experience, including the recent launch of Babylon by TELUS Health.
Driving investment and innovation in technologies that bridge geographic and socioeconomic divides and support more vibrant, healthier and sustainable communities is central to the TELUS brand.
What trends in Canadian Telecoms branding can we expect to see over the next year?
The top three trends in telecom branding that we can expect to see over the next year include enhanced storytelling, improved content creation, and continued digital innovation to support customer experience. We believe that creative storytelling will be a key differentiator for the brand leaders in telecommunications. Brands that tell stories about human connections with authenticity will win. To support this storytelling, brands will also need to become experts in improving how they create and access new content. Moreover, we need to be able to tell these stories and meaningfully connect with customers in digital and social media.
References
Global Brand Equity Monitor, Brand Finance, https://brandirectory.com/consumer-research↩