The latest Brand Finance Global 500 2022 report is out. Read about the world's 500 most valuable and strongest brands across all sectors and countries.
New entrant TikTok named world's fastest-growing brand, up 215%, leading global revolution in media consumption
Apple holds on to world's most valuable brand title with record valuation at more than US$355 billion, followed by Amazon and Google
Tech remains most valuable industry, while second-ranked retail crosses US$1 trillion mark following 46% brand value growth during COVID-19 pandemic
Development of COVID-19 vaccines sees pharma named fastest-growing industry, while tourism sector remains below pre-pandemic valuation
US and China continue to dominate claiming 2/3 of brand value in ranking, while India sees fastest-growth over course of pandemicamong top nations, up 42%
WeChat named world's strongest brand for second consecutive year with top score of 93.3 out of 100 and elite AAA+ rating
Microsoft's Satya Nadella comes out top in Brand Finance Brand Guardianship Index 2022 of world's top 250 CEOs
Tripling in brand value over the past year, TikTok has been named the world's fastest-growing brand. With an astounding 215% growth, the entertainment app's brand value has increased from US$18.7 billion in 2021 to US$59.0 billion this year. Claiming 18th spot among the world's top 500 most valuable brands, it is the highest new entrant to the Brand Finance Global 500 2022 ranking.
Every year, we put 5,000 of the biggest brands to the test, and publish nearly 100 reports, ranking brands across all sectors and countries. The world's top 500 most valuable and strongest brands are included in the annual Brand Finance Global 500 ranking – now in its 16th year.
With COVID-19 restrictions still in effect across the globe throughout 2021, digital entertainment, social media, and streaming services saw continued growth, and TikTok's rise is testament to how media consumption is changing. With its offering of easily digestible and entertaining content, the app's popularity spread across the globe, however, it also acted as a creative outlet and provided a way for people to connect during lockdown.
At the same time, strategic partnerships, such as its sponsorship of the UEFA Euro 2020 tournament, exposed TikTok to demographics outside of its original Gen Z base. It crossed the one billion user mark in 2021 and became the most downloaded app across Android's Google Play store and Apple's App Store.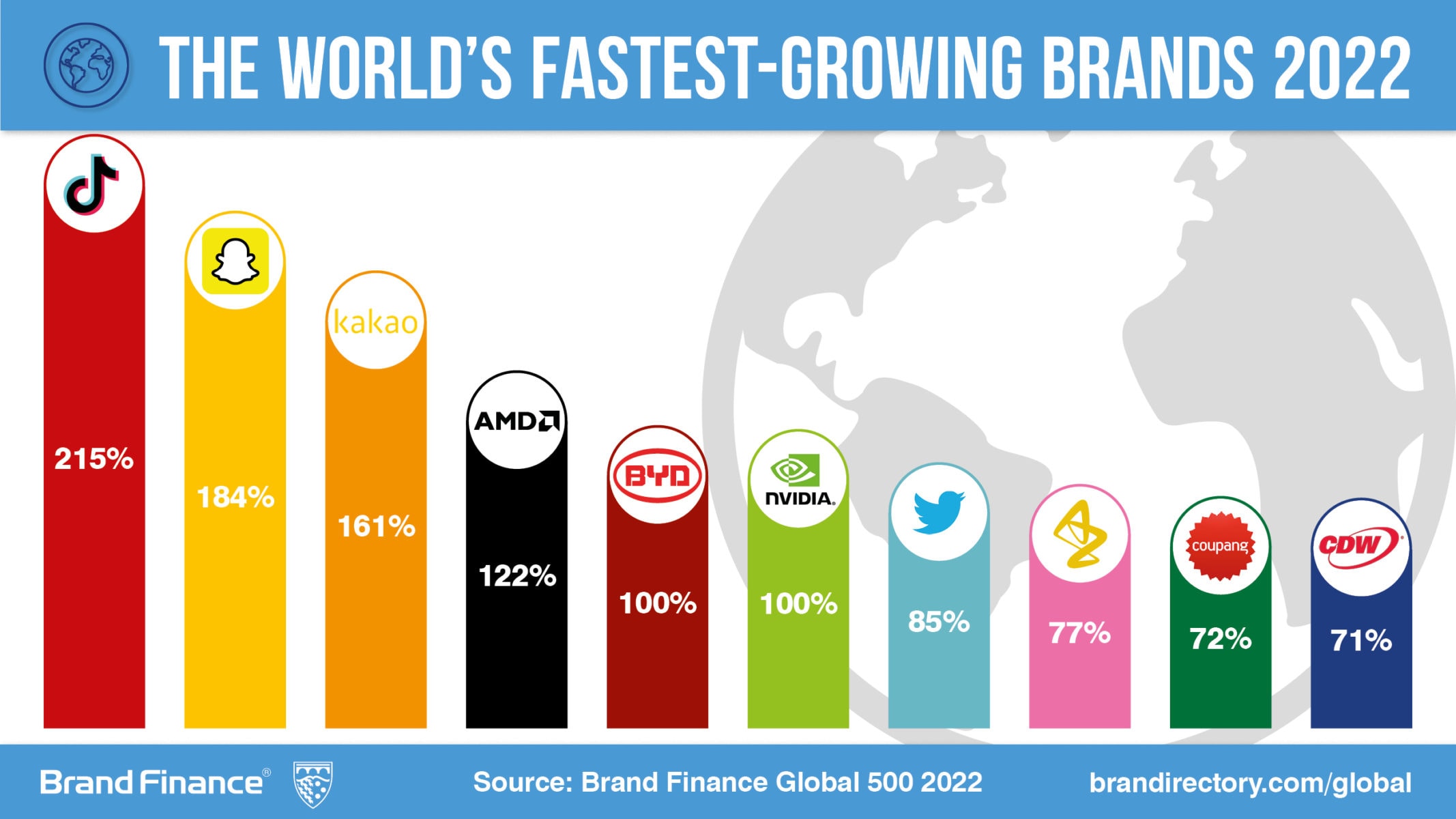 Apple has retained the title of the world's most valuable brand following a 35% increase to US$355.1 billion – the highest brand value ever recorded in the Brand Finance Global 500 ranking.
Apple had a stellar 2021, highlighted by its achievement at the start of 2022 – being the first company to reach a US$3 trillion market valuation. The tech giant's success historically lied in honing its core brand positioning, but its more recent growth can be attributed to the company's recognition that its brand can be applied effectively to a much broader range of services.
The iPhone still accounts for around half of the brand's sales. However, this year saw Apple give more attention to its other suite of products with a new generation of iPads, an overhaul to the iMac, and introduction of AirTags. Its range of services, from Apple Pay to Apple TV, has also gone from strength to strength and become of increasing importance to the brand's success.
Additionally, Apple knows the importance of being in tune with its customers for maintaining brand equity. Privacy and the environment are salient topics, and Apple bolstered its credentials on both fronts. This is evidenced by a greater transparency of the App Store's privacy policy, reinforcing the trust customers have in the brand, and the announcement that more of Apple's manufacturing partners will be moving to 100% renewable energy, as the company aims to reach carbon neutrality by 2030.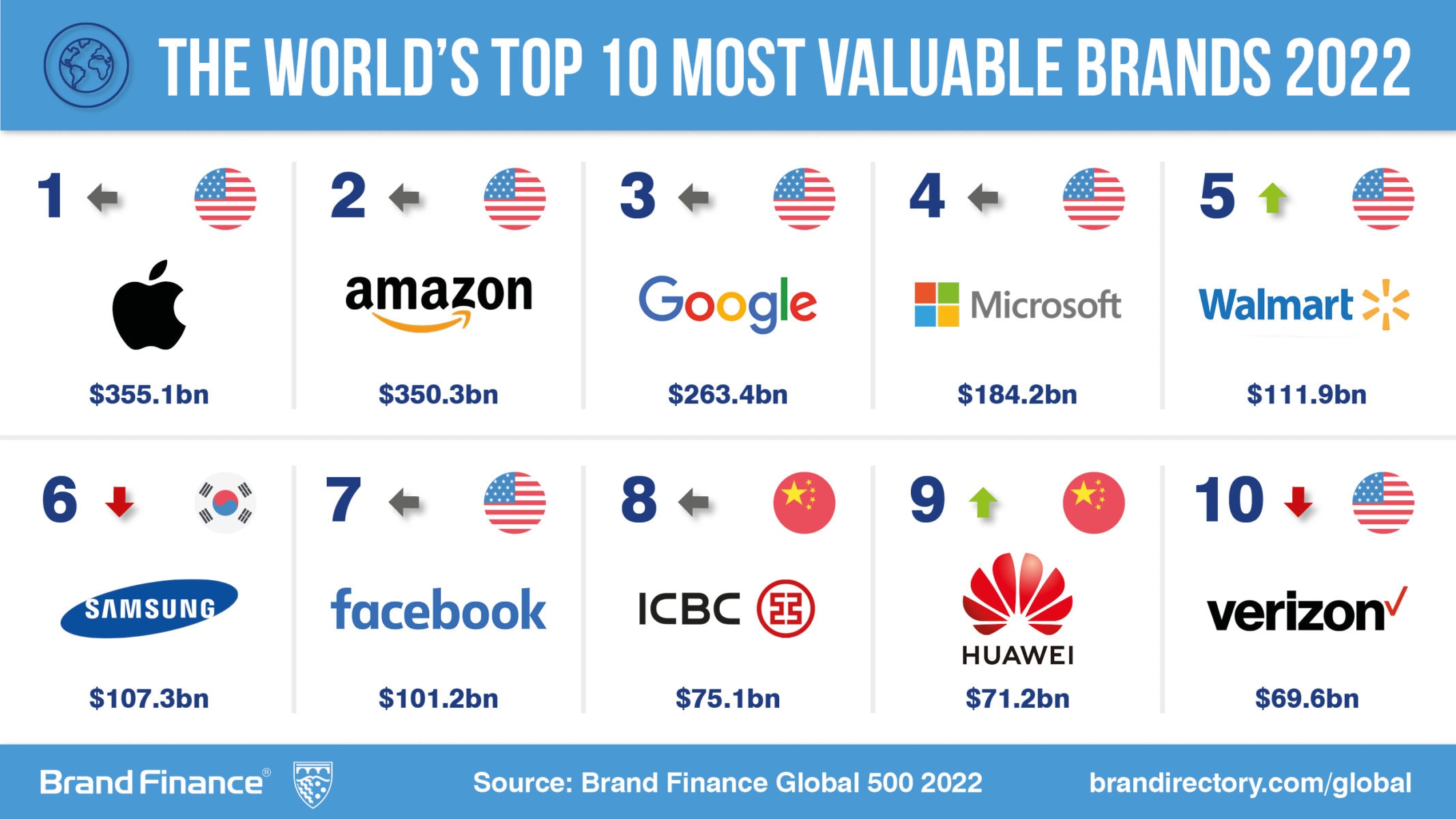 Apart from calculating brand value, Brand Finance also determines the relative strength of brands through a balanced scorecard of metrics evaluating marketing investment, stakeholder equity, and business performance. Certified by ISO 20671, Brand Finance's assessment of stakeholder equity incorporates original market research data from over 100,000 respondents in more than 35 countries and across nearly 30 sectors.
According to these criteria, WeChat remains the world's strongest brand, retaining the title for the second consecutive year, with a Brand Strength Index (BSI) score of 93.3 out of 100 and a corresponding AAA+ rating.
WeChat plays an integral part in day-to-day life in China, with its all-encompassing set of services allowing customers to message, video call, order food, and shop. It also played an integral part in the country's fight against COVID-19, with more than 700 million people using its services to book vaccinations and tests. The app's entrenchment in people's lives helps it achieve strong scores in reputation and consideration among Chinese consumers, according to Brand Finance's research.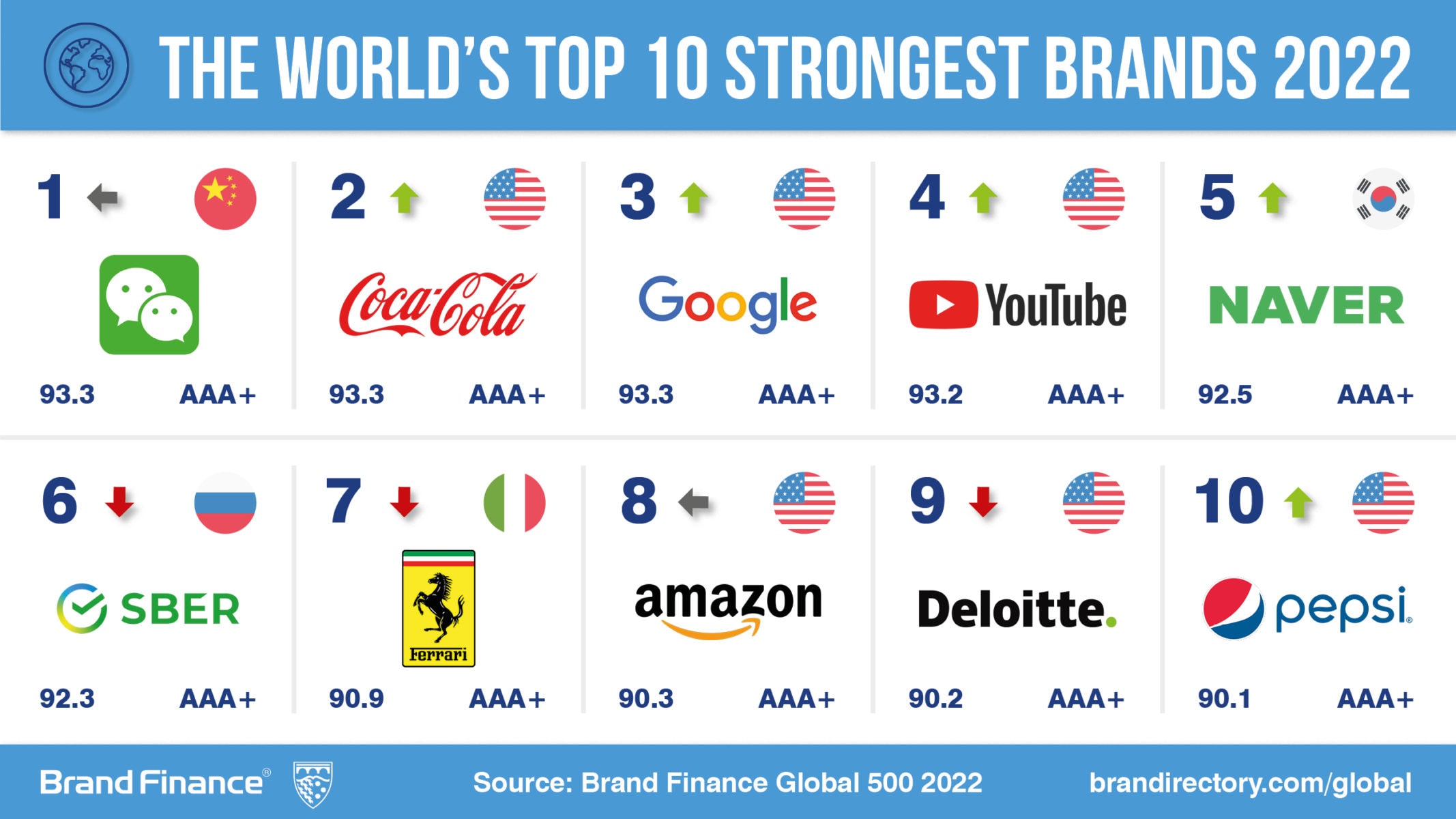 Breaking the results down to country level, brands from the United States and China continue to dominate the Brand Finance Global 500. Over two-thirds of the total brand value in the ranking is attributable to the two countries, with the US accounting for 49% (US$3.9 trillion) and China for 19% (US$1.6 trillion).
Apple and Coca-Cola are most valuable and strongest brands in the Americas. Mercedes-Benz and Sber lead the way in Europe. Aramco has the highest brand value in the Middle East and Africa, while Etisalat is the region's strongest brand. In Asia-Pacific, Samsung Group is most valuable while WeChat scores top brand strength marks.