In today's fiercely competitive marketplace, the cultivation and management of robust brand equity remains critical to hotel brands' success. Building trust and credibility among guests while nurturing distinctive satisfaction has become paramount for improving both brand value and revenue management.
Resilience and Recovery in the Hotel Sector
The hotel sector has long been acquainted with the disruptive impact of uncontrollable crises - from civil unrest to health emergencies to climate change - profoundly affecting operations and revenue streams. The emergence of the COVID-19 pandemic has been no exception, magnifying the industry's vulnerability to public health emergencies. Amid the complex interplay of financial challenges stemming from enforced closures and cancellations, and the task of protecting brand reputation in the face of a global crisis, the pandemic has served to spotlight the sector's resilience.
In 2020, Brand Finance's analysis projected a potential brand value loss of up to US$14 billion for the world's top 50 most valuable hotel brands - a 20% decrease in total brand value[1]. This estimate turned out to be conservative, as the collective value of the top 50 hotel brands dropped by an even more substantial 33%, falling from US$70.2 billion in 2020 to US$47.4 billion in 2021[2]. The recovery of brands across the sector has been mixed, with 54% of the top 50 not yet attaining their pre-pandemic brand value levels in 2023[3]. The United States, however, has experienced a swift rebound in hotel room revenue, rising from US$86.0 billion in 2020 to US$142.9 billion in 2021 to US$189.1 in 2022, surpassing the 2019 pre-pandemic level of US$170.4[4].
In the hotel industry, the ability to weather such monumental disruptions underscores the significance of trust, credibility, and reputation. Yes, demand is pent-up. However, the moment a brand does not rise to meet the occasion is indeed the moment it collapses. Maintaining credibility and safeguarding reputation during and post-crises not only impacts immediate revenue but future revenue as a brand will surely see changes in its next brand equity research report. Resilience hinges upon the strength of these base elements, ultimately charting the trajectory of brands and an industry's revival and resurgence.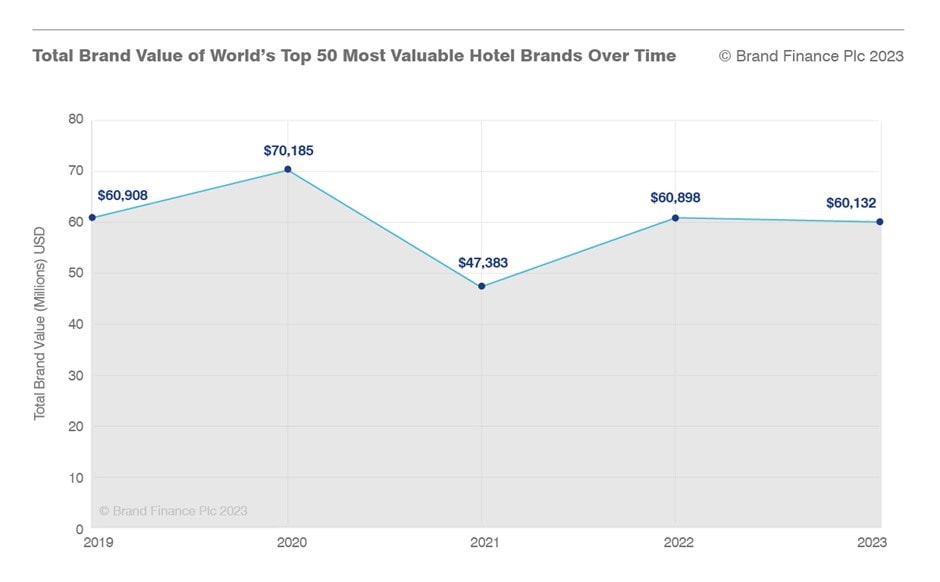 What does research tell us?
Every year, Brand Finance conducts a comprehensive market research study encompassing the hotel sector, spanning 10,000+ respondents across 21 countries. Within this, we assess the top drivers of consumers' Consideration, Reputation, and Loyalty. Expectedly, 'trustworthy' features as a top 5 driver of all three metrics - ranking as the top driver for Loyalty and second for Consideration. 'Great customer service' is the only other attribute that features across all three metrics. 'Great value for money' is the biggest driver for Consideration - marginally ahead of 'trustworthy'. Given the importance of Consideration for driving revenue, it is crucial to understand these drivers. While 'trustworthy' extends across the entirety of any relationship and is critical for any brand, 'great value for money' has certainly more depth than just being about a good deal. It sets an expectation that for whatever price paid (and in the hotel sector, that range can be quite large!), the consumer expects value from it. In other words, a brand must deliver against what it promises, to demonstrate credibility as well as to earn guest satisfaction and even delight.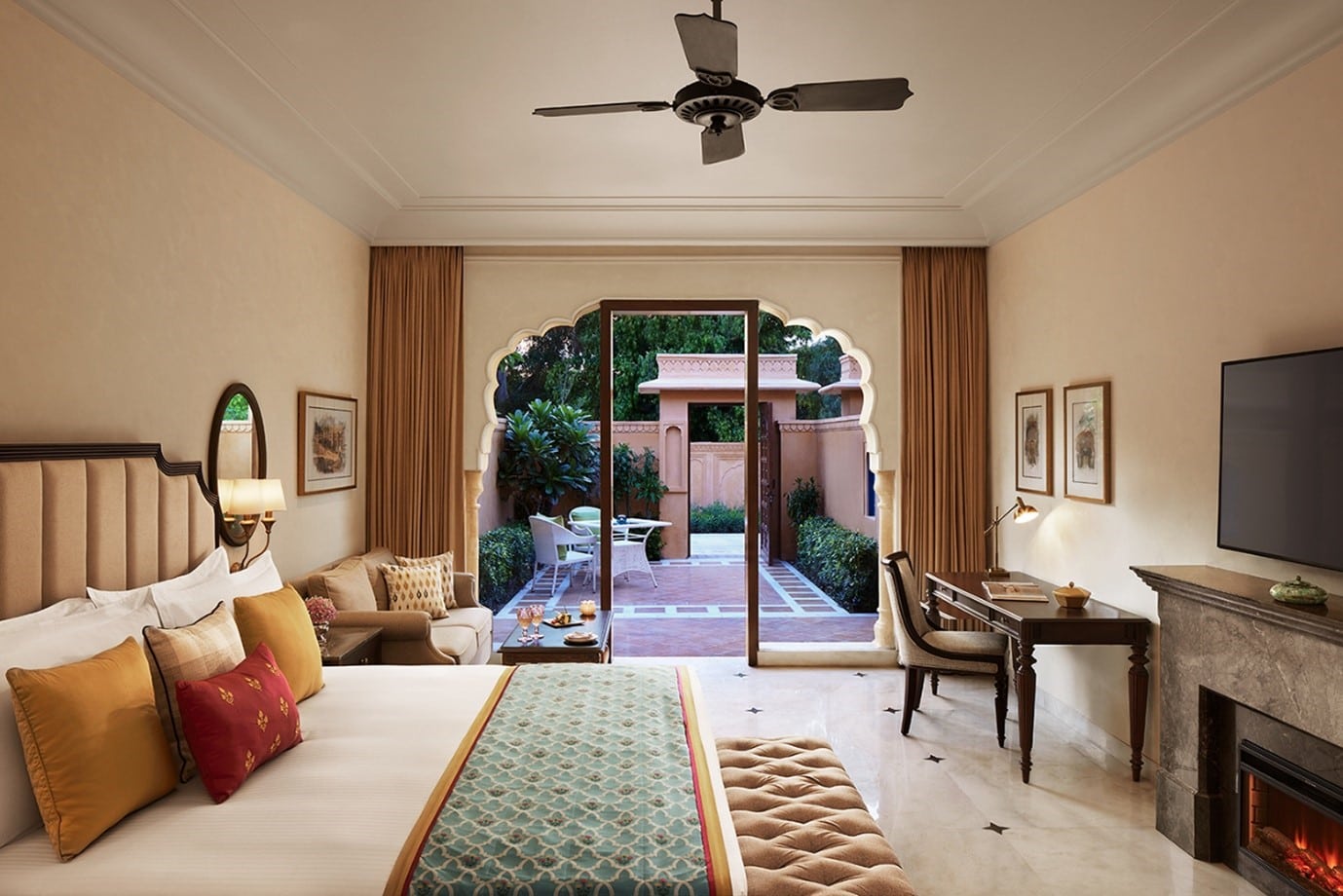 Building Trust, Credibility, and Reputation for Business Growth
The bedrock of building and nurturing guest trust and satisfaction rests on the consistent delivery of (exceptional) service. It's not just about meeting expectations, but often going beyond - anticipating needs, promptly addressing concerns, and creating tailor-made experiences that resonate with guests. This commitment involves empowering staff with the right tools, training, and technology to handle everything from complaints to personalized (little) surprises. It all adds up to establishing an emotional connection that fosters loyalty, key to forming the foundation of a successful hotel operation. Below, we explore the key components that contribute to this guest-centric ethos:
Collaborative Excellence: The synergy among front desk personnel, concierge teams, and housekeeping staff is pivotal in achieving guest satisfaction. Clear standard operating procedures provide consistency yet should provide the flexibility necessary that can elevate the guest experience when the situation demands.
Impeccable Facilities: Maintaining 'on brand', comfortable, and secure facilities is fundamental to building trust and credibility. Attention to detail - from the type of linens to the style of the décor to the layout of the room – are just a few examples of brand touchpoints that reinforce and represent an opportunity to showcase the brand. Modern amenities, entertainment options, and high-speed Wi-Fi are now expected regardless of the type of hotel, while well-designed fitness centers, pools, restaurants, and common areas are ways for some brands to extend the experience and make it their own.
Perceived Value: Strategic pricing strategies and thoughtful packages play a crucial role in shaping guests' perception of value. Offering value-added amenities such as complimentary breakfast, parking, and gym access enhances the guest experience without increasing costs too significantly. In other words, offering higher-value and valuable amenities that are lower cost can be a win-win - the wider this value-cost gap, the bigger the win for both hotels and their guests.
Innovative Engagement: Mobile apps and self-service kiosks have become ubiquitous and are now true table stakes. Yes, they add convenience, but it is their integration into the overall customer journey as well as the brand's investment in them that can drive value. First, it demonstrates the brand's commitment to innovation. Second, operationalizing the data into something that feels personal helps guests feel valued. And finally, apps, in particular, represent the kind of touchpoint with which a guest can interact easily and often, helping to strengthen the relationship by simply 'being there'.
Intelligent Partnerships: When and where possible, collaborating with third-party entities like luxury spa providers or local businesses and organizations can enhance the on-site experience. Partnerships can serve to strengthen ties between the brand and the local community, as well as to provide guests with authentic local experiences, catering to their diverse preferences.
Feedback Loop: Actively seeking guest feedback both throughout their stay and after their stay is one thing. Demonstrating responsiveness and dedication to improvement is another. Surveys and social media monitoring help assess whether expectations were met, evaluate customer service quality, and measure site cleanliness – the key is demonstrating back to guests that their feedback was considered and actioned. Quarterly or semi-annual updates that highlight changes or key actions resulting from feedback can reinforce to guests that just a few minutes in answering that survey matter, further giving credibility to the brand.
Fostering Repeat Visits and Advocacy
While the acquisition is the first crucial step in cultivating repeat customers, true revenue enhancement comes from building and realizing customer loyalty and retention. It's widely recognized that, on average, obtaining a new customer costs more than retaining an existing one. Nurturing a relationship with a customer often leads to repeat consideration and stays and usually, increased spending on products and services within the hotel.
Loyalty programs are powerful aids to engender that loyalty and keep it. They represent a treasure trove of customer data and often a user/ guest base that is eager to work with the brand. Some programs are quite large - as of 2022, Hilton Honors had more than 118 million members globally, Marriott Bonvoy 160 million, and World of Hyatt more than 30 million. These programs nurture repeat visits by extending incentives such as points, bonus opportunities, special rates, upgrades, and exclusive experiences.
Consistently delighting guests triggers positive word-of-mouth endorsements and cultivates a favorable reputation, which can drive down new guest acquisition costs and minimize loyalty costs. Strategic utilization of reviews on the brand's website and other online travel agency sites enhances the brand's standing and can convert browsers into confirmed bookings. Tactful and professional responses to negative feedback effectively mitigate potential damage. All of which is to say that building up and actively managing the customer relationship is crucial to generating financial value.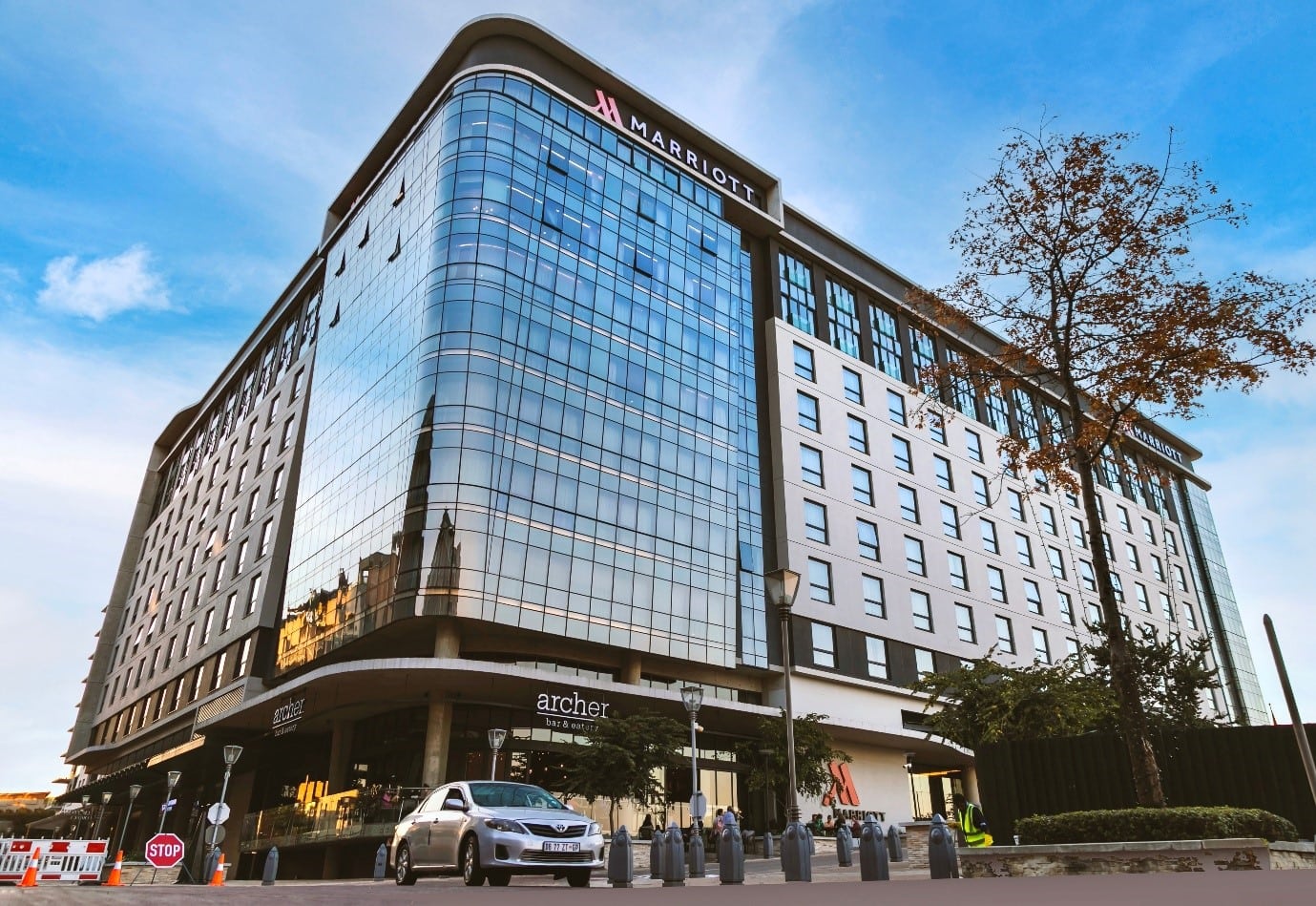 The Influence of Robust Reputation
The luxury hotel segment has both the advantage and disadvantage of being known for, well, luxury. Interestingly, 'luxurious' is a top driver of both reputation and loyalty across the sector, clearly driven by those guests who stay at luxury hotels, but who are nonetheless emphasizing the high expectations for delivering against that requirement. It indeed translates into a virtuous cycle in which the luxuriousness claimed is perceived, reinforced, and reinvested - ultimately enhancing reputation and loyalty.
An interesting result of creating a powerful brand reputation is that it can significantly reduce dependence on third-party travel sites, leading to increasing its direct bookings (website, app, direct property contact). This can lower the cost of each booking (especially, new) and creates higher revenues for the brand itself, creating the opportunity to not just get the "R" from ROI but to reinvest in the brand to generate improved financial performance.
The Synergy of Technological Innovations and Best-in-Class Service
Incorporating the latest technological advancements can greatly enrich both guest experiences and hotel operational efficiency. From offering ways in which guests interact to how they expect the hotel to take care of them, mobile applications will run a gamut of features. Not only are effortless booking and swift check-in procedures mandatory, but everything from seamless service requests to maintaining required levels of health and safety will introduce a new gold standard not only in luxury hotels but across all segments of the industry.
Artificial intelligence-powered chatbots serve as a valuable complement to human staff, effectively handling common guest inquiries. The advent of digital keys via smartphones streamlines the check-in process, allowing guests to proceed directly to their rooms. A standout example is Hilton's Digital Key, which has been implemented in over 80% of Hilton's properties, resulting in over 135 million guestroom doors opened as of October 2021.
Self-service kiosks further facilitate frictionless check-in and check-out processes. Automated technologies also extend baggage handling and concierge services, enhancing the guest experience.
Behind the scenes, sophisticated revenue management software optimizes dynamic pricing strategies ideally discovering that sweet spot that manages the value expectation of the guest while ensuring the property can deliver against its performance objectives. Data analytics emerges as a tool, guiding strategy formulation, driving personalized interactions, and optimizing the guest value-property performance juxtaposition.
Investments in employee development and a nurturing corporate culture lay the foundation for exceptional service. Hilton runs its Hilton Team Member Engagement initiatives, as well as its Thrive benefits, which are aimed at supporting and empowering its team both personally and professionally. Comprehensive omnichannel training prepares staff members for diverse guest interactions. Last year, Hilton also partnered with Guild Education to provide its team with a top education platform that offers a variety of learning offerings for free. How an organization trains and develops its staff (on the inside) is usually a reflection of how well they deliver to the guest (on the outside).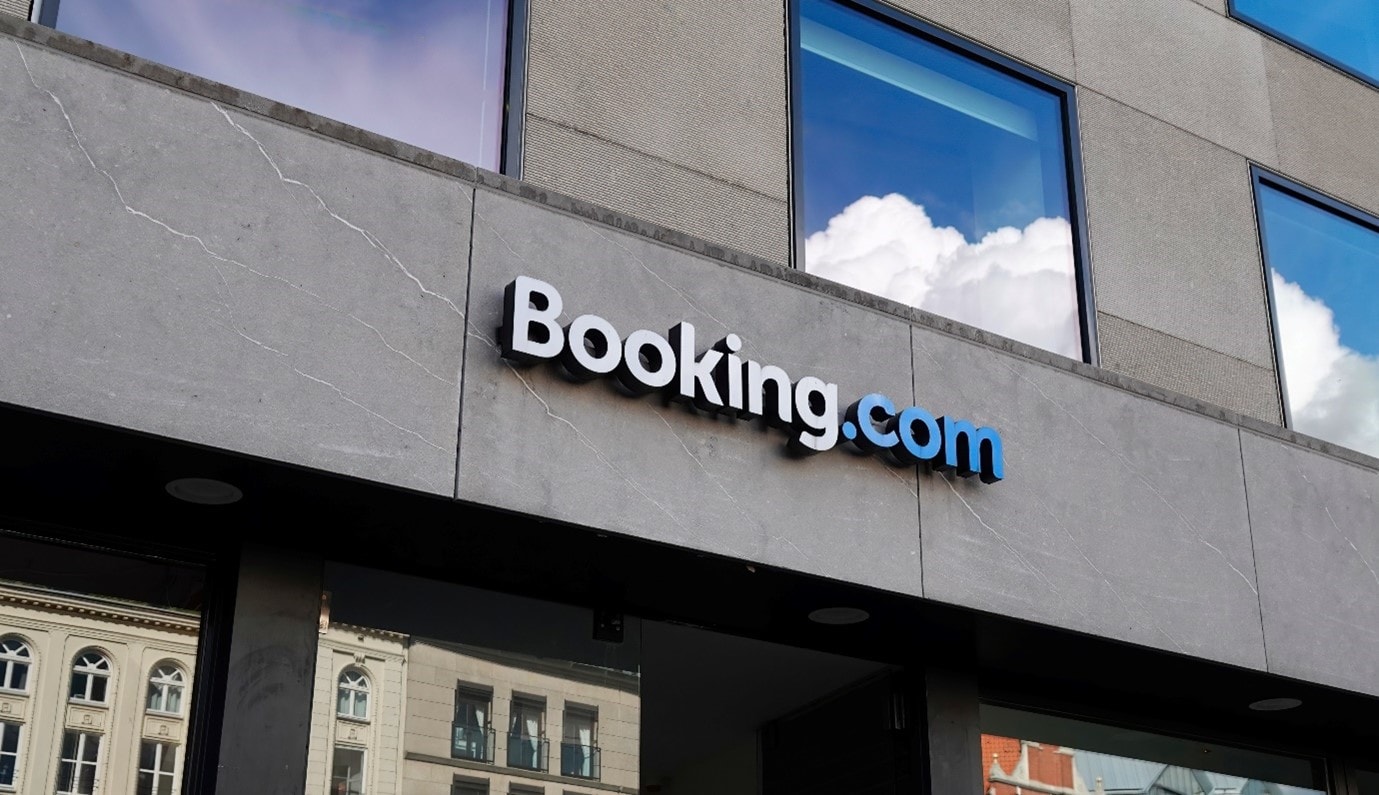 Sustaining Long-Term Business Impact and Brand Value
Hotels (regardless of type!) that consistently deliver outstanding guest experiences are optimally positioned to leverage their earned brand equity to maximize occupancy rates and fuel sustained revenue growth. With competition intensifying and consumer expectations continually evolving, strategies to elevate trust, enable delivery against expectations, and strengthen guest relationships become paramount. The brands that win in these areas foster the kind of reputation, consideration, and loyalty that ultimately translate to the business and brand performance that hotels seek.
ENDS
[1] https://brandirectory.com/rankings/hotels/2020
[2] https://brandirectory.com/rankings/hotels/2021
[3] https://brandirectory.com/rankings/hotels
[4] https://www.ahla.com/sites/default/files/AHLA.SOTI_.Report.2023.final_.002.pdf
Reprinted from the Hotel Business Review with permission from www.HotelExecutive.com