This article was originally published in the Brand Finance Global 500 2023.
Etisalat by e&, the telecom brand of the tech conglomerate e& operating in the UAE and Egypt, retains its position as the strongest brand in the region with a Brand Strength Index (BSI) score of 89.1 out of 100. This year saw a new evolution from Etisalat Group to e&, a brand identity change to accelerate its transition into a tech-driven telco. This transition has manifested in both infrastructural changes to the Etisalat by e& operations to enhance its services to the customer, as well as external-facing service offerings of the other e& divisions that previously operated under the Etisalat brand.
Interview with Hatem Dowidar.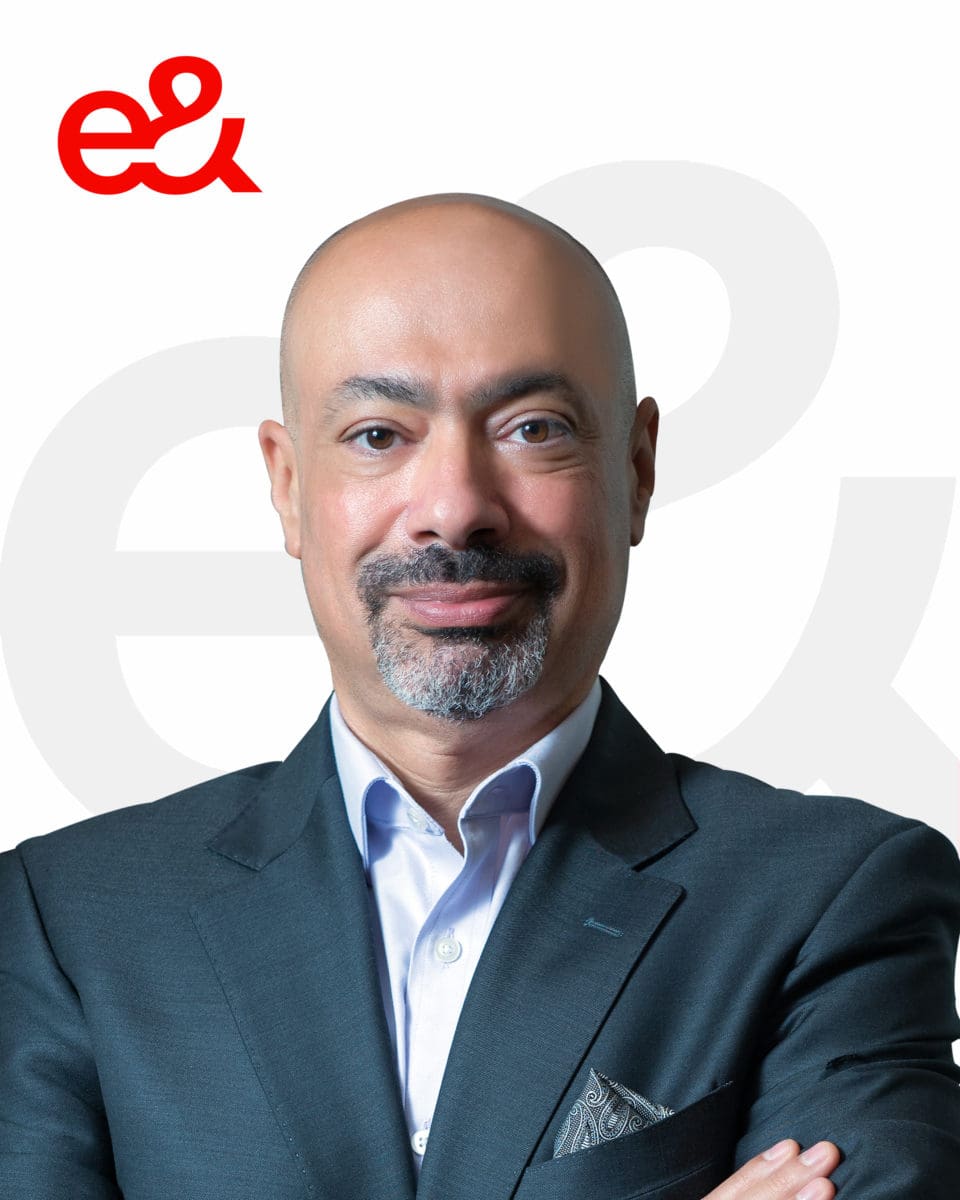 The rebrand from Etisalat Group to e& might surprise some given the strength and heritage of Etisalat. Why was now the time for change?
It's more than just a name change. We knew we had to signal to the world, to our staff and to ourselves as a management team that we were becoming something different. It was to signal the magnitude of the change. It signals that, yes, we have our traditional telecoms business, but that a lot of other things are coming into play, as we dive deeper into the technology and digital space, and that we are now offering more than just traditional connectivity. The name e& reflects our ambition to push the boundaries, to go further and to be well positioned for the future.
Our transformation into e&, a global technology and investment conglomerate, did not happen overnight. In fact, the evolution as e& was gradual, as we began to consider what the transformation as a telco would look like to meet the growing needs of our consumer and business customers.
In our quest to deliver on our promises to our customers, add value for our shareholders, seek out new opportunities in the countries where we operate, tap into new markets and accelerate the growth of the business, it was time to do things differently by adopting a growth mindset, creating a future-ready business model, focusing more on value creation and leveraging our customer base against the backdrop of a rapid digital revolution in the business landscape.
Over the past 12 months, we have focused on realigning our business operations by creating a diversified business model with strong business pillars: etisalat by e&, e& international, e& life, e& enterprise and e& capital.
While etisalat by e& continues to build on a 46-year telecom legacy, e& international is focused on two things. One is good governance, while the other is ensuring that we carry the best practice in different markets in areas such as commercial, technological and regulatory frameworks.
We then have e& enterprise, the business pillar focusing on enterprise solutions such as cloud business, cybersecurity, Internet of Things (IoT) and AI.
Next is e& life, a business pillar focusing on OTT (over-the-top) services to sell directly to customers. The current push is on fintech and content, though we may pursue other areas, such as health and education, in the future.
Our investment arm is e& capital that focuses on investing in businesses that we don't intend to control, and it offers two distinct kinds of investments. We have a venture capital (VC) arm, which is looking into opportunities to invest in early-stage companies, and a growth arm, where we are more focused on taking bigger, but still minority, stakes in more established companies.
What are the primary goals of the rebrand and restructuring, and have you seen any immediate benefits and opportunities?
e& opened a new and exciting chapter in the Group's growth journey to create a digitally brighter future while empowering societies. As the business landscape underwent unprecedented changes, e& embraced a progressive outlook to seek ways to transform into a global technology conglomerate that is customer-centric, digital-driven and propelled by next-generation technologies.
The new brand identity leverages e&'s market-leading position with state-of-the-art infrastructure, seamless operations and partnerships that build on years of sustainable growth and a continued commitment to innovation.
Today, we have a diversified business model with robust business pillars. The establishment of focused business verticals has increased organisational agility for each priority business vertical, set targets and strategies transparently, enabled the seamless execution of mergers and acquisitions, attracted relevant strategic partners and investors in line with the business vertical's focus, retained the desired talent per business vertical and captured better synergies across the Group.
The brand transformation positions us to be even stronger than we are today; we will cater to new customer segments and other international markets, which will only help us grow and explore new horizons.
To continue building on the success established throughout decades, e& will maintain that growth to stay digitally fit for the future. Therefore, we embarked on an ambitious journey that encompasses so much more than a brand change, but is an exciting transformation towards a company that focuses on creating technology that empowers every person and organisation to stride into a digital future.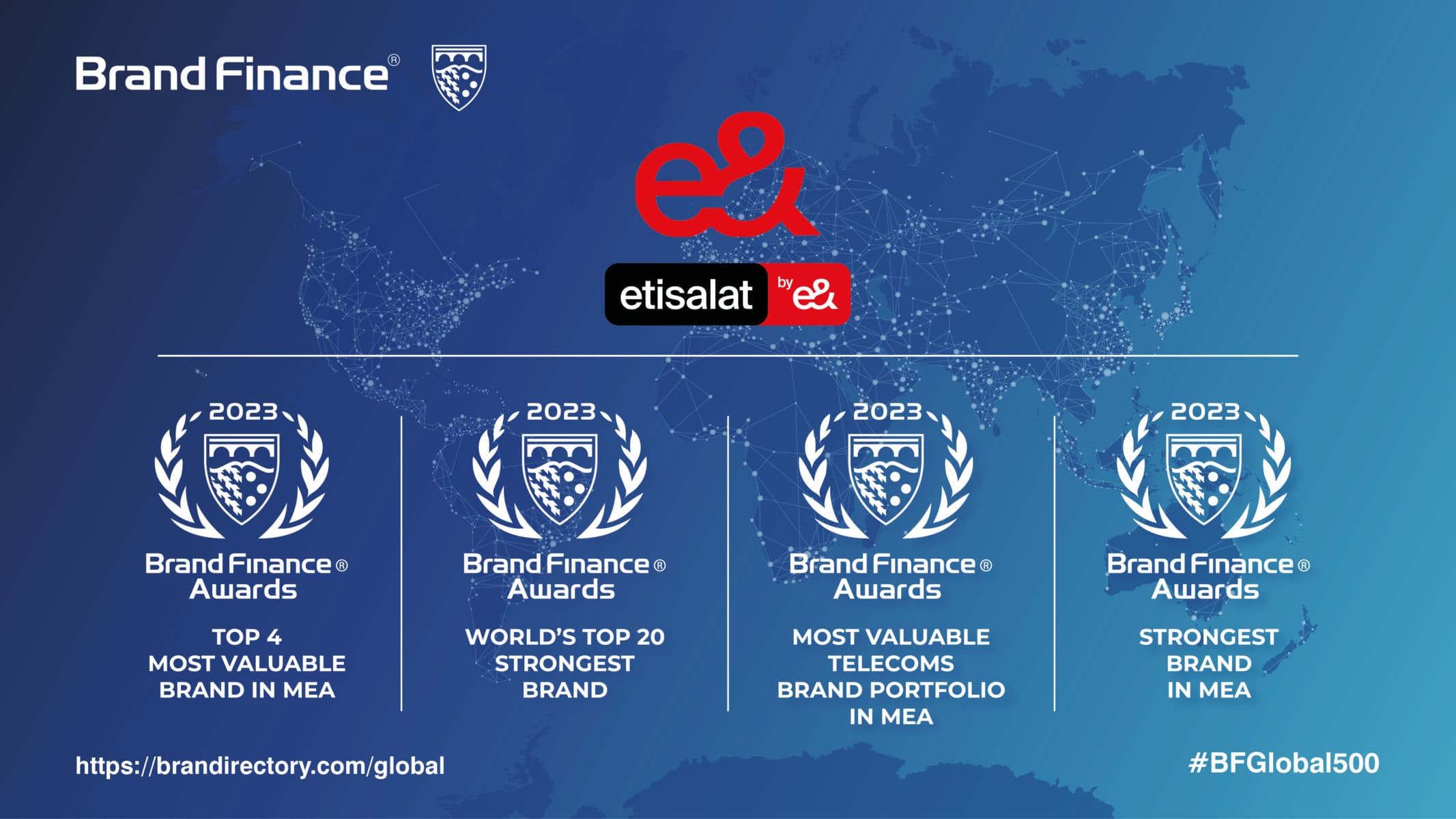 Your telecom division, etisalat by e&, is once again the region's strongest brand. How have you used its continued success to facilitate the Group's transformation?
Our telecom arm, etisalat by e&, is the most significant business unit. By maintaining its strongest brand position across all categories in the MEA region, etisalat by e&, underlines the UAE's global position as a leader in providing state-of-the-art telecoms infrastructure and achieving national digital transformation.
It also ranks among the three strongest telecom brands in the world, confirming the group's rich telecom heritage, reinforcing the strong telecom network and maximising value for the different customer segments of e&.
This progressive evolution is firmly rooted in our rich telecoms heritage from the beginning of our journey. Under the visionary leadership of the UAE to elevate the ICT sector, we have grown from being the first telecom company in the UAE from simply offering 'voice' and connectivity to digitally empowering societies. As e&, we are proud to become an organisation that caters to different customer segments in the markets we operate in.
The Group's brand architecture is aligned with our vision and business strategy, and our vertical businesses are collectively linked to the sustainable growth of the brand and the transition to one of the world's largest technology players. In line with its new strategy of 'Grow,' 'Transform,' and 'Excel', etisalat by e&'s mission is to unlock shareholder value, deliver an exceptional customer experience and optimise business performance. To deliver leading-edge core and digital services, enriching consumer value propositions with digital services that address new lifestyles and emerging consumer demands beyond core telecoms services, including areas such as gaming, health and insurance. We will continue to act as a trusted partner and advisor to businesses in meeting their connectivity needs and beyond.
By strengthening its leading position as a digital telco, a customer champion in a hyper-connected digital world, etisalat by e& will pivot a new sustainable demand in future spaces like private networks, autonomous vehicles and AI.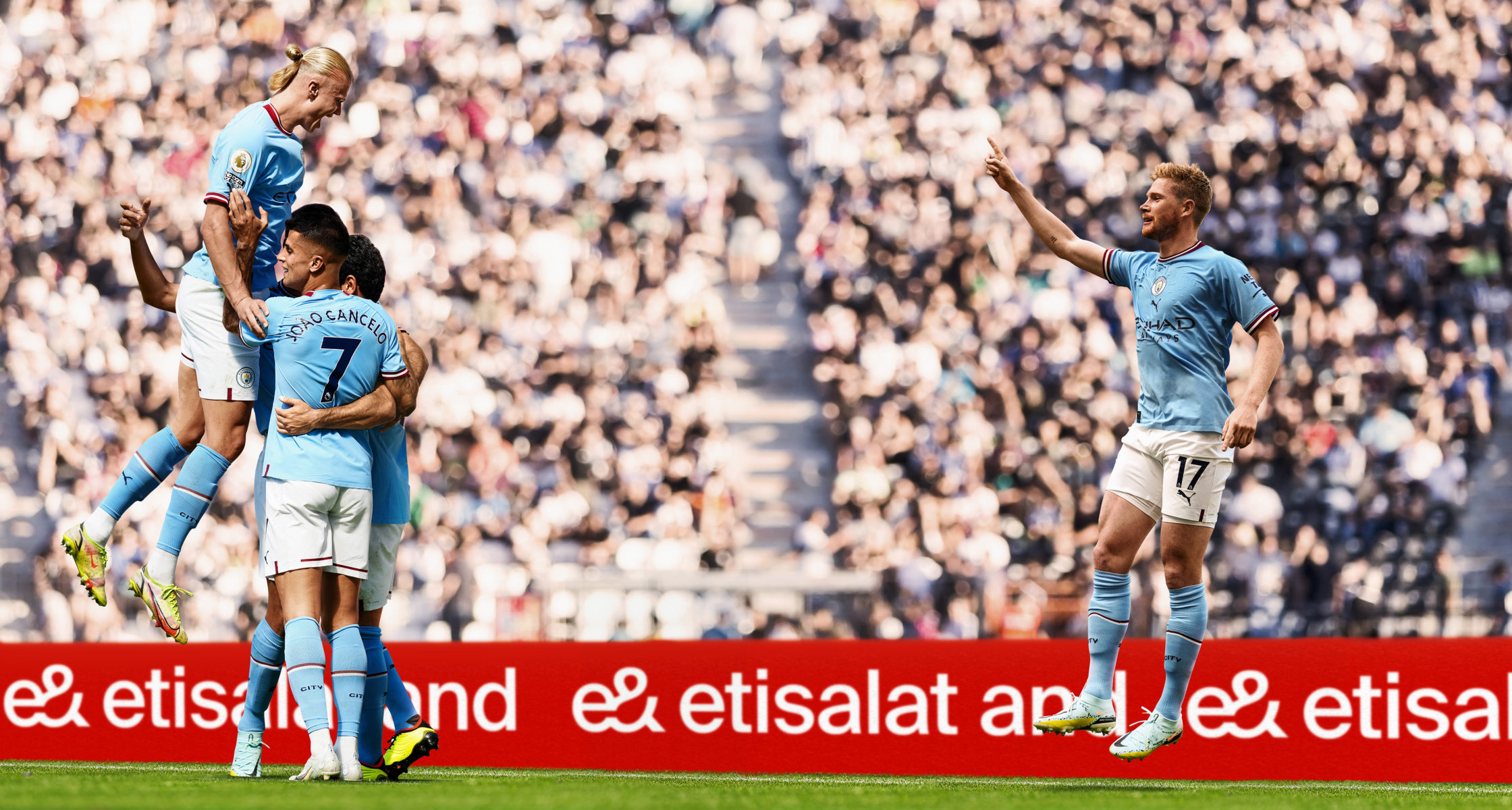 How do you see the role of ESG in the brand sustainable growth?
Delivering our Environmental, Social and Governance (ESG) commitments has had a significant positive impact during our transition. Caring for the communities in which we operate has been instrumental, while improving the customer experience and maximising shareholder value creation have been key focus areas.
More than ever, ESG is a necessity. It strongly influences how potential customers and employees engage and interact with us at all levels. Business growth and invention discussions are now being made on a global scale based on how companies, organisations or any type of business is making a real effort on ESG. Whether it's sourcing services from companies that they believe are committed to ESG, or recruiting talent, ESG has become one of the main reasons for making these decisions globally.
While taking huge steps to strengthen our position as a global technology player, e& declared the Group's net zero targets by 2030 at the 27th Conference of the Parties of the UNFCCC (COP27) and became the first private sector entity in the UAE to join the Independent Climate Change Accelerators (UICCA). This reaffirms the group's commitment to climate change efforts by focusing on key initiatives to reduce our carbon footprint through improved energy efficiency and renewable energy, among other initiatives.
Our participation in the upcoming 28th Conference of the Parties (COP 28) reaffirms the importance we place on contributing to and building the ecosystem in which we operate, communicate and deliver our services to stakeholders and customers. It has also helped us to be a key player in exploring clean and green solutions, and has enabled us to keep the ESG agenda at the heart of our business model.