After a year of turbulence, which has seen economic growth stall and stalwarts of the Global Soft Power Index drop down the ranking, we have introduced the Future Growth Potential metric as a forward-looking metric of public opinion. When asked which nations have the greatest potential for future growth, Japan comes out in the top spot scoring 5.8 out of 10.
This comes despite domestic concerns about demographic shifts, which are leading to a severe imbalance in the workforce. The nation has also suffered economic concerns including the negative impact of COVID-19 on the manufacturing and tourism industries, as well as the ramifications of the postponement and possible cancellation of the Tokyo Olympic Games. Despite this, Japan is clearly viewed as a key force for the future: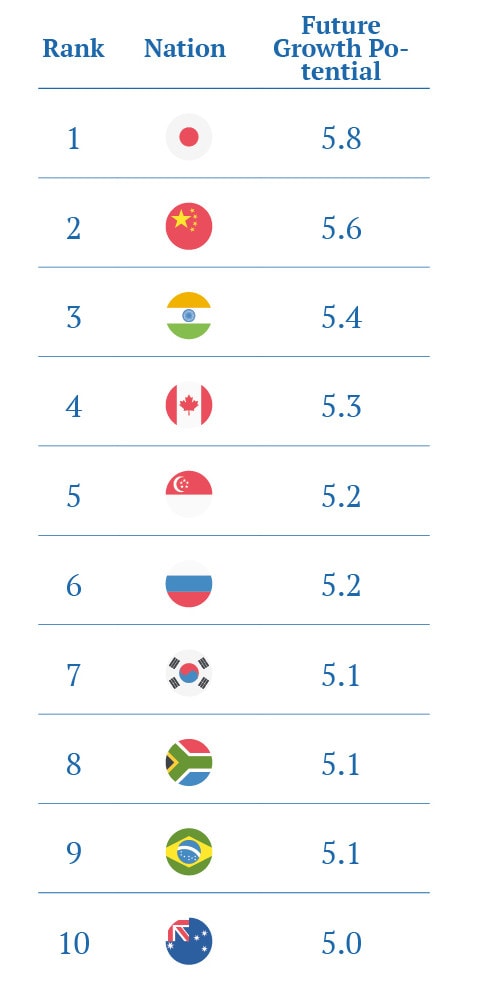 Small but mighty Singapore punches above its weight in this year's Future Growth Potential index. The nation of five million claims its place in 5th in the Future Growth Potential Index, beating out economic juggernauts and population giants, marking it as a nation to watch out for in the years ahead.
The world's largest populations and economies, China and India, claim second and third place respectively. Together these nations account for 35% of the world's population. With this demographic advantage, these nations are set to enshrine their powerhouse status by providing a well of future global talent.
The non-Western bloc known as the BRICS (Brazil, Russia, India, China, South Africa), are all represented in the top 10. Other than the two Asian nations, Russia, South Africa, and Brazil all have strong showings in the Future Growth Potential Index, claiming 6th, 8th and 9th place, respectively. This strengthens the notion of public opinion moving away from the West and towards rising challengers as the economic powerhouses of the years to come.
With the exception of Russia, European nations are entirely absent from the top 10, with Germany scraping 11th place (5.0) - and only two Western nations, Australia and Canada, present. The notable absence of traditional western giants like the US and UK signals a broader shift in perceptions about where global power lies and what the future looks like and suggests the waning of the West's star power.
Despite regional variations and trends, there are common threads that link many of these top 10 nations. The pillars most correlated with a strong Future Potential Growth performance encapsulated business-friendly attitudes, leadership in technology development, and cultural and governmental influence. This mix of economic and broader societal and cultural factors shows the plethora of ways that soft power considerations are integral to the public's perception of where the future lies.