This interview was originally published in the Brand Guardianship Index 2023 report.
Etisalat by e&, the telecom brand of the tech conglomerate e& operating in the UAE and Egypt, retains its position as the strongest brand in the region with a Brand Strength Index (BSI) score of 89.1 out of 100. This year saw a new evolution from Etisalat Group to e&, a brand identity change to accelerate its transition into a tech-driven telco. This transition has manifested in both infrastructural changes to the Etisalat by e& operations to enhance its services to the customer, as well as external-facing service offerings of the other e& divisions that previously operated under the Etisalat brand.
Interview with Hatem Dowidar.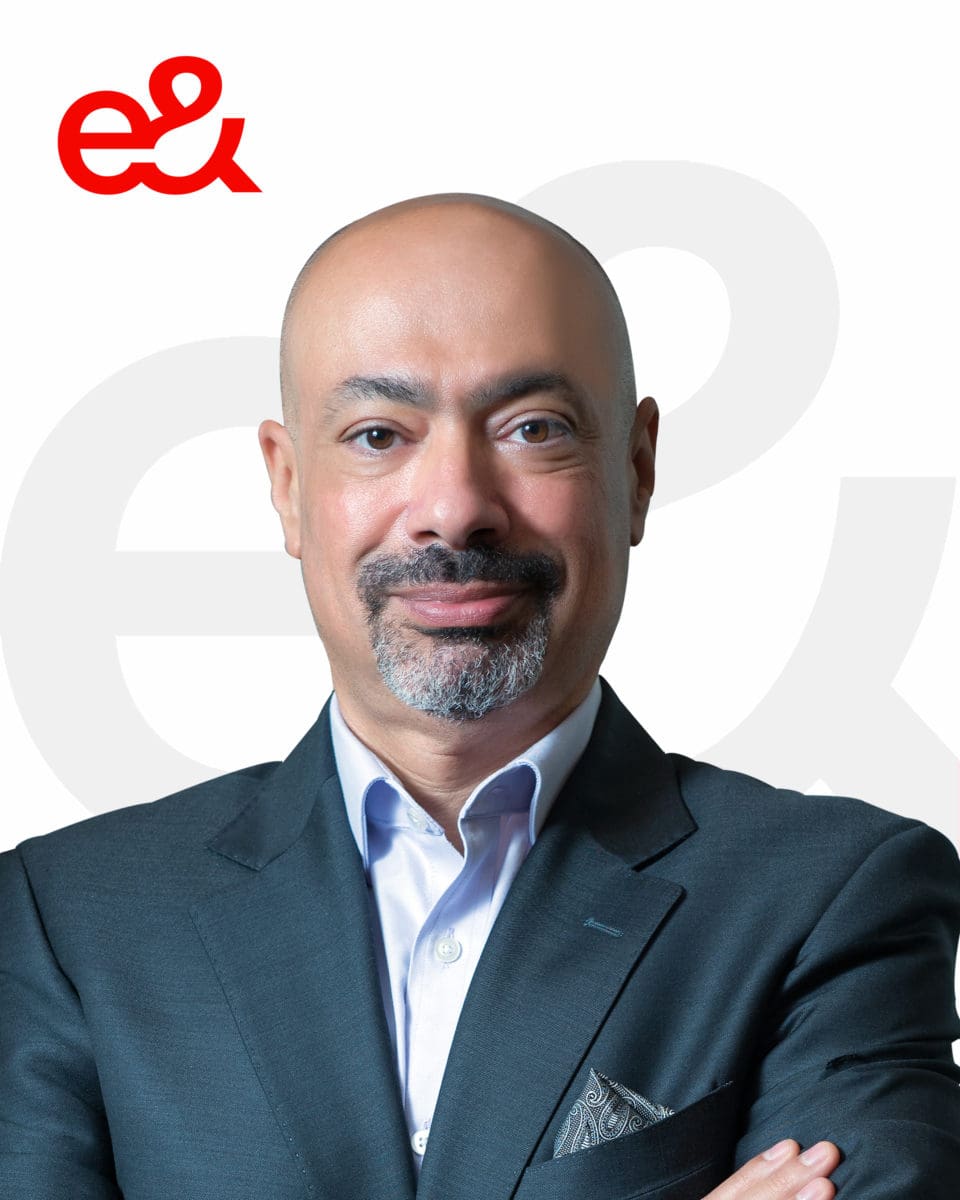 How are you driving sustainability into the organisational and brand culture at e&?
With sustainability at the heart of everything we do, the e& ESG framework has become an integral part of our business model for the Group. At e&, we believe technology and connectivity is right at the center of a future that is good for the planet, creates a better life for all and brings cohesion and trust within societies. We aim to be playing a significant role in this 'digital revolution' by spearheading digital transformation and connectivity for a sustainable and inclusive future for all.
We have successfully created an ecosystem in which we operate, communicate and deliver our products and services to stakeholders and customers, enabling us to be a key player in the pursuit of clean and green solutions, which was recently crowned by the declaration of net zero e& targets by 2030, and marked a further step in confirming our commitment to reducing carbon emissions across our business and stepping up our efforts for global climate action.
e&'s strategy amplifies the sustainability agenda, underlining its position as a diverse and inclusive employer with ethical and transparent business practices. e& seeks, through its key ESG objectives, to give back to the communities in which it operates, to ensure a digital future for all and to cement its commitment to low-carbon operations, thereby contributing to the decarbonisation of the world.
e& is constantly adapting and evolving to become a catalyst for change in the world around us, diversifying and deepening our efforts across all verticals to ensure that we contribute positively to national and global ESG ambitions and consistently track their contributions to the United Nations Sustainable Development Goals (SDGs). The Group recently joined the World Economic Forum's (WEF) Stakeholder Capitalism Metrics, with over 100 global companies aligning their performance reporting with ESG indicators, making sustainability an integral part of their organisational and brand culture.
e& will continue to focus on key initiatives to reduce its carbon footprint through improved energy efficiency and renewable energy procurement, among other initiatives.
e& enterprise (part of e&) launched the FutureNow Sustainability initiative, calling upon scale-ups from across the world to be part of shaping a sustainable future in the UAE prioritising energy efficiency and develop cutting-edge sustainable solutions that reduce reliance on the country's electricity grid across more than 11,500 mobile network sites in the UAE.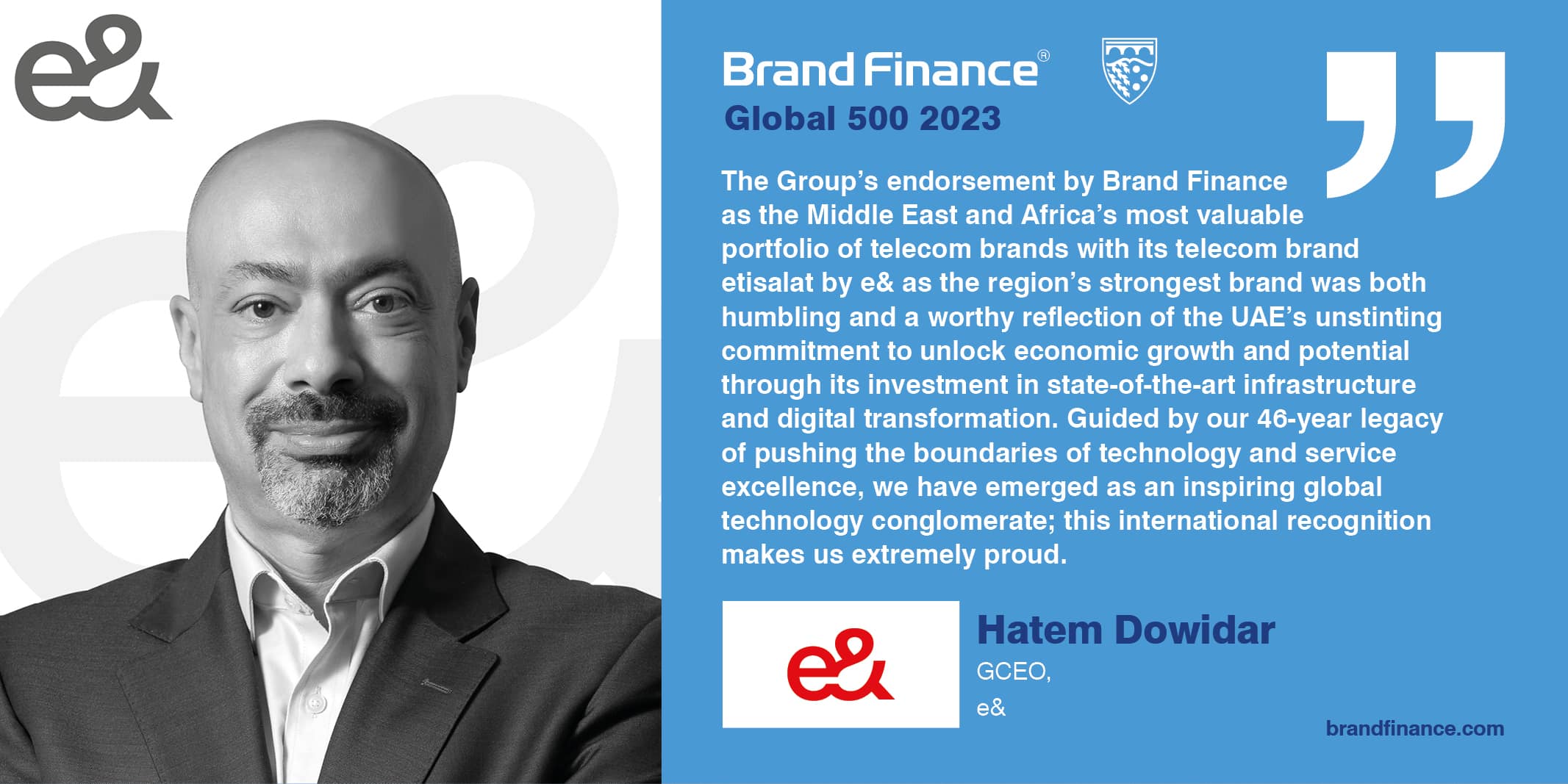 How is e& driving conversations around diversity, equity and inclusion to empower employees in this transformation journey?
With thousands of employees across our markets, our human capital is the foundation of our success. In this transformation journey, it is more important than ever to prioritise diversity, equity, and inclusion in the workforce. It includes diversity not only in terms of race and gender but also in terms of age, religion, and ability. By building a diverse and inclusive workforce, e& can tap into a broader range of perspectives and experiences, leading to more innovative and effective decision-making.
At e&, aside from developing an aspirational culture and determined workforce, we strive to take meaningful action to make our workplace more equitable, inclusive, and diverse. We see DEI as a critical factor in positively influencing the employee experience and have raised our efforts to ensure we strike the right balance. We foster a socially and morally professional workplace, knowing that driving the digital future requires an innovative, diverse, and engaged workforce. In 2021, we launched a pillar dedicated to Diversity, Equity and Inclusion to raise awareness around the subject and drive the DEI goals of the organisation. 2021 was also the first year we had total equity across genders on all benefits and policies.
Within our highly-productive workforce, we represent minorities with an increased representation of women, People of Determination (PoD), youth, diverse nationalities and neurodiverse talent. For People of Determination working in various departments, we are working with strategic partners to enhance our work environment and raise awareness within the organisation. In 2022, gender diversity and the growth of people of determination joining our teams were the highest in the company's history at 24.2 and 60 % respectively.
Through employee empowerment initiatives addressing personal health, work environment, skills enhancement, we have been able to harness the valuable knowledge and dedication of our employees and drive productivity, quality and innovation to achieve our strategic goals. We strive to be the best place to work; to be an employee experience organisation dedicated to people development by implementing global HR best practices that attract, retain and develop talent from around the world.
We also focused on three groups of people: those within the organisation, recent national graduates and those at the forefront of digital development whose talents need our tools to go further.
As part of our 2030 strategy, we have great ambition for sustained growth over the next few years by abiding by four strategic guiding pillars, one of the key pillars is the continued focus on the Diversity, Equity and Inclusion pillar, in line with global ESG practices and as an essential part of the social pillar.
ESG remains a priority and we are committed to adopting the best practice and performance, building e& brand awareness and value and fostering an engaged, diverse and inclusive workplace.
Delivering on our ESG commitments will become more prominent in making a profound human impact, both internally and externally, on our people and the communities we serve. By leading by example, we believe that values-based sustainability is essential to ensure a better future for generations around the world. As such, we invest in human capital with a clear vision of diversity and inclusion to promote well-being, security and sustainable growth.
Through our Empowering People pillar, we ensure our people perform their best every day, focus on personal and professional development, and provide a wide range of learning and development opportunities. We believe a healthier workforce translates into a more productive workforce, and the more we look after our employees, the more we can progress together.