This article was originally published in the Brand Finance Football 50 2022 report.

Juventus has retained its title as the Strongest Italian Football Club Brand and therefore a club with the greatest ability to influence the choices and opinions of the fans, and a trademark of greater financial value, with a weight equal to about 30% of all enterprise value.
The strength of the Juventus brand, classified as AAA in the Brand Finance Football 50 2022, is a result of both the improvement of turnover prospects at the beginning of 2022 and the reduction of the cost of capital, which indicates a reduction in the risk of investments in the club. These factors together with the improvement in long-term growth has led Brand Finance to estimate the value of the Juventus trademark at €705 million.
Thanks to the significant increase of €140 million year on year, equal to a growth of 25%, Juventus is one of the five clubs whose brand has grown the most in the football world. Furthermore, this year the Juventus brand has recovered and exceeded its pre-covid value by 4.4%. Following the strong growth, Juventus is ranked as 11th in the Brand Finance Football 50 2022 and has significantly reduced the gap with Arsenal, ranked as 10th, which has also grown more than the average of the 50 clubs, but with a brand value increase of 18%.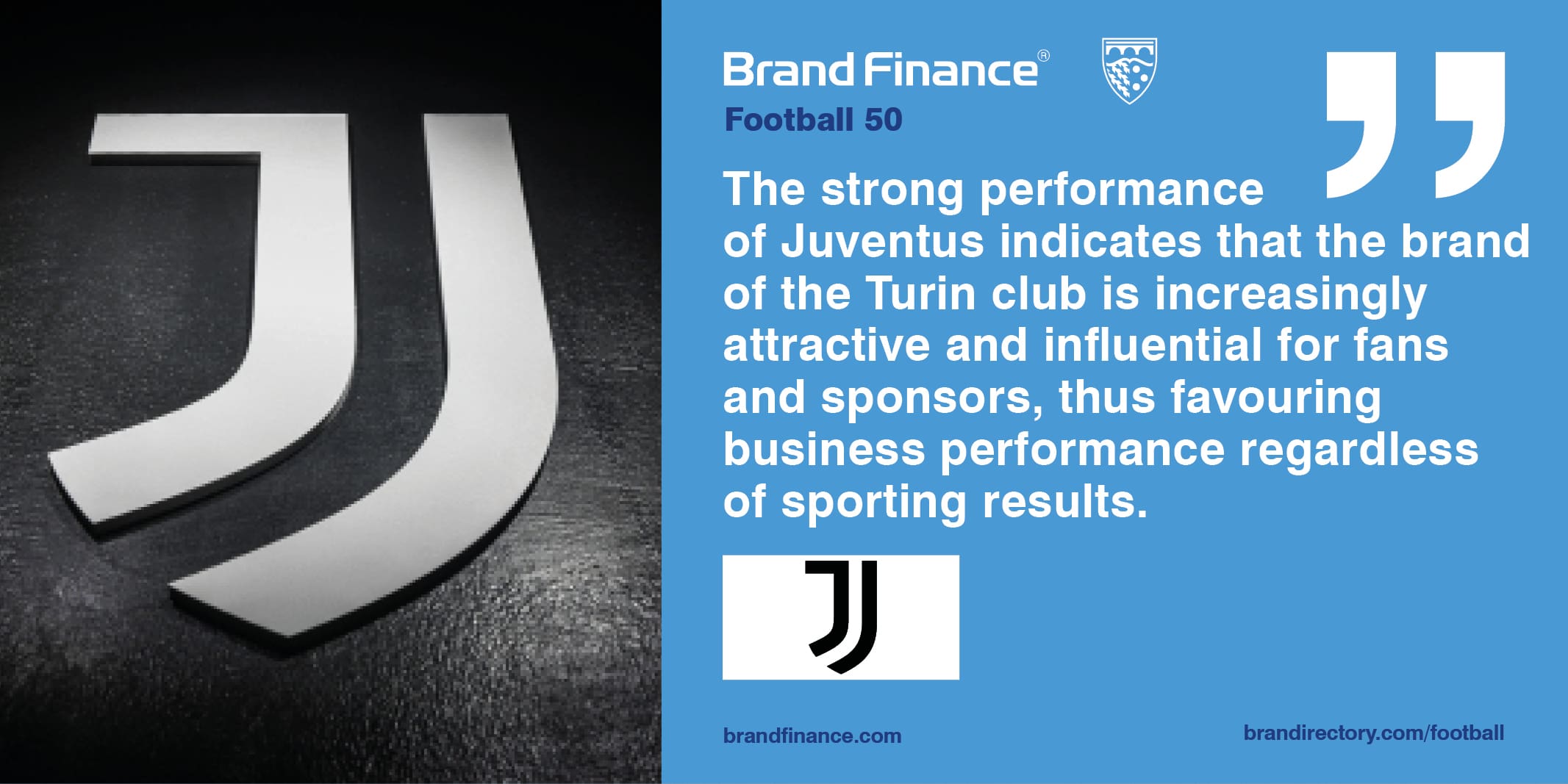 The other Italian clubs ranked in the Brand Finance Football 50 2022 are; Inter in 14th place, with an extremely strong AAA- brand rating; AC Milan in 17th place with a very strong AA + brand rating which; Napoli in 27th place with a very strong AA- brand rating; Roma with an AA rating in 29th place; and finally, Atalanta and Fiorentina also enter the rankings this year, in 42nd and 50th place respectively.
The strengthening of the Juventus brand is due to both the improvement in performance in some key areas and to the optimisation of other indicators that contribute to the competitive analysis prepared by Brand Finance, based on the marketing and business data available in the last two weeks.
In fact, following some market research conducted in April by Brand Finance, conducted amongst a representative sample of fans in the main European countries, the USA, China and Brazil, Juventus is one of the most loved clubs and with the greatest number of fans.
Furthermore, Juventus performed very well in certain aspects, for example in stadium quality, perception of club quality, fair play, sponsorships, attractiveness for partners and broadcasters, and the average attendance of fans in the stadium.
"As for Ferrari and Real Madrid, the strong performance of Juventus indicates that the brand of the Turin club is increasingly attractive and influential for fans and sponsors, thus favouring business performance regardless of sporting results".

Massimo Pizzo, Managing Director, Brand Finance Italy