This article was originally published in the Brand Finance Football 50 2022 report.
Interview with Javier Tebas.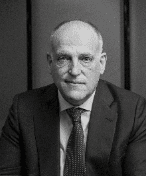 Javier Tebas Medrano has just completed nine years at the head of LaLiga. Under his mandate, Spanish football has left the red numbers behind, has boosted the institution by modernising it, has made the Spanish league the least economically affected by the pandemic and has boosted the value of the LaLiga brand as a driving force to increase the value of its clubs.
What are the implications of the agreement with CVC for the LaLiga club brands? The agreement will allocate 70% of the capital to improve the infrastructure of the clubs. What percentage is calculated to grow the brand strategies?
The involvement of LaLiga clubs in the agreement with CVC is total. LaLiga Impulso is a project that was created to help them improve their infrastructure, to digitalise, to internationalise... and this means that the brand of the clubs will expand nationally and internationally. In short, the LaLiga Impulso project will serve to strengthen the brands of the clubs and, therefore, of LaLiga.
The Spanish league had its glory years with stars such as Cristiano Ronaldo and Messi. Beyond the impact it has had on Real Madrid and Barcelona, how does it affect LaLiga not to have this level of international stars?
LaLiga is much more than the players who play in it. Of course, we are delighted that great stars of national and international football play here, but the LaLiga brand and the clubs' brand is above that of the players.
The best brand guardians have to be the top executives. Clarity, transparency and courage in your statements characterise you. How does the LaLiga brand capitalise on the value of the Javier Tebas brand?
For me, the important thing is to take the LaLiga brand and that of the 42 clubs that are part of it as far as possible. Javier Tebas works in favour of LaLiga and with this objective in mind.
LaLiga is always looking to grow and close the gap with the Premier League. How do you capitalise on the value of brands to achieve this?
We try to highlight, especially on an international level, the virtues of our clubs. Especially when they play in European competitions and achieve milestones such as those achieved this season by Villarreal CF or Real Madrid. These are moments of great visibility in which all areas row to continue maximising these brands at a global level: with interviews with international media, events with partners in other territories, etc.
What is LaLiga doing for women's football?
Despite not being the official organiser of the competition, in October 2015 we created a Women's Football department to promote and support it. We put all our communication windows at the service of women's football to try to contribute to increasing its visibility; we have collaboration and knowledge exchange agreements with various federations and women's leagues around the world such as the Damallsvenskan in Sweden, the NWSL in Nigeria and the Nadeshiko League in Japan, among others. We also organise training for women's football clubs and we have three players in the LaLiga Ambassadors programme, Vero Boquete, Aintzane Encimas and Anair Lomba, among other projects.
How do you see the health of the clubs in terms of brand value?
We are working to boost the brand value of the clubs, aware of the strength they have inside and outside Spain. In fact, it is one of the pillars of work within the LaLiga Impulso project. We are supporting the different clubs and SADs to help them get more value out of their brands.
The Spanish league is the league that has lost the least in economic terms, but what about in terms of brand value? What steps need to be taken to make it the most valuable league in the world?
Being the league that has lost the least in economic terms has also revalued us in terms of brand. We have come out of the pandemic stronger in terms of brand, making it possible for the competition to be completed in the 2019/20 and 2020/21 seasons.
How does the relationship with the presidents of Real Madrid and Barça affect the value and image of LaLiga? How does it affect them?
The value of LaLiga is the value of its clubs and both Real Madrid and FC Barcelona are great clubs that contribute to spreading the image of LaLiga at an international level. Our mission in LaLiga is to promote all clubs equally, and that is what is important, to promote the competition globally beyond players or club presidents.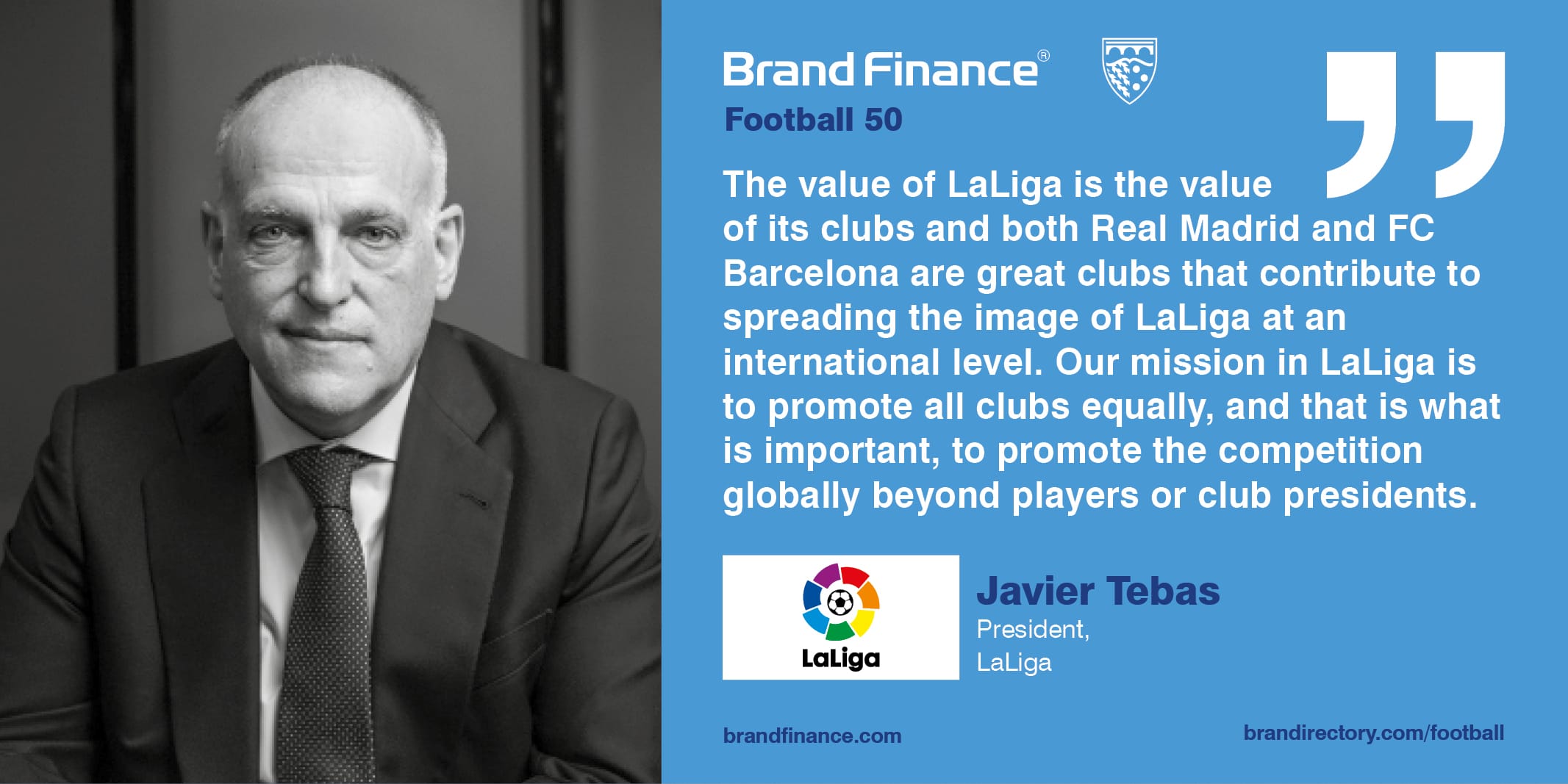 Communication and marketing have become indispensable elements for many sectors during the last few years marked by the pandemic and other international tensions. What aspects of marketing and communication do you consider key to accompany and promote the development of the football sector in the short-medium term?
At LaLiga, we try to promote aspects of marketing and communication that are far removed from strict competition. We are the industry of emotions and entertainment and as such we are immersed in many other projects in addition to the competition that are key to growing the image of LaLiga and the championship itself. We promote innovation and technology, training inside and outside the clubs, the world of entertainment (as we do with the Oh my Gol! concert or with the opening of LaLiga TwentyNine's sports),... in short, we use tools to amplify the world of competition and football and provide it with much more content, to make it grow beyond the playing fields.
Entrevista a Javier Tebas.
Javier Tebas Medrano (31 de julio de 1962, San José, Costa Rica) acaba de cumplir nueve años al frente de LaLiga. Bajo su mandato, el fútbol español ha dejado atrás los números rojos, ha impulsado la institución modernizándola, ha conseguido que la española, sea la liga menos afectada económicamente por la pandemia y ha impulsado el valor de la marca LaLiga como motor para aumentar el valor de sus clubes.
¿Qué implicación tiene las marcas de clubes de LaLiga el acuerdo con CVC? El acuerdo destinará el 70% del capital a mejorar la infraestructura de los clubes. ¿Qué porcentaje está calculado para hacer crecer las estrategias de marca?
La implicación de los clubes de LaLiga en el acuerdo con CVC es total. LaLiga Impulso es un proyecto que nace para ayudarles a mejorar sus infraestructuras, a digitalizarse, a internacionalizarse…y esto conlleva que la marca de los clubes se expanda a nivel nacional e internacional. En resumen, el proyecto de LaLiga Impulso servirá para hacer más fuertes las marcas de los clubes y, por ende, de LaLiga.
La liga española pasó unos años de gloria con estrellas como Cristiano Ronaldo o Messi. Más allá del impacto que haya tenido en El Real Madrid y Barcelona, ¿cómo afecta a LaLiga no tener este nivel de estrellas internacionales?
LaLiga es mucho más que los jugadores que juegan en ella. Por supuesto, estamos encantados de que grandes estrellas del fútbol nacional e internacional jueguen aquí, pero la marca LaLiga y la de los clubes está por encima de la de los jugadores.
Los mejores guardianes de marca han de ser los primeros ejecutivos. La claridad, transparencia y valentía en sus declaraciones le caracteriza. ¿Cómo capitaliza la marca LaLiga el valor de la marca Javier Tebas?
Para mí lo importante es llevar la marca LaLiga y la de los 42 clubes que forman parte de ella lo más lejos posible. Javier Tebas trabaja en favor de LaLiga y con este objetivo.
LaLiga siempre busca crecer y recortar distancias con la Premier. ¿Cómo capitalizáis el valor de las marcas para conseguirlo?
Tratamos de poner en valor, especialmente a nivel internacional, las virtudes de nuestros clubes. Especialmente cuando juegan competiciones europeas y logran hitos como los que esta temporada consiguieron Villarreal CF o Real Madrid. Esos son momentos de gran visibilidad en los que todas las áreas reman para seguir maximizando esas marcas a nivel global: con entrevistas con medios internacionales, eventos con partners en otros territorios, etc.
¿Qué está haciendo LaLiga por el fútbol femenino?
A pesar de no ser el organizador oficial de la competición, en octubre de 2015 creamos un departamento de Fútbol Femenino para promoverlo y apoyarlo. Ponemos todas nuestras ventanas comunicativas al servicio del fútbol femenino para tratar de contribuir al aumento de su visibilidad; tenemos acuerdos de colaboración e intercambio de conocimiento con diversas Federaciones y ligas femeninas del mundo como la Damallsvenskan de Suecia, la NWSL de Nigeria o la Nadeshiko League de Japón, entre otras. Además, organizamos formaciones para los clubes de fútbol femenino y contamos con tres jugadores en el programa de Embajadores de LaLiga Vero Boquete, Aintzane Encimas y Anair Lomba, entre otros proyectos.
¿Cómo ve la salud de los clubes en términos de valor de marca?
Estamos trabajando para potenciar el valor de marca de los clubes, conscientes de la fuerza que tienen dentro y fuera de España. De hecho, es una de los pilares de trabajo dentro del proyecto de LaLiga Impulso. Estamos apoyando a los distintos clubes y SADs para ayudarles a sacarle más valor a sus marcas.
La española es la liga que menos ha perdido en términos económicos pero ¿y en términos de valor de marca? ¿Qué pasos hay que dar para que sea la más valiosa del mundo?
Precisamente ser los que menos hemos perdido en términos económicos nos ha revalorizado también en términos de marca. Hemos salido reforzados de la pandemia a nivel marca, consiguiendo que la competición pudiera terminarse en la temporada 2019/20 y 2020/21.
Como afecta al valor e imagen de LaLiga la relación con los presidentes del Real Madrid y del Barça? ¿Cómo les afecta a ellos?
El valor de LaLiga es el valor de sus clubes y tanto Real Madrid como FC Barcelona son grandes clubes que contribuyen a difundir la imagen de LaLiga a nivel internacional. Nuestra misión en LaLiga es promover a todos los clubes por igual, y eso es lo importante, promover la competición de forma global más allá de jugadores o presidentes de los clubes.
La comunicación y el marketing se han convertido en elementos indispensables para muchos sectores durante los últimos años marcados por la pandemia y otras tensiones internacionales ¿Qué aspectos del marketing y comunicación consideras claves para acompañar y promover el desarrollo del sector del fútbol a corto-medio plazo?
Desde LaLiga tratamos de impulsar en marketing y comunicación aspectos que se alejan de la competición estricta. Somos la industria de las emociones y el entretenimiento y como tal estamos inmersos en muchos más proyectos además de la competición que son claves para hacer crecer la imagen de LaLiga y el propio campeonato. Promovemos la innovación y la tecnología, la formación dentro y fuera de los clubes, el mundo del entretenimiento (como hacemos con el concierto Oh my Gol! o con la apertura de los sports LaLiga TwentyNine's),… en definintiva, nos valemos de herramientas para amplificar el mundo de la competición y del fútbol y dotarla de mucho más contenido, para hacerla crecer más allá de los terrenos de juego.