Where businesses put brands at the heart of their business, the fundamentals of brand licensing will make or break the success of the business.
All companies generate value by exploring their reputation through the use of their brands. Some companies make this their business, by creating a program of brand licensing or franchising.
The Commercial benefits include more rapid international expansion, better terms in joint ventures or simply better understanding and management. From a regulatory standpoint, brands might require this analysis for tax purposes, alignment with accounting standards or damages assessment.
In the case of the larger group of companies where brands are considered one of many useful assets, it is important to understand the benefits of controlling, managing, and exploiting brands in more professional ways. How brands generate value and where that value can be increased, is both a strategic priority and a regulatory one - given the emerging trends in international tax compliance and accounting.
This article explores the benefits of brand licensing and its associated analysis for those companies that already do, or are planning to, license their brands as well as those with no immediate plans to do so.
What technical questions are currently being asked of your brand? See our consulting services to find out more about what we do to help teams understand the strength and value of their brands.
What is brand licensing?
In specific terms: "a license is an agreement through which a licensee leases the rights to a legally protected piece of intellectual property from a licensor - the entity which owns or represents the property - for use in conjunction with a product or service." 1
In simple terms: when a company has not had the time or inclination to develop intangible assets but owns the means of production, it can choose to pay for the use of someone else's in the hope that they will improve business performance by more than what they will pay for them.
Franchising is essentially a form of brand licensing. Definitions vary but for the purposes of this paper, and within Brand Finance, we distinguish Franchising from Intangible Asset, such as, Brand Licensing mainly on the basis of scope.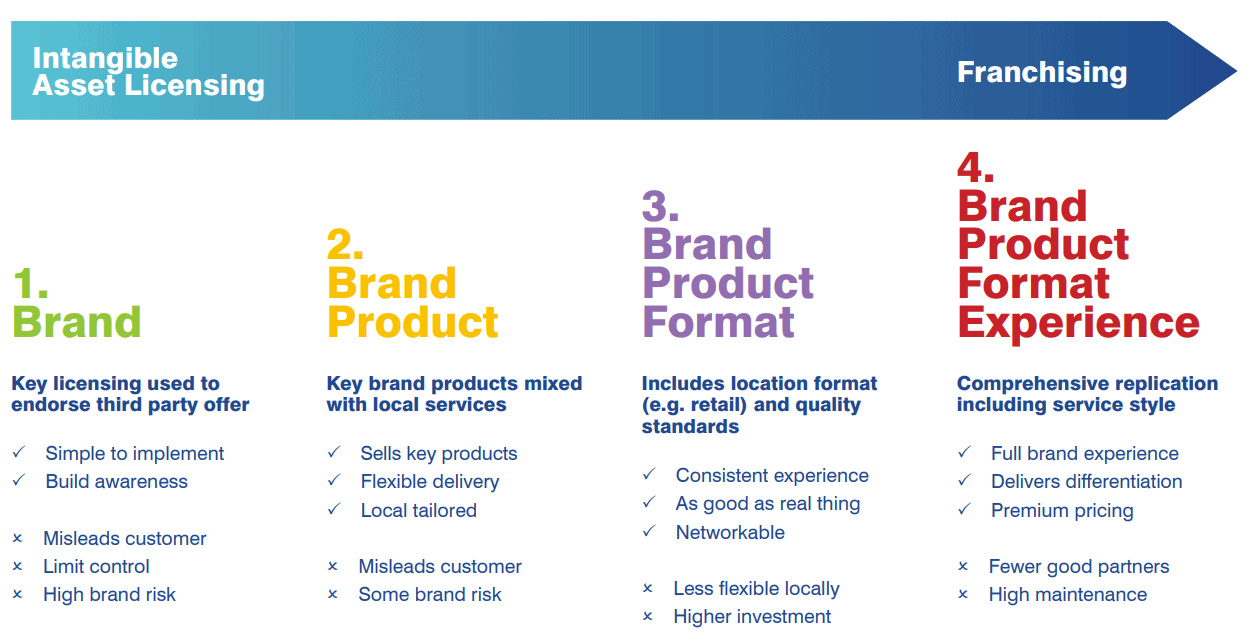 Franchising involves the payment by the user of a broad range of intangible assets and services from the franchisor which are more or less essential for the adequate running of the franchisee business – e.g. the way McDonald's restaurant owners license the brand and business system and use a wide variety of services including procurement and training for a fee.
Intangible Asset Licensing is more specific in that you are paying a fee for the use of a specific intangible asset which may or may not be essential for the adequate running of your business.
There is, therefore, a continuum in approach – from limited intangible asset licensing to complete 'franchising' of the branded customer experience. Most brand owners - particularly those for premium brands and services - seek to license the full format. The limited version offers simplicity, flexibility and tailoring, but also risks misleading the customer and devaluing the brand.
Franchising can include a variety of assets and services, as well as brand, including staff training, standards, procedures and manuals, website hosting and maintenance, management support, management software, manufacturing patents and know-how and procurement services. The structure, requirements and ultimately payments from the licensor/ franchisor depend on the nature of the IP, and the nature and strategies of the businesses involved.
Product distribution franchising is actually larger, in revenue terms than the more involved types of franchising. The most well-known example of this type of franchising is Coca-Cola's use of independent bottling plants in many locations. Product quality, consistency and safety standards are key but, since the product is sold through other stores, controlling the overall purchase experience is less essential for maintaining brand value for the franchisor – reducing risk.
Business format franchising – much like the model you see in food retail and hotels – is more well known and understood. It involves franchising an entire business system to a person or organization which operates and sells. This means the brand and IP is central to an immersive customer experience and therefore creates a stronger need for more complex control systems.
While these are the two major forms of franchising externally, there are many more formats for intangible asset licensing since there are so many types of assets and so many different business models to apply them to. Understanding their value and the way they might be used is the essential first step for working out what structure works for your company.
Importantly, brand licensing and franchising business structures do not have to be, nor are, restricted to that between unconnected companies. For a variety of reasons, commercial and regulatory, many of the most successful global businesses have internal brand licensing programs to guide investment, improve performance and reduce risk.
How can brand licensing help build and improve busiensses?
The process typically benefits both licensors and licensees and will not work long term if it does not.

Key benefits to the Licensor:
Faster expansion and market penetration: Since brand licensing does not require upfront capital investment, it allows companies that own strong brands and proven intellectual property to generate value without large cash investments.
Licensee motivation to perform better: Licensees might lose their contract for non-compliance or bad performance giving them a particular incentive to work hard and perform.
Licensee attention to local detail: Licensees are generally local partners. They understand the local area and – provided they are given the right support and clearance – can provide services in light of local tastes and trends.
Lower operating costs and risks: Although royalties and payments can be variable and dependent on success, there are generally no direct costs involved for licensors. This means each licensee will not create unfunded liabilities in the same way a local subsidiary could.
Richer network in global and local markets: Exposing your brand and business to new markets – provided licensees manage deliver well to customers – enables you to build awareness, brand equity and relationships in markets where you would otherwise be absent.
Key benefits for the Licensee:
Brand recognition and customer loyalty: licensees without the means or inclination to build brands or other IP can increase volume, price and loyalty by using a well known and respected brand.
Management training and/or assistance: smaller, new franchisees can benefit from a sophisticated business model by taking advantage of training programmes which are generally an essential part of any deal. Larger franchisees can benefit from group innovations and know-how.
Economies of scale: large franchise operations can group supply procurement, R&D spend, head office and many other costs (including some elements of marketing costs), reducing the costs of doing business for franchisees.
Financial and start-up assistance: new businesses can take advantage of the lessons of previous identical business starting up as well as many other systems of support – including seed financing.
Increased likelihood of business success: given that the business model is a proven success, there is significantly less risk that new businesses will fail – if managed in a thoughtful way.
Strong brands and businesses can usually be replicated well, bringing strong benefits to both franchisees and franchisors. However, the strategy works best when the right partners are selected, the relationships are positive, collaborative and long-term, and the right system of controls, incentives and sanctions are put in place. When this is worked out, planning a fair distribution of the value generated from the IPs' usage will ensure that the economic returns for both parties can be profitable in the long run.
Why do businesses use licensing analysis when to licensing to third parties?
Many lessons can be learnt, and many of the processes for brand licensing used, by companies that are not involved in third party brand licensing. The most important of these are commercial.
Better management, stewardship and strategic planning
Large companies have many divisions, markets or business segments using brands and other intellectual property. An organizing structure for managing, investing in, sharing costs of and using a portfolio of brands can improve efficiency, build brand reputation and share best practice.
The list of companies that have centrally controlled brand portfolios (usually in a specific "BrandCo"), extracting a charge for use and giving guidance, support and investment from above is lengthy and includes some of the best brands in the world including: Apple, Amazon, PwC, Orange, Shell and many others.
Additional value generation:
Even where it is not your main area of business, brand licensing and franchising can be used successfully as a way to boost revenue or improve efficiency. The main ways to do this are:
Divestments:
You may want to sell off businesses to use capital (and management time) to expand in faster growth or more profitable segments – or even simply to improve focus. Bundling licenses, residual expertise and associated services can help to maintain a share of profit while freeing up capital and time. It can also help with the defensibility of your trademark portfolio in classes that would otherwise be out of use.
Joint Ventures:
Licensing brands or other intellectual property in to a newly formed joint venture can help shift the balance of power in set-up negotiations, allowing a higher share of profit for a small up-front capital sum.
Market Entry/Expansion:
Where new markets seem attractive but there is not enough time, capital or risk appetite to invest large sums of money in set-up, licensing brands and other IP in to established companies can provide a starting point for extension in those markets before making significant investments. In fact, many companies – like IKEA, Marriott and Coca-Cola – find this method so useful they maintain long term agreements without plans to invest in fully-fledged businesses.
Brand Licensing and Franchising analysis can also be essential in specific technical cases like:
Tax planning and transfer pricing:
Where one member of the group is the owner of a trademark or other intangible for the group name, and where use of the name provides a financial benefit to members of the group other than the member legally owning such intangible, it is reasonable to conclude that a payment for use would have been made in arm's length transactions.

OECD Transfer Pricing Guidelines, 6.82 2
The OECD transfer pricing guidelines state that – for tax purposes – member companies in a group should pay for the services rendered, assets provided and risks borne by other members of the group as if they were third parties. Since brands have a financial impact on all companies – especially large ones – this means that all brands should charge for the use of their brands if owned centrally.
Not all companies do yet but tax authorities are increasingly insisting that they do. The typical approach that tax authorities use to decide what the payments should be are royalties (as if the brands were being licensed) or a cost-sharing arrangement based on the same principles of costs borne and value exploited.
The risk of doing this late, inappropriately or with the wrong documentation is huge. In the late 2000s, GSK paid huge sums in  double tax after a disagreement between the UK and US tax authorities on the brand value of Zantac. More recently, Amazon was forced to accept  an exit valuation that was more than $600m extra than they had originally assumed on the sale of its EU trademark rights to its Luxembourg subsidiary – increasing its capital gains bill substantially.
Litigation and damage assessments:
Damages to brand reputation or intellectual property are usually claimed and determined on the basis of lost profits. Where this is caused by misuse or unsanctioned use, the appropriate fee to pay is usually based on the equivalent royalty chargeable between owner and infringer. As a result, it is usually necessary to identify the equivalent brand licensing structure (and royalty rates) you would see in an equivalent unconnected transaction.
Fair market asset valuation:
When purchasing a company outright or purchasing its underlying business and assets, it's important to understand what you're buying, where it's owned, and how valuable it is in order to adequately invest behind them and manage their growth. That principle is set out in the accounting standard IFRS3 (Business Combinations).
The International Valuation Standards Council outlines that the Royalty Relief method (using licensing royalties as the basis for a valuation
of IP earnings) is the most appropriate method for this and so a full understanding of the principles of brand licensing is essential for regulatory but, more importantly, for management reasons.