Several European nations are perceived in the Global Soft Power Index favourably for their efforts to protect the environment, particularly the Nordic countries.
These high scores are directly correlated with the Environmental Performance Index. Scoring 6.6 out of 10 for acts to protect the environment in the general public survey, Norway is the best performing nation in this regard, with a sustainable and environmentally friendly ethos embedded into both policy and the Norwegian way of life. Planning to achieve carbon neutrality by 2030, the Norwegian government has made strident steps to tackle the climate crisis, most notably investing in cycling and public transport, tracking carbon dioxide emissions, and introducing tax exemptions for electric vehicles, as Norway now dominates in electric vehicle share around the world.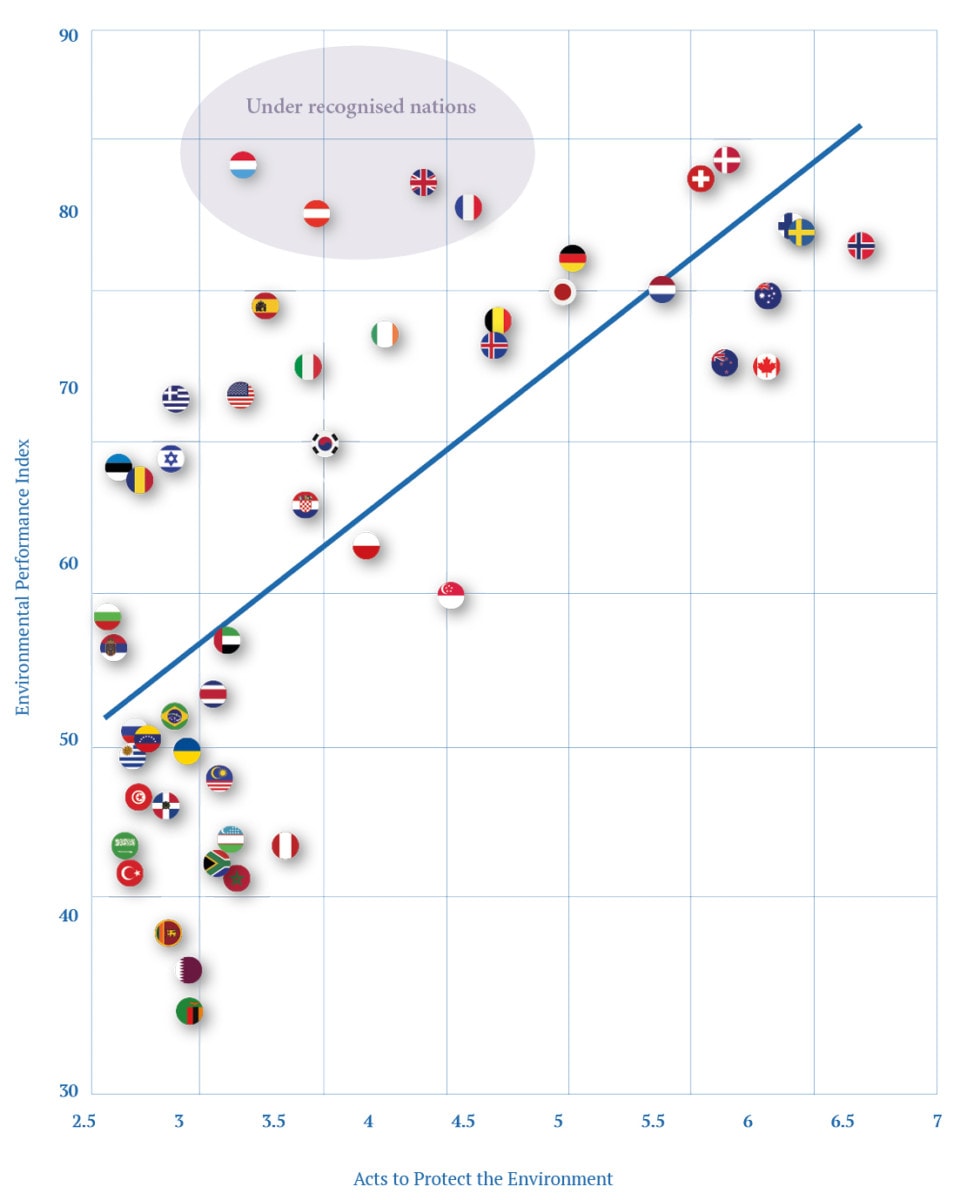 Other Nordic countries, which benefit from high levels of citizen engagement towards sustainability initiatives, also performed extremely well, such as Sweden (6.3), Finland (6.2), and Denmark (5.9). Sweden's exceptional performance is boosted by more than half of its energy coming from renewable sources, while Denmark has eliminated over one third of all transportation fossil fuel use. Finland, which has pledged to ban its use of coal in power generation and reduce its dependency on fossil fuels by 50% by 2030, has also benefited from the city of Lahti being named as the European Green Capital 2021.
Oceania perceived as most environmentally friendly continent
Oceania is perceived as the most environmentally friendly continent, with Australia (6.1) and New Zealand (5.9) standing out amongst respondents for their acts to protect the environment. Resolving to reduce its net emissions to 50% of 1990 levels by 2050, New Zealand is often considered to be one of the greenest countries in the world, with around 40% of economic inputs coming from sustainable sources. While Australia performed well in our research, the incumbent government has been widely criticised for making insufficient steps to meet its goals set out by the Paris Agreement. This has been exacerbated by criticism towards its response to the widespread bushfires at the beginning of 2020, which wiped out much of the nation's wildlife and affected around three billion animals.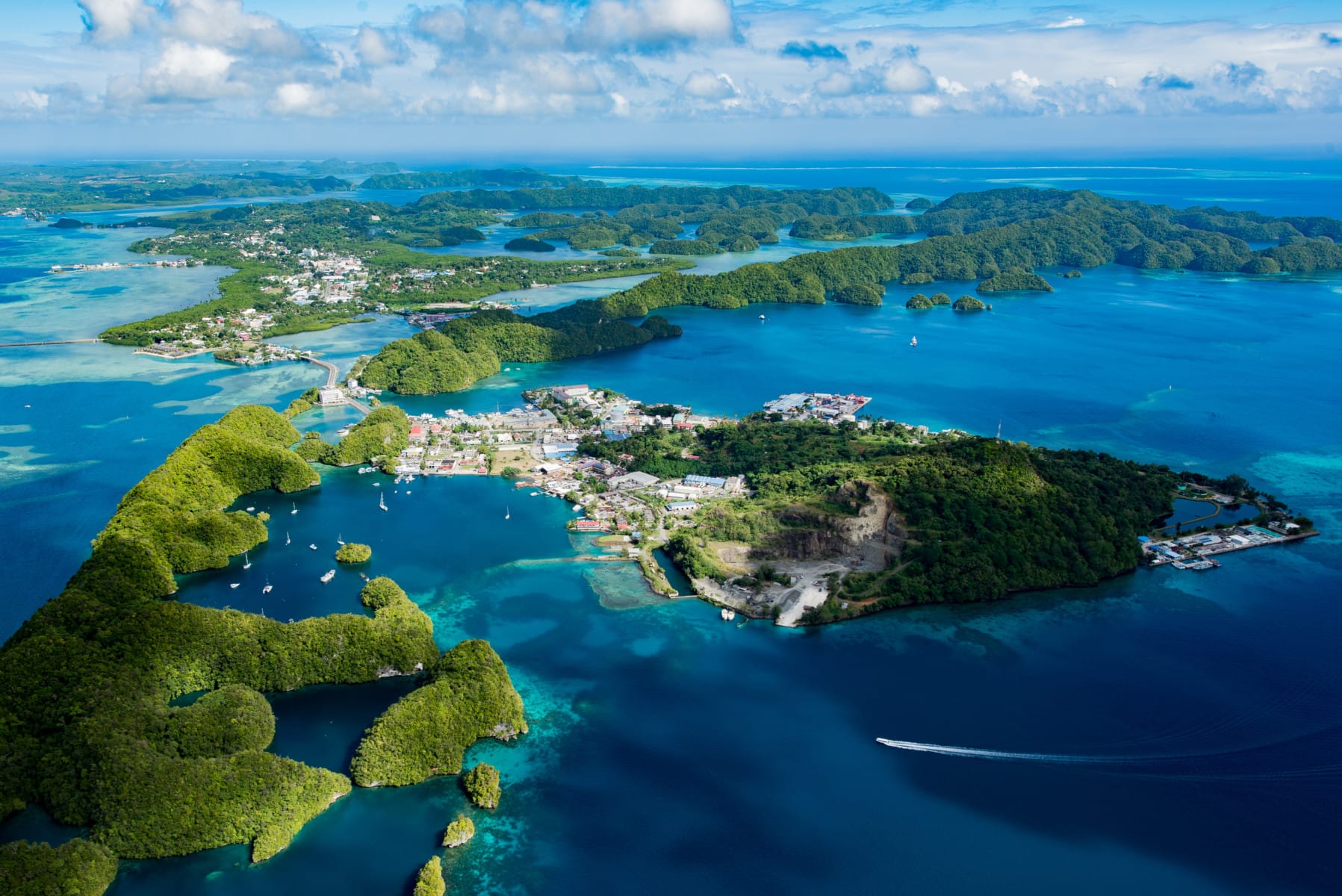 US suffers effects of Paris Agreement withdrawal
The US ranks notably low for its environmental efforts, in 27th overall. This has undoubtedly been influenced by Donald Trump's controversial withdrawal from the Paris Agreement, which took effect in November 2020. However, not all hope is lost, as incumbent President Joe Biden pledged a renewed focus on environmental issues, beginning with re-entering the Paris Climate Agreement at the beginning of 2021.
Japan crowned as most environmentally friendly Asian nation
Japan is perceived as the most environmentally friendly country in Asia, scoring 5.0 out of 10 for its acts to protect the environment. While Japan remains the world's fifth-largest emitter of carbon dioxide and is widely criticised for its urban planning and disposal of nuclear waste, it races ahead of other Asian nations in its meticulous method of sorting garbage and strong recycling policy. Following Japan are Singapore (4.4), South Korea (3.7) which are the only other Asian nations among the top 20 countries perceived as acting to save the environment. Contrarily, China which, at 28%, holds the largest share of the world's CO2 emissions, was one of the worst performing Asian nations in this regard, scoring 2.3 out of 10 for its acts to protect the environment.

More work to be done in LATM and MEA regions
Latin American nations have a tough road ahead in terms of perceptions of their environmental policies, with most of these concentrated in the middle or at the bottom of the metric. For example, high deforestation levels, illegal wildlife and poaching trade, and water pollution contributed to Brazil's poor metric score of 2.9. In the Caribbean, Trinidad and Tobago (1.8) and Jamaica (1.9) were considered among the bottom 20 nations who act to protect the environment.
Middle Eastern and African countries were the worst performing in the environment metric, with Cameroon (1.0), Angola (1.5), and Uganda (1.8) holding the worst scores in this metric. In the Middle East, Iran (0.9) and Iraq (1.0) were considered to hold the least regard towards protecting the environment. Iraq's low score is undoubtedly attributed to the nation being one of the only countries in the world to have never ratified the Paris Agreement. In the case of Iran, respondents' perceptions were influenced by Iran's high levels of greenhouse gas emission, as the nation currently accounts for 2% of global CO2 emissions.