This article was originally published in the Brand Finance Italy 100 2022.
Poste Italiane: Amongst the Strongest Brands in the World
• Poste Italiane brand value increases by 26% year-on-year and by 16% compared to its value pre-covid, reaching US$7.8 billion.
• Poste Italiane climbs 51 positions in the Brand Finance Global 500 2022, closely approaching Ferrari, valued at US$8 billion.
• The growth in the value of the trademark is favoured by the strengthening of its image and reputation, bringing Poste Italiane into the top 25 strongest brands in the world.
• The strength of the Poste Italiane brand depends on the value for money of its insurance products, the ease of dialogue with customers, the quality of the website and apps, attention to the community and the quality of marketing communication.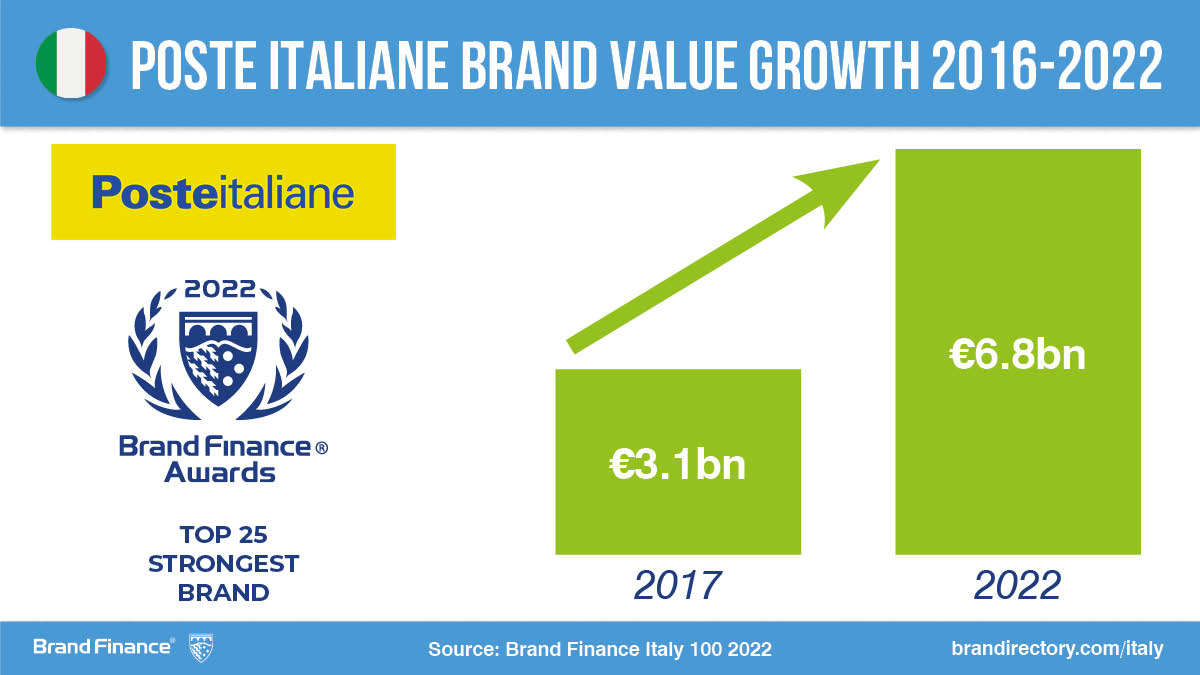 The Poste Italiane brand continues to strengthen and increase its value. The value of the trademark continued to increase year on year by 26% and 16% compared to the pre-covid values ​​of 2020, therefore reaching a value of US$7.8 billion.
Thanks to this strong increase, Poste scales the Brand Finance Global 500 2022, the annual report on the world's most valuable and strongest brands. In 2022, Poste Italiane climbed 51 positions and found itself at 266th, just below Ferrari (258th) and above TIM (284th). Poste Italiane is present not only in the Global 500 but also in the Brand Finance Insurance 100 and the Brand Finance Italy 100.
The financial value of a brand depends on the strength with which it influences customer choices, and to calculate it, margins and revenue prospects are also considered. The high value of the Poste Italiane brand is therefore also related to the size of the company, which may mean that small brands, even if extremely strong, may not have a high value. In the case of Poste, both factors must be considered: an extremely strong brand and a large company size.
Poste is one of the strongest, and therefore influential, brands in the world in relation to its competitors. With a AAA brand rating and a Brand Strength score of 89 out of 100, up 3 points compared to last year, Poste ranks amongst the 25 strongest brands in the world. Poste last year was in 38th place, but thanks to its growth, it climbed 13 places reaching 25th globally, just below Apple (21st) and just above Dior (26th).
The AAA brand rating depends on the management indicators of the marketing mix, the return of image and reputation and the consequent return in business performance. Specifically, the extreme strength of the Poste Italiane brand is characterised on the one hand by the high quality of marketing communication and on the other by the excellent perception of consumers, especially in the insurance sector.
In fact, following market research conducted by Brand Finance with a representative sample of the Italian population, consumers indicate that Poste is at the top in terms of quality: price ratio, ease of dialogue, website and apps, familiarity and popularity; Poste is also perceived as one of the best insurance companies in terms of its attention to the community.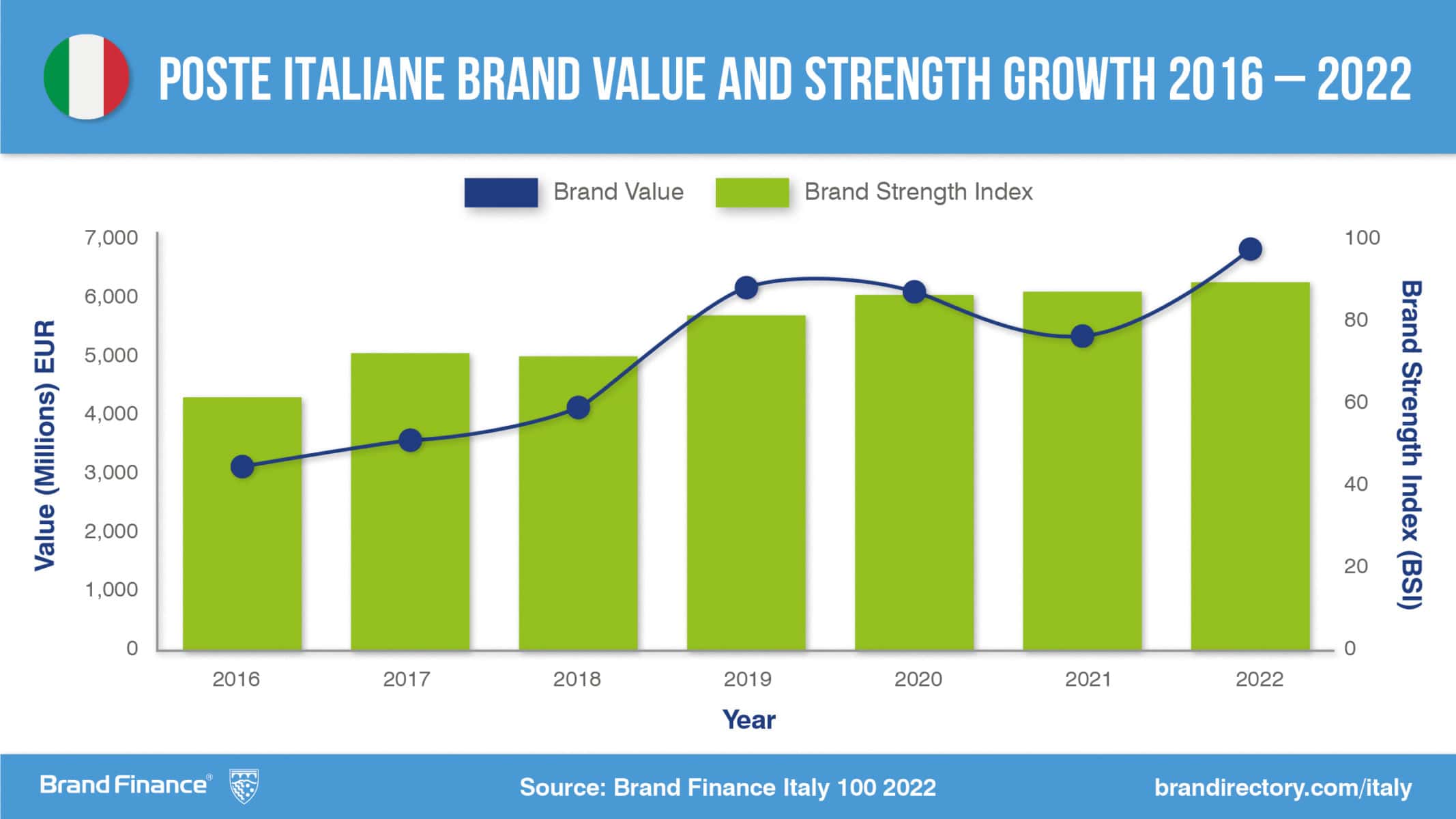 Alongside Poste Italiane, there are only 84 brands with a AAA rating globally, led by WeChat, Coca-Cola, Google and YouTube as the top 4, as well as Ferrari and Amazon in the top 10.
Poste is characterised by different business areas, the largest of which is insurance. In the Brand Finance Insurance 100 2022, the Poste Italiane brand rises to 18th place, from 21st last year. The increase in the brand value more than doubled the average of the 100 insurance companies in the ranking, allowing Poste to get closer to Generali, which, with a value of US$8.5 billion, has incidentally dropped down from 14th to 16th this year. Far lower in the Insurance 100 is UnipolSai, which completes the small group of the most valuable Italian brands in the world. With a brand value of US$3.1 billion, UnipolSai ranks 46th this year, compared to 48th last year.
With essentially the same score and "extremely strong" AAA brand rating, UnipolSai and Poste are amongst the strongest insurance brands in the world. Otherwise, Generali has a "very strong" AA brand rating, just less strong than Unipol and Poste.
Thanks to its good management of products, prices, tools, communication and attention to the community, the Poste Italiane brand is increasingly appreciated by stakeholders.
Poste Italiane: tra i 25 brand più forti al mondo
Il valore del marchio Poste aumenta del 26% anno su anno e del 16% rispetto ai valori pre-covid e raggiunge i $7,8 miliardi
Poste scala 51 posizioni nella classifica dei brand di maggiore valore al mondo avvicinandosi così a Ferrari cha vale $8 miliardi
La crescita del valore del trademark è favorita dal rafforzamento di immagine & reputazione che porta Poste nella top 25 dei brand più forti del mondo
L'estrema forza del brand Poste dipende soprattutto dal rapporto qualità prezzo dei prodotti assicurativi, dalla facilità di dialogo con i clienti, dalla qualità del sito web & delle app, dall'attenzione alla comunità e dalla qualità della comunicazione di marketing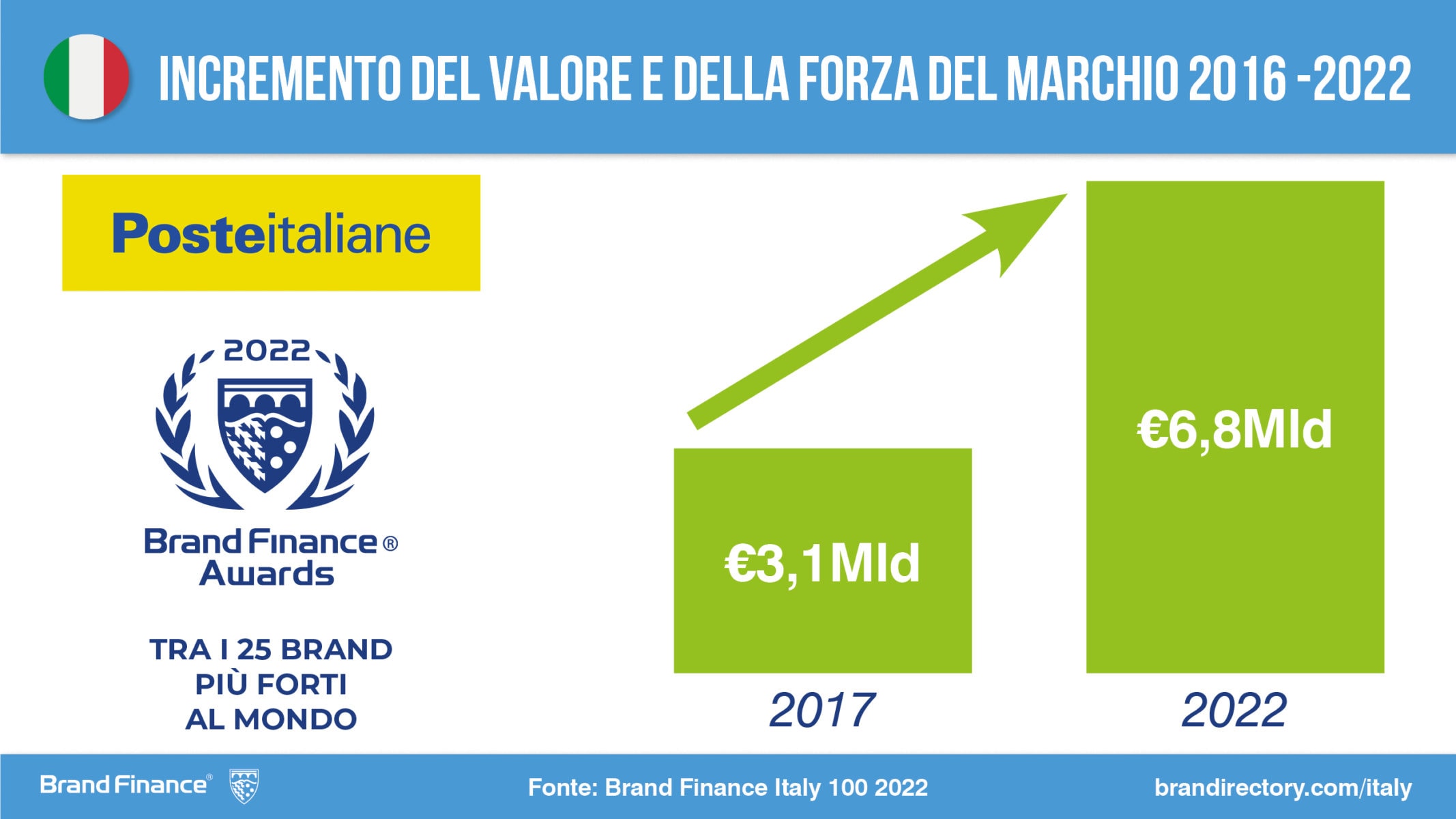 Il brand Poste Italiane continua a rafforzarsi e ad incrementare il valore di questo asset intangibile; infatti; il valore del trademark aumenta anno su anno del 26% e del 16% rispetto ai valori pre-covid del 2020, raggiungendo così al 1 gennaio 2022 il valore di $7,8 miliardi.
Grazie al forte incremento, Poste scala la Brand Finance Global 500, la classifica globale dei marchi ordinati per valore finanziario. Nel 2022 il marchio Poste scala 51 posizioni e si ritrova al 266°, appena sotto Ferrari (258°) e sopra TIM (284°). La classifica dei brand ordinati per valore è guidata da Apple con un valore pari a $ 355 miliardi seguita Amazon e Google.
Ogni anno Brand Finance analizza la forza e stima il valore finanziario di oltre 5.000 brand di tutto il mondo per preparare la classifica Brand Finance Global 500, decine di classifiche di settore e classifiche nazionali. Poste Italiane è presente oltre che nella Global 500 anche nella Insurance 100, appena pubblicata, e nella Italy 100 che sarà resa pubblica nelle prossime settimane.
Il valore finanziario del brand dipende dalla forza con cui influenza le scelte dei clienti e per calcolarlo si tiene anche in conto di margini e prospettive di fatturato. L'elevato valore del brand Poste è quindi correlato anche alle dimensioni aziendali; infatti, brand di piccole realtà, anche se estremamente forti potrebbe non avere un valore elevato. Nel caso di Poste ci sono tutte e due i fattori: brand estremamente forte e grande dimensione aziendale.
Poste è uno dei brand più forti, e quindi influenti, del mondo in relazione ai competitor. Con brand rating AAA e un equivalente un punteggio di 89 su 100, in crescita di 3 punti rispetto allo scorso anno, Poste si colloca tra I 25 brand più forti del mondo nella classifica complementare a quella dei brand ordinati per valore. Poste lo scorso anno era al 38° posto, ma grazie al rafforzamento scala 13 posizioni e raggiunge il 25° a livello globale, appena sotto Apple (21°) e appena sopra a Dior (26°).
Il brand rating AAA dipende dagli indicatori della gestione del marketing mix, del ritorno di immagine & reputazione e del conseguente ritorno in business performance. Nello specifico l'estrema forza del brand Poste Italiane è caratterizzata da un lato dall'elevata qualità della comunicazione di marketing dall'altro dall'ottima percezione dei consumatori soprattutto in ambito assicurativo. Infatti, da quanto emerge dalla survey condotta da Brand Finance su un campione rappresentativo della popolazione italiana, i consumatori indicano Poste al top in termini di rapporto qualità/prezzo, facilità di dialogo, sito web & app, familiarità e popolarità; Poste risulta anche percepita tra le migliori assicurazioni in termini di attenzione alla comunità.
I brand come Poste con piena AAA a livello globale sono solo 84 e sono guidati da WeChat, Coca-cola, Google e YouTube ai primissimi posti, ma anche da Ferrari e Amazon nella top 10.
Poste è caratterizzata da diverse aree di business, di cui la maggiore è quella assicurativa, per questa ragione Brand Finance, per le classifiche pubbliche, pur valutando il brand poste nel suo complesso, è stata messa a confronto con altri brand assicurativi.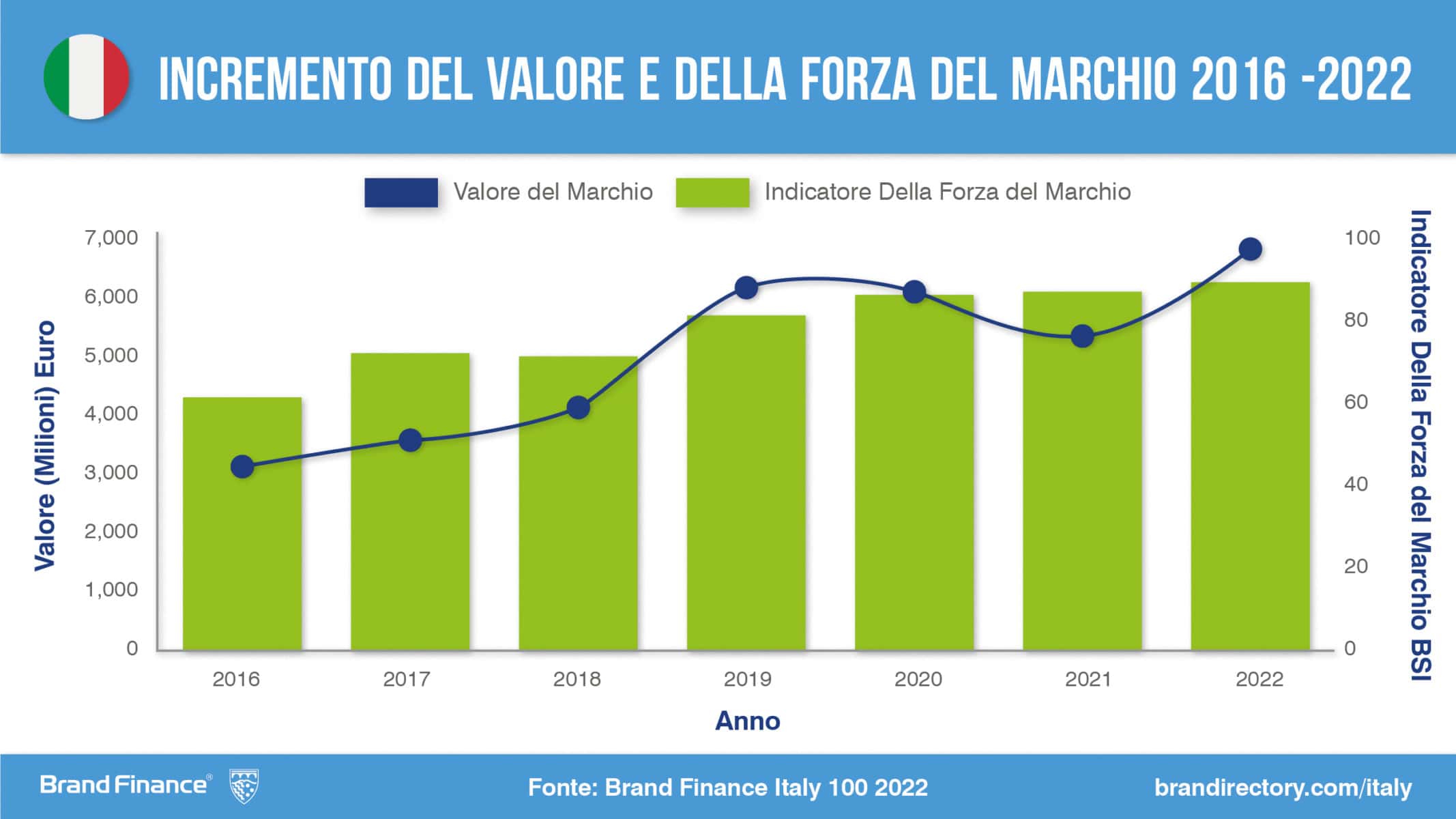 Nella Brand Finance Insurance 100 2022, il brand Poste sale al 18° posto, dal 21° dello scorso anno.
L'incremento del valore del brand più che doppio della media delle 100 assicurazioni in classifica ha consentito a Poste di avvicinarsi a Generali; infatti, quest'anno, con un valore di $8,5 miliardi, Generali scende al 16° posto dal 14°. Ben più in basso nella classifica delle assicurazioni c'è UnipolSai che completa il ristretto gruppo delle italiane di maggiore valore al mondo. Con un valore del brand pari a $3,1 miliardi, quest'anno UnipolSai si posiziona al 46°, rispetto al 48° dello scorso anno.
Con sostanzialmente lo stesso punteggio e quindi lo stesso brand rating AAA "estremamente forte", UnipolSai e Poste sono i brand assicurativi più forti del mondo. Diversamente Generali risulta avere un brand rating AA "molto forte", quindi meno forte di Unipol e Poste.
Grazie alla buona gestione dei prodotti, dei prezzi, degli strumenti, della comunicazione e all'attenzione alla comunità, il brand Poste è sempre più apprezzato dagli stakeholder. L'estrema forza di questo brand AAA favorisce la qualità e la quantità delle vendite soprattutto in campo assicurativo. Il forte incremento del valore anno su anno, e rispetto al periodo pre-covid, e le conseguenti scalate nelle classifiche di Brand Finance, evidenziano le buone performance attuali e prospettiche di Poste Italiane.