This article was originally published in the Brand Finance Canada 100 2023.
Interview with Betsey Chung.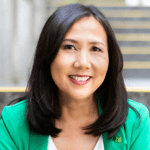 As a brand in an industry with a small number of large established corporations, how does one ensure that the TD brand message gets across to consumers without possible brand attribution to a competitor?
What's helped us excel at amplifying our message has been our clear focus on being a brand with purpose. From our CEO to every one of our colleagues, TD operates as a customer-centric organization that responds to the needs of our customers, whatever they may be. This clarity of purpose allows us to confidently show consumers what differentiates us from other businesses – and why we are the better bank. We leverage art and science to deliver memorable, personalized experiences and drive positive impact for our customers, colleagues, and communities. For instance, the music we use in our spots is always unconventionally delightful. We apply our sophisticated digital marketing practice to drive traffic and interest. Most recently, we've been looking to Generative AI as a springboard to stronger ideas and enhanced efficiency. The marketing decisions we make are all data driven. This approach, combined with our clearly defined tone of voice and compelling proof points, has helped us consistently rank as the top financial institution in Share of Voice in Canada.
TD's brand image brings vibrancy and dynamism to a traditionally sober industry. What drives this differentiation and how is its success measured?
We're an organization that isn't afraid to be different – and we have a long history of doing this. From being open for longer, to being unexpectedly authentic and human, to our 'TD Thanks You' campaign – we make it our mission to reflect the communities we serve. This shows up in the way we operate. A number of leaders across the organization, including myself, begin every meeting with a customer story. And with each of those stories – we discuss the customer concern, how it was resolved, and the role we play in Marketing to address those issues. When you pair that level of organizational accountability with top-tier creative talent – you're bound to build creative that is vibrant and dynamic, yet effective. Success for us is defined by our customers. That's why our focus has always been to ensure our brand lives up to customer expectations, across every interaction and touchpoint. Our brand pillars of Ease, Value, and Advice are foundational for the entire organization, and when activated with a customer-first mindset, become another powerful differentiator. Through metrics like brand consideration and accolades like the Brand Finance Canada 100, we see that our approach is working.
As a bank with various types of customers looking for several different services, how does one ensure that the core brand message is communicated evenly to all these groups despite different needs and expectations from each one?
Our research has shown that, no matter the interaction, consumers are all looking for the same thing from their financial institution – they want banking to be easy, they want value for their money, and they want advice they can trust. We find that holds true for every stage of the customer journey. Armed with these insights, we utilize our sophisticated capabilities in digital, creative and media to convey our brand promise to consumers. Our tenets of Ease, Value and Advice are also embedded into various touchpoints, including our frontline and phone channel. A great example of communicating our core brand message evenly would be the two spots we recently launched during the Canadian Superbowl broadcast – one focused on the TD Easy Trade app, and the other focused on the TD Financial Plan. The core premise of the Easy Trade spot is around customers wanting things to be easy while the TD Financial Plan spot is centered around trusted advice. Both ads serve different customer needs – but watching them – you'd come to the same conclusion: TD is ready to help you move forward.
Having donated an impressive sum through the 2022 TD Ready Challenge, how do you define TD's role in creating a more sustainable future?
At the core, sustainability, and environmental, social and governance (ESG) are about trust, community, and shared prosperity. As an organization, TD has been leading in these spaces for over 150 years. We believe we have a critical role to play across the economy and society: as a financial institution, business, corporate citizen, and employer. When it comes to sustainability and ESG, it's important for organizations to have clarity around their "why." Why is this work important? ESG is important for TD because it's through this work that we live our purpose of enriching the lives of our customers, colleagues, and communities. It also gives us the opportunity to support economic inclusion and environmental health that are fundamental to delivering on our purpose.
Inclusive growth enables a stronger future for all. We believe that when our communities thrive, we thrive. This has guided our philanthropic investments for decades. In 2022, we continued a long tradition of supporting those who are marginalized, underserved or vulnerable through the TD Ready Commitment – the Bank's corporate citizenship platform – supporting more than 3,000 community organizations and contributing over $147 million to communities.
In June 2022, we launched the fifth annual TD Ready Challenge, a key initiative of the TD Ready Commitment, which focuses on helping to support the development of innovative, impactful, and measurable solutions for a changing world. The 2022 TD Ready Challenge sought solutions designed to help people and communities who may be disproportionately affected by climate change to prepare for, adapt to and help mitigate the potential impacts of climate change and/or to work toward a transition to a low-carbon economy.
The 10 recipient organizations – who each received $1 million grants – are focused on making an impact in communities across the TD footprint through initiatives that include large-scale green infrastructure projects, the development of renewable energy solutions, and workforce development/retraining opportunities, among others.
What do you believe consumers expect, if anything, from TD in terms of sustainability, and how do you deliver that?
We believe that banking serves a higher purpose and plays a critical role in our society and economy. As a bank, we help individuals and businesses realize their aspirations. As an employer, we help talented people achieve their full potential. And as a corporate citizen, we support positive change in our communities. 
Our ESG strategy aligns to our purpose and guides how we live up to the expectations of our customers while connecting with the communities we serve. For us, ESG is a key strategic priority, and something that's embedded in who we are as an employer, a community partner, and financial institution. Today, we are more determined than ever to help drive meaningful outcomes for a more sustainable and inclusive economy as well as a healthier planet where everyone can thrive. As a leading global bank, we have an opportunity to support better environmental health and social outcomes through the financial products, services, and programs we offer. We will stay true to our purpose as we work to create an even better tomorrow.