Every year, we release the ranking of the world's top brand guardians – the Brand Guardianship Index – which includes the top 100 CEOs globally. We have researched and evaluated the brand guardianship score of over 200 CEOs this year.
For the 2021 Brand Guardianship Index, Brand Finance commissioned a survey among a panel of 288 market analysts and journalists- two stakeholder groups who have informed and influential views on chief executives' reputation. Fieldwork was conducted in December 2020.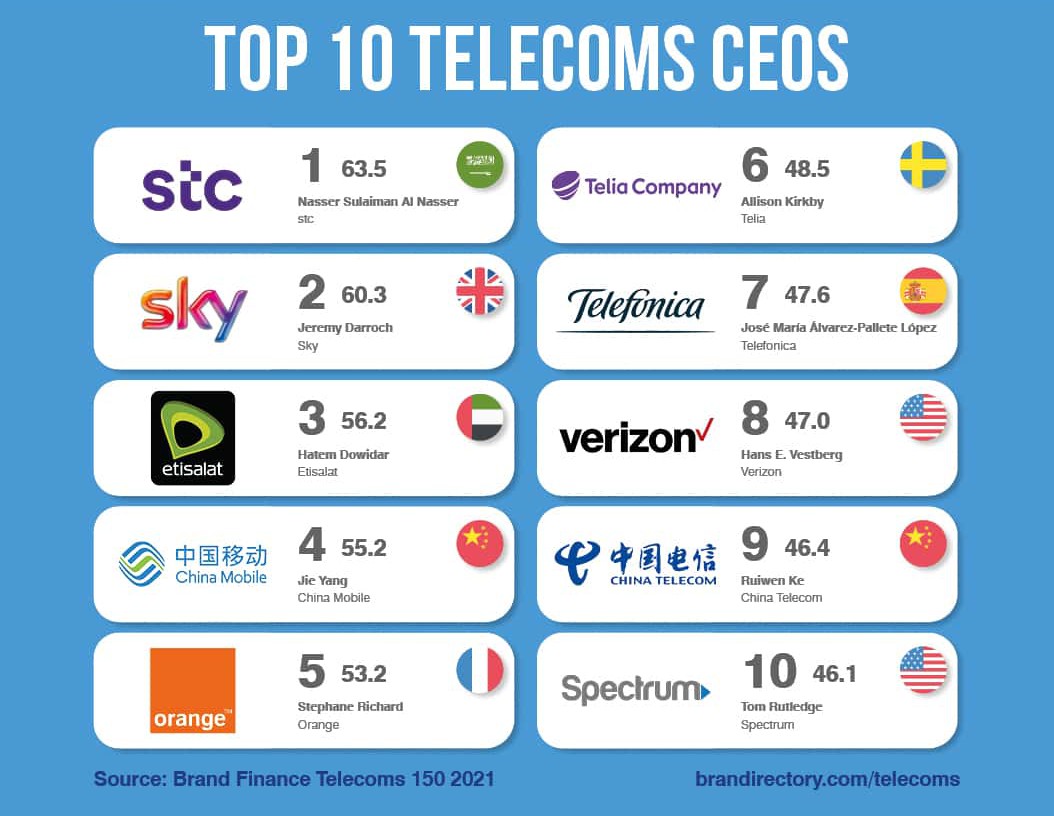 stc's Nasser Sulaiman Al Nasser topped the list of Brand Guardians from the telecoms sector this year. Al-Nasser announced his resignation in November of 2020, having presided over a successful rebrand and a period of growth for the stc brand.
The telecoms industry, telecoms brands, and their respective CEOs, have arguably been impacted the most by the COVID-19 pandemic, with the industry and its operations thrust to the centre of how our societies are now forced to operate. We haven't just witnessed the complete transformation of how people are now working, through the working from home revolution, but telecoms brands are now facilitating home schooling, are enabling perpetual lockdown evenings to be filled with entertainment from online streaming services, and their data is being used for tracking the spread of the virus in certain countries.
The level of reliance on these brands has grown exponentially over the last year and therefore their CEOs have had an opportunity to rise to the challenge. In recent years, these challenges have looked different, in the form of increased competition from messaging apps like WhatsApp, which impacted voice and SMS revenue, and through challenger brands offering comparable data services at below market rates. 2020 has demonstrated that traditional telecoms brands are still vital in day-to-day societies, however, regardless of these new entrants to the market.
The two most recently appointed Brand Guardians in the Telecom industry were Etisalat's Hatem Dowidar, ranking 3rd and Telia's Allison Kirkby, ranking 6th. Both had to deal with the COVID-19 pandemic in their first 12 months and have taken the challenge head-on.
Hatem Dowidar, Group CEO, Etisalat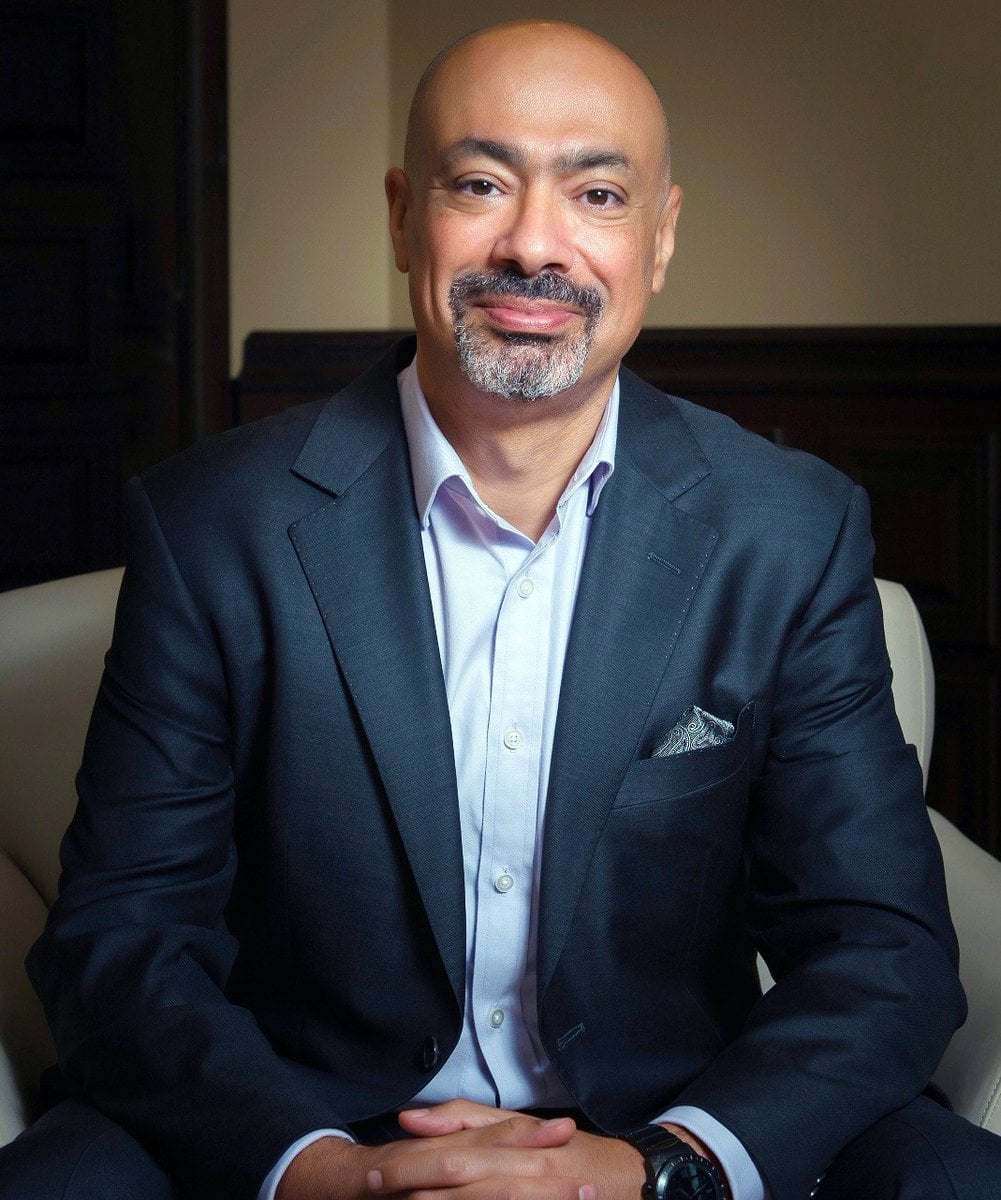 Hatem Dowidar, appointed as Etisalat's interim Group CEO in May 2020 and taking the permanent role from December 2020, has a wealth of experience across the industry spanning 30 years. He has worked for Etisalat since 2015 and previously was Group Chief of Staff for Vodafone Group based in London.
Despite his short tenure thus far, Dowidar boasts strong scores across all attributes measured in the research, and consistently performs higher than the industry average. In our research he ranks first among the ten telecoms CEOs for having a strong strategy and long-term vision, with 67% of experts agreeing he has a strong strategy, considerably higher than the 27% telecoms average.
Dowidar's contribution to Etisalat's strategy and vision of driving the digital future to empower societies is evident. Under his leadership the brand was named the fastest network in the world – in itself a significant achievement – Dowidar will now be setting his sights on long-term transformation, turning the brand into a truly global player. His experience across a variety of global markets – including in Asia, Europe, and Africa - will help to expand the brand's footprint from its current standing of 16 nations and 149 million subscribers.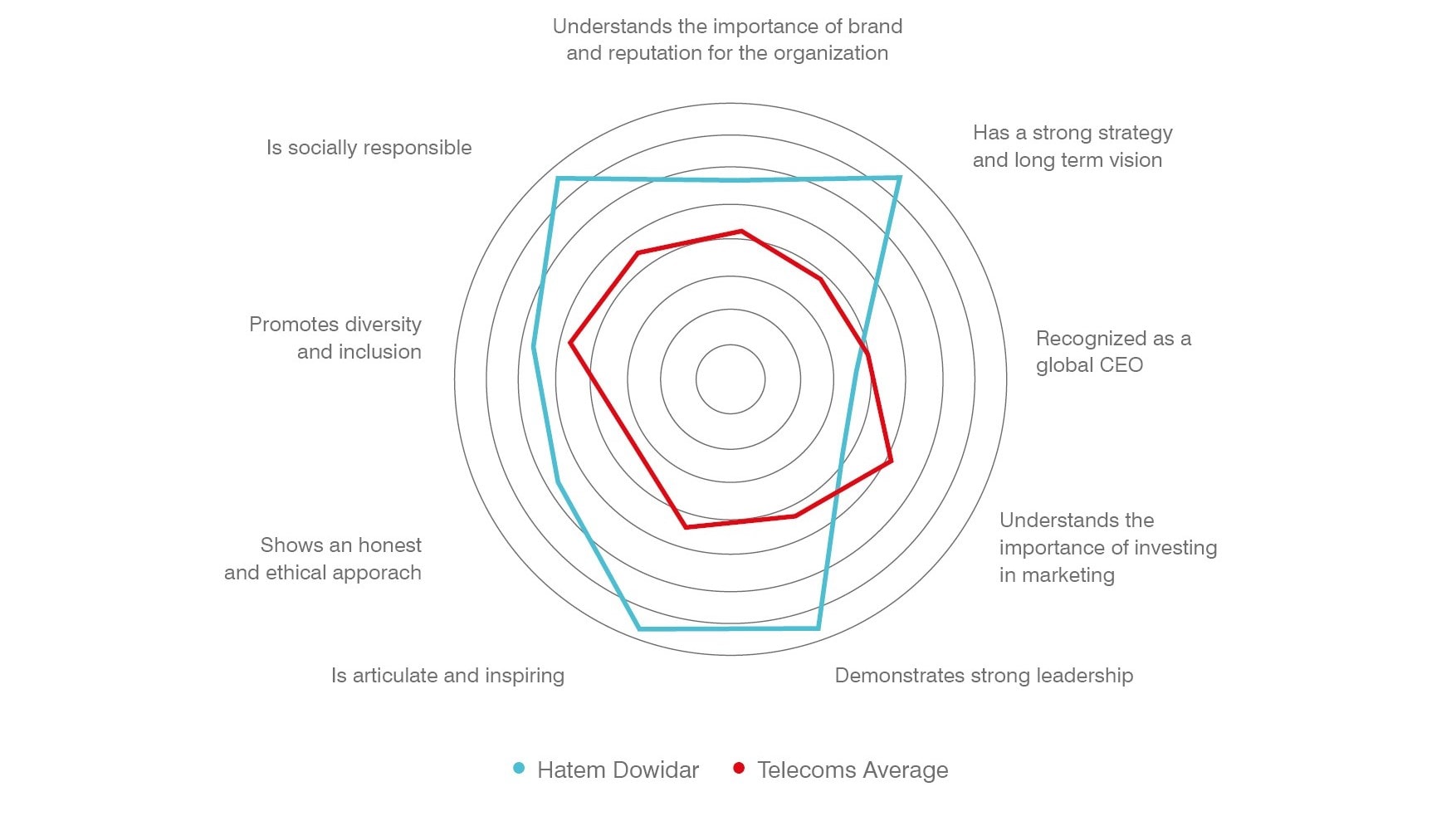 Under Dowidar's guidance, Etisalat has supported customers in multiple ways throughout the pandemic turmoil of the last year, not only through reliable and fast connection but also through working to build an emotional connection - all striving towards the goal of building a digital future for everyone.
"Hatem's strong performance across the board shows confidence in his ability to balance the varying demands of a good CEO. The stage is set for him to make a lasting impact on Etisalat and in the process, the telecoms industry."

David Haigh, CEO, Brand Finance
Allison Kirkby, CEO, Telia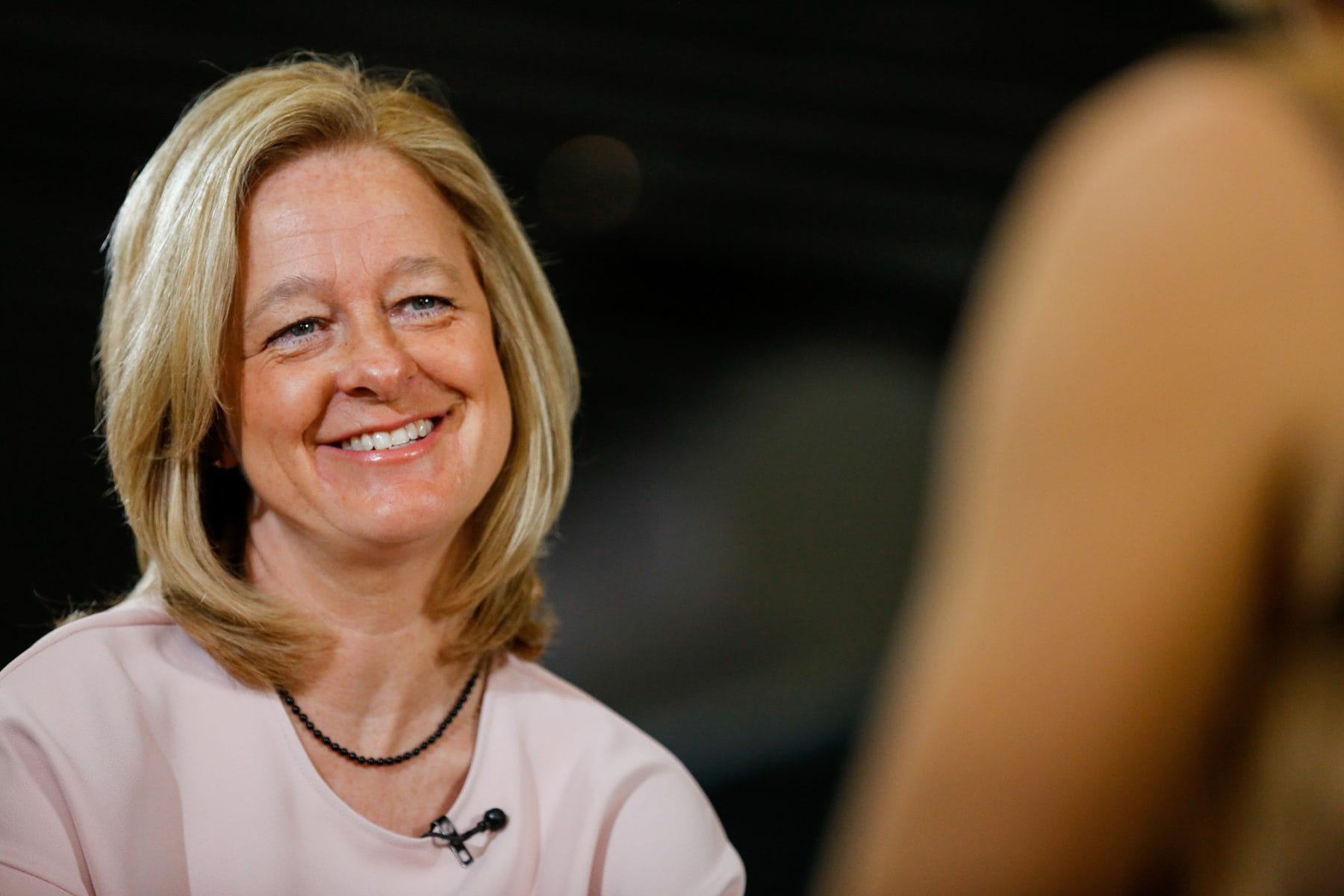 The only female telecoms CEO featured in the ranking is Telia's Allison Kirkby. Another newbie to the position, but by no means a rookie, Kirkby took the helm in October 2019. Previous roles include President & Group CEO of TDC Group and President & Group CEO of Tele2.
Kirkby's visionary approach and focus on growth is clearly reflected in her third-place rank for having a strong strategy and long-term vision, with 56% of experts feeling she has a strong strategy, considerably higher than the 27% telecoms average. Kirkby is striving towards the overall vision of making Telia the leading operator in the Nordics and Baltics. As Telia puts it "connectivity has become part of the very fibre of life" and therefore the brand seeks to become resilient in a both fast paced and disruptive environment.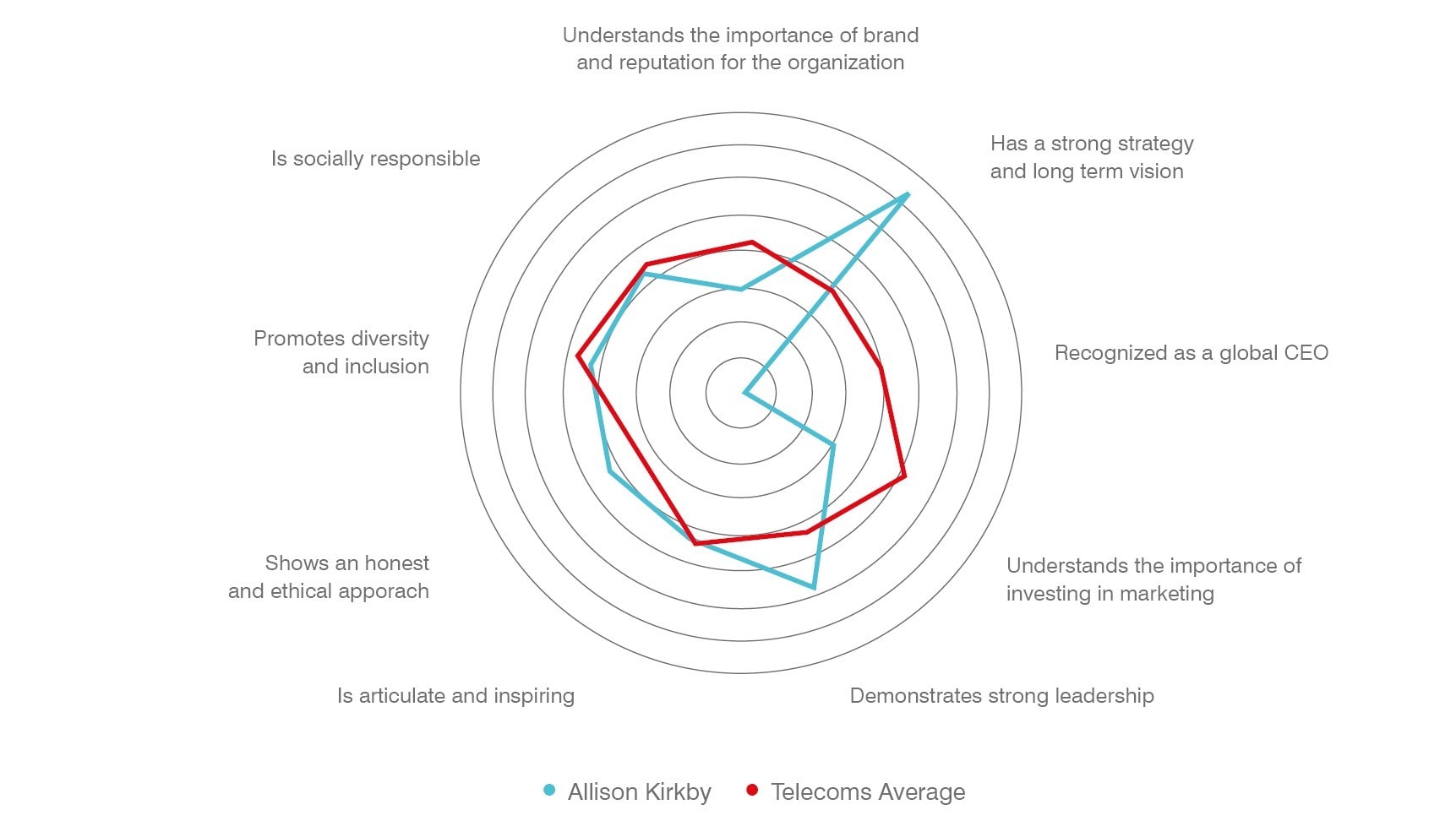 The combination of her powerful leadership, her engaging and inspiring manner, her visionary approach and her strong focus on growth are key reasons that she achieved a 91% approval rating among the specialist audiences polled. These high scores are reflected in Kirkby's high employee approval ratings where she sits in the top four among the ten telecom CEOs featured.
In 2020, under Kirkby's leadership, Telia was named Sweden's strongest brand. The brand performed strongly across key metrics in Brand Finance's Global Brand Equity Monitor study including price, products, consideration, familiarity, environment, governance, and reputation. With a continued focus on its CSR initiatives, the telecoms brand prides itself on its sustainable and responsible business practices, which it cites as the prerequisite for both sustainable growth and profitability.
"Allison's strong vision will be to Telia's benefit as the Telecom industry goes through a transformational period. It will require a Brand Guardian with a clear sense of direction to navigate the challenges of Commoditisation and the 4th industrial revolution."

David Haigh, CEO, Brand Finance
References
Brand Finance Research of 288 Equity analysts and journalists, December, 2020↩