This article was originally published in the Brand Finance Alcoholic Drinks 2023 report.
Wuliangye is a Chinese Baijiu brand with a history of more than one thousand years. It originated in the Tang Dynasty, flourished in the Song Dynasty, was refined in the Yuan Dynasty, developed in the Ming Dynasty, and got its name in the Qing Dynasty. Nongxiangxing Baijiu under the Wuliangye brand is the category with the highest share in the domestic Baijiu market, accounting for about 60%.
Wuliangye holds fast to the important mission of the industry it belongs to. To carry on the excellence of traditional Chinese culture, it adapts to the changing times to lead the Chinese Baijiu industry to the world. Wuliangye strives to upkeep its brand value, constantly polishing its golden signboard, "Aroma of the Nation, Harmony of Wuliangye, Masterpiece of Chinese Baijiu". Wuliangye's brand essence promotes the concept of "Harmony and Beauty" that spans the East and the West. This concept reflects the Wuliangye brew made with five kinds of grains that harmonise a symphony of coordinated flavours and embodies the universal values of harmony, fraternity and tolerance.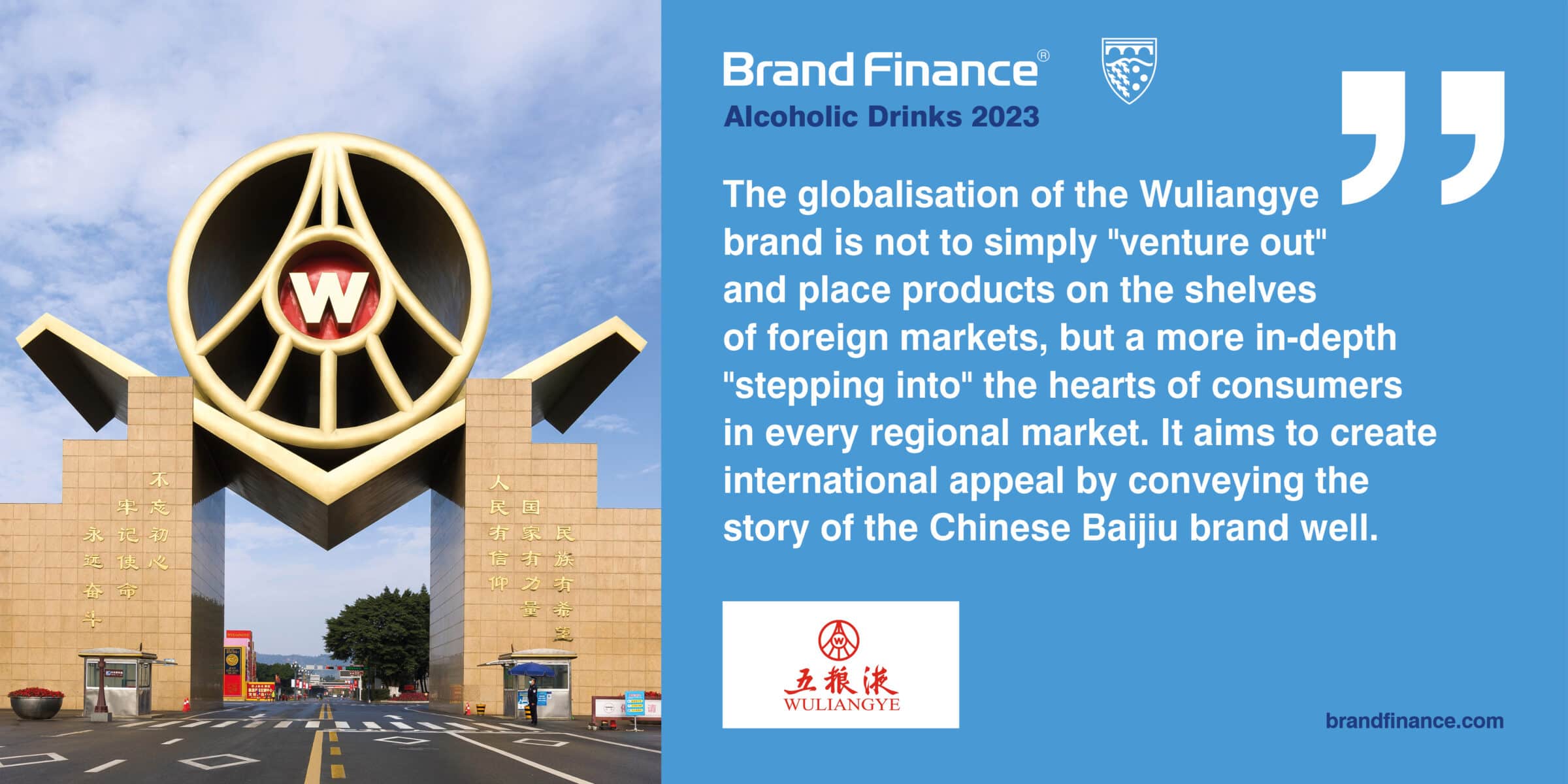 The brand posted a brand value increase of 5% to US$30.3 billion, defending its 2nd position in our rankings. It also saw its brand strength rating improve from AAA to AAA+.
The globalisation of the Wuliangye brand is not to simply "venture out" and place products on the shelves of foreign markets, but a more in-depth "stepping into" the hearts of consumers in every regional market. It aims to create international appeal by conveying the story of the Chinese Baijiu brand well. Wuliangye established international marketing centers in Asia-Pacific (Hong Kong, China), Europe (Düsseldorf, Germany), and America (New York, USA) early on to meet the needs of local consumers to overcome time zone differences. It also opened "Wuliangye Restaurant" in Tokyo and Hong Kong to create a new experiential marketing model of "Chinese cuisine + Chinese wine". With its "display + tasting, product + culture" offering, Wuliangye aims to delight consumers so much that they forget to go home.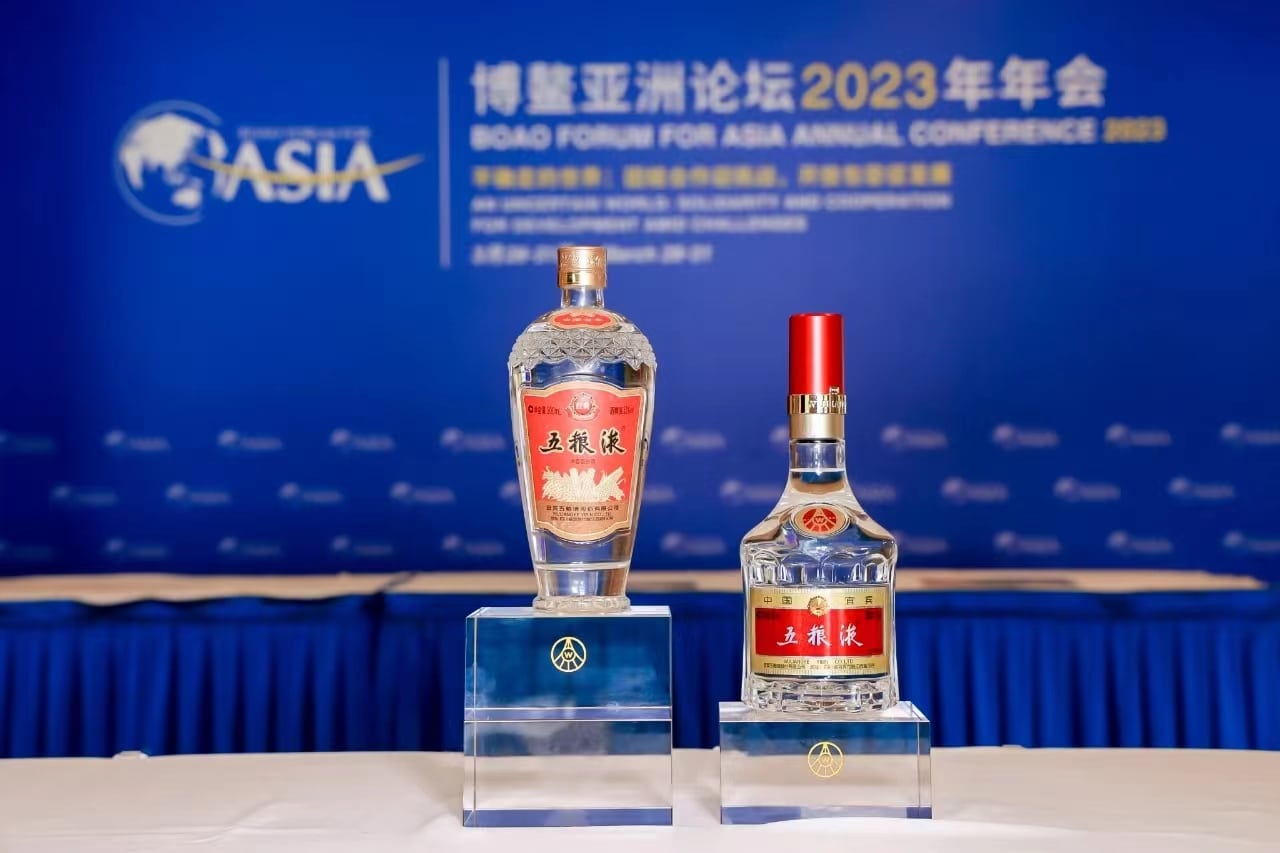 In terms of brand image building, Wuliangye actively participates in and deeply integrates into major international events, represents Chinese brands with its unique Chinese products and makes appearances on platforms such as Asia-Pacific Economic Cooperation, Boao Forum for Asia, the World Expo, and China International Import Expo, becoming a focal point for global political and business elites.
On the ESG front, Wuliangye has come up with several key environmental initiatives over the years. Wuliangye proposed to create a "zero-carbon Chinese Baijiu enterprise" in 2021 and took on "source protection of the Yangtze River Basin" as a special project.
In 2022, Wuliangye implemented the coal-to-gas project, which can reduce the consumption of standard coal by about 40,000 tonnes per year. After improving its energy management system, the consumption of natural gas, diesel and electricity decreased by about 5%, 20% and 6% respectively year-on-year last year.
The amount of circulating water or recycled water exceeded 1.31 million tonnes due to Wuliangye's upgrading and transformation projects on its bottle washing water, cooling water recycling and water supply system. Ultimately, its annual water savings exceeded 250,000 tonnes.