This article was originally published in the Brand Finance Automotive Industry 2022 report.
2022 Automotive Industry Trends: Doubling Down on Electric and Connected Cars
All sub-sectors within the industry are rebounding from the pandemic
Demand is growing but the costs of transition to EV are significant
Despite OEM brands needing to carefully update their positioning for the EV revolution, marketing spend is falling
Online sales continue to offer a route to improve brand experience
Summary brand scorecards needed more than ever
What has been happening to the industry?
As 2022 begins, the automotive industry is continuing to see huge changes in business models as the pace of electrification rises and advances in connectivity technology continue.
These changes are giving rise to intense competition that is undermining existing brand strategies, and have given rise to huge new opportunities for both existing Original Equipment Manufacturers (OEM) and new brands alike.
The changing landscape is evidenced by seven new entrants in the Top 100 this year, compared to only two last year, and the impressive growth from recently launched brands. These new starters are racing up the ranking in terms of value, while more established brands have seen more subdued growth.
The combined pressures of evolving mobility, changing drivetrain and model type requirements, a shifting customer and regulatory landscape, and new technology requirements are all creating an inflexion point for the industry, and the brands within it.
However, the industry has shown resilience with both sales and values increasing. Innovation is continuing at a strong pace, investment in new capacity, particularly for electric vehicles (EVs), is soaring, and customer demand is increasing. Despite the pressures, the outlook for the industry is positive.
2021/22: Recovering from the pandemic
Overall, the automotive industry is recovering from the effects of the pandemic. Growth in savings as well as sustained relatively low interest rates have pushed up demand for all types of goods – cars included.
As a result, according to Euromonitor, unit sales volumes in 2022 are expected to be around 78 million units (+10% on 2021, which is itself up 10% on 2020), beating the pre-pandemic 2019 levels. Profits also rose on average across OEMs this year, with many making record numbers.
SUVs and SUV crossovers remain the most popular models, and that popularity continues to grow in all regions. This is, to some extent, eroding the previously large differences in model type popularity between regions – such as the European tendency for small cars and the US one for larger models.
Although demand looks positive across the industry, EVs are by the far the best performing drivetrain type in terms of relative growth. In 2021, about 6.4 million plug in electric vehicles were sold – an increase of over 100%. This represents a rise from 4.5% of all vehicles sold in 2020 to 9% in 2021.
The primary obstacle holding OEMs back is access to microchips which is forecast to remain an issue for some time. Additionally, another big hurdle to value growth is the effect on investor sentiment of the big changes rippling through the industry. This year, we have noted reasonably large increases in risk sentiment for the industry, which raises financing costs and reduces values across the board.
Partly as a result of this additional risk, the proportion of automobile brand value within the Brand Finance Global 500 ranking fell for the first time in 3 years, from 7.3% to 6.8% of the total. The absolute value of the automobile brands in the Brand Finance Global 500 ranking actually rose by 5%, but stronger increases in growth for the retail, tech, media and travel sectors pushed down the share for automobiles.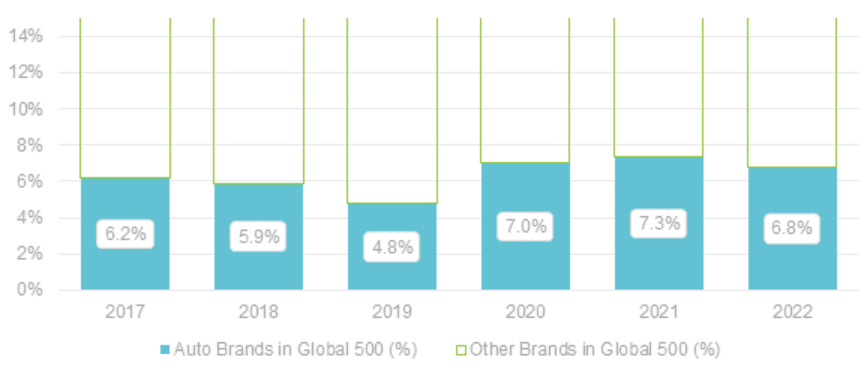 Looking back to Brand Finance Automobiles 100 ranking, the brands featured registered a respectable 4.3% increase overall – with the total brand value growing from US$5.9 billion in 2021 to US$6.1 billion in 2022.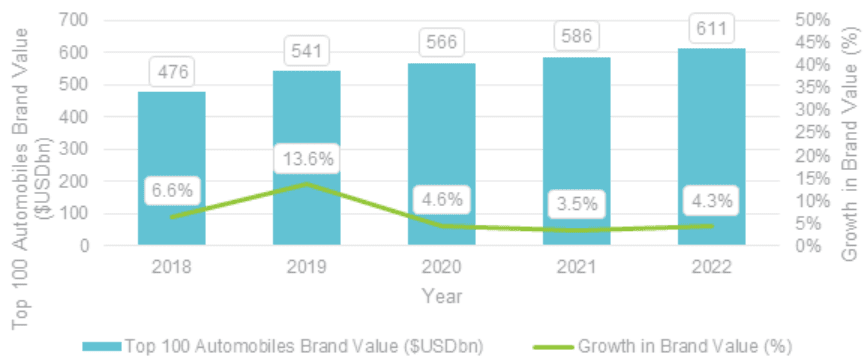 This growth was across the board, but particular focus needs to go to China which is home to eight of the Top 10 fastest-growing brands, and 7% of the total brand value in the ranking, up from 5% in 2021. Chinese brands have successfully taken advantage of the push for EVs in China, and are now moving across the world.
These results show an industry adapting to a period of a significant strategic challenge and high investment requirements, shaking up old players and introducing new ones rather successfully.
Multi-medium mobility
Looking forward, there are significant threats to the industry's continued strength, – in particular, the rise of multi-medium and micro-mobility and the related reactions against cars by many cities, especially in more affluent parts of the world.
A recent Mckinsey study shows that up to four-fifths of people are willing to use bikes, mopeds or scooters to commute to work. Lime, Voi and many other scooter companies are reaching a significant scale, submitting IPOs and having relatively strong commercial success as alternative mobility service providers.
Paris, Berlin, Barcelona and many other cities are making life more difficult for cars – especially those with an internal combustion engine (ICE). At last count, over 150 cities in Europe had introduced regulations to favour low emissions cars over traditional ICE models and the same trend is being seen to a lesser extent across the world.
These close-distance mobility trends are also not the only way our modes of mobility might change in the near future. Although a little further off in time, personal air mobility has also seen a huge increase in investment in the past two years.
According to S&P Global Intelligence, the total value of venture capital investment, together with associated R&D spending and announced SPAC mergers in personalised air mobility, was almost four times higher in 2020 and 2021 (at ~$9.8bn) than it had been in all years up to 2019 combined.
UK start-up, Urban-Air Port, has announced plans to build 200 "vertiports" for vertical take-off and landing of cargo drones in addition to launching passenger craft in 65 cities globally, in collaboration with Hyundai. The first of these, in Coventry, will be operational as early as April of this year.
According to some estimates, these advanced air mobility options could account for over 50% of long-distance journeys within the next 20 years – especially in cities and regions with high levels of road congestion. The combined effects of micro-mobility options (short-distance) and personalised air mobility (long-distance) is likely to cause significant pressure on traditional automotive OEMs in the future.
Electric Vehicles' Acceleration
Despite these headwinds, there is a huge opportunity in electric vehicles that most of the OEMs are seizing strongly.
EV brands are the big success stories of the Brand Finance Automobiles 100 2022 ranking. Tesla continues its growth – increasing by 40% to US$46.0 billion and raising three ranks to become the 3rd most valuable autos brand. It has not only successfully maintained its production capacity and top spot in terms of EV model sales but also has stored up value in terms of future captive software revenues.
Nio, Tesla's Chinese competitor, has grown 79% following a boom for EV sales in China this year, which have increased by 150% in 2021 and look likely to double again in 2022. However, it is not only China fuelling this rise as Chinese brands – especially EV brands – start to internationalise. Nio, Airways, BYD, Dongfeng Motor, SAIC, and Great Wall, our fastest-growing brand, all launched in Europe last year.
The shift to EVs has benefitted Chinese brands hugely. With ICE technology China was playing catchup, but in the EV space, many Chinese brands are at the forefront.
For instance, BYD unveiled its "Blade Battery" in the second half of last year, which holds 50% more electricity than similar battery chemistries, is safer when damaged, and avoids the controversial metals cobalt and nickel. Not only will these batteries be used for BYD cars, but also the brand has been in talks to supply Tesla with batteries, and has created a joint venture with Toyota.
Many of the German brands built their marques on the strength of their engines and the associated engineering. One could reasonably imagine this happening with Chinese EVs, and especially BYD: a Chinese version of "Vorsprung durch Technik" perhaps?
Traditional brands are playing catch-up. All major OEMs have multi-billion-dollar investment plans to electrify their ranges, and you can see them repeatedly rush out statements to one-up competitors - for example, Volkswagen's commitment in December 2021 to increase investment by €17bn to €52bn, the largest such investment of any manufacturer.
This raises an important point about positioning as car brands move electric. As countries introduce ever-stricter air quality and emissions requirements, OEMs invest much more, and EVs become dominant, branding and messaging around new EV cars will lose some distinctiveness over their green credentials. A sustainable powertrain will no longer be a differentiator.
The sustainability of the production process for EVs – which some estimates say creates 80% higher production emissions than ICE vehicles – will be a point of difference. This will require using recycled components, shifting to green raw materials, and avoiding controversial inputs that are sometimes used in battery manufacturing. Polestar, Volvo's new luxury EV marque, which has yet to break into our table, outlines some bold ways to do this while maintaining luxury appeal in its new concept cars.
This is proving helpful for Volvo's positioning in the area of sustainability, but for BYD and Tesla, brands more closely associated with EVs, sustainability is a much clearer differentiator.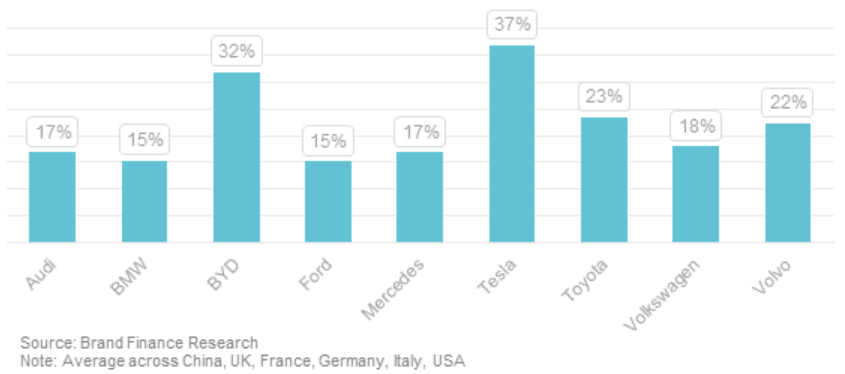 Equally, comfort and connectivity, together with more basic features like range and reliability, will become key. You can see with the prevalence of technology-based sub-brands – BMW i, Volkswagen id, Audi e-tron etc – that many marques are employing technology to be the basis of their positioning.
BMW, which is the most reluctant of the big German OEMs to invest in the EV transition, has also been one of the slowest growing brands in the ranking. Basing a positioning around continuing investment and cutting-edge technology when you don't have it, is unlikely to be a winning game.
That being said, the premium German OEMs are all still considered highly innovative, with over 30% of customers familiar with the brands agreeing they are innovative, so for the time being this positioning focus seems to be possible and positive for the brands.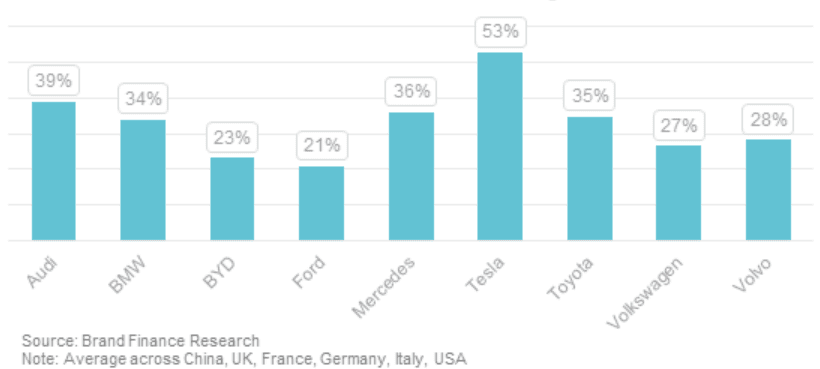 Despite the emergence of new electric brands, it is likely that traditional brands will stay on top provided they make the appropriate investments in the EV transition. Our research shows that brand familiarity – key to maintaining market share – is still well ahead for the traditional brands and their reputations for quality and innovation are intact.
One final point to consider is that EV model popularity has predominantly taken root in environmentally conscious regions and cities. If the trends in micromobility do take hold in cities, EVs' long-term growth will be dependent on broad-based popularity in car-heavy regions, particularly in rural and suburban areas. In these areas, social acceptance and green credentials may be useful, but performance, reliability, and riding enjoyment will also all be key.
Road Trucks, Freight & Zero Emissions Vehicles
Road freight had a reasonably strong year – for the 12 months up to October 2021, road freight in Europe was 8.3% higher than the equivalent period up to October 2020. his has not reached pre-pandemic levels in Europe, but there are signs of a rebound across the world.
Truck brands values have had a similarly mixed result this year, with reasonably weak signs of a recovery, but signs nonetheless. Scania, Volvo Trucks and UD Trucks all registered small increases in brand value, but conversely, MAN registered an 18% fall in brand value to US$2.2 billion.
This is because, despite the increases in demand, the spectre of the zero-emissions transition hangs heavy over the industry. Both hydrogen fuel-cell and electric battery technology will be necessary, and the investment will need to be significant given that only 5% of trucks in Europe – which is at the forefront of emission reduction – are currently zero emissions. Traton – the owner of MAN and Scania – is struggling under the investment requirements, but recent results suggest the payoff could be in sight.
Many of the same issues that affect passenger car brands affect trucks – from the lack of charging points to electric powertrain innovation and the need for increased connectivity and driver assistance – but the requirements will be different and additional investment will be necessary.
In the short-run, there is likely to be some first-mover advantage for premium truck brands like Scania to provide zero-emissions trucks at premium prices, but costs will need to fall for widespread adoption and – as with passenger cars – the differentiators for brands will shift towards driving technology.
Connectivity & Autonomous Vehicles
One thing to bear in mind when considering the growth of EVs is their performance relative to ICE vehicles. Although EVs are currently do not currently have a significant advantage, many believe that in the future EVs will have higher lifetime mileage, last longer and better retain their value.
This is likely to mean higher financing revenue as more customers choose to pay off their cars over a longer period and, more importantly, it might mean a lower overall volume of purchases, and a higher dependence on services to fill the revenue gap.
Similar to other tech-based industries, add-ons and software subscriptions are likely to become a significantly more important part of business models. Tesla, for example, charges US$10,000 for its "full self-driving" add-on, which its CEO, Elon Musk, has said could ultimately reach a value of US$100,000 – more than the value of the original car – and be spread across the life of the car in a subscription model. The value potential of this type of innovation is clear, but the investment and innovation requirements will be significant.
The obvious extension to this is autonomous driving. Increasingly it is becoming clear that the road to autonomous driving will involve small increments rather than moonshot investments like those of Uber, Google and Apple - which are still a long way from having a solid business case.
This gives an opportunity to existing OEMs to slowly increase from driver assistance and partial automation to high automation, and ultimately full automation, as issues with risk-sharing and liability are resolved.
The level of connectivity may also be one reason to question the rise of Chinese brands outside of China. Given the level of data collection required and the importance of trust in the software, some consumers outside of China may be reluctant to purchase Chinese brands given the state of relations between China and the West.
Focus of Investment Changing (R&D versus Marketing)
Judging by recent announcements, CAPEX and R&D investment is set for a boom. Recently, however, CAPEX has been stable as a proportion of revenue. R&D investment increased modestly with relatively high growth in the last year and is now equivalent to 4.6% of revenue for listed automobile brands. This is equivalent to an absolute increase of US$700 million between 2019 and 2020 (0.6% growth compared to 2019). These increases are positive signs, but more will be needed to take advantage of the opportunities the industry is facing.

R&D investment changes dependent on the OEM – in general, German brands have been investing robustly in preparation for the new changes; beyond even what fast-growing Tesla spends. Audi, BMW and Volkswagen all increased R&D spending as a proportion of revenue last year, and have an average investment rate of 6.6% - higher than the average for the industry.

However, this investment seems to be coming at a cost. Investment in marketing is rapidly falling, and this year decreased as a proportion of revenue (6.5% on average in 2020 compared to 8% in 2016) for at least the 5th consecutive year.
This is partly an outcome of the pandemic, and we expect there to be some rebound, but there is a long-term trend, and in many ways seems short-sighted. Consumers will need to be guided through the EV transition and – despite the advertising-phobic strategy of Tesla – those brands that have high brand awareness, and therefore high mental availability, will be the ones that take market share. Building relationships with future customers will be just as important as the technology itself.
Focus Change for Auto Components Brands
The technology and parts required for EVs will be significantly different to those for traditional ICE vehicles and will create a huge change of focus for auto components brands.
ICE components such as engines, transmissions and fuel injection systems will all fall in importance, from 26% of the market size (by value) in 2019 to 11% in 2030, according to Mckinsey Mobility Centre.
The value of emerging components such as hybrid transmissions, batteries, head-up displays, and interiors are expected to increase from 26% to 52% - pushing "stable" components down from 48% to 37% of the total, as the value of emerging components becomes a higher part of overall value.
The prospect of this growing value share for components has been pushing up brand values among auto components brands. The total value of the Top 20 most valuable auto components brands is up 32.5%, compared to a 4.4% increase for the Top 100 most valuable automobile brands.
Although volumes and revenues in the last two years have been depressed, auto components brands are taking big bets on EV, and they are forecast to remain resilient. China, with its booming EV market, is again the strongest performer, with the value of Chinese based auto components brands soaring 269% to US$2.5 billion.
Unfortunately for automobile brands, however, the new advancements in EVs and connectivity require not only on traditional parts suppliers but rely on semiconductors. These chips have seen huge shortages that are still affecting the market. Cars have over 1,000 different parts that rely on semiconductors, and those brands that are able to maintain their supply effectively (like Toyota – up 8.1% in brand value) have proven to be more successful than those that do not (Volkswagen – down 12.7%).
Mobility as a Service & Car Rental Services Comeback
Technology is not only taking over model design but also business models, as Mobility as a Service (MaaS) become widespread. Tesla's Las Vegas Loop, which premiered in CES earlier this year, shows what this could look like in the future, but there are already many established brands in cities worldwide.
Zity, ShareNow, GoTo, ZipCar and many other similar apps have bought large fleets of cars, particularly EVs, to match demand. Unlike traditional car rental services brands, there is little to no choice over model type, and the cars are used for much shorter periods of time.
These brands are likely to become large customers of the traditional OEMs – influencing model development since these applications tend to favour small three and five-door electric vehicles for city use. Under some estimates, 1 in 10 new cars could be owned by sharing companies by 2030. The influence on model preference could therefore be significant and, given the sharing nature of the product, could also depress overall volume sales.
This brings challenges and opportunities to traditional car rental services. More investment will need to be made in electrifying fleets – as Hertz is trying to do with its order of 100,000 Teslas late in 2021.
2021 was a good year for car rental services brands and forecasts for the sector are up, and as a result brand values are up 22.1% in 2022. Despite these positive results, to a certain extent, this was still a pandemic recovery. In order to sustain brand value growth, investing in technology in order to compete with new MaaS brands, and a refresh of what many perceive as traditional brand identities will be necessary.
Car Dealerships, Online Sales & New Used Car Brands
Although not a ranking in Brand Finance Automotive Industry reports this year, dealerships have not been spared from disruption in their industry. EVs, being a more expensive proposition, will create downward pressure on margins as dealerships try to sell them at competitive prices.
After-market parts and servicing are likely to reduce in importance as the number of parts necessary for EVs decrease and their reliability increases. The requirements on servicing will therefore change in focus, with software support in particular due to become increasingly important. However, much of this will be done "Over-The-Air" directly by OEMs – reducing the value potential for dealerships.
These changes will create pressures for training, with dealers' existing knowledge being much more focused on ICE vehicles, however, there is a clear role for OEM brands in this transition.
In addition to these trends, the rise of online sales will increase the strain on traditional dealerships, and potentially create opportunities for new brands to take over.
Purchasing cars in traditional dealerships is generally a high-anxiety, low-trust and low-enjoyment experience. The reliance on individual salespeople with sales targets reduces trust and increases annoyance, as can the delays that are inevitable when signing contracts. Similarly, for OEMs the sales chain puts them far from the consumer and reduces control over brand experience.
The chain is ripe for disruption, and it is being disrupted. In early 2021, Volvo announced that all pure electric vehicles would only be available for purchase online. There are significant benefits not only in margin growth but also in brand management as online sales provide closer control over relationships with customers without the need to invest heavily in physical infrastructure. Despite this, most OEMs are adopting a hybrid approach with regulatory issues for the full transition to online being a blocker – as direct sales by OEMs to the consumer is restricted in some jurisdictions.
However, non-OEM online retailers are booming. Carvana, Vroom, Carvago, Cinch, Auto1, Cazoo, Kavak, CarNext, Carro, and Amaris are all on the very long list of start-ups receiving large amounts of funding and making a large number of acquisitions. Consumers are increasingly trusting online platforms through the whole purchase and sale process for new and used car sales, and the industry is growing at a strong pace.
So what does this mean for brands?
Prepare for the next "Green" Challenge - Car production rather than drivetrain type
As EVs become more mainstream, green credentials based solely on the powertrain will become less convincing. Production will become the next key source of differentiation on this basis.
Brands that are able to convincingly explain the sustainability of their production process – from the restriction on the use of rare minerals to the incorporation of recycled material – will be the most successful, particularly in the premium segment.
Avoid over-focus on "first-mover" Urban consumers
The current EV market is being driven by city-dwellers who value smaller cars and are interested in a more green-focused positioning. As EVs become more mainstream these will not be the primary characteristics that consumers look for in all markets, and brand messaging as well as production processes should take note of that.
Car sharing will also grow in importance and be a key driver of demand for some models. The requirements of these new customer types (i.e. strictly B2B) will need to be adequately investigated.
Avoid copy-cat brand positioning
The growth of EV has led to the proliferation of sub-brands with futuristic tech-influenced names and advertising strategies emphasising technological advances. The ability to trade off of these advances will be limited if all other brands are doing the same thing. Careful consideration should therefore be made to make sure the brand promise is believable, maintainable and differentiating.
Continue to prepare for online sales
Online sales will continue to grow. Platforms for most OEMs will need to be improved, and trust among customers will need to be garnered through well-resourced and responsive customer service departments and adequate policies for complaints and returns.
Summary brand metrics needed more than ever
Finally, as the requirements of the industry change rapidly brands need to have a grip on what they are investing, what people think of them, and whether those perceptions are being transferred into financial performance. A balanced scorecard of brand strength benchmarks is the most appropriate way to do that and should be adopted as widely as possible.