The NBA partnership positively influences both practical and emotional aspects of AT&T's brand
Converting brand awareness into consideration and usage is particularly evident among US basketball fans, where AT&T boasts the highest usage level compared to the Big 3 US Telecoms brands.
AT&T has made substantial sponsorship investments in stadium naming rights and official partnerships with the NBA and individual teams.
Brand Finance has conducted research into the effectiveness of brand sponsorships, including that of AT&T, a leading US telecom company. The research emphasized the significance of aligning brand interests with the target audience. With 24% of the US population describing themselves as interested in basketball, AT&T have capitalized on the sponsorship potential of the NBA.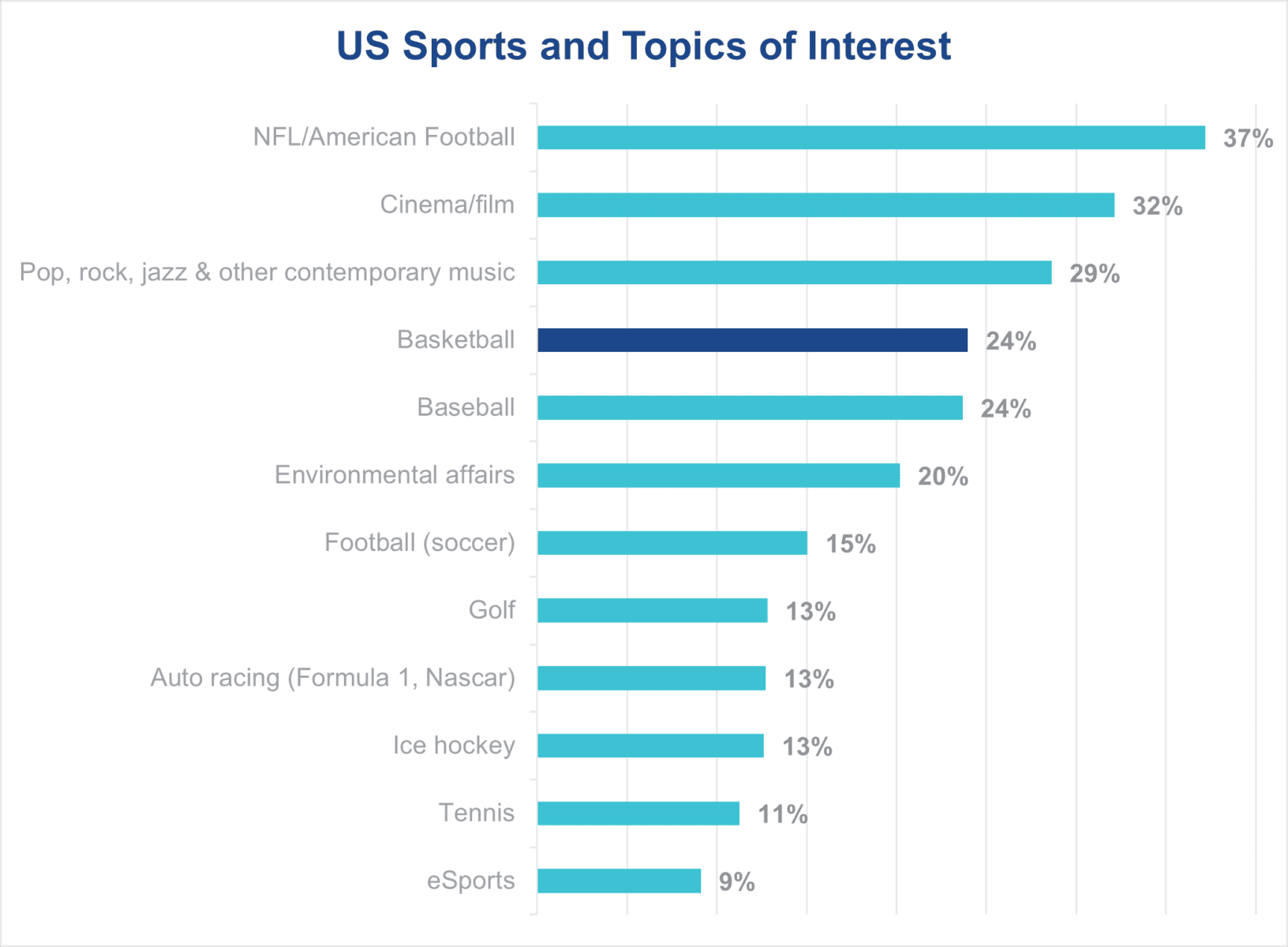 AT&T's NBA Partnerships
In recent years, AT&T has developed numerous partnerships with the NBA, including Title sponsorships, stadium naming rights, and several individual agreements with teams such as the Chicago Bulls and San Antonio Spurs.
In 2019, AT&T inked a multiyear sponsorship deal with the NBA and WNBA, securing the official 5G Innovation partner role, with an estimated annual value of USD30 million. This sponsorship is dedicated to enhancing and expanding fan-centric experiences, whether within the venue or from the comfort of home. Additionally, AT&T's sponsorship with the San Antonio Spurs extended to include the team's stadium, formerly known as the AT&T Center from 2006 to 2023, at a reported cost of USD41 million.
These sponsorships indicate that AT&T has a strong presence in the NBA as well as its commitment to further developing its partnership to attract more fans to the game.
Impact on Brand Perception
The impact of a sponsorship relies on its ability to shape consumer behavior and attitudes. AT&T's partnership with the NBA has a favorable influence on both the functional and emotional aspects of the brand. The goal is to not only boost purchase intent but also foster customer loyalty. Especially among basketball fans in the US, AT&T is notably regarded as a much more modern brand, because of its ability to highlight cutting edge connectivity and digital experiences.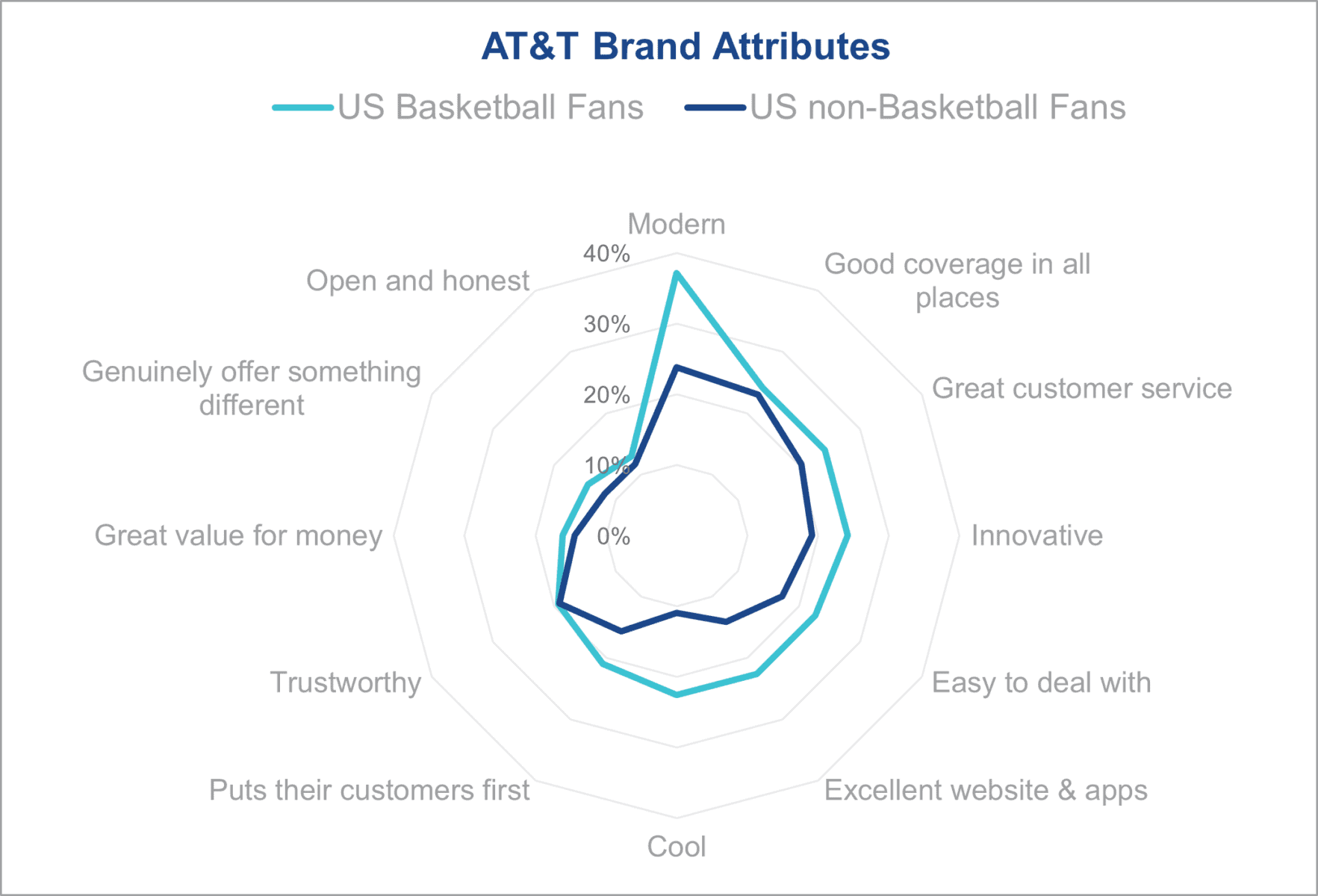 Financial Returns
While developing brand attributes may be a goal, the ultimate financial return on investment from sponsorship comes through influencing customer behavior.
With over 90% brand awareness rates in the US, AT&T's strategy is centered on converting this high awareness into consideration and usage. US basketball fans are more inclined to consider and use AT&T compared to non-fans, and the sponsorship significantly boosts conversion rates at each stage of the customer journey."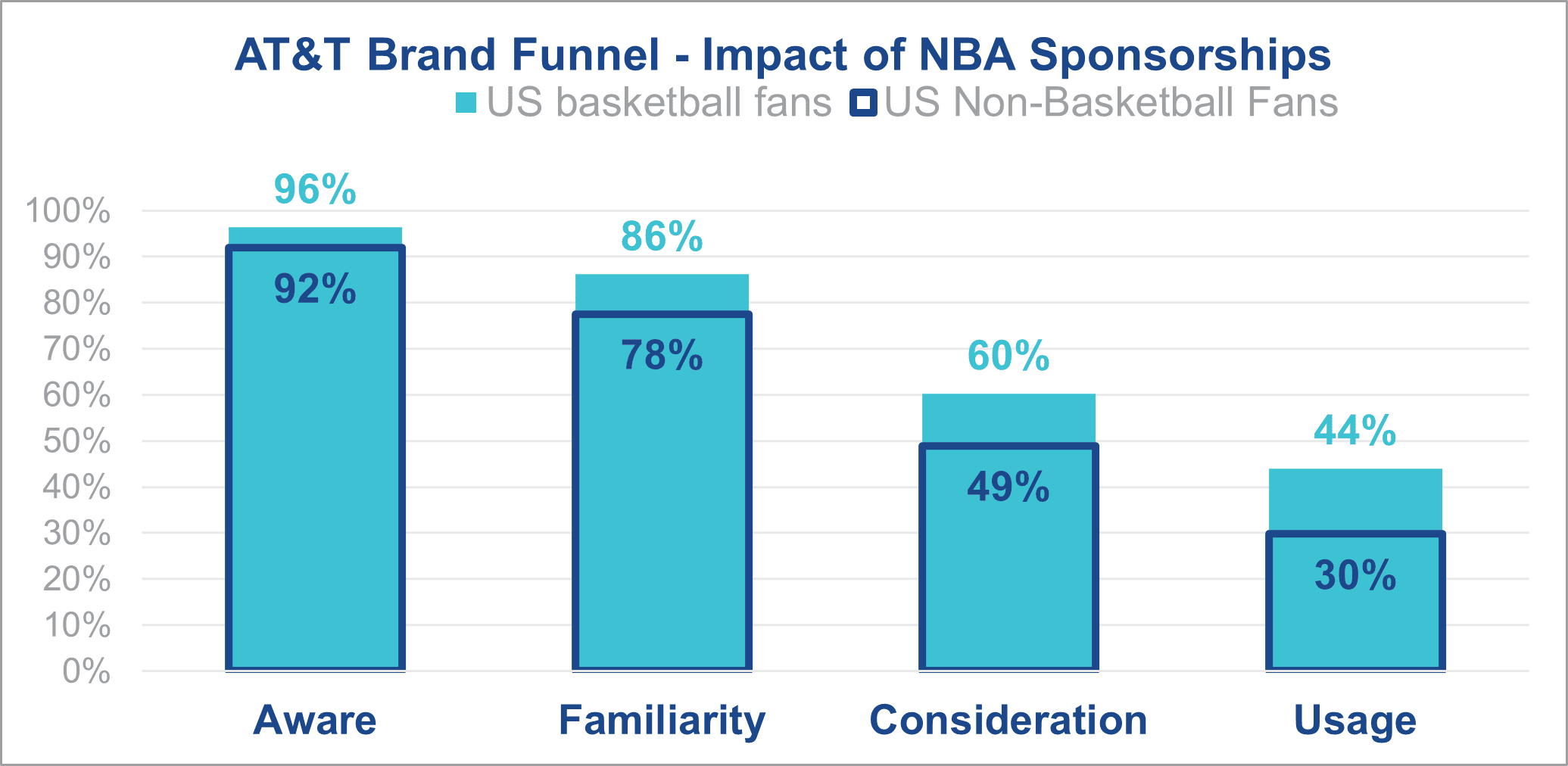 AT&T's brand is used by 33% of the US population, but this rises to 44% in US basketball fans. Although this high-level analysis cannot attribute this additional usage directly to sponsorship activities, the value of the additional user base among basketball fans amounts to approximately $12 Billion per year for AT&T, illustrating the potential value of sponsorship activities.
Brand Usage is a vital metric in the brand funnel because it represents customer loyalty, long-term value, and word-of-mouth marketing – critical factors that drive brand equity and ultimately success. AT&T has prioritized improving its usage amongst users through a basketball sponsorship strategy. This commitment is evident in AT&T's active involvement and significant investment in NBA sponsorships, which has yielded a relatively higher usage level amongst US basketball followers (44.0%) compared to other significant US telecoms brands, T-Mobile (38.8%), and Verizon (35.7%).
Conclusion
In conclusion, evaluating sponsorship effectiveness should always go beyond just tracking media exposure. Consumer behavior is the key indicator. AT&T's collaboration with the NBA serves as a prime illustration of how sponsorship can be financially lucrative and deeply resonate with the intended consumer demographic.