This article was originally published in Brand Finance Insurance 100 2020.
In April 2019, Great-West Life, London Life and Canada Life came together under one strong brand – the new Canada Life. ​
Whilst the unified company retains one of the former names in Canada Life, it has taken on a new logo and refreshed its brand positioning. This strategy aims to combine the unique strengths and core competencies of each company to create a seamless corporate identity under one brand. ​
This strategic move has seen a significant increase in brand value for the group. Canada Life's spectacular growth of 650% is largely attributable to the consolidation of London Life and Great-West Life brands. However, brand portfolio amalgamation is not the sole force driving value growth. If we consider the combined values of the group in 2019 against the value of the amalgamated brand portfolio this year, there is still brand value growth in excess of 79%. Either way you slice it, Canada Life is the fastest growing brand in the ranking.​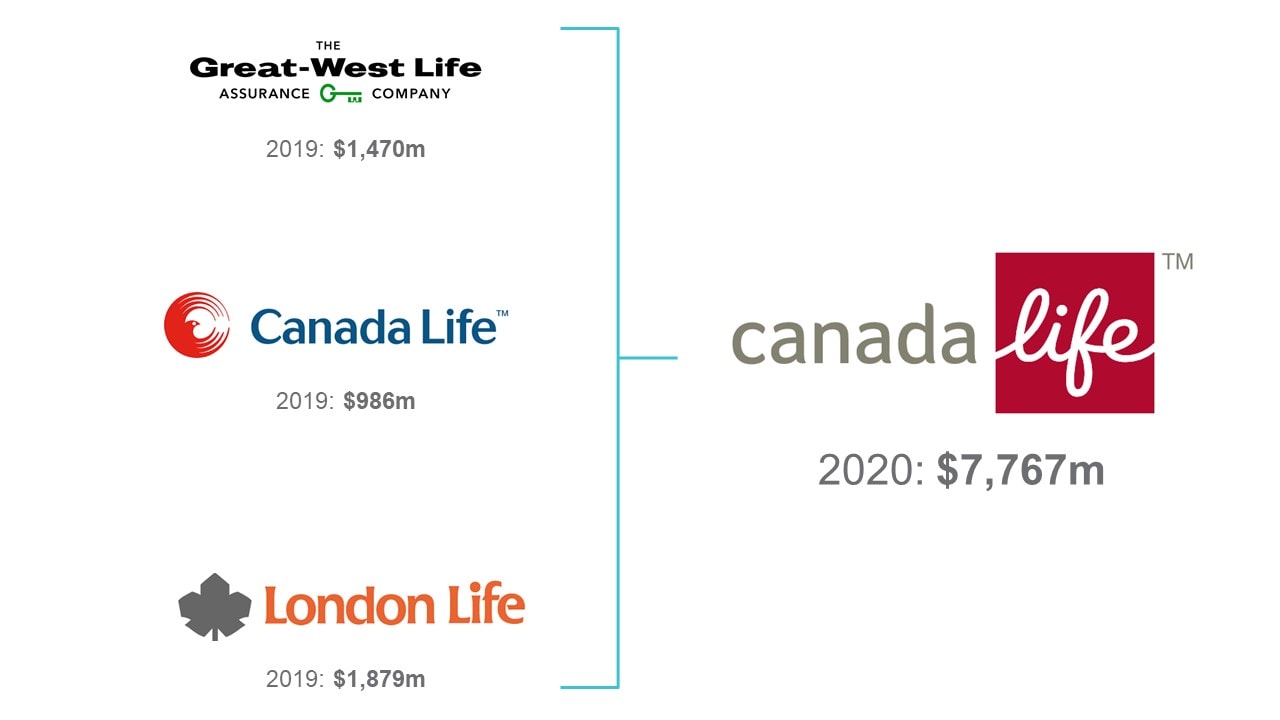 The latest wave of Brand Finance research suggests that brand equity has been successfully transferred to the brand. The first wave of Brand Finance's Business to Business (B2B) market research revealed particularly strong equity for Canada Life in its home market, ranking 1st overall in Brand Preference. Moreover, of the 14 B2B insurance brands researched in Canada, Canada Life ranked 2nd in innovation, genuinely offering something different and 3rd in both being reliable and caring about the wider community.​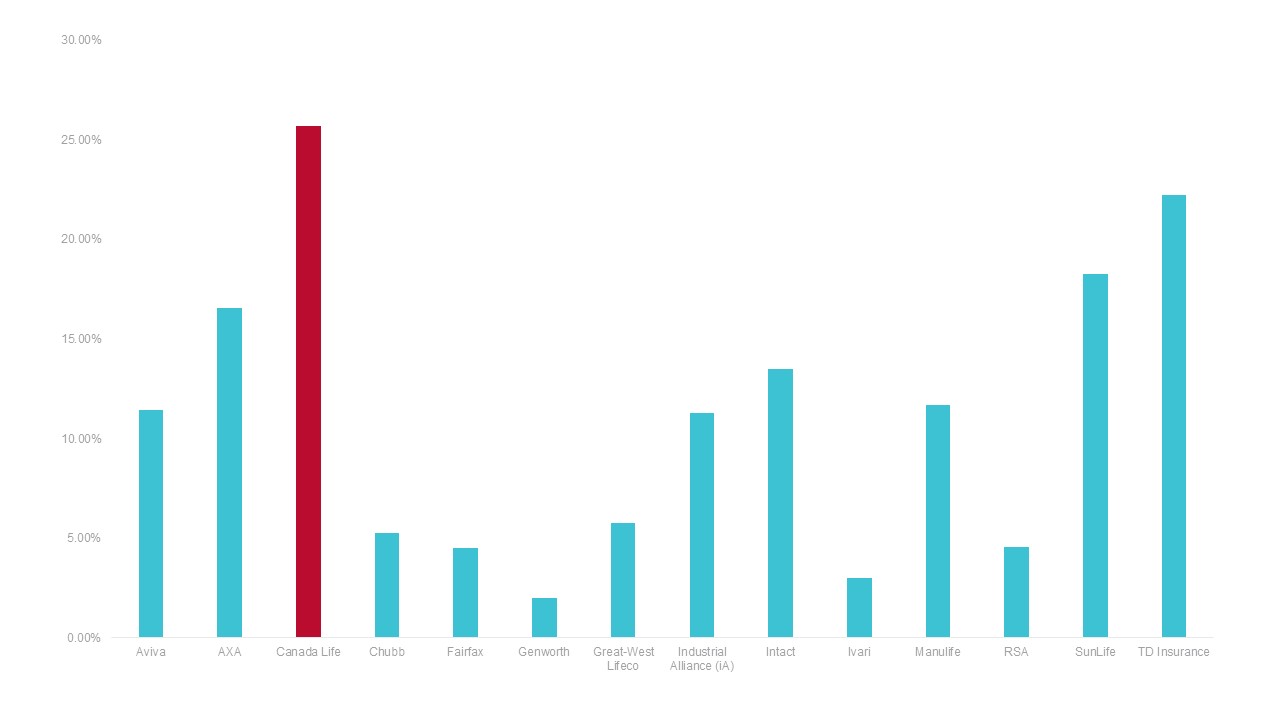 Year on year, the increase in brand strength has seen Canada Life shift into an upper echelon of brand ratings moving from an A+ to an AA brand in 2020. ​
A concern in the short to medium term for Canada Life and all life and health insurers is the impact of Covid-19. The decline in equity markets and reduction in interest rates are harmful to the bottom line for insurers. However, stronger brands are more resilient to market shocks, and the increase in Brand Strength for Canada Life, as well as a strong reputation, should result in less harmful impacts of the virus on the business. ​
Whilst it may take some time to fully transfer the equity of the other brands into Canada Life, the company has set a strong foundation and an exciting platform to promote and stimulate growth into the future.
An Interview With Jeff Macoun.​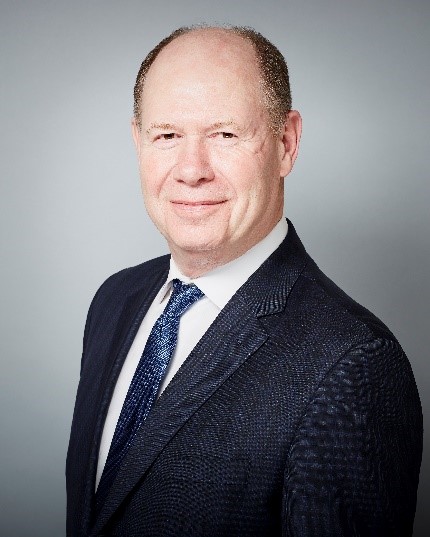 Between January 2019 and January 2020, Canada Life was the fastest growing insurance brand in the world, in large part due to the tactical restructuring and consolidation of branded IP within the organisation. What were the factors that drove the decision to restructure the brand portfolio? Why Canada Life over London Life or Great West Life?
Bringing our three iconic brands together was a once in a generation opportunity to combine our strengths under one equally strong name. Our new brand has strong roots going back to Canada's first life insurance company – Canada Life – which was founded 20 years before Canada's Confederation. The words "Canada" and "Life" are powerful, especially when paired together. The name Canada Life speaks to everyone, from coast to coast.
Aligning under one strong brand has helped us create a simpler and more unified experience for our customers, advisors, consultants and employees. It's also helping us build brand awareness by combining our marketing and advertising efforts. It's been a great opportunity to rally our employees behind one shared identity, too. It's been a very exciting journey.
With COVID-19 we are witnessing unprecedented effects on various industries, what is the impact been on the Insurance sector, and Canada Life? How is Canada Life positioned to tackle upcoming challenges?
The financial services industry as a whole has been greatly impacted by the COVID-19 pandemic, and I'm proud that Canada Life responded quickly when Canadians needed us.
Now more than ever, Canadians need guidance and advice. Customers have questions about their insurance coverage and the impact of these conditions on their investment portfolios. Experts matter at a time like this, and our advisors have shown outstanding commitment as they've responded to their needs. Most impressively, our company equipped over 95 per cent of our 11,0000 employees to work productively from home. They're leveraging new tools to stay connected and serve our customers.
We've been flexible, agile and creative while navigating through COVID-19. Moving forward, we'll embrace these capabilities as we continue to tackle challenges head on – and succeed – as a team.
Corporate social responsibility is an essential component for brand building. Your stated brand purpose is to improve the financial, physical and mental well-being of Canadians, how does Canada Life take that vision and connect it with communities?
Our purpose is the driving force behind everything we do. In 2019, we were fortunate enough to support over 700 education, health and wellness, arts, social services and community development initiatives. We contributed over $12 million in community funding across Canada.
We're always committed to our communities, but during COVID-19 we've been quick to respond and do our best to help those who need it most. For instance, we recently announced our support of a few new initiatives in response to the pandemic, like food banks, mental health resources and support for small and medium-sized business owners.
​
​
​