This article was originally published in the Brand Finance Football Annual 2020.
Esports may no longer represent a new notion in the sports industry, but online gaming and viewership still enjoy remarkable growth year on year in terms of awareness, audience, players, and revenue.
The recent global lockdown has kept much of the world indoors and confined to their homes. With mainstream sports on hold, esports has represented an exciting alternative for many viewers.
This is not to say the industry has been unscathed by Covid-19. Like any traditional sport, many of its high-profile events which take place in packed-out stadiums have been cancelled as a result. However, the simple fact that esports can take place online has allowed it to continue somewhat uninterrupted.
Unpacking The Buzzword - What Is Esports?
Firstly, it is important to understand what esports is. The problem with many buzzwords is that they become a "one-size-fits-all" label slapped onto something which is in fact extremely complex and diverse and hence requires further context in many instances.
Think of the word esports as tantamount to traditional sports in terms of its diversity. There are numerous traditional sports, some of which are so different that often the only similarity is that they involve people or teams competing against one another under some set of rules or guidelines. Naturally, such differences mean these sports attract and appeal to highly different audiences.
The same applies to esports in that the games played are significantly different from one another and hence need to be considered separately. For example, football and golf are both sports but this does not mean they are similar or even enjoyed by the same audiences.
The same can be said of esports where the various games on offer are meaningfully different from one another and hence it is crucial to understand that the global esports audience is not a single group of individuals who can all be reached in the same way, but in fact, they are broken up into various autonomous sub-groups across various geographies and cultures meaning different marketing strategies are necessary to reach different groups.
So, when a corporate brand stumbles across the phenomenal growth in esports and develops interest in potential commercial opportunities, there is a lot to understand in order to find the right fit – the devil is the detail.
Considering investing in sports but not sure where to start? Read more about the benefits of sports sponsorship or get in touch below. We are here to help.
Finding The Right Strategy - Follow The Trends
So how do brands find the most lucrative and highest potential partnerships in such a complex and relatively fledgling market?
Like any sports sponsorship, the first step would be to select the appropriate sport or in this case, esports which can be used to best reach and ultimately appeal to your target audience.
The next step is to then further analyze the existing competitions, teams, and players within that category to identify which options can offer the desired reach, are feasible in terms of availability and budget and would offer an overall positive return on investment.
In recent years we have seen some of the largest names in football involve themselves in esports to expand their brands globally and reach untapped audiences across the globe. A prime example is PSG who have sponsored a highly successful Chinese Dota 2 team since 2018.
In the most recent wave of our football fan research, Chinese respondents demonstrated the highest levels of interaction with esports in terms of playing and watching. Such findings would suggest that PSG's strategy was well informed and can be leveraged to attract young Chinese esports fans to the club.
French football fans also exhibited a strong interest in esports adding to the validity of this venture. Age demographics are also consistent in each market analysed as younger respondents typically exhibited higher levels of interactions with esports.
One can only expect this trend to continue over time as esports continues to grow at a rapid pace. That is to say that one can comfortably put their money on the current under-18 audience exhibiting even higher numbers than those exhibited below implying that in the future we will likely see both younger and older fans closely aligned with esports in some way or form.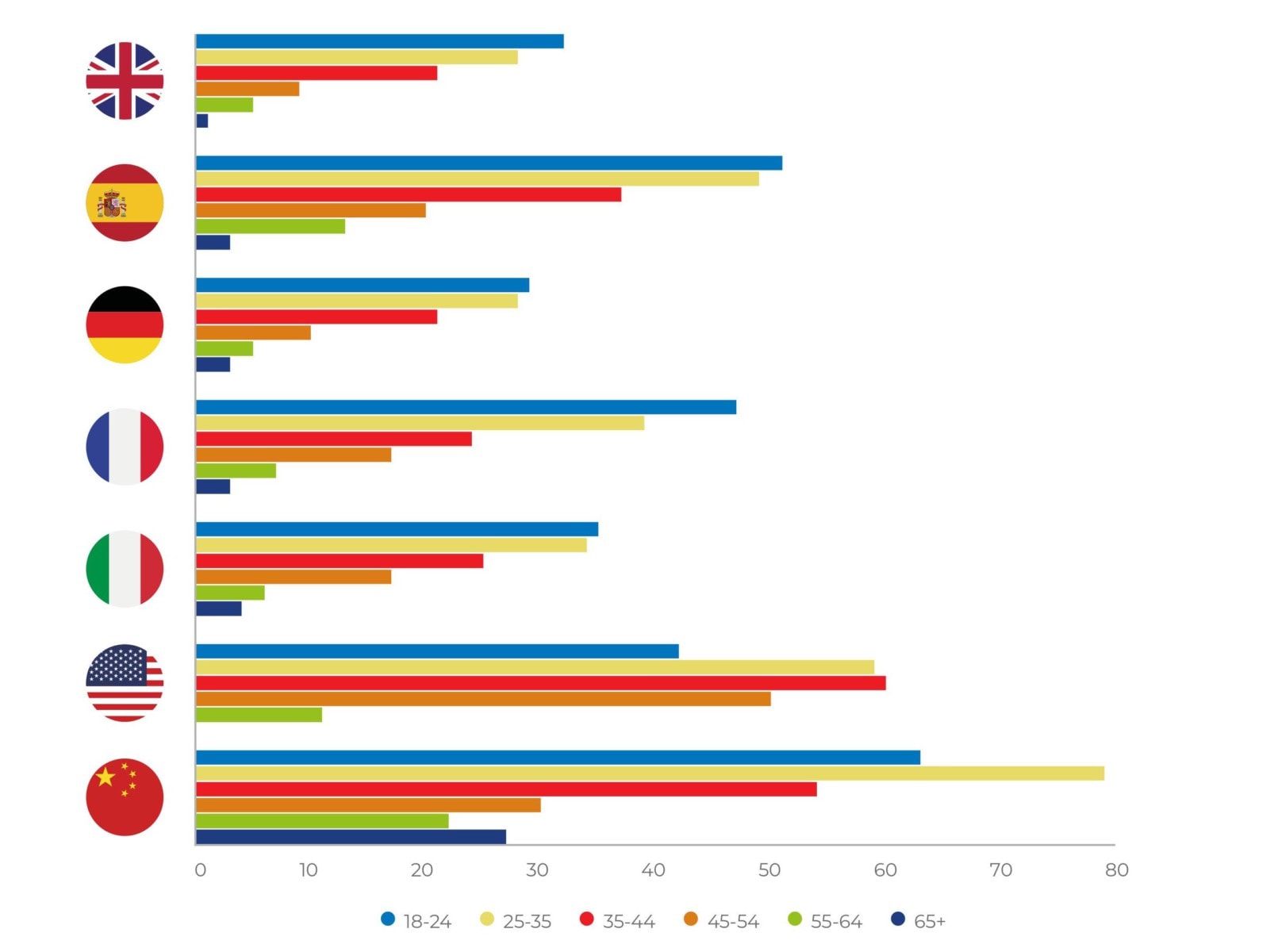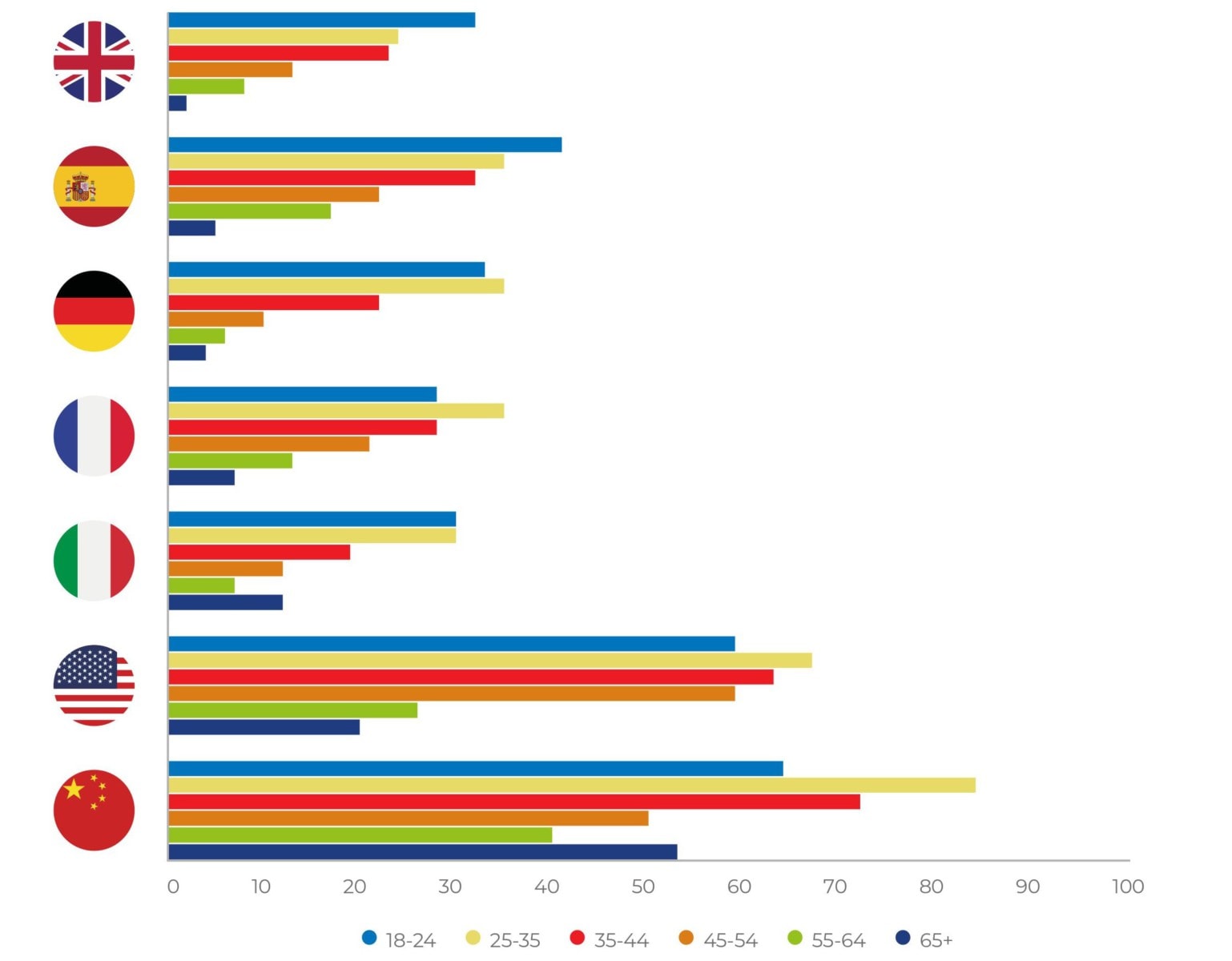 When current football fans were asked about the desire for their favourite football clubs to have an esports team there were mixed responses within the European markets, with most respondents stating their uncertainty over the idea.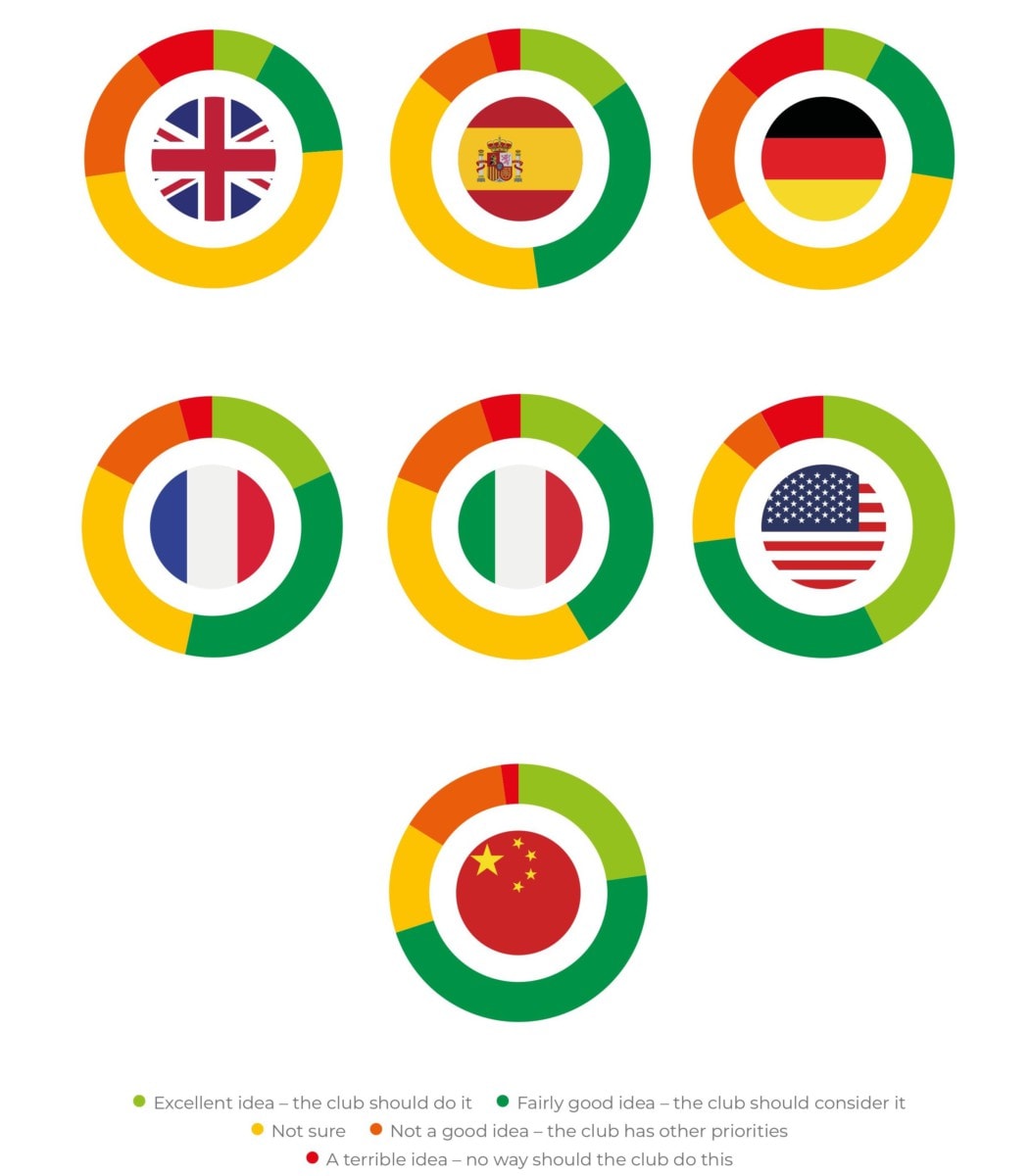 On the other hand, respondents in the USA and China were significantly more in favour of the idea, which certainly supports the potential of an esports-based strategy for targeting these markets. This is not to say that such strategies cannot be effective in Europe, but more to illustrate the importance of understanding the market before diving in head-first.
Making Waves - Who Are Some of The Biggest And Most Exciting Brands in Esports?
Over the last 5 years, we have seen several football clubs move into the esports space, and not just in the game of FIFA (the obvious pairing), but in various other popular titles as well.
In 2015 Wolfsburg signed two FIFA players whilst PSG and Schalke entered the League of Legends space soon after. The likes of West Ham United and Copenhagen also entered the realms of FIFA and Counter-Strike respectively. Following the early adopters', other clubs such as Manchester City have since become involved.
AS Roma partnered with Fnatic, a global leading esports entertainment brand to help spearhead their esports division – since then the two parties have parted ways.
Fnatic recently hosted the FIFA UK masters tournament over the period of Covid-19 lockdown, which saw clubs such as Manchester City, Sporting Lisbon, Southampton, and Roma all involved.
Another major development bringing football and esports together was announced by Twitch, a leading live streaming platform for gaming. The Amazon-owned streaming service has confirmed the launch of a dedicated sports channel in July 2020 with the likes of Juventus, Arsenal, PSG, and Real Madrid already involved. Moves such as these continue to restructure and disrupt the traditional media space and change the way in which viewers interact with sports.
There are endless opportunities available for football clubs or any sports organisations, as well as corporate sponsors, to enter the realm of esports and really leave a mark in an industry that is only going to grow year on year.