This article was originally published in the Brand Finance Football Annual 2020.
Sports sponsorship is big business, and like any marketing spend, its value and ROI need to be evaluated carefully. Would you pay £50,000 to have your brand name on Arsenal's shirts? Almost certainly. £50 million? Maybe. £500 million, definitely not. It's a commercial decision.
Using rigorous analysis to inform partnership decision-making is an important element in sponsorship evaluation for both rights holder and sponsor brand. Sponsoring brands will have different objectives (and thus KPIs/measures), but if the commercial value is to be assessed, those measures must relate to financial performance in some way – Facebook Likes or 'media equivalents' aren't enough.
We have developed a methodology to evaluate sponsorship activities that involves determining monetary value ROI for sponsors beyond advertising equivalency.
Considering investing in sports? We talked more about the ways your brand can benefit from sports sponsorship here.
Brand-Building vs. Short-Term Activation
Sponsorship can pay off via short-term sales uplifts, especially if additional activations (competitions, special packs) are built-in. But most sponsors seek broader and more enduring benefits for the brand, whether that is through increased awareness, improved brand image, alignment with a quality club/event, or other improvements to brand equity.
But even these measures may not carry sufficient weight in the boardroom and finance department and being able to measure using real monetary value can go a long way in securing marketing budgets. The ultimate goal of sponsorship activity is to generate a financial return for the business.
Hence the relevance of measuring sponsorships' impact on brand strength (using frameworks such as our Brand Strength Index) and brand value and contribution. These take better account of the longer-term impact of sponsorship and the financial returns from it.
Sponsorship Affects Various Stakeholders
Most sponsorship analysis focuses on the likely impact on consumers and customers, which is entirely appropriate – ultimately that's how commercial benefits will generally accrue. But the impact on other stakeholders may not be negligible. Will your brand make you more attractive as an employer? Will financial analysts or business media see you in different light? In a recent analysis for a global drinks brand, we urged our client to consider the possible uplift in on-premise distribution driven by the sponsorship. These benefits can and should be quantified, even if somewhat crudely – and may make a difference to tight renew/drop decisions.
Measuring the Uplift
With a focus on consumers or customers, Brand Finance recommends assessing any uplift in brand health using a combination of market research and digital indicators (e.g. search, web visits, social media posts/engagement). Market research is essential in order to assess whether sponsorship has improved key brand measures such as awareness/familiarity, consideration/preference, overall reputation, and other brand-specific measures (these, in turn, must be shown to relate to commercial performance in some way).
Attribution in surveys is never straightforward, and calculation may be harder depending on what pre-sponsorship measures are available. It's not easy (or zero-cost), but reverting to soft measures such as 'equivalent to £500,000 of paid advertising' is not sufficient.
Even without pre-sponsorship data, it is possible to estimate uplift. In our latest Global Football Fan Research, we assessed the possible uplift which various sponsors of major clubs might have achieved.
Unsurprisingly, we can see that Barcelona fans in Spain have much higher consideration for sponsoring brand Rakuten, compared with fans of other clubs. But causality is difficult to infer from one wave of research, and even the fans of other clubs in Spain will have been exposed to the sponsorship (e.g. when their club plays Barca). A more revealing analysis is the comparison outside of Spain between football fans who follow La Liga or the Champions League – fans likely to have been exposed to Rakuten's sponsorship – versus fans who follow other leagues and clubs. This shows a significant uplift for Rakuten: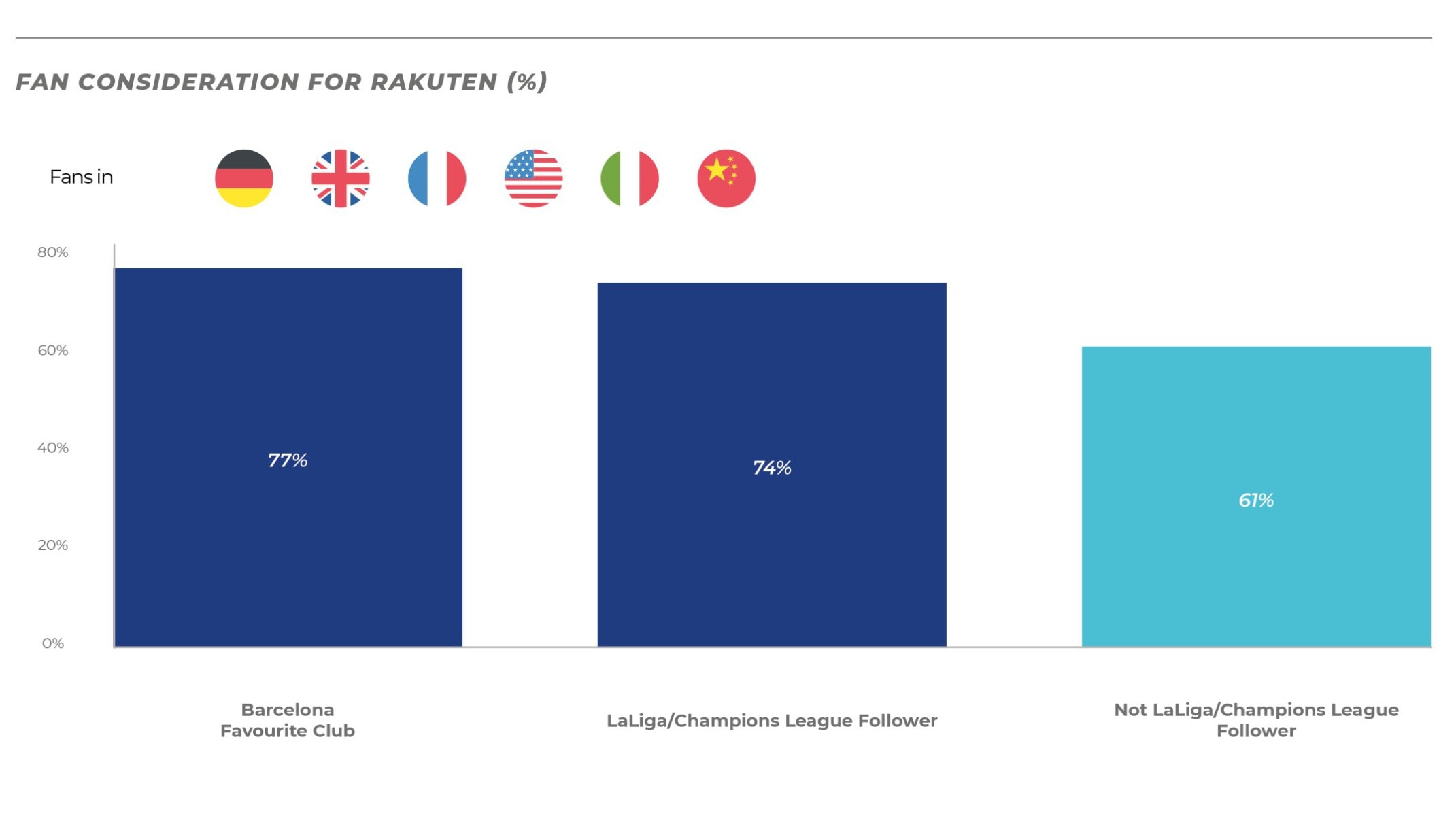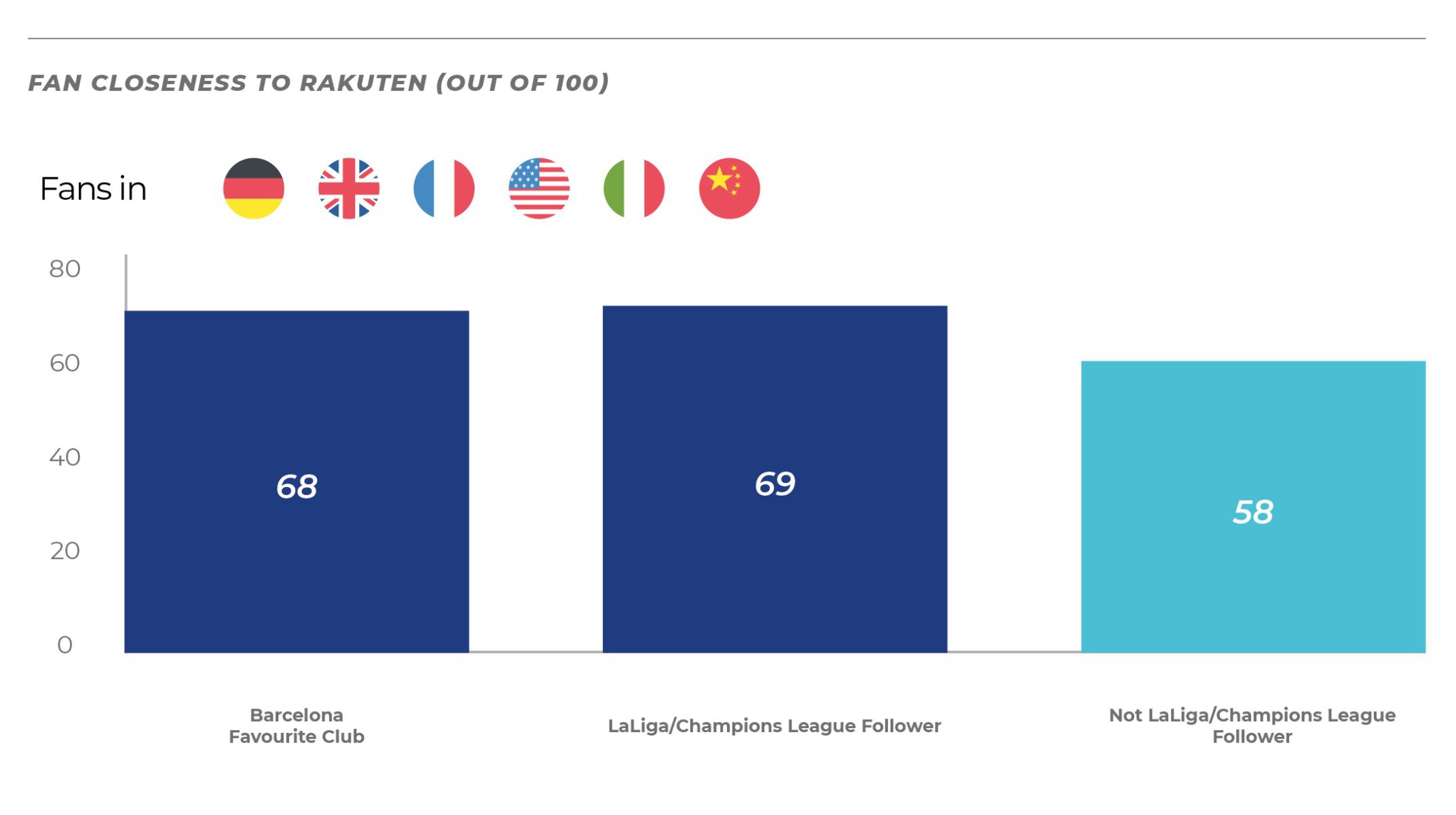 What Is It Worth?
Improvement on key metrics, such as brand consideration, have a measurable impact on brand and business value in our valuations because in turn they are empirically proven to be predictive of brand growth and sales uplifts.
Precise estimates of the value Rakuten might have gained from the sponsorship requires management data, but our initial calculations suggest that Rakuten has derived significant value from the sponsorship. Since Rakuten began their sponsorship in 2017, it has cost around €190m – and on that basis, it appears that the brand has achieved a good commercial return.

Every brand sponsor should attempt this kind of evaluation. Only then can decisions regarding sponsorship opportunities and renewal be based hard evidence and realistic appraisal of their commercial contribution.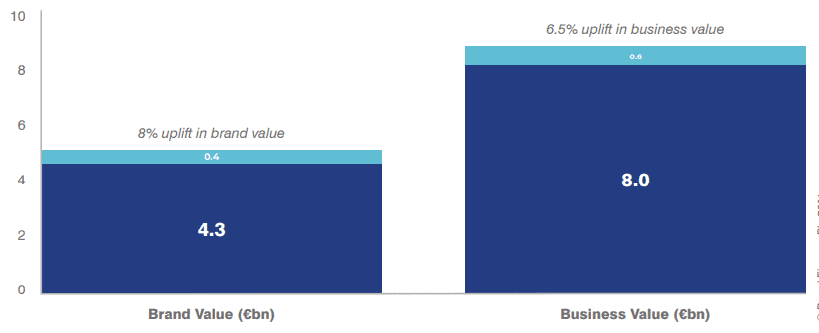 Understanding your potential return on marketing investment is key. We are here to help and talk you through it. Use the form at the bottom of the page to get in touch.
Brand Finance Sponsorship Valuation Services
When embarking on a new sponsorship, or considering the renewal of an existing sponsorship, whether you are a rights holder or a corporate brand, one must ask themselves 'Do I have a framework in place to quantify the ROI dollar value to maximise effectiveness, inform decision making and increase negotiation leverage.'
With such high levels of investment in sports sponsorship, a lot of money can be left on the table. As such, there is a requirement to improve the sophistication of sponsorship valuation, to provide a basis of valuation in the language of the CFO, CEO, and Board who are often the key decision makers.
Watch our sports services specialists Hugo Hensley and Declan Ahern talk all things football with Andy Pottinger of Buro Happold.