EA Sports and LaLiga have agreed a €30m sponsorship deal focused on delivering experiences to global audiences. Starting from the 23/24 season Santander will exit the title sponsorship after 7 years to be replaced by EA Sports FC – the new title of the video game developer's flagship football game following the ending of the nearly 30-year partnership with FIFA.
Santander's partnership has no doubt been successful for the Spanish banking brand; Brand Finance's 2022 consumer research shows consideration of the bank boosted to 53% among football fans, compared to only 35% among non-fans. The partnership has also had a positive effect on the brand's image, for both emotional and functional attributes, notably 'caring about the wider community'. The Santander brand was valued by Brand Finance in 2022 at €13.3bn, making it the most valuable Spanish brand and well ahead of LaLiga's €653m brand value – however it is the strength and reach of the LaLiga brand that partners hope influences their own.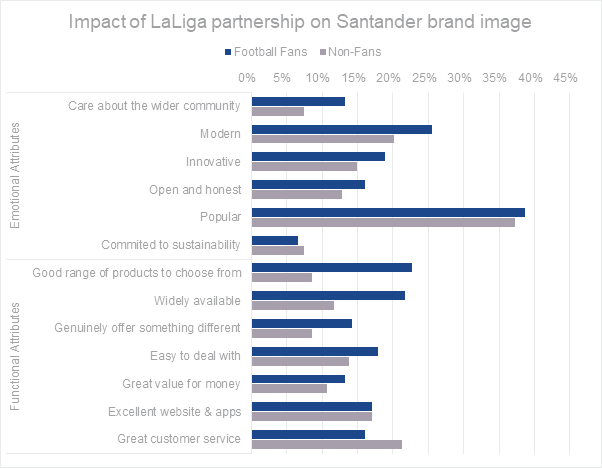 EA Sports' partnership is well targeted, with 77% of Spanish football fans either gaming or watching eSports, which is in line with the global average but one of the highest rates in Europe.
In Brand Finance's latest football fan research, half of Spanish football fans said they would like their favourite club to have an eSports team, competing against other top clubs, compared to one-in-three in the UK, and one-in-four in Germany. This partnership between LaLiga and EA Sports may provide the opportunity to build up the connection between the real and virtual games, both commercially from the clubs' perspective but also visually and culturally for the fanbase. This prospect garners even more support amongst fans outside of Europe, with 70% of Chinese fans and 75% of Brazilian fans seeing an associated eSports team as a good idea – aligning with EA Sports' goal of developing a globally targeted partnership.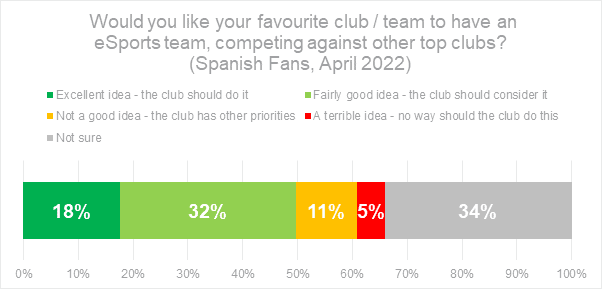 However, another hot topic in the sponsorship environment is gambling, and EA Sports has been in the firing line in recent years due to the highly profitable, but equally controversial, loot boxes that feature in the Ultimate Team mode of the video game. The feature that allows players to use real money to buy random in-game assets has been likened to gambling, and 69% of Spanish football fans surveyed agreed that Football clubs should reject sponsorship from betting and gambling brands.