This article was originally published in the Brand Finance Football 50 2022 report.
The Brand Finance Football 50 2022 report was based upon market research among football fans in eight key markets. This included the five major markets of football's European heartland (France, Germany, Italy, Spain & UK) together with Brazil, where football is deeply embedded in the country's culture and heritage. Finally, two key untapped football markets were polled – China and USA. Any football club with aspirations to build a global fanbase will need to connect with fans in many, if not all, of these eight markets.
Brand Finance conducted an online survey among 1,000-1,500 demographically representative football fans in each nation.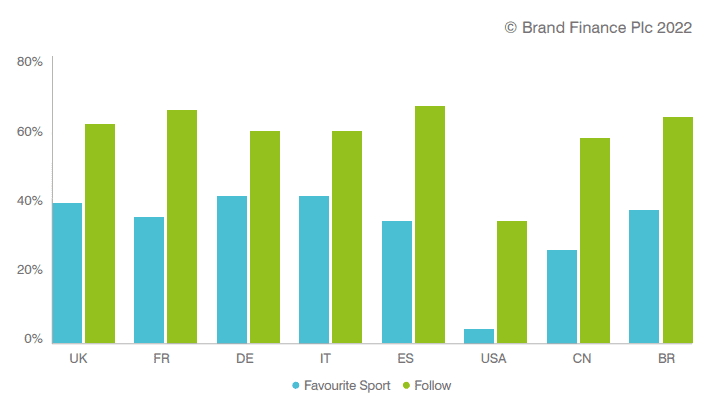 Our research assesses fans' perceptions of major football leagues, competitions and clubs, and their level of engagement and enthusiasm towards them. For the 2022 report, the research covered over 30 major club competitions and their participating clubs, with particular emphasis on the clubs and leagues with the largest global fanbases.
The research provides insight into how football is consumed, how this varies across markets and demographic segments, and how fans follow and connect with their favourite clubs.
In an uncertain economic environment, it is more important than ever to understand the commercial benefit of any marketing investment, and a sponsorship is often the largest single marketing expense many businesses make. Our research and methodology assess monetary returns on sponsorship activity for both rights holders and commercial partners in a manner that is understood both in the marketing department and in the boardroom.

Declan Ahern, Valuation Director, Brand Finance
We identify the leagues and clubs that engage and excite fans the most, and the attributes which drive the greatest fan appeal. We also assess which sponsorships are most salient among fans, and which sponsorships deliver the greatest returns for their business.
These insights enable clubs and leagues to assess the underlying strength and appeal of their brand and 'product' to corporate stakeholders. Of course, on-field performance has a significant impact on this area, but – as with brands in any walk of life - a strong brand and fanbase ensures that the club's support and commercial performance has a degree of resilience that cushions the impact of a potentially disappointing season on the pitch. A prime example of this is Manchester United, who still earn some of the highest revenues in Europe whilst also boasting one of the largest worldwide fan-bases despite a decade of disappointing results.
For potential sponsors of leagues and clubs, our research is used to assess the value of partnering with both global giants (are the biggest clubs as popular as their sponsor pitches suggest?) but also smaller leagues and clubs heading in the right direction, where individual sponsors can target a specific audience and stand out from the crowd more easily to select audiences. Furthermore, clubs and sponsors need to decide whether a multinational partnership generates the best returns, or a larger portfolio of national partnerships is more suitable. Potential sponsors must base their decisions on an independent assessment of how clubs and leagues are perceived and not gut feel alone – it is after all, a commercial decision. Similarly, clubs and leagues hoping to attract sponsors are increasingly aware of the need to present a business case for partnership and investment based on data and evidence that brand owners require before they commit their marketing dollars.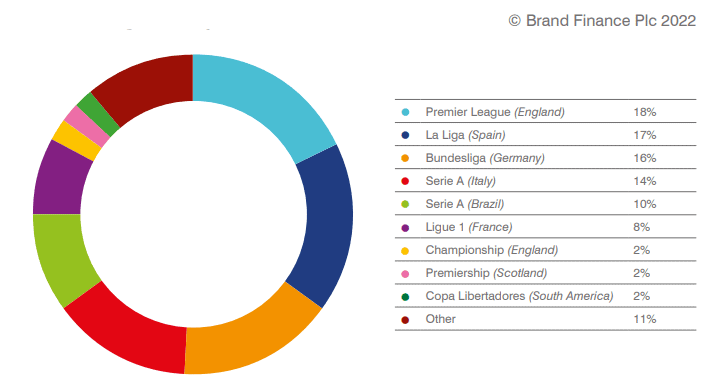 Football conquers all
Across the 8 markets we surveyed, football is the most popular sport in 6. In China it ranks 2nd behind basketball, and in the US, it ranks 5th behind well-loved domestic sports such as American Football, Basketball and Baseball.
While Europe is football's most mature market, China is catching up fast. In fact, only basketball (54%) ranks higher in terms of popularity. In contrast, football in the USA could be said to be catching up at a more modest pace. According to our research (and in terms of actual attendance) football has overtaken the NHL among the 'big 4' sports in the USA.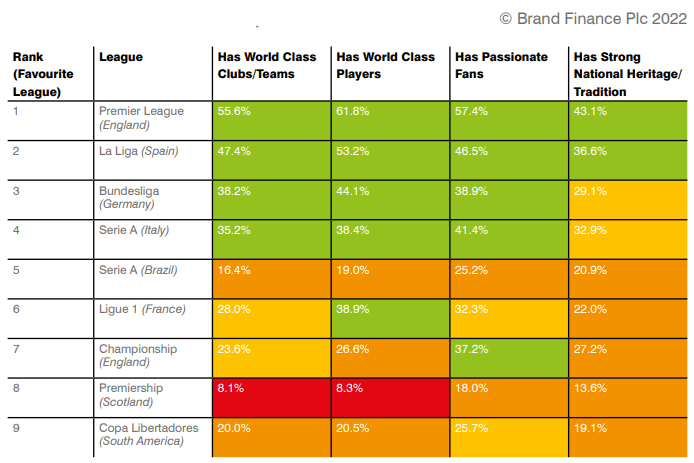 Exposure through football
Football's attraction to sponsors and other commercial partners is the sheer breadth of its appeal. Although fans tend to be a little younger than the general population profile in each country, the skew is not pronounced. Moreover, the appeal of the sport to women is also a strong selling point – a high proportion of fans are female, and the gender balance is generally better than other major sports. This is further evidence of the opportunities for clubs and sponsors within the woman's game where potential return on investment may be incredibly high due to the market being relatively underdeveloped compared to the men's game.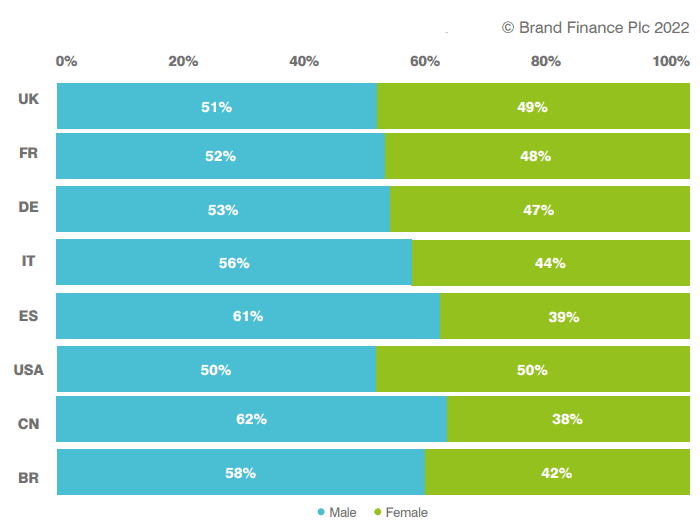 Who attracts the most attention? – which leagues are most popular
Among football fans in the 8 countries surveyed, the Premier League was the most popular league, slightly ahead of LaLiga and the Bundesliga, with the English Championship being the only 2nd tier league within the top ten most popular.
Looking at some of the key drivers as to why certain leagues appeal to fans more than others allows one to better understand the features of the 'product' they are sharing with the world. Both the Serie A (Brazil) and Premiership (Scotland) underperform on the four primary drivers of favouritism suggesting that their fans are drawn to those respective leagues for different characteristics.
The Premier League's performance on these measures suggests why it is the most popular league amongst both fans and sponsors alike, although securing deals of association in the market with the Premier League or one of its clubs does not come cheaply.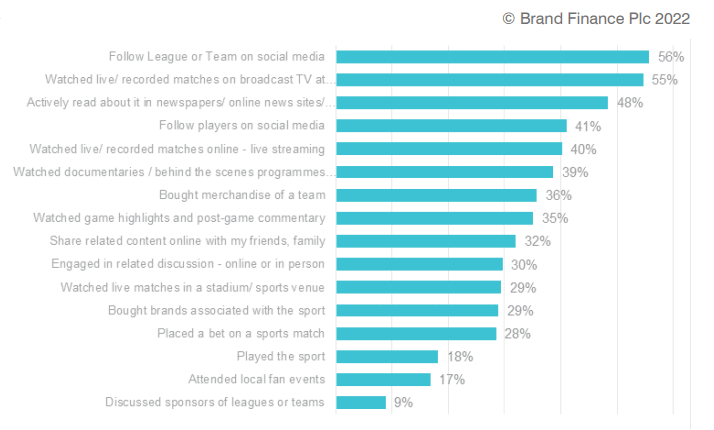 Shift to digital engagement continues
Broadcast television continues to drive engagement alongside social media – it remains the primary way for fans to follow live football despite digital channels disrupting the sporting and entertainment industry worldwide. However, increasing numbers of fans are streaming games online, and the dominance of broadcast is gradually diminishing globally.
Close to 40% of respondents have claimed to have watched documentaries or behind-the-scenes programmes presenting a new potential revenue stream for clubs and leagues, as well as the significant indirect impact that can be enjoyed through increased viewership and engagement. A great example outside of football is 'Drive to Survive' – the Formula 1 series on Netflix which is closely connected with viewership of the sport increasing dramatically since its release in 2019.
On the betting front, close to one third of fans have played a game of chance in the last month which explains the prominence of gambling sponsors in football – the question around the ethics of this remains a hot topic of debate with many stakeholders within the footballing community, and beyond, calling for gambling sponsors to be banned.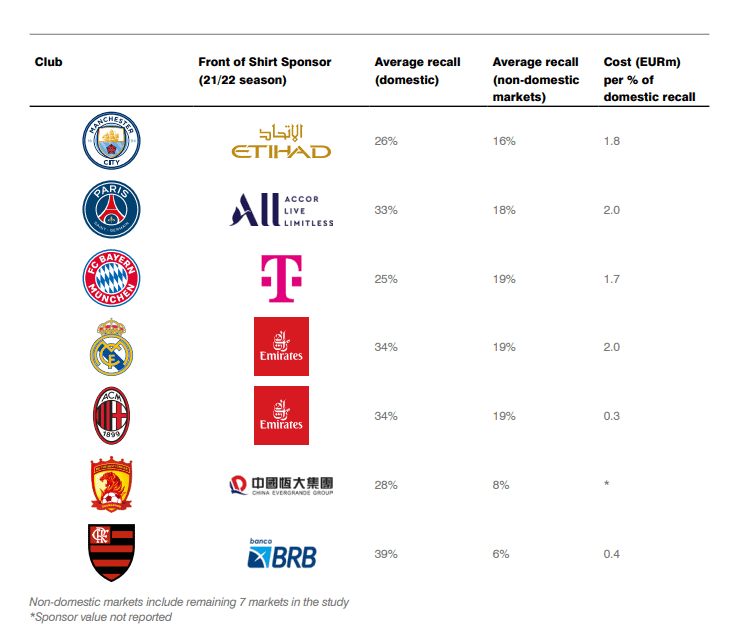 Sponsorship recall as a means of measuring effectiveness
Sponsorship can pay off even if fans are not overtly aware of sponsorship activity. Nevertheless, a large draw of sponsorship in football is the brand exposure it can provide and naturally brand owners would hope to see high levels of coverage and recall among fans.
Examining a large club in each of the researched markets suggests that sponsors can expect a range of 25%-39% for front of shirt sponsorship recall within the club's domestic market. The range for recall within non-domestic markets is weaker, with the five European clubs who regularly participate in European competitions earning higher rates of recall.
Sponsorship managers may also want to understand the different levels of brand exposure they get from different forms of sponsorship in football. The below example looks at three Bayern Munich sponsors of which front of shirt and stadium recall is significantly higher. Whilst the sleeve sponsor is considerably newer, Brand Finance data suggests that sleeve recall across clubs is typically much lower and hence would expect to be a much cheaper sponsorship option in most cases. That said, many brands still pay six figures to appear on the sleeve of the world's largest clubs.
When using recall to assess return on investment, AC Milan and Flamengo are getting the best return within their domestic markets whilst PSG and Real Madrid are the most expensive – of course this merely scratches the service of measuring sponsorship and there are various other key performance metrics to accurately measure return on sponsorship investment.
For further information on measuring sponsorship investment, see our online insight analysis: Precision and structure in Sponsorship Evaluation.