This article was originally published in the Brand Finance Football 50 2023.
Manchester City have become a byword for success on the pitch – but they are also known for innovation off it. Whilst for more than a decade they have dominated English football, the club has simultaneously shown steadfast commitment to growing its fanbase and social media following, developing its brand and increasing revenues. City are a truly global football club, one that blends a history of community spirit with invention, innovation and football of the highest quality. Across every area of the business, City are setting new records and milestones.
On the pitch, the team has just secured their fifth Premier League title in six seasons. In what is widely seen as the most competitive league in world football, that level of consistency is remarkable and testament to the club's technical and tactical vision.
They now have a chance to complete a historic Treble of Premier League, Champions League and FA Cup before the season finishes. Having become the first top-flight English team in history to achieve 100 points in 2017/18 and the first to win all four domestic trophies in 2018/19, City have demonstrated they are a generational football team who have raised the bar in England to heights we've never seen.
City's incredible on-field success has opened up new commercial opportunities, and in 2023 they retained their place at the top of the Deloitte Money League, once again generating the highest revenue in world football.
The club's retail sales have grown considerably, with record profits recorded across the 2022/23 season. The 2022/23 home kit was the most successful in the club's history in terms of sales, but the newly released home shirt for the upcoming 2023/24 campaign looks set to usurp the previous one, with one shirt sold every 12 seconds on launch day, establishing another new club record.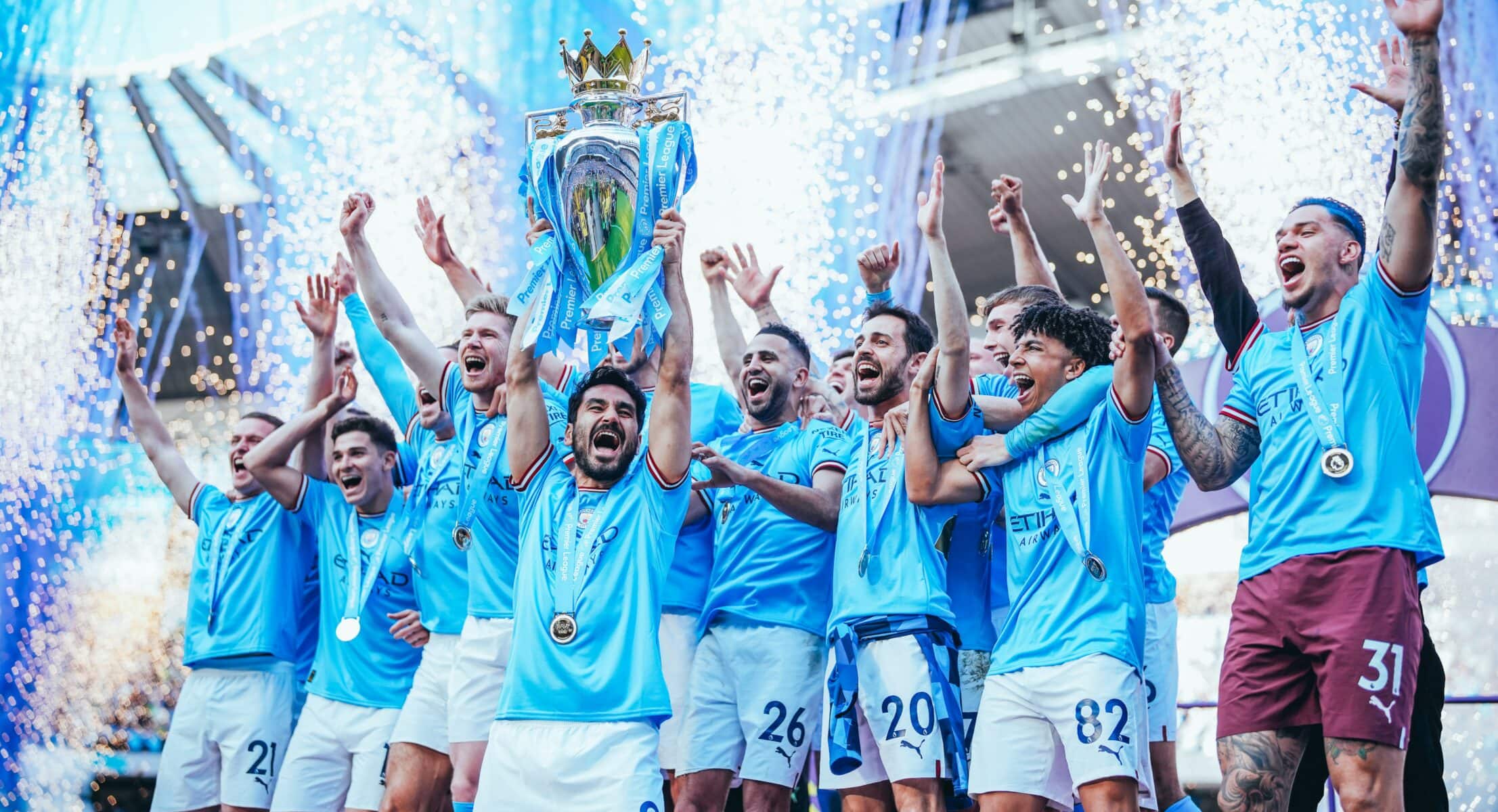 Meanwhile, City's in-house media team continue to set the standard in world football, powered by industry-leading in-house Media Hub City Studios, which blends creative and production teams with high spec studio facilities.
This season, the value of city's media content will exceed £180m, up significantly season over season – with their Matchday Live show averaging more than 1 million views per game. City's coverage of the women's team also continues to grow, delivering the highest social media views compared to any of their WSL counterparts.
The club's YouTube channel is ranked first in world football for monthly active users and in this year's Premier League Fan Survey, City's website, app and social media channels were all ranked as the best in the country.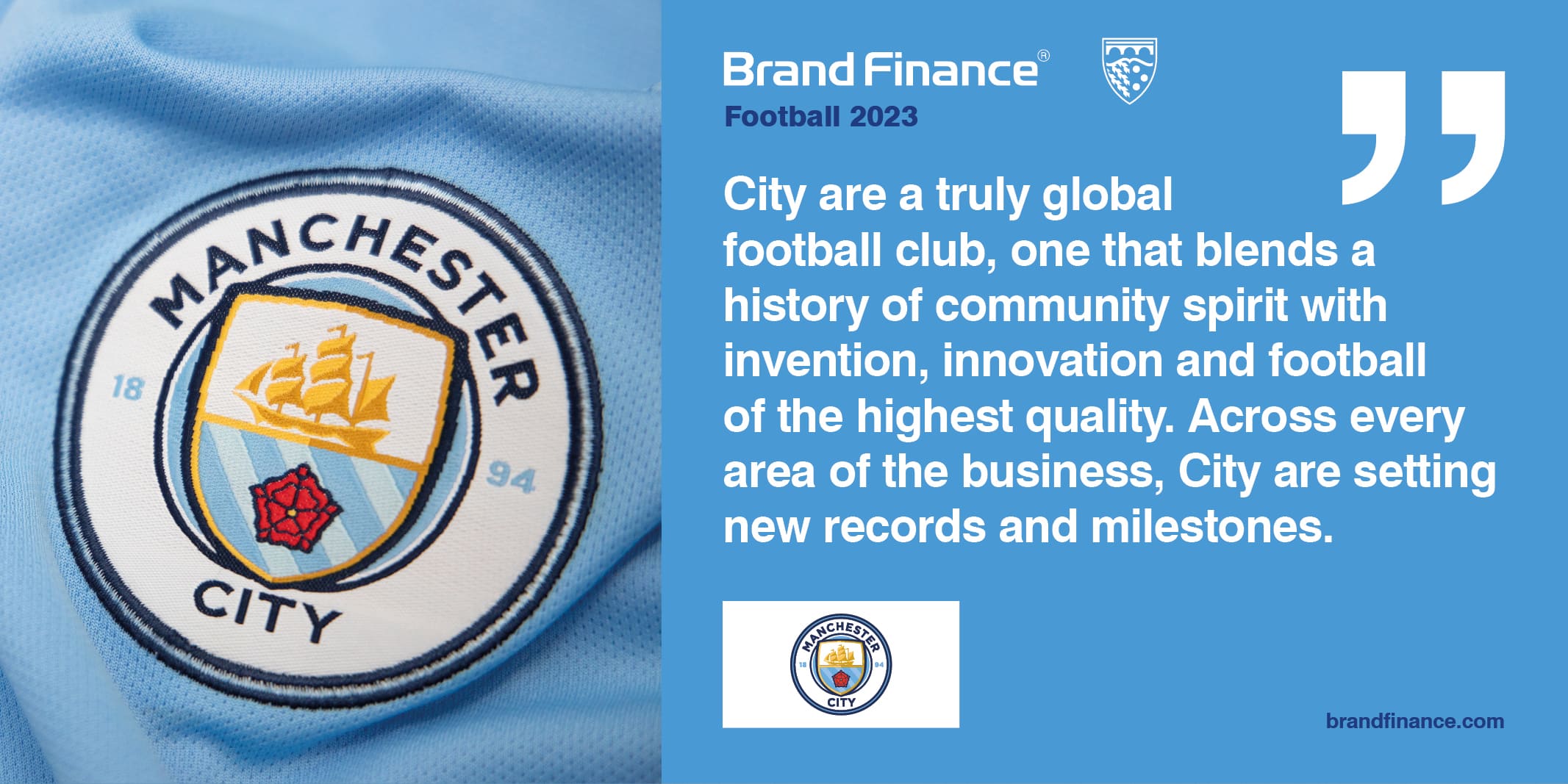 So what is next for Manchester City?
The club will continue to invest in world-class playing talent, retaining their commitment to possession-based, attractive and attacking football. This extends to the club's Academy system, too, which has a proven track record of producing top-quality young footballers capable of having a successful career in the game. Indeed, City's dominance of English football at senior level is matched at youth level, with three-consecutive Premier League 2 titles and three straight Under-18s Premier League National titles now secured.
Where there are new opportunities across fan experience, media, technology and partnerships, City will look to be the first to explore them. It is that spirit of modernisation that has been central to the club's remarkable growth over the past decade and which will remain central to their approach in the coming years.
But community remains at the heart of what Manchester City are about. Founded in 1986, City in the Community, the club's official charity, embodies that spirit through its outreach work. Back in 1880, that selfless commitment to the greater good was also the catalyst for the club's humble beginnings, when St Mark's Church in Gorton set up a football team to help get young men off the street and playing sports.
CITC, through its Healthy Goals initiative, now deliver programmes that positively impact close to 20,000 people in the Greater Manchester area aged between two and 79, totalling in excess of 22,000 community sessions and averaging 29 hours per participant. Its primary goal is to empower healthier lives through football, with youth-led programmes that place physical and mental wellbeing at their core, whilst also creating healthy futures and healthy communities.
And the regeneration of East Manchester – with City's ongoing ambition to turn the area into a world-class sports and leisure destination – will continue apace, adding a further £300million to the club's investment in the area.