Stellantis, the newly formed company following the merger of French automaker Groupe PSA and Fiat Chrysler Automobiles, now has a portfolio of more than 15 brands to manage. Which brands should they keep and where?
Given the close positioning and nature of some of the brands in the portfolio, we decided to use our data to take a hypothetical look at what might be the benefits of a portfolio rationalisation.
Our analysis for the scope of this piece focused on France and our research covered the following brands in Stellantis portfolio: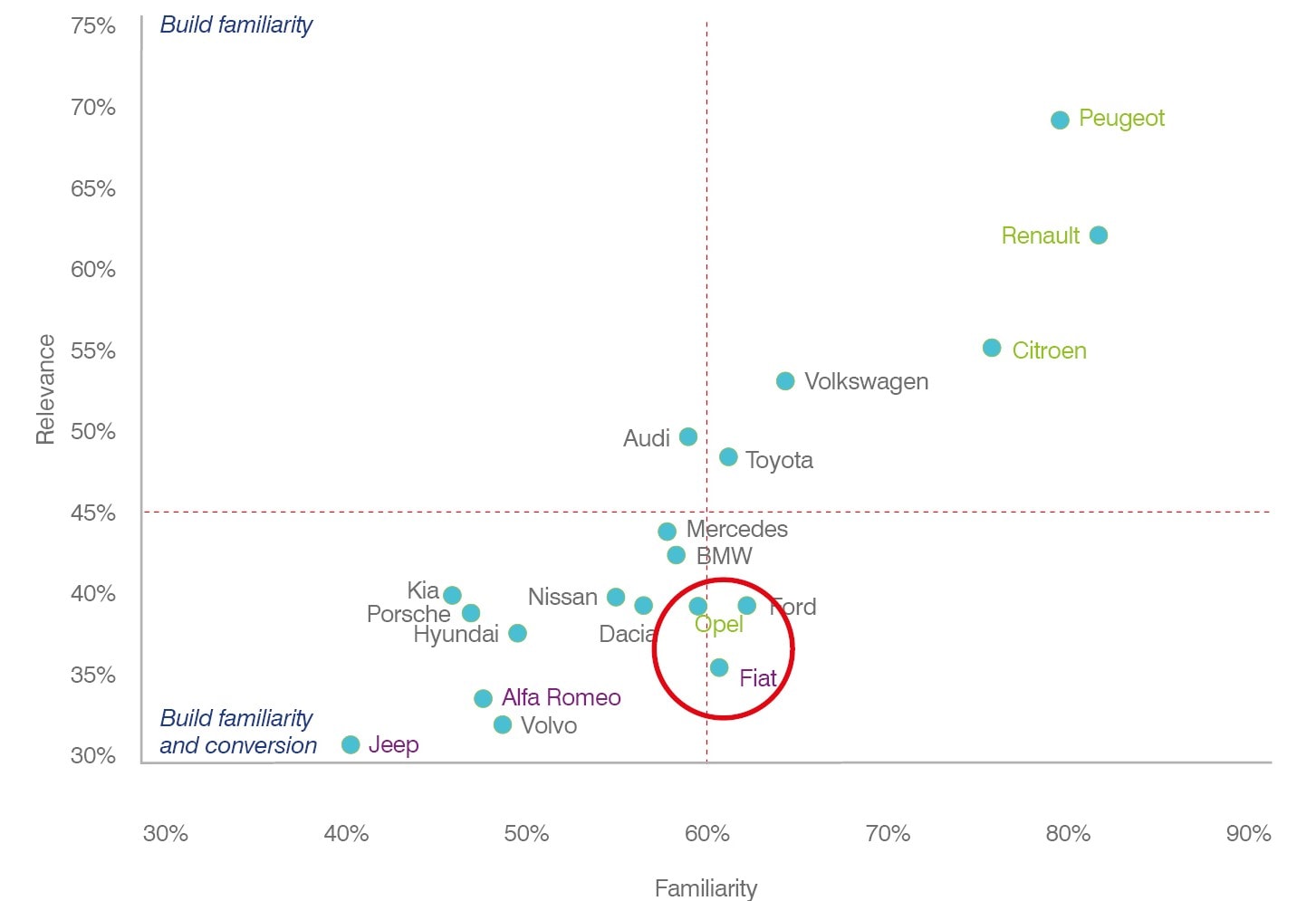 As a first step, we had a look at the level of familiarity and relevance (consideration among those familiar) which are high predictors of future sales and market share, as shown in our recent BrandBeta report. Naturally, the PSA brands with significant heritage in France perform much better than the FCA brands on both measures. At the same time, Fiat and Opel have similar levels of familiarity and relevance in the market, but Opel seems to have a slight edge.
As a second step, we looked at brand positioning in the market, another key driver behind relevance. If brands are positioned in a similar way in the minds of customers, there is likely to be significant overlap in terms of the customers interested in buying one or the other brand – reducing the efficiency of marketing and sales. Once again, Fiat and Opel appear to be close peers with very similar positioning, mainly concentrated around easiness and value for money.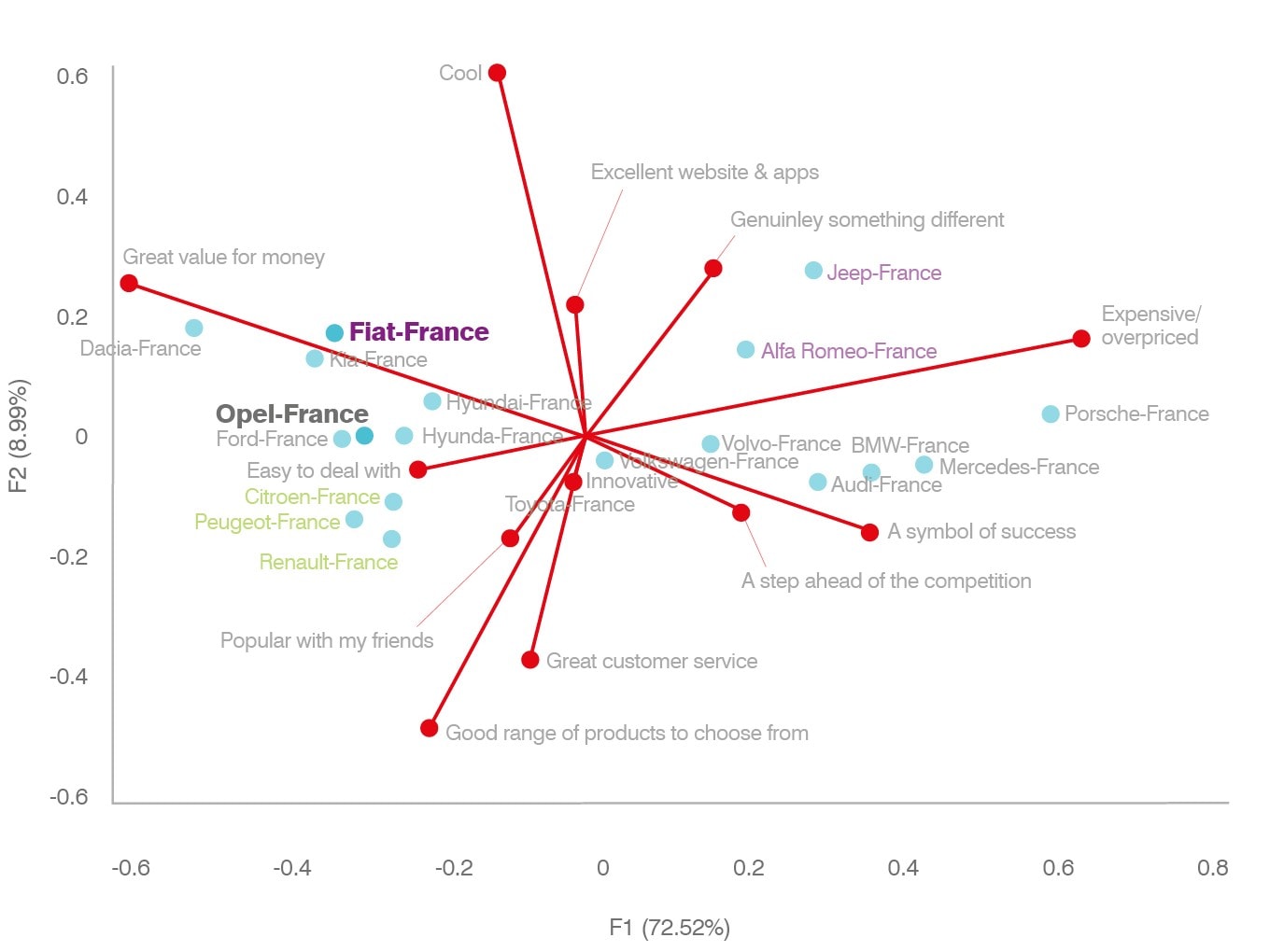 Based on the above analysis we inferred that Opel and Fiat in France have:
Similar level of familiarity and relevance with Opel slightly beating Fiat
A very similar positioning in the market, so a high cross-over of potential customer segments
Improving familiarity and relevance amongst consumers is key to improving market share. Relevance is influenced by brand attributes to different degrees. What we, therefore, decided to find was: what is driving relevance in the market?
Interested in learning more about the industry? Find the latest developments in the auto world here.
Analysing this, we found that one of the top dimensions in driving relevance in the mass market segment are what we could call "Customer Focus" attributes, those being:
Great customer service
Good range of products
Popular with my friends
Big winners in this dimension are Peugeot, Renault, and Citroen. Opel and Fiat are again closely positioned on this dimension, meaning people see those brands in a similar way on the same attributes shown.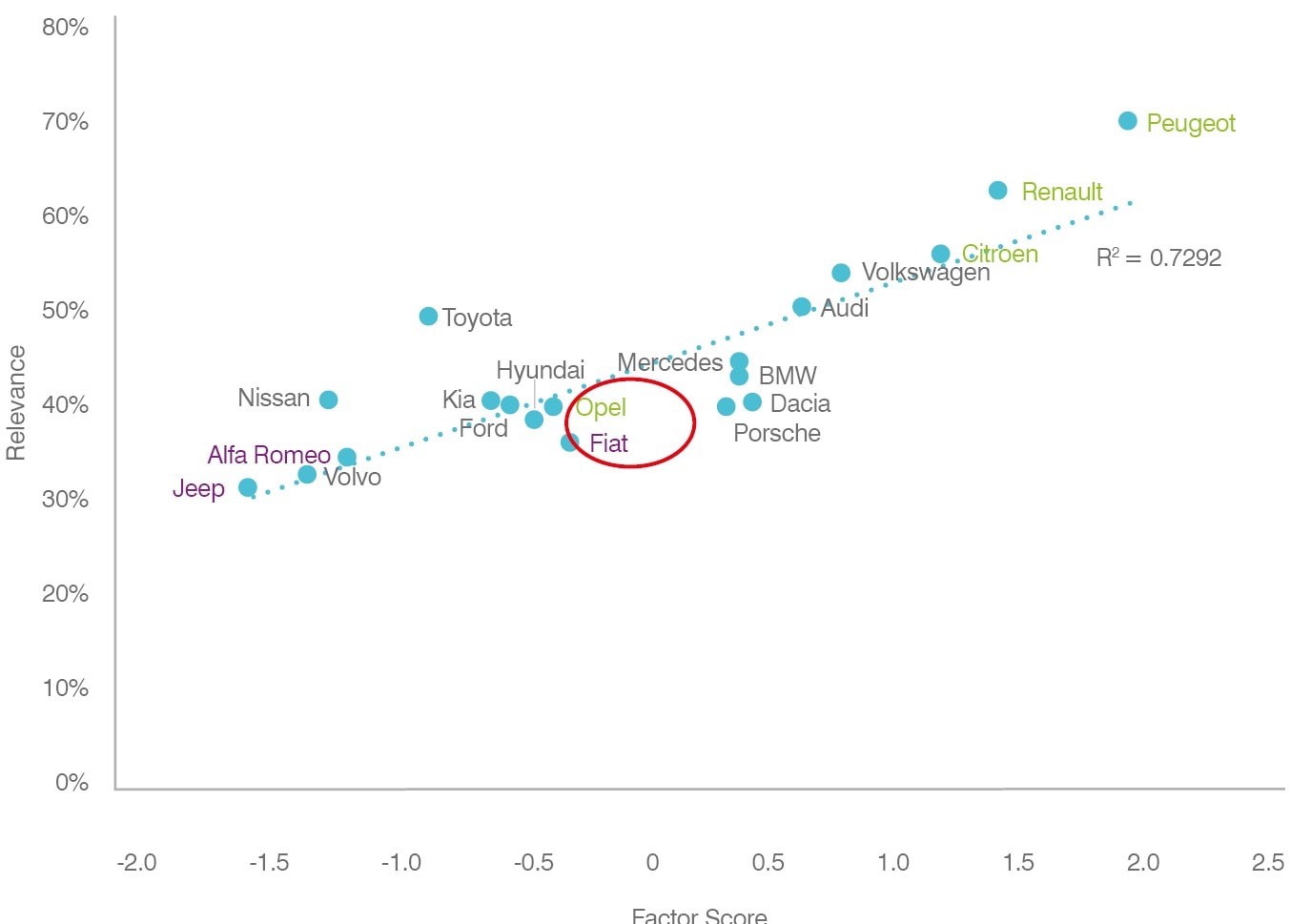 We had a look at how Opel and Fiat scored on each of the different image attributes researched to understand what the key strength and weaknesses for these brands in a 1 vs 1 situation were. While on most of the attributes the brands were aligned in consumer perceptions, on 2 metrics Opel scored better than Fiat: great customer service and perceived innovation. As showed in the graph above, great customer service was one of the key drivers of relevance.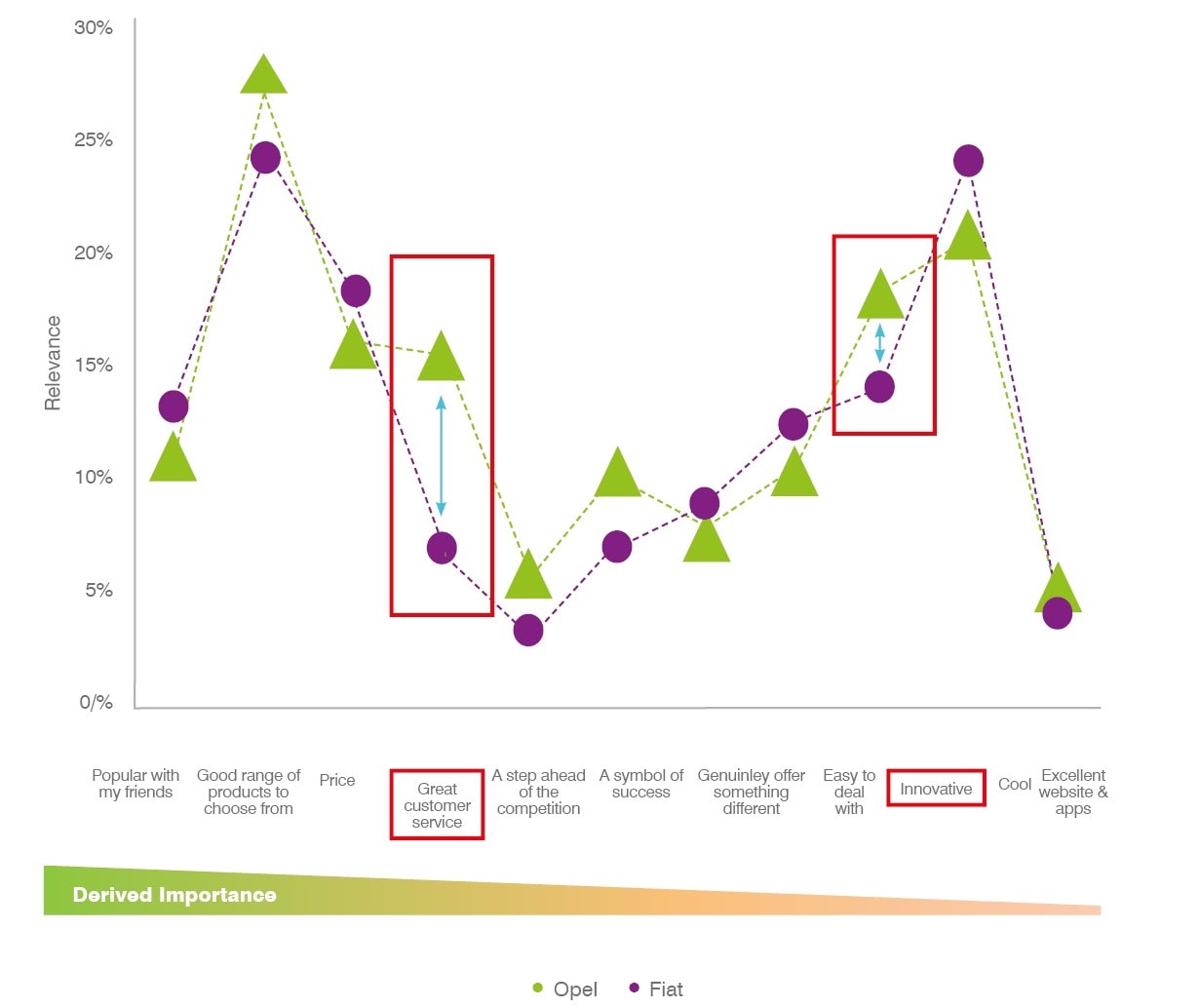 In summary, while other strategic considerations would need to be taken into account in order to proceed with an investment or a portfolio rationalization, we believe there are compelling reasons exposed by our data to suggest there are benefits from a rationalisation.
This analytical approach to brand portfolio management and investment optimisation is of clear use for companies trying to reach a higher marketing efficiency and obtaining sensible synergies which ultimately, is what mergers are all about.