COVID has shaken the auto industry but long-term outlooks look positive. Investment is behind the shift to electric but marketing and brand positioning need to catch-up. Alex Haigh tells us more.
What Has Been Happening To the Industry?
The mobility industry is currently undergoing profound changes, both short and long term, that are putting existing business models under strain and upending the industry.
Automotive brands are being influenced by the COVID crisis; the climate crisis and the move to electric cars; an evolving relationship between society, people and cars; changes in commuting patterns; changes in car ownership; and even the slow-going but ever-present move towards more autonomous vehicles.
The list is dizzying but despite these fundamental challenges and the rise of extraordinary new competitors like Tesla, the signs point to a resilient sector ready and able to meet the challenges in front of it.
2020/21: A Rollercoaster Year
Being one of the most globalised industries in the world, the automotive industry caught the COVID cold quickly.
In Q1 for example – before lockdowns were put deeply in to force in Europe and the Americas – Volkswagen Group was already registering around a 25% reduction in sales and production compared to the same quarter in 2019 due to crashing demand in Asia Pacific and, later in the quarter, in Europe.
As the effects of lockdowns rippled across the world from China between January and August of 2020, all car brands were badly affected with sales for many brands dropping by over 30% or 40% compared to the same quarter 2019.
The year has been destructive and we have seen unit sales drop by over 16% in 2020 compared to 2019 to levels not seen since 2011, according to Euromonitor.
However, as countries in the Asia Pacific begin to get the health crisis under control and protect their citizens from the COVID-19 virus, growth started up again – in some cases strongly. By quarter 3, Volkswagen – which must be noted has significant market share in China – was already registering quarterly sales almost equivalent to the same quarter in 2019.
All this pointed to green shoots of a recovery, albeit one heavily reliant on East Asian demand, that has prevented brand values from being damaged as comprehensively as some may have imagined.
Resilience for Long-Term Brand Value
Brand valuations, as with any type of business or asset value, are an educated bet on the future. They determine where brand-related earnings will come from by analysing how brands' strengths will influence demand in the future, and where – at a market level – that demand will come from.
Despite the past year, our view is that the outlook for the industry looks in fairly good shape. Total brand value for the Automobile table is the highest it has ever been at $586bn in value – almost double the value of the Oil & Gas industry and 6 times that of the Airlines industry. However, year-to-year growth slowed this year. From a strong position in 2019, both 2020 and 2021 saw muted growth in value as pressures on international commerce and growth took bites from demand just before but particularly during the initial year of the COVID crisis.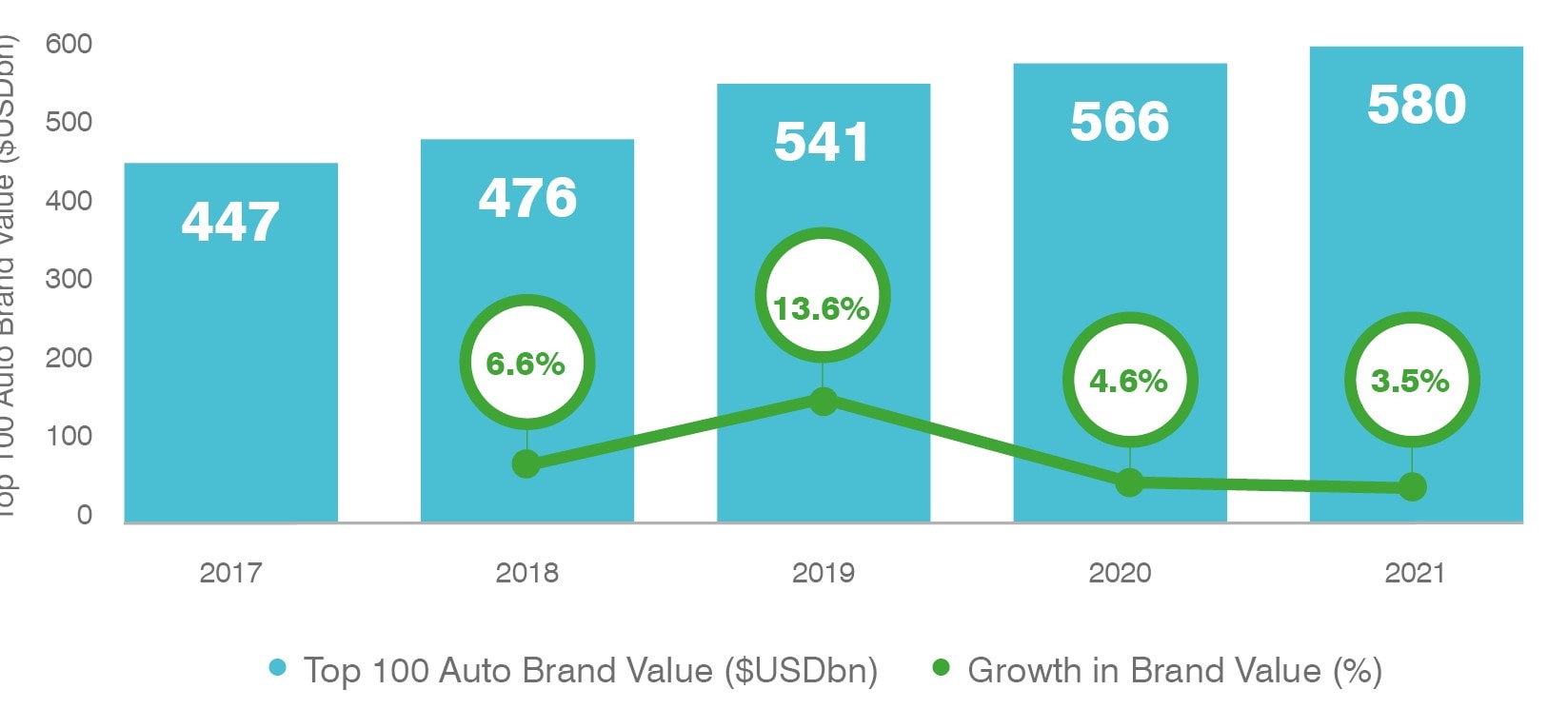 That being said, this drop in growth comes on the back of slower global growth for all industries. As a result, brands in the automobile industry are actually becoming more and more important in the overall mix – reaching a five-year high of 7.3% of the total brand value of our Top 500 Most Valuable Global Brands Table 2021.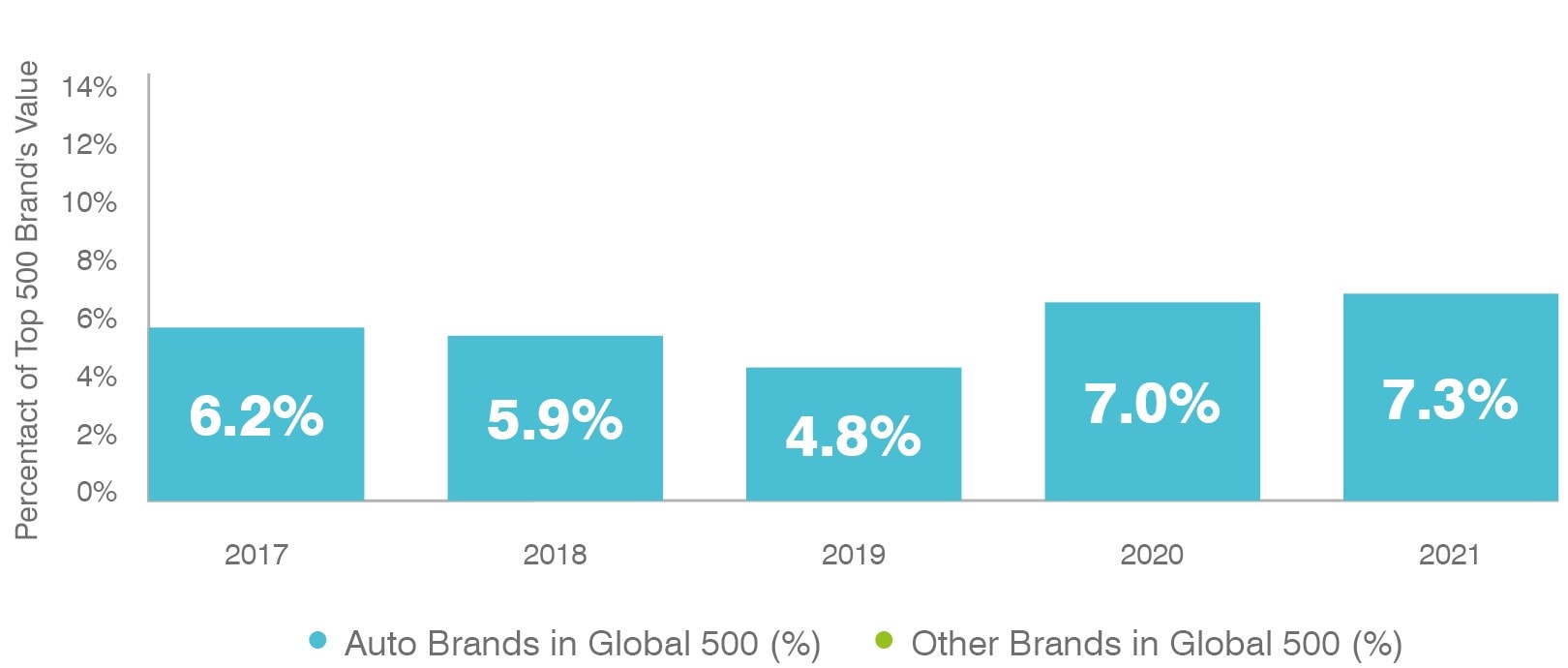 Growth is coming from diverse sources but generally those brands with more exposure to China and Asia Pacific, along with SUVs, electric vehicles and commercial trucks – which have benefited from a surge in road freight demand – are tending to grow fastest.
This all means that Tesla, our fastest growing brand, is accompanied both by its Chinese rival NIO and also by more traditional brands like RAM Trucks, Jeep, Lincoln, and Dodge in the list of the top 10 fastest growing brands this year.
Taking a look at leading indicators, for example search trends, helps unravel some of these trends in passenger cars. The search term "car" dropped in worldwide popularity significantly during the first lockdowns, rising to 2019 levels in the autumn and falling with the third waves of COVID. For the first two months of the year they have been depressed and have not yet reached back up to 2019 levels.
"Electric car" on the other hand has more or less not stopped rising. Since the start of 2019, its popularity has more than doubled. "4x4", which is coincidentally four times more popular than "electric car", is also up – albeit only by about 20%. On the other hand, hatchbacks, sedans and other models are not seeing this level of growth.
However, while these trends are compelling and directional, it is important to bear in mind that demand for traditional ICE models still far outweigh those for electric and it will remain so for some time. This gradual shift will be the defining challenge for all the traditional automobile brands.
Restructuring in The Automotive Industry
There has been pressure to restructure both from inside and out. Daimler has just announced its plan to split off its commercial trucks division from its passenger car one after being pushed by investors to shake off the corresponding conglomerate discount and unlock value. It will become the latest in a long string of similar spin-offs both full and partial like Volvo Trucks by Volvo and Traton by Volkswagen. Given the sharing of many functions and brands, there will be an obvious challenge to maintain unified brand strategies.
Mercedes-Benz, named for its key brand, will become the new face of the resulting passenger car company. The brand, although dropping in this year's Brand Finance study as it struggled last year with profitable growth in the light of the epidemic, has just announced analyst-beating forecasts and looks likely to bounce back by 2022.
Volkswagen, which is also eyeing restructuring but, in this case, internal. It is looking to double down on its multi-brand strategy.
There have been calls from some investors for the company to more formally spin-off both Porsche, Lamborghini, and other luxury marques to unlock value linked to Ferrari-like multiples.
However, the 84-year-old company is staying firm with its (at least for now) hallmark multi-brand strategy enabling it to pool investment costs – particularly around the shift to electric and hybrid powertrains – and insure against the reputational risk of the type seen following the diesel scandal. Rather than being spun off, Porsche, along with Audi, will be a central pillar to this strategy.
Similarly, Stellantis, formerly PSA and FCA, are preparing for the big investments necessary with the shift away from the internal combustion engine. The deal, held up by competition concerns about their dominance of the commercial vans segment in Europe, has just created the fourth biggest car company in the world with potential pressures to update their brand portfolio.
Regulatory Pressure to Invest in Electric
Regulations all over the world, particularly in Europe, are pushing the industry towards electric cars.
The UK has announced it will ban sales of non-electric cars from 2035 (Scotland in 2032) and phase out petrol and diesel after 2040. Sweden, Iceland, Denmark, and the Netherlands are all banning non-electric cars by as early as 2030. Norway, where EVs currently make up around half of all new car sales and there are more Teslas per head than anywhere in the world is planning to ban new conventional car sales by as early as 2025.
Germany is doubling electric vehicle subsidies, removing incentives for ICE cars and vehicle tax on electric vehicles until 2030, and investing billions in electric charging infrastructure as part of its 2030 Climate Action Programme. France has a similar, if slightly less expansive, plan.
The Federal US government is preparing an incentives package and President Biden has declared the whole government vehicle fleet will become US-made electric vehicles. Many individual states have stricter packages. China, which is fast becoming the centre of both the renewable energy generation and electric vehicle market worldwide, has – similar to the UK – announced the phasing out of conventional cars by 2035 and a package of incentives to move car makers to act.
Car Companies Responding With Massive Investment Plans
For brands this all presents a challenge.
From a production point of view, conventional vehicle production infrastructure must be made valuable for the rest of its useful life while at the same time brands need to prepare for the future. But what we have seen is that many groups are rising to the challenge:
Over the next five years, Volkswagen will be investing €73bn on battery power and digitisation, a figure which is almost double its profit for the period between 2015 and 2019. The company plans to have more electric vehicle market share than Tesla by 2023 and to have one-fifth of its fleet electric by 2025.
Read our interview with Klaus Zellmer, Board Member for Sales, Marketing and After Sales at Volkswagen, where he tells us more about the company's sustainability initiative.
General Motors will have phased out all ICE vehicles by 2035 and become carbon neutral by 2040.
By 2025, Toyota expects to be 70% hybrid, 20% plug-in, and only 10% ICE vehicles.
Within five years, Ford is planning for all its European cars to be zero-emissions capable, all-electric, or plug-hybrid. By 2030, the whole fleet will be electric.
Hyundai is launching the IONIQ 5 in 2021 and plans to be selling over 500,000 EVs by 2025, aiming for a fully electric lineup in major markets by 2040.
Nissan, with its successful Leaf model, expects more than 1 million sales of electrified vehicles by the end of 2023.
It is clear that across all regions – albeit with Europe seeing a slightly quicker shift – carmakers are taking on this challenge with all their combined power.
Shift to Electric Changing the Brand Landscape
Given the incoming regulation, falls in ICE model resale value might push customers towards electric vehicles but as of right now resale prices actually seem to be increasing.
There therefore needs to exist a pull – both in terms of easing charging infrastructure concerns but also making electric models and brands high-functioning and aspirational.
Even when customers are in the category, how can brands convince customers that they will have the same level of safety as previously expected from a Volvo? The same level of reliability as for a Ford or a VW? The same level of self-confident satisfaction when driving a Porsche?
All this has led to a flurry of interesting new marketing and branding strategies. We've seen completely new brands being created. The list includes more commercial and accessible new brands like Polestar, Lynk&Co to luxury and experimental or luxury brands like Faraday Future and Rimak.
Many of these new brands are too small to make our table so, in reality, the most striking changes are those of existing brands. Volvo and Bentley for example have both announced they will be going fully electric to Volkswagen and BMW announcing and heavily marketing their respective "ID" and "iX" families of new electric-only models. Volkswagen group have also announced the electrification of over 50 existing models.
However, customers still need to be convinced that traditional ICE brands can walk the talk and Tesla still leads the pack on many attributes that could be key to the transition.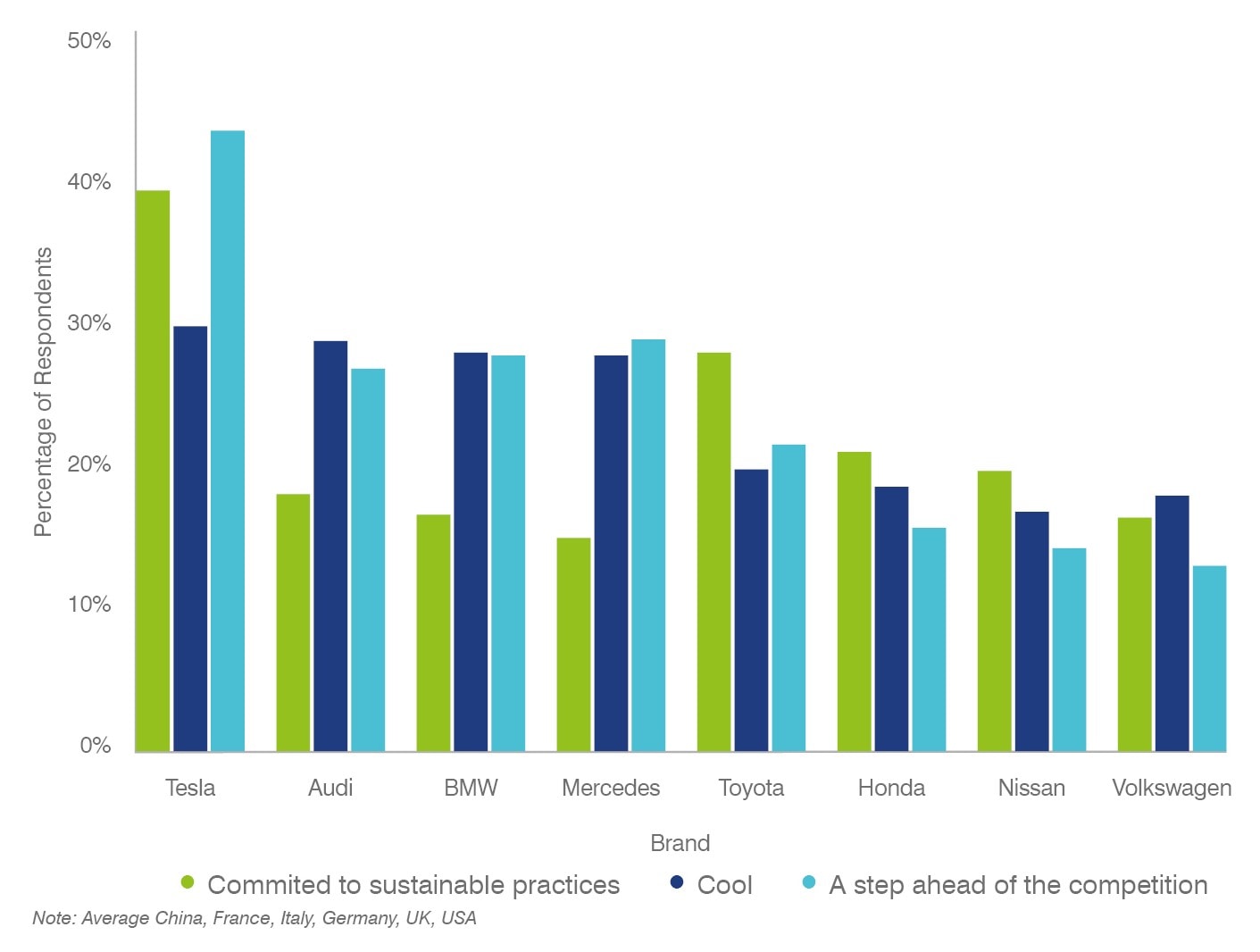 Looking at 8 of the most international brands, you can see that customers see it as more committed to sustainable practices and far ahead on "step ahead of the competition" with almost 15% more people saying it is ahead compared with Mercedes, the next highest.
It is even seen as more "cool" than any of the other 7 something that will be key in the premium segment and more than can be said of green credentialed predecessors like the Toyota Prius, about which there was much more disagreement.
What is clear, however, is that Tesla is not dominant in everything and still has its issues.
Given the fact that electric cars are unlikely to reach cost parity with ICE cars until the mid-2020s, it is perhaps unsurprising that they are seen as the worst value for money of any of the selected 8 brands. They are also seen as having the worst range of products/models to choose from and their customer service is not one to look up to, with Mercedes taking the top spot on this important measure for another year.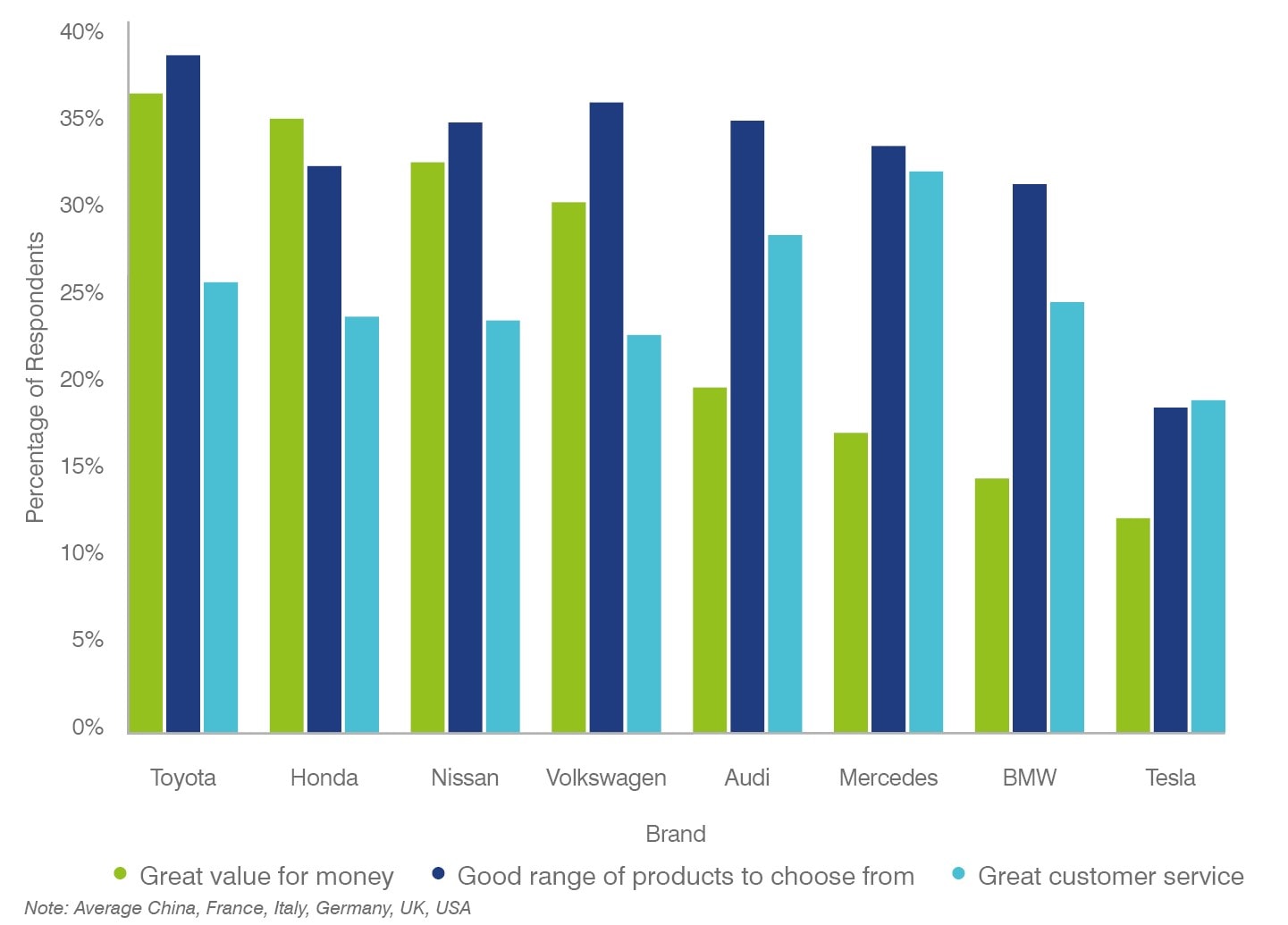 These measures are all important, and their importance should be analysed for each brand using positioning and drivers analysis in order to optimise the brand positioning and model response to Tesla and other electric car brands. However, right now, the most important factor helping traditional brands is the fact they are far better known than Tesla – despite the hype.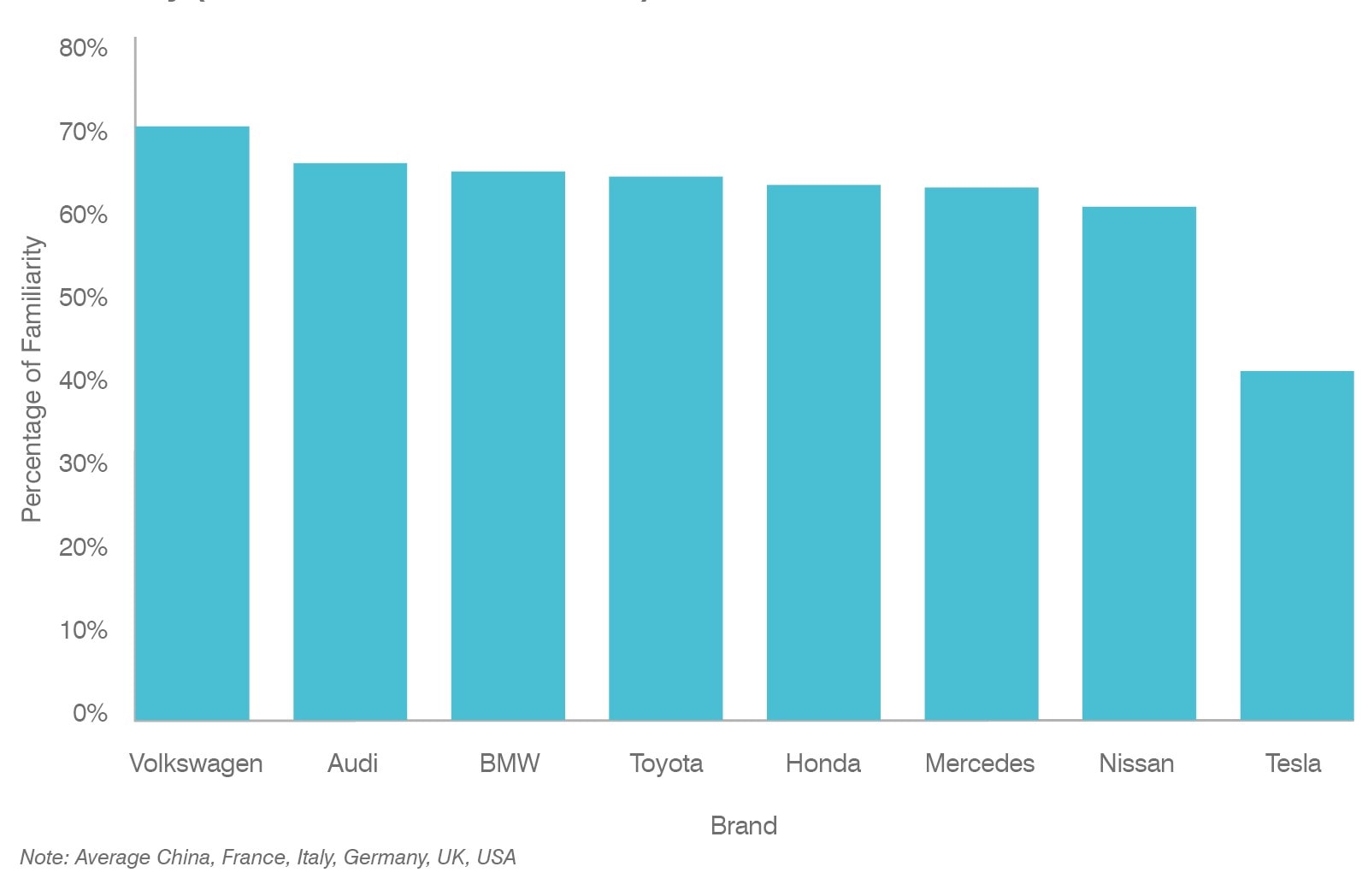 Familiarity and mental salience is the first building block in driving demand. After that other attributes play a part but if you are not known, you are very rarely considered.
Tesla has an average level of familiarity of only just over 40% while Volkswagen has a familiarity of over 70%. Effectively 30% more of the population could be in the market for Volkswagen than could be for Tesla.
This shows a clear limiting factor that can only truly be countered with marketing spend – a tool which the traditional OEMs have the money to invest in and the skill to activate effectively.
Marketing Spend Taking a Hit
This is why recent pressures on marketing investment are surprising.
According to our analysis, marketing and sales investment fell steadily between 2015 and 2019 steadily and although most 2020 annual reports are yet to be published, anecdotally and from investor presentations we are aware marketing budgets have been pushed down even further. The shift from 2015 to 2019 is an absolute reduction of 1.2% which is equivalent to more than a 20% total reduction (given rising revenues) in marketing and sales investment.
CAPEX has also been dropping but given the need to depreciate existing production infrastructure this might make sense (especially given the newly announced plans for capital investment) but for marketing it is a less clear-cut story.
There are obvious company-specific reasons for these changes but the key strength of some of the existing players is their salience among customers driven by their ability to invest widely in marketing.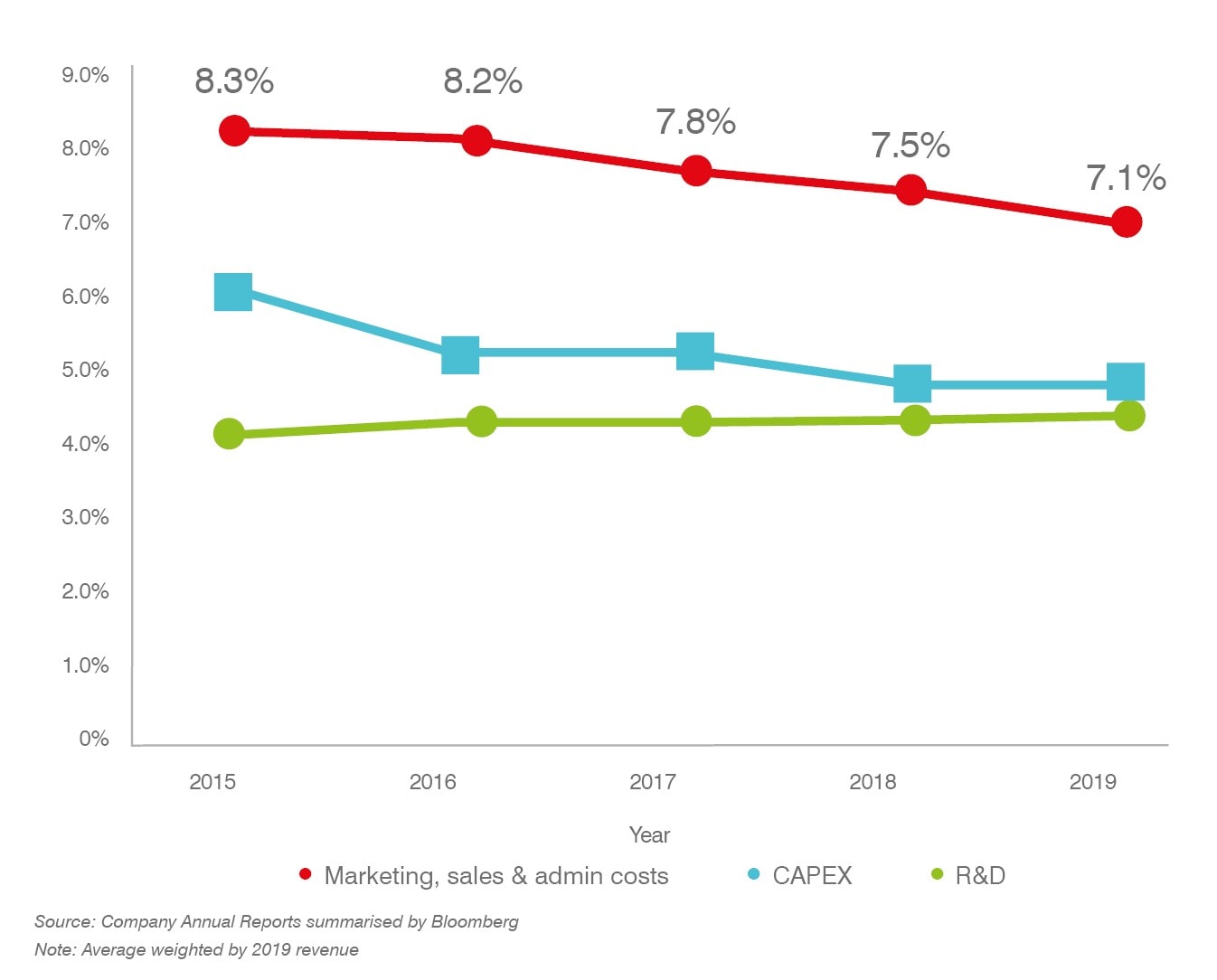 Cutting marketing investment can often be a fool's game particularly given the ferocious competition driven by powerful, albeit cheap, word-of-mouth marketing for brands like Tesla (which itself will have to think soon about more traditional marketing).
New Approaches to Dealerships and Ownership
As of March 2021, as well as moving to fully electric, Volvo has announced that it will only sell its cars online by the end of the 2020s.
In a January 2021 study, Auto Trader identified that 41% of consumers would consider buying a car online.
Despite differences by market and details to figure out (particularly around final inspection and test driving), it seems that trends, driven partly by the COVID pandemic, are pushing many brands to a more direct to consumer relationship.
There are obvious benefits for OEMs to have this more direct relationship with data on buying patterns and the potential to capture margins from dealership being the most obvious.
However, there are clear risks. In the short-run, relationships with dealerships will suffer. Longer-term, online-only sales have not necessarily been kind on more commodity-style markets like insurance and utilities although the likelihood of this happening to the car industry is limited.
Dealerships also act as a useful out-of-home marketing media and purchase trigger. Losing them would therefore necessitate an increase in marketing spend to make up for this loss in exposure.
This move to online sales is also fuelling a new style of ownership, car subscription.
This type of ownership model is in fast growth phase. Pure play "car-as-a-service" brands are being created and are consolidating like crazy. Cazoo, one of the leading brands in this category, is a UK-based online car retailer that owns and reconditions cars before selling them (or letting customers subscribe to them) through its website with a full week's return policy.
After buying UK-based subscription service Drover, it has recently announced it is buying Cluno in Germany and is growing very rapidly albeit from a relatively small base having delivered only just over 20,000 cars in the UK since it launched last year.
These new brands are rubbing up against brands in the traditional Car Rental industry. For example, Hertz, Enterprise, Sixt, and others are all moving in strongly.
This suggests that online sales could shake out as an online dealership model that adds efficiency for customers, produces price pressure at the lower end of the market, increases the role of brands in driving demand while potentially transferring some of the final elements of the customer experience to automobile brands. Much like the airline industry.
In some circumstances, however, car brands can create this direct relationship. Porsche, for example, is offering Porsche Drive, a monthly car subscription model with insurance and roadside assistance included allowing customers to trial various Porsche models without buying them outright. That being said, the extent to which this can move outside of luxury is yet to be seen.
We asked Porsche's CMO Robert Ader to tell us more about the company's electric transformation. Read more here!
While subscription might not be the source of new business for the traditional brands, leasing and car finance certainly is. In fact, financing revenue now makes up an average of almost 10% of brand value for the top 10 most valuable automobile brands this year.
What Does This All Mean for Auto Brands?
Car brands still create or enforce an identity for customers. This needs to be refined and defined in light of the shift to EVs.
During the shift to electric vehicles, there will be an overrepresentation of environmentally conscious, tech-savvy, urban, and wealthy customers interested in electric vehicles. OEMs will need to embrace this category while recognising that, as prices fall and infrastructure improves, the category will become the new normal and this category of customers will fall back into the original mix.
VW's dual approach of offering electric models of its existing models while also launching an electric-only range recognises and exploits these different segments for example.
For some brands (Ferrari, Harley-Davidson, Mustang for example), engine performance and sound is central to positioning. These brands will need to identify the length of time they can trade off this positioning without fading slowly into obscurity or how to transfer attributes that work across both types of powertrains – coolness, quality, service are all key across both for example.
Ferrari was named the world's strongest auto brand in our latest study. Learn more about the company's experience through the global pandemic from its Chief Communication Officer, Jane Reeve.
Brands also still need to do convincing on the electric car category
Various surveys have found that many people are still reluctant to buy electric cars. The principal reasons being driving range, a lack of charging infrastructure and the cost premium involved.
The many new innovations that are being created to counter these problems need to be communicated more widely.
Brands need to develop and decide how they will respond to the move online
There is an undeniable move to at least some of the purchase process being online. Better online showrooms and generally more focus on the customer buying experience outside of the dealership will be necessary.
Alongside these upgrades, a realignment of market budgets to recognise a shift in distribution channels and brand exposure. We have already seen shift such as been big rises in sponsorship spend by OEMs and a shift to digital media channels – as with all big advertisers.
However, without an adequate analysis of the value and return on investment of these channels and the best way to activate them, their efficacy may fall short.
More forward-looking brand metrics
This need for better measurement extends beyond the need to analyse the effectiveness of channels. Given the fact the industry is changing fundamentally, brand measurement will need to combine a mixture of period-to-period brand tracking with forward-looking measurement of where value is coming from in the future and how to make sure that value is maximised.
Analysing brand strength using a scorecard, for example, looking at a mixture of investment attributes, brand equity, and customer equity can look further by using leading indicators to predict what brand perceptions are likely to be in the future.
Connecting them to brand value analysis helps to identify how that brand strength will impact business performance and therefore where to direct investment.
Combining this with existing, shorter-term measurements and hypotheses or plans for the future will help all OEM brands to add clarity in an industry where change is its principal characteristic.