This year, we have partnered with Cosmetics Business - the leading online platform for the professional beauty, personal care, and toiletries industry - to conduct a research study to better understand what their readers believe the future holds for the beauty and cosmetics industry.
We conducted an online survey among 179 industry professionals, who were asked 22 questions on the cosmetics industry outlooks and key market players.
What drives consumer choice today?
Respondents were first asked what influences consumers when they purchase a product and were requested to score 12 factors out of 5, ranging from online visibility and transparency, to price and the social values of brands.
Coming out on top was brands' online visibility and e-commerce availability, with a score of 4.24 out of 5. The role of digital has been propelled to the forefront of consumers' interactions with products across all sectors, as people have been forced to turn online to purchase as pandemic-induced lockdowns are imposed globally. Sitting in fourth is the importance of peer recommendation on social media (4.02). With the new strict advertising regulations in place across social media channels – influencers now must state when anything is a paid promotion, gift, or advert – the ambiguity for consumers has gone, and thus it would seem trust has gone up.
But digital isn't the only important factor – a brand's stance on sustainability, its purpose, and its ethics are also key when driving consumer choice. A brand's transparency over product contents and claims scores only slightly behind online visibility, with a score of 4.10 out of 5. Over the previous few years, we have witnessed more and more challenger brands ride on the sustainability and 'clean' wave in order to differentiate themselves in the market and compete with the traditional powerhouses, in response to the ever-increasing pressures from Gen Z to 'do better' for the environment and future proofing the planet.
Coming out as the least important factor according to Cosmetic Business's readers is the financial/social impact of COVID-19, with a score of 3.55 out of 4.
Factors sitting in the middle are: recommendation from friends/ family (4.00); innovation & new products (3.98); price point (3.82); desire for reduced packaging (3.61); and a brand's emphasis on its customer 'community' (3.57).
Perhaps the most surprising response was the price point, scoring quite low compared to other factors. With many experiencing financial difficulties and purchasing power taking a hit over the last year, one might have expected this to have scored higher.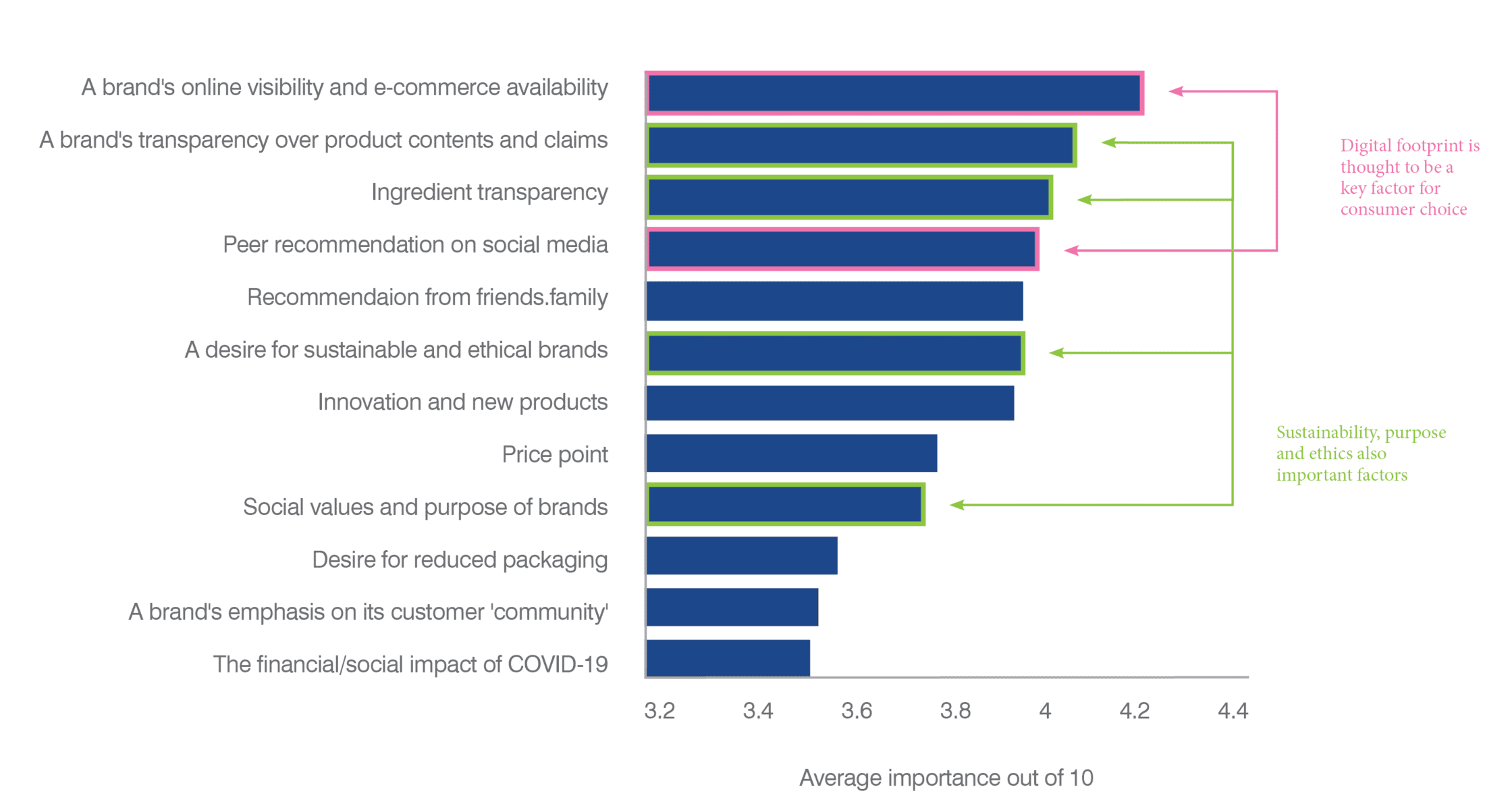 The year ahead
We then asked the same question, but this time asked what factor would have the largest impact on consumer choice in the coming year. There were some considerable movements in the answers. The desire for sustainable and ethical brands jumped 5 spots, coming out on top as the most important factor to consumers. The price point has jumped 5 spots to become the third most important factor. Similarly, the financial/social impact of COVID-19 has jumped 3 places. These shifts are reflective of the delay in the impact of the pandemic on the consumer, which they have been largely protected from thus far.
In contrast, recommendation from friends/ family, slipped the furthest down the ranking, down 5 spots to 10th. This may be a result of reduced interaction in general, due to stay at home orders – consumers simply don't have the opportunity to seek cosmetics advice and recommendations as easily, and in person, as they used to.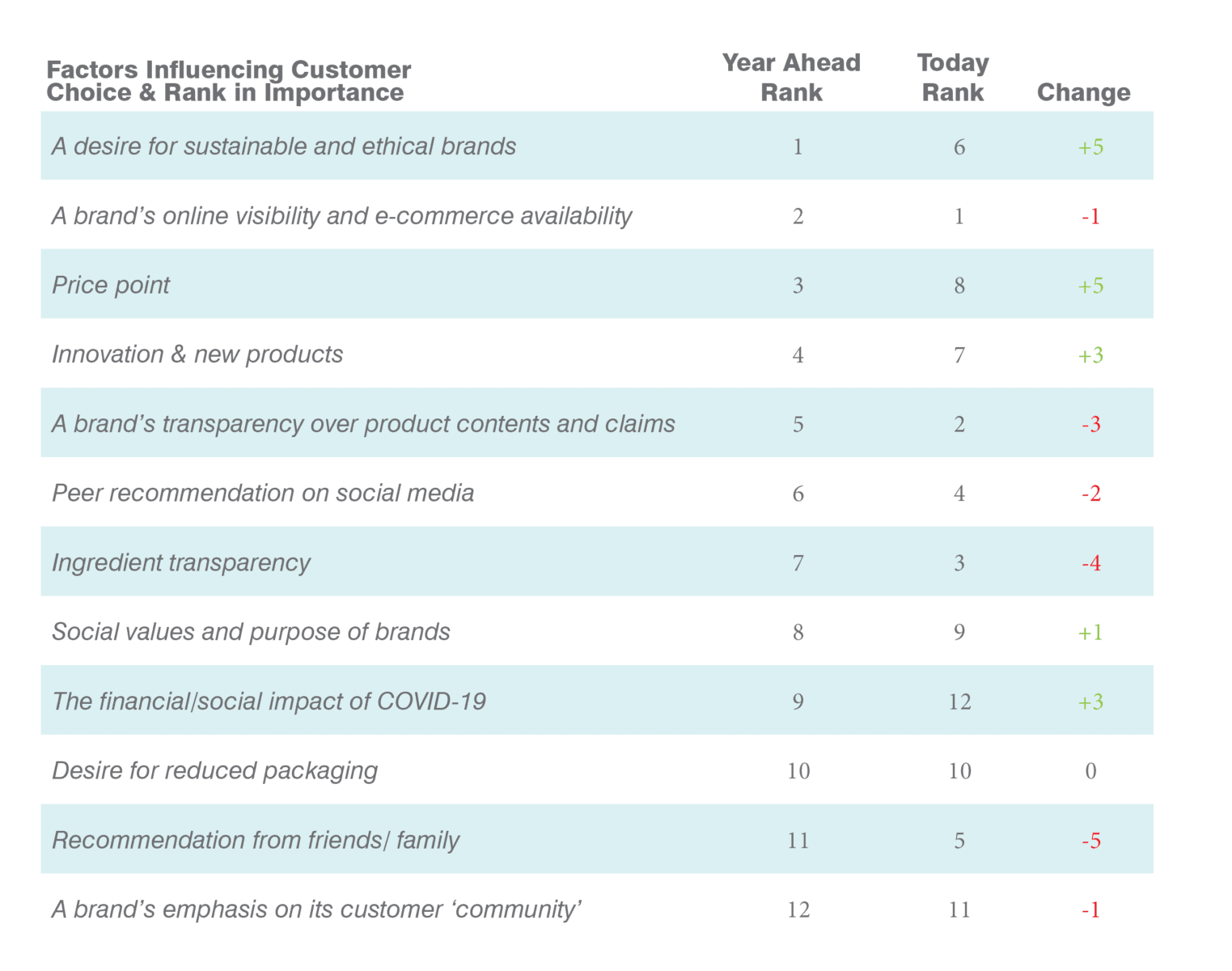 When asked about their outlook on the industry as a whole - as well as their organisation specifically - in general, survey respondents had a bullish, optimistic view. However, a few respondents expected the economic consequences and supply chain disruptions due to the pandemic to have a major impact on demand.
Historically, the cosmetics industry has been resilient during financial crises, but the lockdowns and lifestyle shifts caused by the pandemic have meant that some categories, mainly colour cosmetics, have lost out. While some of the industry sales have shifted to online, the growth in online sales does not offset the decline in in-store sales witnessed last year. As evidence from the Chinese market suggests, despite store reopening's and "revenge spending", sales have not fully bounced back. We expect, therefore, the return to pre-pandemic sales levels will take time, and we will see fundamental shifts in the composition of the industry between now and then.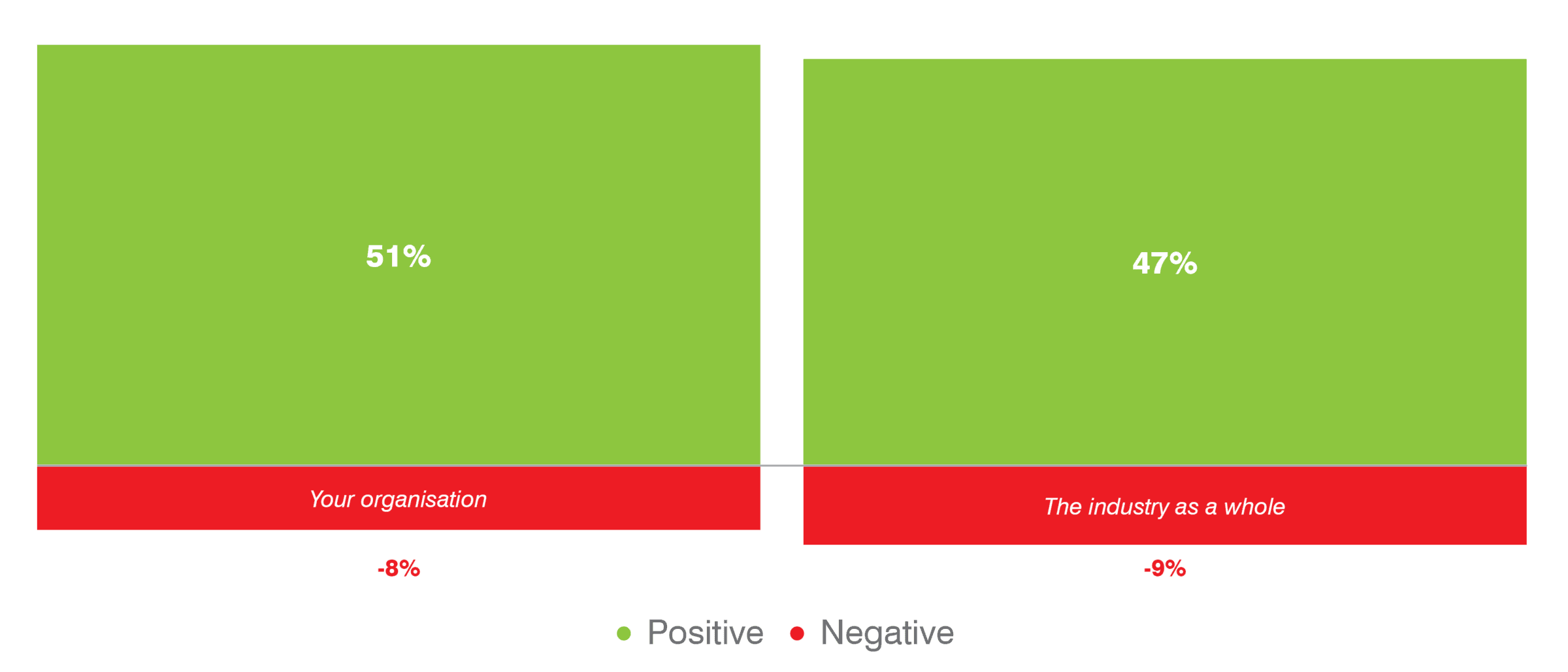 Product outlook
As well as looking at the sector as a whole, respondents were asked about specific products and how they would fare in the coming year following global lockdowns. Skin care and hair care were evident leaders, with respondents believing that they will grow 93% and 86%, respectively. At the other end of the spectrum, fragrances and colour cosmetics are perceived to be the slowest growing products across the sector in the coming year. With the forced rise in home spa treatments, these results are perhaps unsurprising.
61% of respondents believe that male grooming would grow the fastest among the subcategories. The exponential rise in video calling this year, forcing men in white collar jobs to look at themselves a lot more frequently, could have caused this result.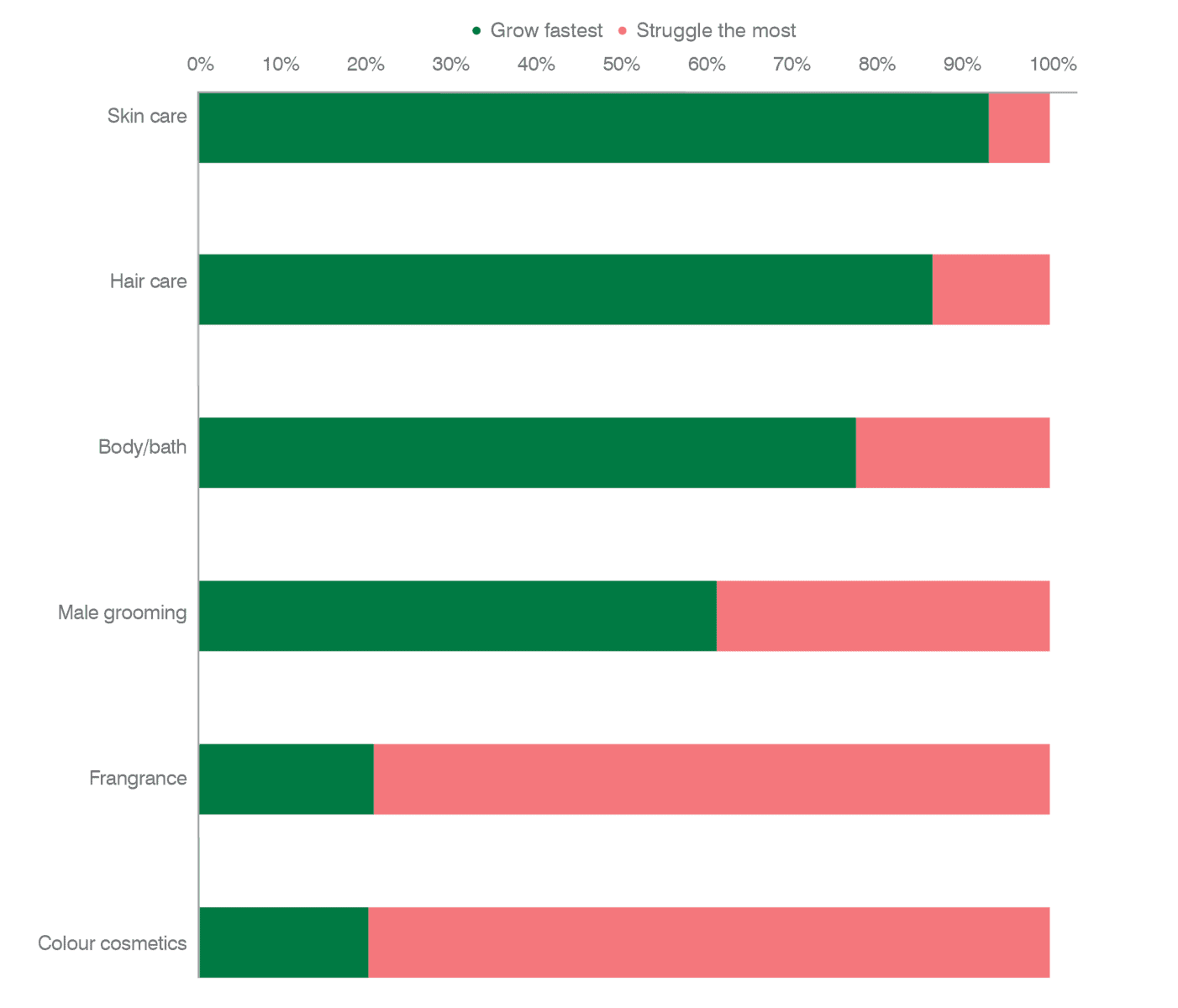 Unilever leads pack
Cosmetics Business readers were then asked about which of the FMCG giants they admired most out of Estée Lauder, Procter & Gamble, L'Oréal, LVMH Moët, and Unilever based on six criteria: reputation in the industry; brand portfolio; financial strength; innovation; environmental sustainability; and employment appeal.
Unilever performs strongest across the board, scoring highest across three of the criteria. The brand also comes out on top by a considerable margin – with 53% of respondents agreeing – for being the most admired for its environmental sustainability. This is an important win, given this was identified as one of the most important factors influencing consumer choice today and increasingly in the year ahead. Therefore, if Unilever can effectively convey this message to end consumers, its brands are likely to benefit. Other metrics that Unilever performed top on were employment appeal (33%) and financial strength (27%). At the other end, the brand performed worst for its reputation in the industry with only 10% of respondents agreeing that it was admired for this.
Estée Lauder sits just behind Unilever topping the two metrics on reputation in the industry (46%) and brand portfolio (29%).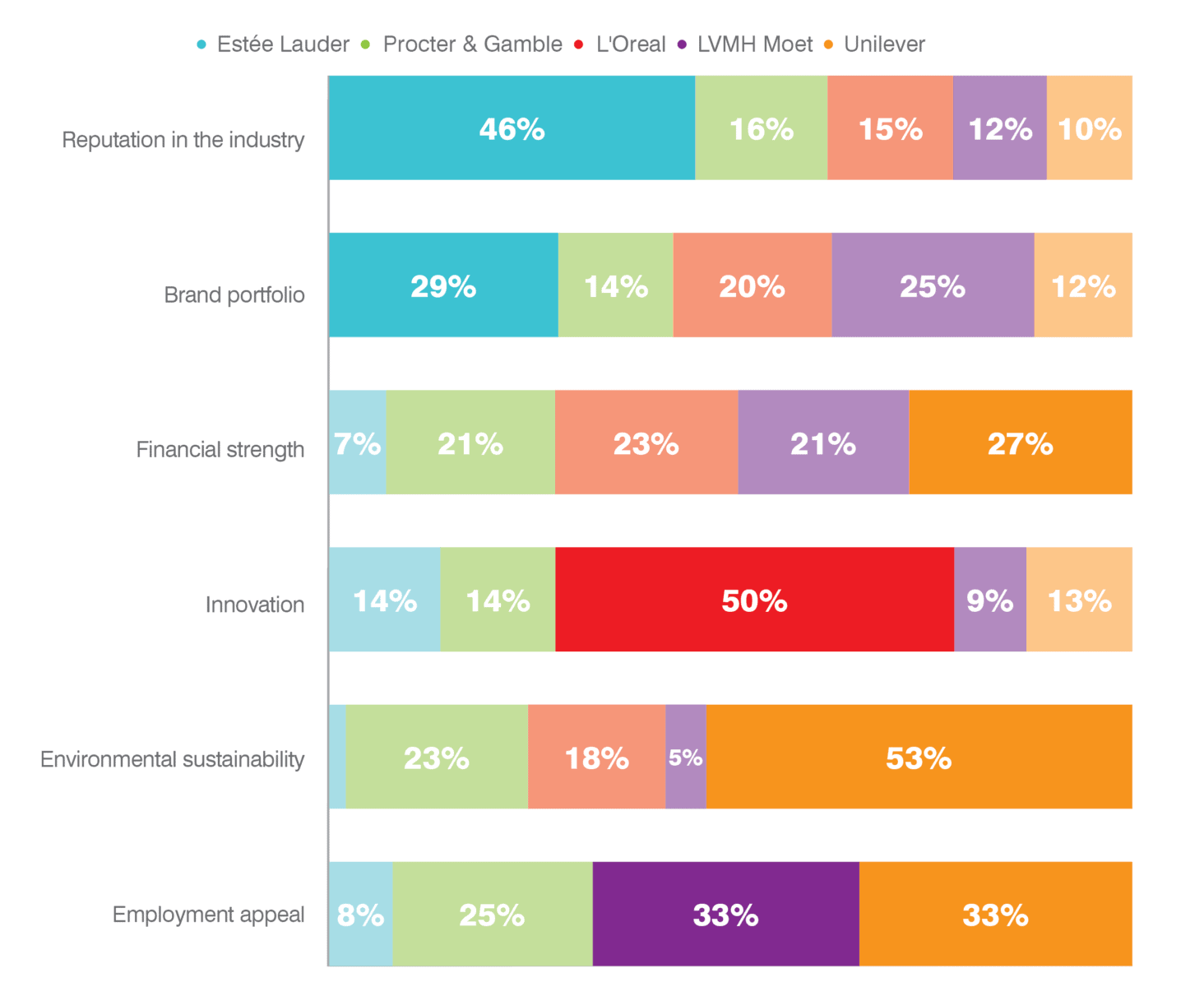 Top of mind brands
The next question was a deeper dive into specific products in the industry, looking at how well they were known and how well they were admired.
With the iconic blue packaging - which the brand says represents trust, closeness, and care - Nivea has come out on top, with 98% of respondents saying they are familiar with the brand. The entire Nivea range is centred on Nivea Blue, giving the brand extremely high recognition value as demonstrated in the results. Similarly, L'Oréal scores 98% for familiarity. The sheer size and diversity of the portfolio means that the name and products are hard to avoid and therefore known the world over.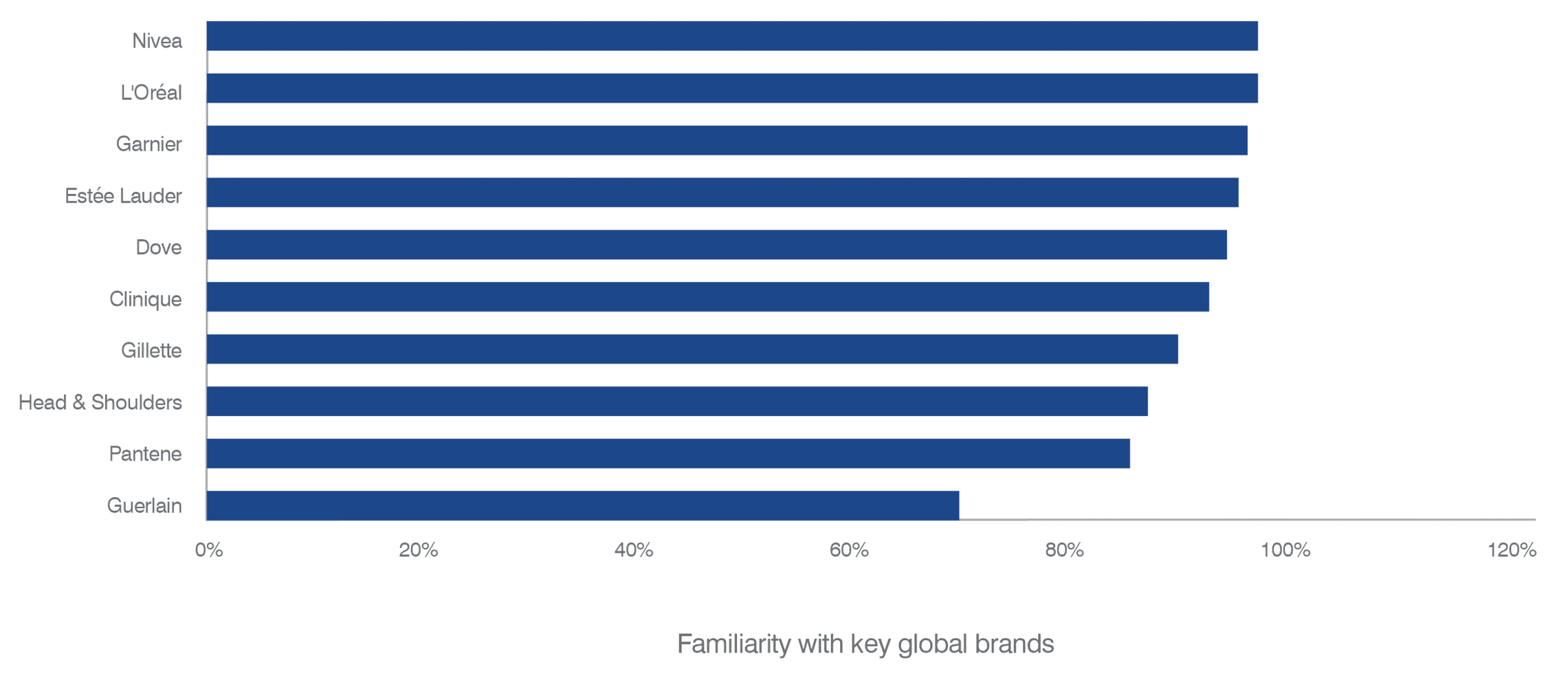 Of the brands asked about, Aesop and Drunk Elephant scored lowest for familiarity at 47% and 54%, respectively. However, when correlating familiarity with admiration it was these newer "cooler" brands that outperformed their peers – with higher levels of admiration. More established brands – Pantene, Gillette, Head & Shoulders, and Garnier – under deliver in the survey, scoring high on familiarity, but low on admiration. Leaders L'Oréal and Estée Lauder have high shares of admiration, partially driven by their high familiarity scores.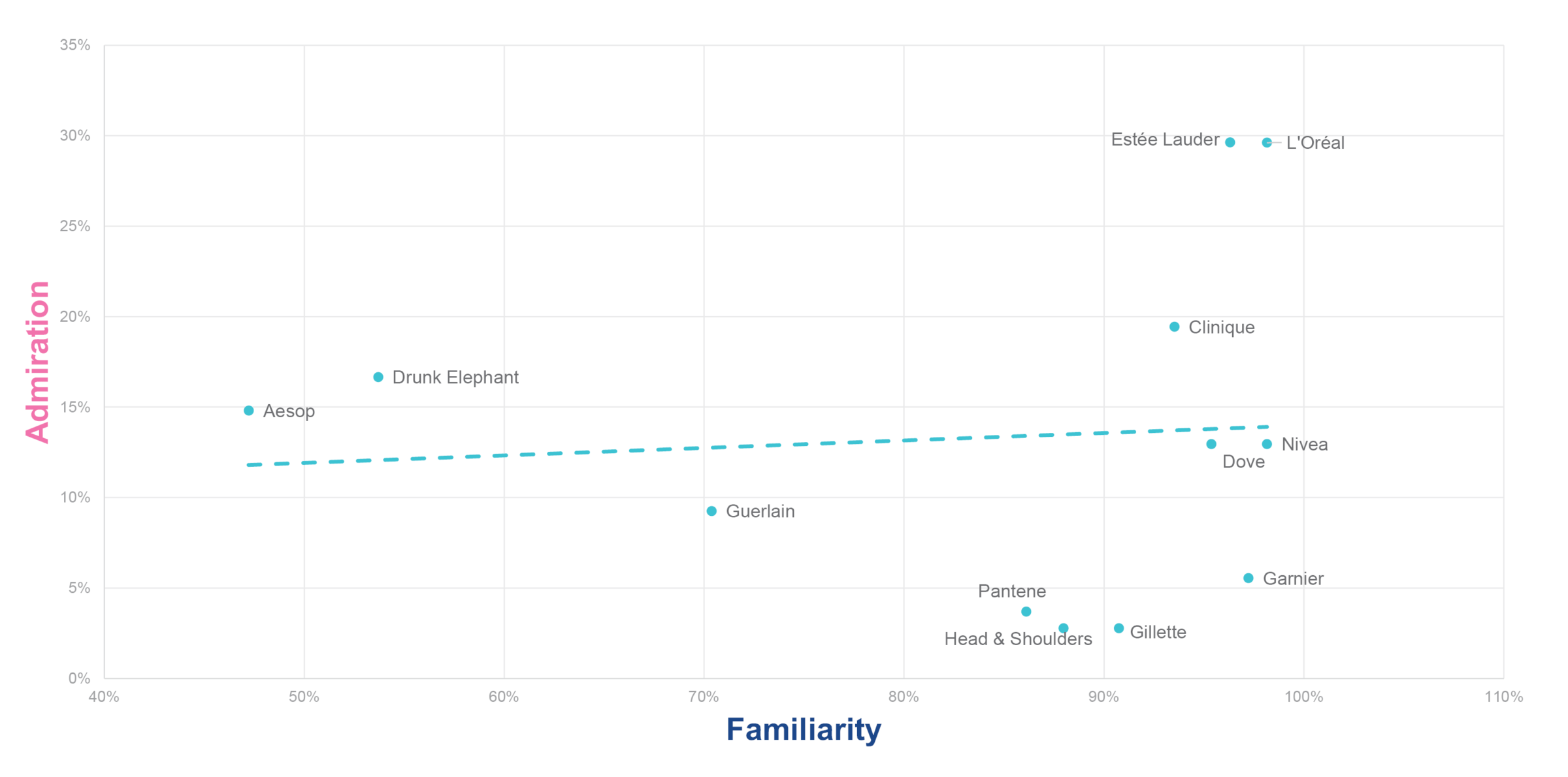 When asked about which brands they believed were going to be 'hot' in the upcoming year, challenger brands came out on top over traditional industry leaders, with Gen Z favourites flagged including Huda Beauty, Fenty, Natura, and The Ordinary.