The approach to nation branding needs to be both holistic and specific where necessary to serve the goals of the nation as a whole and each key sector within it. Nation brand associations are used not only by locations but also corporates to leverage the country's brand image in their field.
Location branding or geographic indication, when used by corporates, not only adds to the esteem of the product or service but also further the nation's reputation internationally.
What is measured is managed. See our consulting services to find out more about what we do to help teams understand the strength and value of their brands.
What is Nation Branding?
Nation branding is how a country or place positions and promoted itself as a place for people to visit, invest in, and build a good reputation for their quality of goods and services as well as talent. It is much more than the application of corporate marketing concepts and techniques to countries.
Nation Branding allows a country to rise in the esteem of its neighbours, market its resources and compose the face it presents on the international stage. On the other hand, a country's nation brand also facilitates location branding efforts for corporates.
Location branding encompasses nation, region and city branding and marketing, through which both local and global businesses strive to create visual, emotional, and perceptual connections with locations in order to market their products and services.
The concept of nation and location branding stems from the idea that places evoke strong local connections that are highly effective in conveying characteristics and perceptions associated with the location. Sweden's reputation as a global design capital, the precision of Germany's engineering, Japan's efficiency, or Italy's reputation in luxury fashion are perceptions and associations that countries have earned and established for themselves over the years. These reputations have been cleverly and effectively used by global brands to supplement and communicate their brands' messaging as well as by countries to promote themselves on the world stage.
Location Branding & Geographic Clustering for Corporate Brands
Global businesses have leveraged these perceptions to form the basis of their marketing efforts and brand identity. Founded in 1943 in Sweden, IKEA is now headquartered in the Netherlands (and before that in Denmark), however, product development is still headquartered in Sweden and IKEA is purposefully, closely associated with Sweden in its advertising.
The iconic IKEA logo encompasses the yellow and blue in the Swedish flag, IKEA stores serve Swedish meatballs and each product is named after Swedish towns and villages, people and other applicable Swedish words. Similarly, in today's global landscape, production and manufacturing of iPhones and iPads have little connection with Silicon Valley as most Apple products are now made in China, rendering the relevance of the 'Made in' label for their marketing futile. Apple has since cleverly started labelling their products with "Designed by Apple in California".
The Tag Heuer brand logo is inseparable from the text underneath communicating the brand's history "Swiss avant-garde since 1860". Making the most of geographic clustering can be seen in places such as London's Harley Street, renowned for its medical practices or Savile Row, known for the finest bespoke tailoring. As the world has become more global, the scale over which location branding takes place has moved from streets to cities to nations. This concerted effort to retain an association with the country of origin of the brands has been used by marketers for years. Association of a brand with a country provides cues on the product's quality, credibility, value and attributes.
Over generations, people have established perceptions about countries which are deep-rooted in history and curated by nation brand guardians. Constructing a link between a brand and its products and services to its country of origin can be viewed as a mechanism of elongating and protecting the lifespan of a brand. Trust and reputation are attributes that can take years to build and effectively communicate, however references to countries which have an already established reputation can help this process.
Customer Perceptions of Geographic Indication
A 2019 study conducted by Brand Dialogue, a public relations agency part of the Brand Finance Plc group, on British geographical indication (GI) brands validates the view that location branding can drive positive perceptions about brands. The study revealed that for GI brands, having a geographical indication fairs well with British consumers. Phrases associated with protected status skew positive with "Authentic" (66.2%) and "Premium Quality" (62.2%) receiving the highest scores, followed by "Preserve Traditional Methods and Culture" (50.6%) and "Something to be Proud of" (49.6%). The two lowest-scoring phrases were "Only for Special Occasions" (8.6%) and "Rip-off" (4.4%). 1
A Nielsen study on how perceptions about brand origin shape purchase intentions around the world reveals similar results. Nearly three-quarters of global respondents, on average, say brand origin is as important or more than important than nine other purchase drivers including choice/selection, price, function and quality. Brand origin can be an effective differentiator for a brand and help establish the desired reputation and product associations. This effect is strongest in sectors such as fresh foods, packaged foods, coffee, tea and water, where freshness and localised tastes and flavours play a large role. 2
Conversely, in sectors such as electronics, personal care and cigarettes, global brands are preferred. This preference also varies from country to country depending on the home country's field of specialisation and abundance of resources.
The appeal of a global versus local brand varies depending on several factors such as the sector the brand operates in, its stage of development in the market, country of origin and country of operation.
The Nielsen study reveals that six in ten global respondents (59%) say they buy local brands because they support local businesses, with sentiment highest in North America (65%). Developing-market respondents are more likely than their developed-market counterparts to say that local brands are more attuned to their personal needs and tastes and that global brands offer the latest product offerings and innovations and are of better quality.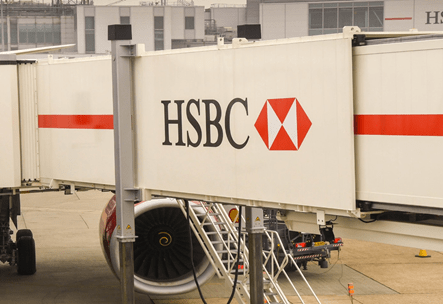 In situations where the brand origin does not serve the company's branding goals, there have been concerted efforts to dissociate the brand from its country of origin.
HSBC's origin lies in Hong Kong where the bank was first incorporated in 1866 and subsequently established in London to act as a new group holding company in 1991. This shift to a global bank with its 'home markets' in both the UK and Hong Kong is reflected in the brand's famous airport brand campaigns visible as soon as you step off or board a flight, firmly establishing it as a truly global bank, serving an international client base.
The ongoing campaign launched in 2001 and featured across 17 global airports and their flight jetway bridges showcase both global and local images, enhancing the brand's positioning as 'the world's leading international bank'. Being a global brand works to the advantage of a bank like HSBC whose clients and services alike transcend national boundaries and benefit from a global status, which is especially desirable in the banking sector. Attitudes and perceptions
of consumers toward brands and products from a particular country will depend on categories, for instance, electronic goods from Italy may be perceived to be of poor quality but Italian clothing is highly regarded in the world of fashion. Conversely, Japan's electronic goods may be perceived with positive attitudes while Japan's garment market does not currently have a strong positive association.
Building a Nation brand for Corporate Endorsement
The intrinsic links between a nation brand and the corporate brands that operate within it are indisputable. Both rely on each other and leverage each other's strength to build their reputation. The airlines industry is one such corporate sector which invariably has strong connections to the country's nation brand building.
National carrier airlines like Singapore Airlines and Emirates have been highly successful in both leveraging their respective countries' image, culture, and values in order to market their services as well as act as nation brand representatives on a global scale. National flagship airlines encapsulate the experience of a nation on board.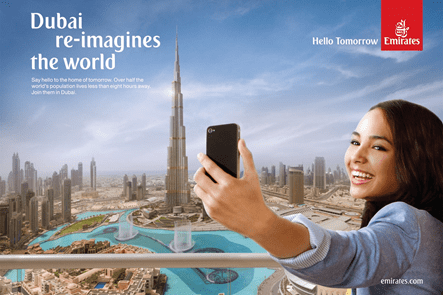 Their success and reach are critical for driving tourism in the country and becomes an important way in which prospective visitors experience the country, even long before they have stepped foot in it. While corporate brands are able to utilise and leverage a nation's reputation and further it through their own branding, concerted efforts by nation brand guardians should be made in order to curate an image for the nation, its people, and its goods and services in order to benefit from the two way nation brand building strategy.
The nation brand should play to its strengths and stand for values that encourage endorsement and buy in from key corporates who can then leverage the nation's brand to further build value for the country and company in this two-way relationship.
Through effective nation brand management, countries can develop an identity that serves as both the country and the brands within it. While tourism and national airlines represent the most obvious link between nation branding and corporate branding, a variety of sectors play an important role in nation brand building.
4 Key Areas to Influence
Brand Finance's Nation Brand Impact Framework identifies 4 key areas that a country's Nation Branding should target to influence.
1. Investment: Domestic and inward
The nation brand should encourage local commerce to invest domestically as opposed to investing overseas. It should attract Foreign Direct Investment, including business relocation. The nation's brand image should represent the characteristics that make the nation a desirable place to do business.
2. Talent: Domestic and international -
Citizens should be encouraged to study and work locally rather than going overseas to avoid 'brain drain'. At the same time, the nation brand should be attracting foreign students and skilled workers to study and work in the country to contribute to the local economy.
3. Goods & Services: Domestic and exports
Locally made products and services should be promoted both locally and internationally, encouraging increased consumption of local products, increasing exports and reducing imports.
4. Tourism: Domestic and foreign
The nation brand should promote local destinations to both local tourists encouraging domestic travel as well as international tourism.
Final Thoughts
An approach to nation branding where assessments are holistic but also specific will ensure that the nation's brand works to serve not only the nation as a whole but also plays to its strengths across each key sector of the economy. In a similar way, corporates can also benefit from location branding, leveraging the reputation nurtured through nation branding.