Soft power has a significant impact on the decisions people, businesses, and governments make. Joseph Nye, the original thought leader in the field goes one step further, arguing that soft power is "a means to success in world politics" for those that know how to leverage it1.
It is fascinating to see how people's perceptions of other nations around the world differ. The perceptions of the strengths and challenges one country faces are often entirely discordant from the lived realities of its citizens. This lack of consistent perception is also the case from one country to another.
In the course of working on the Global Soft Power Index, we have learned a lot about the real powers of persuasion and attraction that different countries possess. We have also really seen who the underperformers are, who have the potential to raise their game and deliver tangible benefits to national wellbeing.
It's been a dynamic year - and that is putting it mildly. See the complete Global Soft Power Index report for more stories from the world's largest study on soft power.
What do we mean by Soft Power?
When we began working on this programme in 2019, we conducted an extensive literature review, including the pioneering work of Harvard Professor Joseph Nye. The following quote summarises our definition of soft power:
"A country's ability to influence the preferences and behaviours of various actors in the international arena (states, corporations, communities, publics etc.) through attraction or persuasion rather than coercion."

Joseph Nye, Harvard University
The Global Soft Power Index builds on our expertise in valuing and evaluating Nation Brands and focuses on measuring the soft power of different nations around the world.
Influence, attraction, and persuasion are classic elements of brand strength, and Brand Finance has been conducting an annual Nation Brands study on the world's most valuable and strongest nation brands for over 15 years. This study has provided key benchmarks for diplomats, tourism boards, trade agencies, nation brand consultants and managers.
For 2021, we evaluated the Soft Power and global reputation of 105 nations, adding 45 nations to the Index for the first time.
Measuring Soft Power
In our quest to develop the definitive measure of soft power, we developed a framework which encompasses all its key dimensions – we call this the Soft Power Index. There are 11 key dimensions that form the Soft Power Index, which can be grouped into three categories:
Soft Power KPIs (3 dimensions)
Soft Power Pillars (7 dimensions)
Impact of Covid-19 (1 dimension)
3 Soft Power KPIs
There are three overall measures which we refer to as 'Soft Power KPIs' – important and universal indicators of soft power:
Familiarity: A hygiene factor – if people know more about your country, its talents, businesses, and resources, then soft power is enhanced.

Reputation: For a nation to be attractive and a role model for others, its overall reputation must be strong and positive.

Influence: A direct measure of the perceived presence and impact that your country has in other countries. It is also a way of assessing whether soft power really plays out globally, or whether some nations' soft power is restricted to certain regions or cultural affiliations.
7 Soft Power Pillars
We have also ascertained 7 specific dimensions or 'Soft Power Pillars'. These are the different areas where soft power is exercised, ranging from culture and foreign policy to dimensions such as a nation's educational and scientific resources, media reach and influence, and a favourable business climate.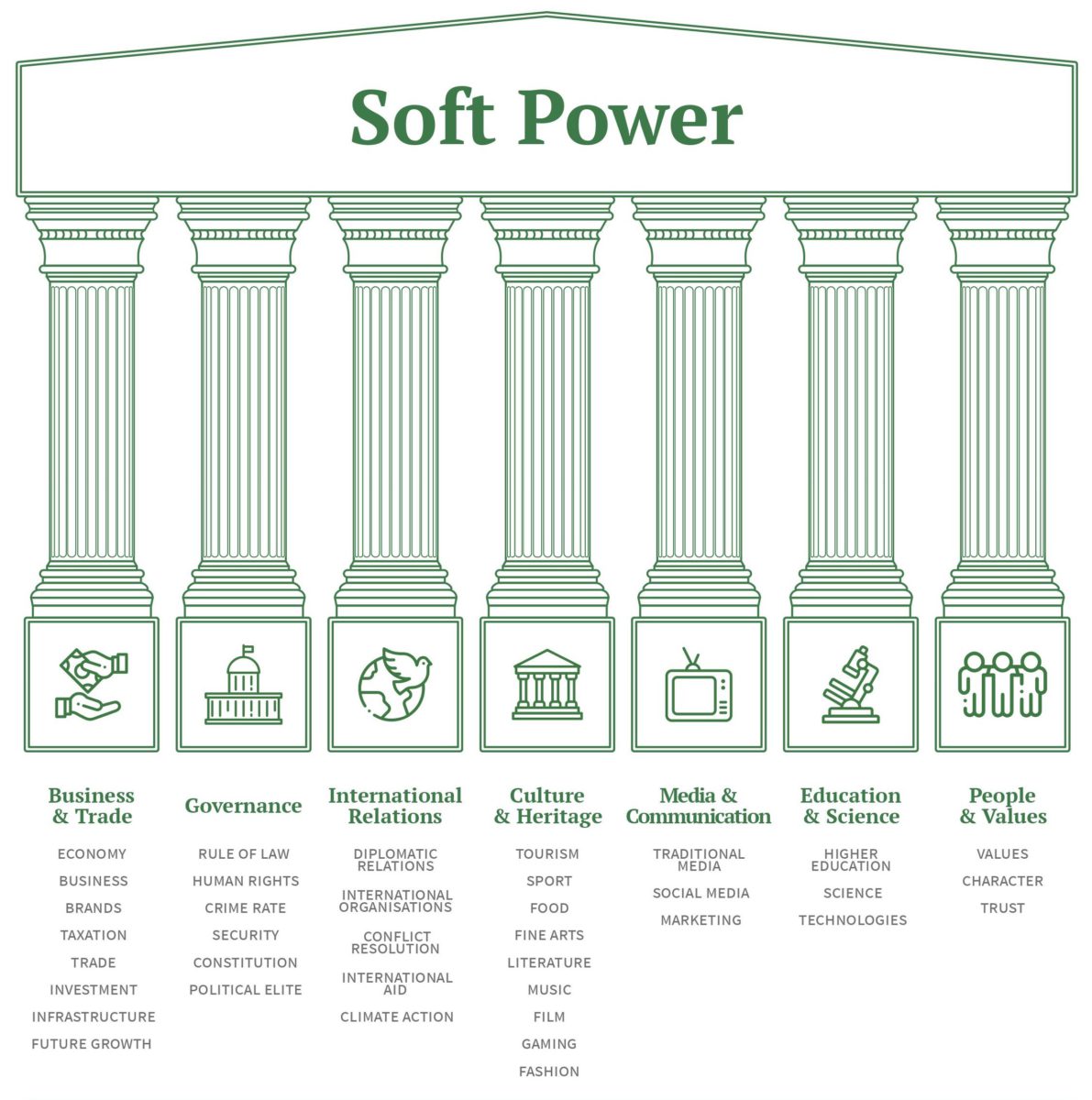 Covid-19 Impact
Finally, for the 2021 Index, we could not ignore the huge impact of Covid-19 on all nations, including their reputation and international influence. Hence included in the Index model are three measures that assess perceptions of how nations have responded to the crisis.
Guiding Principles
The Global Soft Power Index research programme, the largest of its kind, was based on two key principles:
Capturing the views of ordinary people (General Public) and the opinions of experts (Specialist Audiences) who see soft power in action close-up and who ensure it has a real impact on outcomes and decisions.
Creating a genuinely global measure, that captures the impact of soft power initiatives far and wide-reaching many smaller nations in the world that are often overlooked.
For the 2021 Index, we gathered responses from over 75,000 members of the General Public in 102 countries,. Complementing that was a survey of 778 experts from Specialist Audiences in over 40 countries – academics, NGOs, government officials, business leaders, and media.
The survey methodology rated 105 nation brands chosen for the size of their economy or likely influence.
Another angle on the data: we explore Female Leadership and Soft Power and the question of whether women outperform men in leadership positions.
Benefits of Soft Power & A Strong Nation Brand
Experts agree that soft power delivers all kinds of benefits for nations, their people, businesses, and organisations of all shapes and sizes. A strong nation brand and positive soft power perceptions allow a nation to promote itself as a place for people to visit, invest in, and build a reputation for their quality of goods and services. It also allows a country to rise in the esteem of its neighbours, market its resources and compose the face it presents on the international stage.
However, it is often overlooked that a strong nation brand and soft power can deliver better outcomes at home. Primarily it encourages domestic tourism, the consumption of domestic goods and services (rather than imports). Less tangibly it also just makes people feel better about their country. The benefits are extensive, for both the nation and its citizens, domestically and internationally.
But what specifically can and should governments and other large organisations do to assess and improve their soft power credentials?
The starting point is to use soft power measurement to diagnose a nation's strengths and weaknesses. This, in turn, helps governments set priorities to improve global reputation and guide policy strategy. Benchmarking and accountability are important to ensure projects deliver tangible returns.

Communication and education are key. In some cases, soft power may be constrained because of the poor communication of a nation's strengths and resources. This limits the potential of anation brand. However, this is often easily addressed with a communications strategy.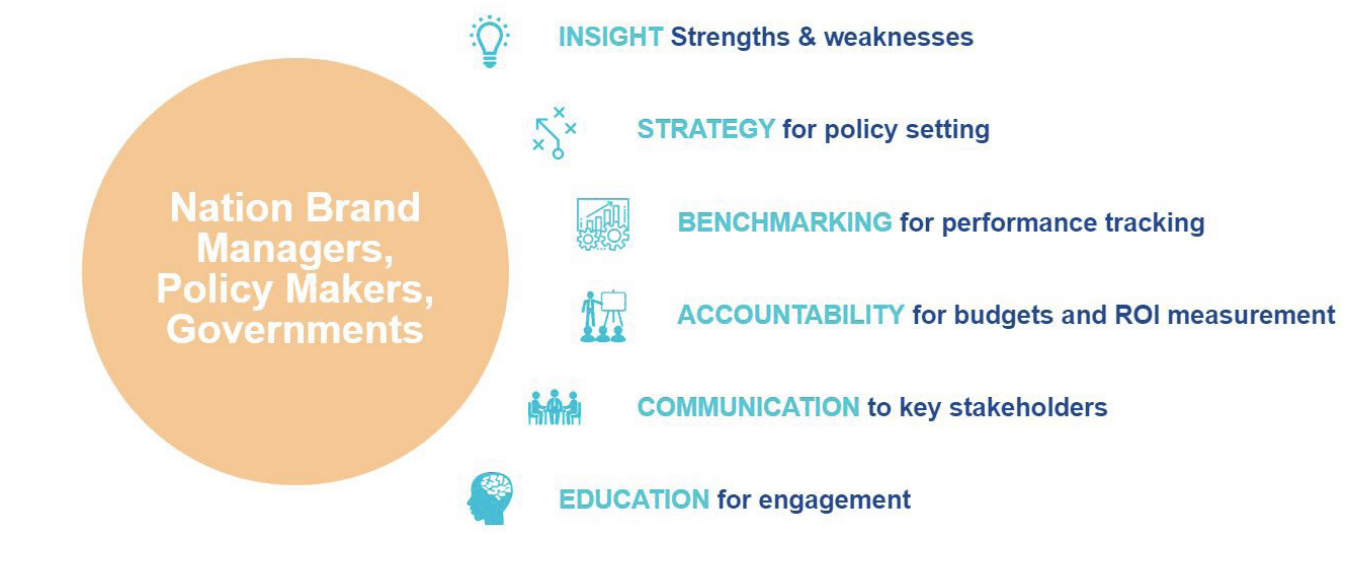 A good understanding of your existing reputation, brand equity, and the misperceptions which need to be corrected is the first step for effective communication and utilisation of a nation's soft power.
Why does soft power matter to corporate brands?
Soft power perceptions form a key component in the overall measurement of a nation's brand strength. While soft power is the ability to influence actors, a nation brand puts that ability into practice.
A mutually beneficial relationship exists for nation brands and the corporates that originate from and associate themselves with that nation. A country's nation brand facilitates location branding which encompasses nation, region, and city branding. Through this both local and global businesses strive to create visual, emotional, and perceptual connections with locations in order to market their products and services.
The concept stems from the idea that places evoke strong emotional connections that are highly effective in conveying characteristics and perceptions that are associated with the location. This is evident with German automobile manufacturers that regularly leverage the nation's reputation in the field to differentiate their cars.
Location branding also creates a symbiotic relationship between nations and corporates where corporate brands act as brand ambassadors for the nation on the world stage. Singapore Airlines, for example, has become an iconic brand ambassador for its home city-state.
The airlines' heritage, history, and branding are deeply rooted in the nation's identity. This is evident in their marketing that frequently features local elements which can be considered both an advertisement for the airline as well as a tourism campaign for the nation.
A nation's attractiveness and soft power will impact most brands and businesses – especially those with very clear national origins and associations. The following 5 areas outline the various ways in which corporates can leverage and utilise soft power perceptions.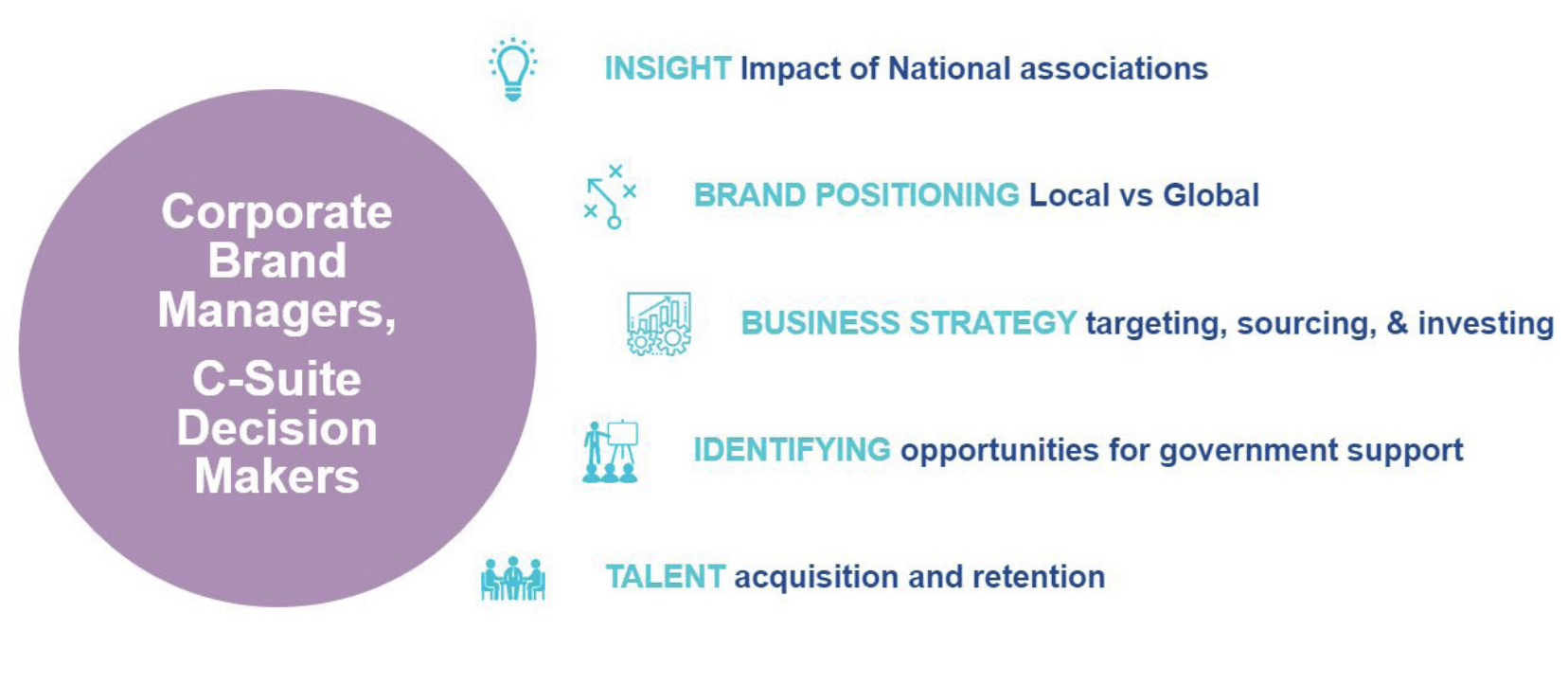 Who are the current Soft Power superpowers?
One of the biggest stories this year is that Germany has taken over from the US to become the world's leading soft power superpower. They achieved a Global Soft Power Index Score of 62.2 out of 100 with a clear 1.6-point lead over second-ranked Japan (60.6). Germany has been a beacon of stability across Europe and around the world, in the face of what has been one of the great cataclysmic events of our lifetime.
Germany also performs consistently and well across the 11 metrics, placing in the top five across nine of these. An outlier is the People & Values pillar, where the nation ranks considerably lower in 15th spot. Germany performs excellently in the International Relations, Governance, and Business & Trade pillars ranking in the top two for all three metrics, as well as celebrating improvements on all statements across these Soft Power Pillars.
Angela Merkel has been the de facto leader of the continent since 2005. Despite mixed opinions of her leadership on home soil, she is hailed globally by the public as the world's most respected leader. Her long tenure at the helm of the nation has provided a strong and stable presence against the backdrop of unpredictable and erratic counterparts, particularly in the face of turmoil.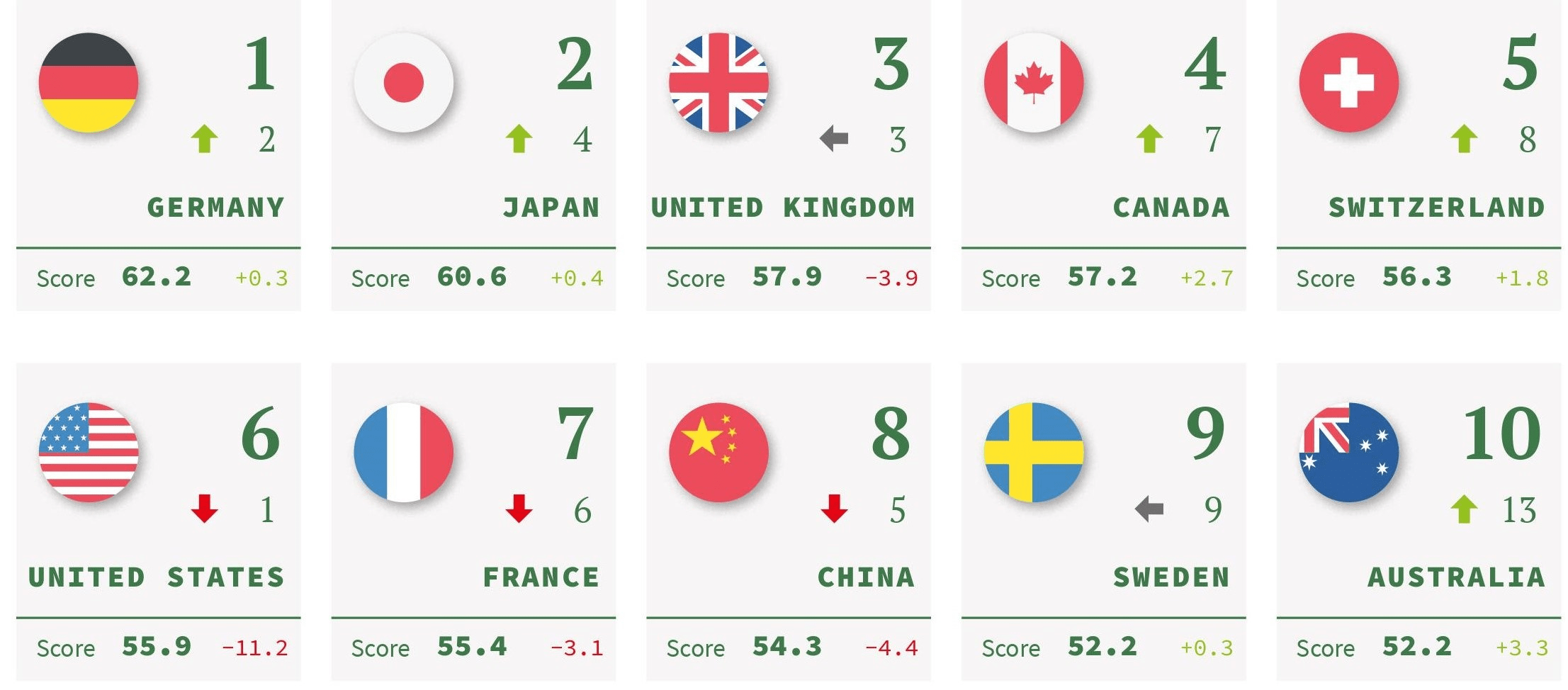 In second place, Japan continues to reap the rewards of its strong brands, solid consumer spend, and high levels of business investment. The country ranks first again in the Business & Trade pillar. Additionally, Japan has seen an improvement in its Education & Science score, now ranking first in this metric too - reflecting in part significant progress in automation, use of robots, and integration of AI with daily living,
Although Japan has a stagnant economy and faces a demographic challenge – with a decline in population particularly in working-age cohorts –, both the General Public and Specialists continue to admire much about the nation. The consensus is that the nation's future outlook is positive – though at some point Japan may have to be more willing to increase immigration.
However, its consistently healthy performance on all aspects builds up strong soft power for the nation. Japan has an excellent reputation, and its strength in leading-edge technology and business demonstrates its significant influence on the world. Its unique culture, and excellent governance, make Japan a high-ranking soft power nation.
The United Kingdom maintained third place, despite dropping 3.9 points to an overall Index score of 57.9 out of 100. This is largely due to criticism levied at Boris Johnson's government for an unclear approach to curbing the spread of the virus and reluctance towards implementing a lockdown. The feeling on home soil is that government lack of action resulted in unnecessary and extremely high death rates across the United Kingdom. However, as is often the case with Soft Power, perceptions of the nation abroad tend to outperform those domestically, overall the UK has improved by 0.6 points in the Governance metric.

3 Key Themes in the 2021 Results
1. US Soft Power - Dented But Not Destroyed
A year of widespread turmoil has been starkly reflected in America's decline in the Global Soft Power Index 2021. Between a turbulent election campaign and a haphazard COVID-19 response, the nation has lost its position as the world's soft power superpower, falling to 6th position with an overall Index score of 55.9 out of 100.
Former President Trump's hesitance to acknowledge the scale and severity of the crisis was derided at home and abroad. Unsurprisingly the US is at the very bottom of the COVID metric –an abysmal 105th. The raging of the virus across the nation combined with the President's rebuke of medical expertise and touting of reckless home-remedies is the most likely culprit for the waning of America's long-held role model status internationally.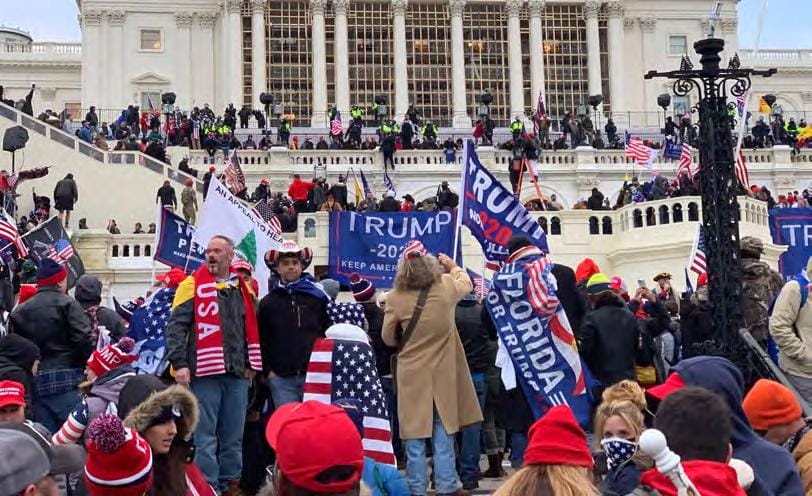 It is a testament to the broader scientific and academic community in the United States that, despite the President's own response being widely criticised, 2020 also saw improved perceptions in the Education & Science pillar. Despite dropping to second place overall in the Education & Science pillar, the US still increased by 0.5-points year-on-year to score 7.0 out of 10. The rise of Dr. Anthony Fauci in the vacuum created by Trump's anti-science rhetoric and the rapid development of the Pfizer vaccine are likely at the heart of this increase. This shows the resilience of United States' reputation for expertise and leadership in science and technology regardless of who occupies the White House.
However, scientific innovation regarding COVID-19 was not enough to save perceptions from falling with respect to Influence, Reputation, and Governance – most notably regarding the US as safe and secure, and as a nation who respects human rights. The wave of Black Lives Matter protests and counter-protests which took over during the summer of 2020 may account for this.
The death of George Floyd at the hands of the police sparked global outrage, drawing media attention to the practices of US police officers, particularly the seemingly disproportionate use of force against its African American citizens. In the face of these wide-ranging reputational challenges, the Biden administration will be tasked with regaining domestic trust and international credibility in many areas in a crowded policy to-do list.
2. China and Russia's Reputational Challenges
China (54.3) and Russia (50.5), have both observed a drop in their scores across the Reputation and International Relations pillars, though China has held on to its place in the top 10 while Russia has dropped to 13th position.
China's reputation is more positive in some countries than others such as Bangladesh, Nigeria, Russia, South Africa, Central & West Africa, and Central America.
China's performance in the Global Soft Power Index has undoubtedly been impacted by the origin of COVID-19 in the city of Wuhan, causing a drop of 1.0 in the Reputation pillar and a drop of 0.5 in the International Relations pillar. The nation has also seen an overall 0.5 drop in the Governance pillar, as Western perceptions of China's track record with democracy holds it back from improving its overall score.
Notably, as both nations made the significant scientific strides of developing their own vaccines, China and Russia have observed improving scores of 1.1 and 0.8 respectively in the Education & Science pillar.
3. New Zealand Hailed as Global Succes Story
New Zealand is the fastest-improving nation in the Index, claiming 16th place in the ranking with an overall Global Soft Power Index score of 49.3 – up six places from 2020. Scoring 5.9 out of 10, the nation leads globally for its COVID-19 response, which has been praised and envied the world over.
Swift and decisive action in shutting borders and enforcing mandatory quarantine left the nation free of COVID-19 for months, while other nations saw daily case rates in the thousands. The government has been so successful in suppressing the disease that social distancing is not required, with tens of thousands attending a music festival in December. Perceptions of New Zealand have no doubt been bolstered as nations such as the UK and the US cede their usual place as leaders in public health, with both battling repeated waves of the virus among loosened restrictions and ongoing debates about lockdowns.
New Zealand has recorded strong results across the board, with increased scores for almost all the Soft Power Pillars and metrics, with only a slight drop in the Culture & Heritage and People & Values pillars. This is likely accounted for by increased mental availability. With the global coverage of the nation's success in handling the pandemic, the nation of less than 5 million has likely been at the forefront of the public's mind and has therefore benefitted from positive associations generated by stories of its pandemic response.
Prime Minister Jacinda Arden's leadership has been widely credited as confident and decisive, hailed by some as key to the nation's success in battling the pandemic – a view that is clearly reflected in her top 10 position among the world's respected leaders. This leadership is perhaps at the heart of New Zealand's increased recognition in Influence, International Relations, and Governance.
Covid-19 Impact
Respondents were asked to rate how they perceived nations to have handled the COVID-19 pandemic. They were asked to rate the nations' efforts in terms of stimulating the economy, protecting the health and wellbeing of citizens, as well as cooperating on the international stage and providing aid.
New Zealand versus the US
New Zealand has been rated by the general public as the country that best handled the pandemic, with a net score of +43%. The net score is the difference between 'handled it well' and 'handled it badly' responses across the three measures (economy, health & wellbeing, and international aid & cooperation).
At the other end of the spectrum, ranking bottom among nations globally, and dropping out the ranking to 105th, is the United States with a regretful net score of -16%. Former President Trump's response to the pandemic caused controversy both at home and abroad, with Trump repeatedly refusing to acknowledge and act on the severity of the situation. With the most cases and COVID-19-related deaths globally, the world's largest and strongest economy has encountered harsh criticism and questioning on the global stage.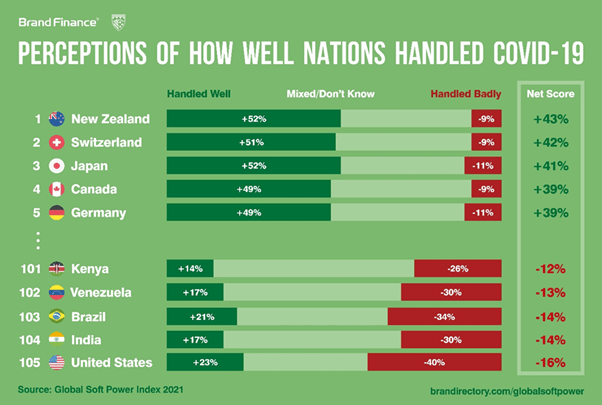 Disappointing performances with reputations under threat
Other Western powerhouses' weaknesses have also been displayed for the world to see during the pandemic, and their failings have not gone unnoticed by respondents.
The United Kingdom (34th), Spain (81st), and Italy (94th) all rank particularly low and record low net scores. The UK has struggled to negotiate the ongoing repercussions from the pandemic, including the fallout from the sharpest economic contraction on record – 20.4% in April last year, leaving the nation in a state of turmoil. The UK, Spain, and Italy are currently within the top 10 highest mortality rates per 100,000 in the world, with the UK recording the highest mortality rates per 100,000 among the three at 173.06.
Conclusion
The relevance, importance, and impact of soft power are impossible to ignore. Governments and corporates alike can use their understanding of how their nation is perceived to harness their potential and amplify the benefits that policies and strategies can help achieve.
Identifying a nation's strengths and weaknesses to either improve infrastructure, frameworks, and policy or to address misconceptions, will allow nations, its corporates, and its people to achieve their potential and access opportunities otherwise missed.