We have launched the world's most comprehensive research study on the perceptions of soft power, surveying over 55,000 people based in more than 100 nations.
The Global Soft Power Index builds upon the Brand Finance Nation Brands study, which has been published for over 15 years. The Index and the granular detailed data will provide vital information for countries seeking to better manage their nation brands.
A Perspective
I come from the Baby Boomer generation which has live through the transformation of Britain from one of the foremost exponents of hard power to one of the greatest proponents of soft power. Less than a decade before I was born, Britain still had an Empire, representing approximately 20% of the Earth's landmass and population. Britain had 850,000 personnel in our Armed Forces and spent 10% of GDP on enforcing control over that huge Empire. Back then, the inflation-adjusted GDP per capita in the UK was only $10,000.
Today, we have the Commonwealth instead of the Empire, an entirely voluntary grouping with 53 member states. There are only 150,000 personnel in the Armed Forces, and only 2% of GDP is spent on defence. Today, there are fewer members of the British Army than there are in the police force. Meanwhile, inflation adjusted GDP per capita in the UK has risen to $45,000 - a fourfold increase in real terms.
Britain is the sixth largest economy in the world and retains huge influence in many fields. Britain is proof that hard power isn't necessary to be an influential and wealthy nation. Some argue that our wealth and influence will decline post-Brexit, but I disagree, largely because of our strong Nation Brand and Soft Power quotient.
I suppose I am what you might call a modern, Elizabethan Brit … I would like to think that I am pretty well-educated, tolerant, pragmatic, and globally engaged. Queen Elizabeth II has presided over the transformation of British society, a profound change in the kind of people Britain produces and the development of a fairer, more balanced view of the world and our role within it.
I, and Brand Finance alike, have benefited from the widespread view that Britain is free and fair - a trustworthy place where you can believe in what we say and what we stand for. Nowadays, we Brits humbly offer our opinions and advice, but try not to impose them as we did in the past.
That is what we intend to do with our Global Soft Power initiative because we want to share our knowledge in this area with nations all around the world.
Brand Finance Brand Valuation Begins
I set up Brand Finance in 1996 as a specialist provider of brand valuation, evaluation, research, and consulting services. We are now in our 25th year, have offices in over 20 countries, and are recognised as the world's leading independent, brand valuation firm. Having the City of London as our hometown and Britain as our country of origin have helped us greatly. You could say we are both a product and beneficiary of British soft power.
We have helped develop brand valuation, evaluation and reporting standards with the International Accounting Standards Board, the International Valuation Standards Council, the International Standards Organisation, the International Trademark Association and the Marketing Accountability Standards Board. We are regulated by the Institute of Chartered Accountants and, as such, we maintain the highest level of independence, integrity, transparency, and honesty.
When we started, we focussed primarily on commercial brands, but one feature of the last 25 years has been the transfer of brand management skills into all walks of life. Individuals, charities, universities, institutions and sports teams all now regard themselves as brands, and increasingly manage themselves as brands.
David Beckham, Comic Relief, the University of Oxford, the monarchy, and Manchester United are all regarded as great and valuable British brands. Some commercial British brands, like Shell, have a larger GDP than whole countries, and nation brands are now learning marketing and branding techniques from them. Nations are increasingly managing their brands the same way large corporations do - by looking at the world in a segmented way, by geography, industrial sector and customer demographics, using market research and sophisticated analysis to identify the best opportunities, both diplomatically and economically.
What is measured is managed. See our consulting services to find out more about what we do to help teams understand the strength and value of their brands.
Building upon the Brand Finance Nation Brands study
We first got involved in the area of nation brands in 2005, when we were asked to apply our brand valuation techniques to nation brands, and have been doing so ever since. This year marks the 16th anniversary of our ranking of the 100 most valuable and strongest nation brands, but we now work for an increasing number of them, helping to enhance brand attractiveness, whether it be for diplomatic or economic reasons.
We assess nation brands by following a 3 stage process:
1. Inputs
Firstly, we evaluate the Inputs by breaking them down into a range of internal and external governmental actions. Externally, these include hard power activities, economic power activities, and soft power activities. Hard power and economic power activity and status can be measured in absolutes.
2. Brand Equity
Secondly, we analyse Brand Equity. Some nations - following the example of Britain in the 19th and 20th centuries - believe that functional achievements at home and exercising hard power and economic power abroad is sufficient. However - as Britain has demonstrated since the end of Empire - soft power can be just as important, if not more so.
We define soft power as "a nation's ability to influence the preferences and behaviours of various actors in the international arena (States, Corporations, Communities, Publics etc) through attraction or persuasion rather than coercion". In other words, winning their hearts and minds. To understand the extent of soft power we need to research attitudes, perceptions and resulting behaviours.
Our Global Soft Power research study is the largest most comprehensive public study of attitudes towards, and perceptions of, individual nation brands. Brand Finance is looking to expand this annual Global Soft Power study to cover all 193 member countries of the United Nations.
Our Nation Brands study relies on publicly available data and financial modelling, and thus far is yet to include a proprietary market research element. For a long time, we have wanted to commission much more detailed and insightful market research among key stakeholders to inform our conclusions on the brand equity and soft power dimensions. The Global Soft Power Index does exactly this and is our contribution to this deeper understanding as a service to nation brands.
3. Value the Inputs
Thirdly, we value the Outputs by analysing the results in terms of tourism numbers, the volume of foreign direct investment, and gross national product. We have found that the stronger a nation's Brand Equity and soft power performance are, the stronger its economic performance tends to be. Putting all these elements together results in an overall Nation Brand Strength Index and an absolute Nation Brand value in our annual study.
To arrive at the absolute Nation brand value, we use a valuation methodology called Royalty Relief, which is the most popular method for valuing commercial brands. It is based on the voluntary payments notionally made for the use of a commercial brand in a licensing context.
Interestingly, Royalties were originally the involuntary payments levied by monarchs to finance their state activities, including foreign wars. George III used them to finance his attempt to rule the American colonies. When he lost that battle, he abolished involuntary royalty payments and gave up on taxation without representation. Perhaps history would have been different had he exercised soft power instead of hard power, and the United States might now be a proud member of the Commonwealth.
Unveiling the inaugural Global Soft Power Index 2020
The Global Soft Power research allows us to use powerful and original stakeholder research to inform our annual assessments of nation brand strength.
We interviewed over 55,000 respondents based in more than 100 countries and asked for their view on 60 nations. This method allows us to see in aggregate how the world views a nation like Britain, but it also allows a more granular view of how each of the 100 nations view Britain. The overall headline results are of interest, but the more detailed information is of vital use for nations seeking to better manage their nation brands.
Brand Finance started as a one-man band and has grown by small, but steady, steps. Today we value over 5,000 commercial brands in 40 countries and 40 industrial sectors, with brandirectory.com, being the most comprehensive database of commercial brand values in the world. Many of these brands are not yet our clients, but we have invested in them ahead of demand. As a result, year by year, more and more commercial brands are turning to our database for insight.
We provide low-cost entry to help smaller brands in developing markets understand their brand strength and value. We want our study to become a ubiquitous, syndicated data source for commercial brands and our low- cost, entry-level approach, is our contribution to get the ball rolling. In the nation brand arena, we have also invested ahead of demand. Many nations have only recently created nation brand management teams and nation brand campaigns. They are now able to refer to work we have been doing consistently for 15 years. This soft power report will now allow them to draw upon our groundbreaking attitudinal research, the most inclusive of its kind.
As part of our launch initiative we are making the research data available free of charge to nation brands wishing to enhance their policy making and to academic researchers wishing to formulate ideas in this area.
Many of our commercial clients already have the benefit of extensive brand equity research, revealing attitudes towards their brands in up to 100 nations worldwide, to better manage their corporate and brand strategy.
Some nation brands like the UK already benefit from similar worldwide brand equity research. The GREAT Campaign is an example of a campaign with such insight which is able to measure at an individual country level to finesse its communication messaging.
Now that we have our Global Soft Power research to share, we hope smaller nations will use it to better understand perceptions of their brands to redirect their strategies. It is our intention to commission annual waves of the research, and we want as many nation brands as possible to collaborate with us in this initiative. We would eventually like to extend the research to cover all 193 Nations in the UN.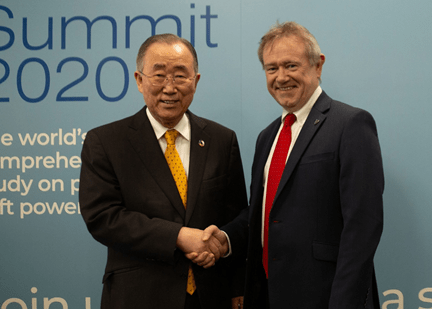 The Brand Finance Institute will also be developing a programme of best practice in Global Soft Power together with academic and nation brand partners. All nations aspire to improve their historical reputations. We hope our Global Soft Power research initiative will help them do so.
To paraphrase a saying by Oscar Wilde, we are all in the gutter, but some of us are looking at the stars.