This article was originally published in the Global Soft Power Index 2023.
In 2022, sports was a key topic that brought the concept of Soft Power into the public consciousness, and further spread the idea that nations might use sport intentionally to build influence and reputation.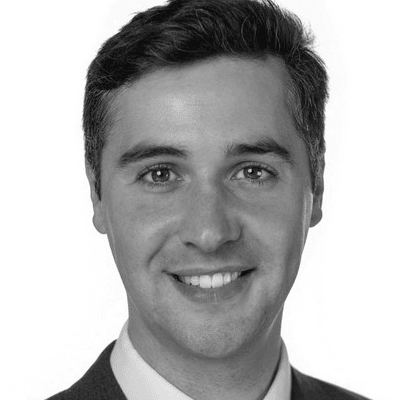 The year started with the Beijing 2022 Winter Olympic games – which saw media discussion about human rights in China and diplomatic boycotts from some western nations – and finished with the 2022 FIFA World Cup in Qatar. This brought one of the world's biggest sporting events to an Arab nation for the first time, for an undoubtedly exciting tournament, but also greater scrutiny of regional differences in the rights of citizens and migrant workers. 2022 brought into public conversation the importance and influence of sport, and whether it can and should be shared with countries that have different values, allowing them to piggyback on the good vibes that sporting mega-events can bring.
It is obvious that sport is a topic that cannot be ignored – globally 47% of respondents to the GSPI research study are interested in sports, behind only Cinema/Film and Travel/Foreign Cultures (both 50%); and it claims a wider audience than many other key Soft Power factors such as business, science, politics, environment, and technology.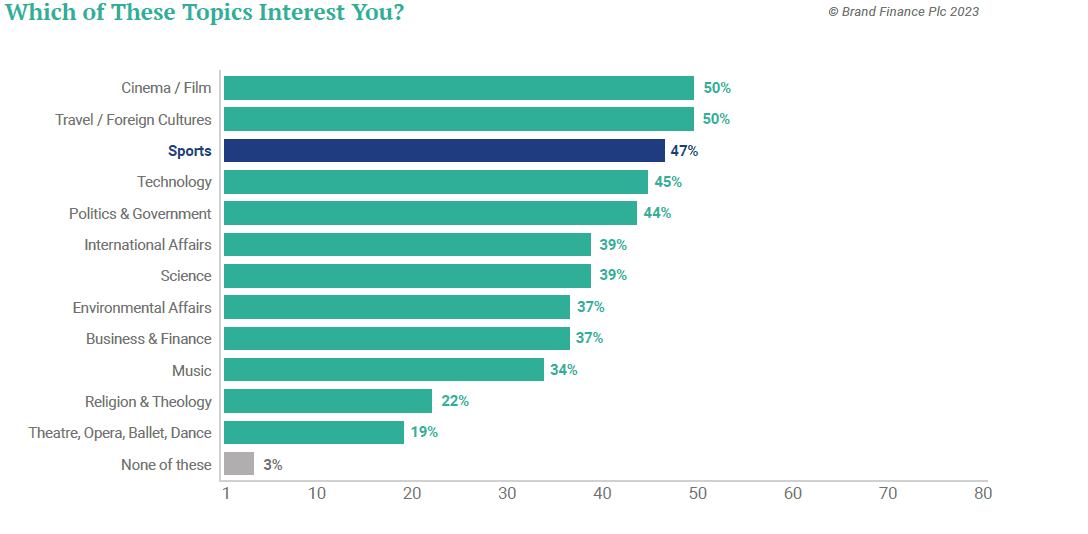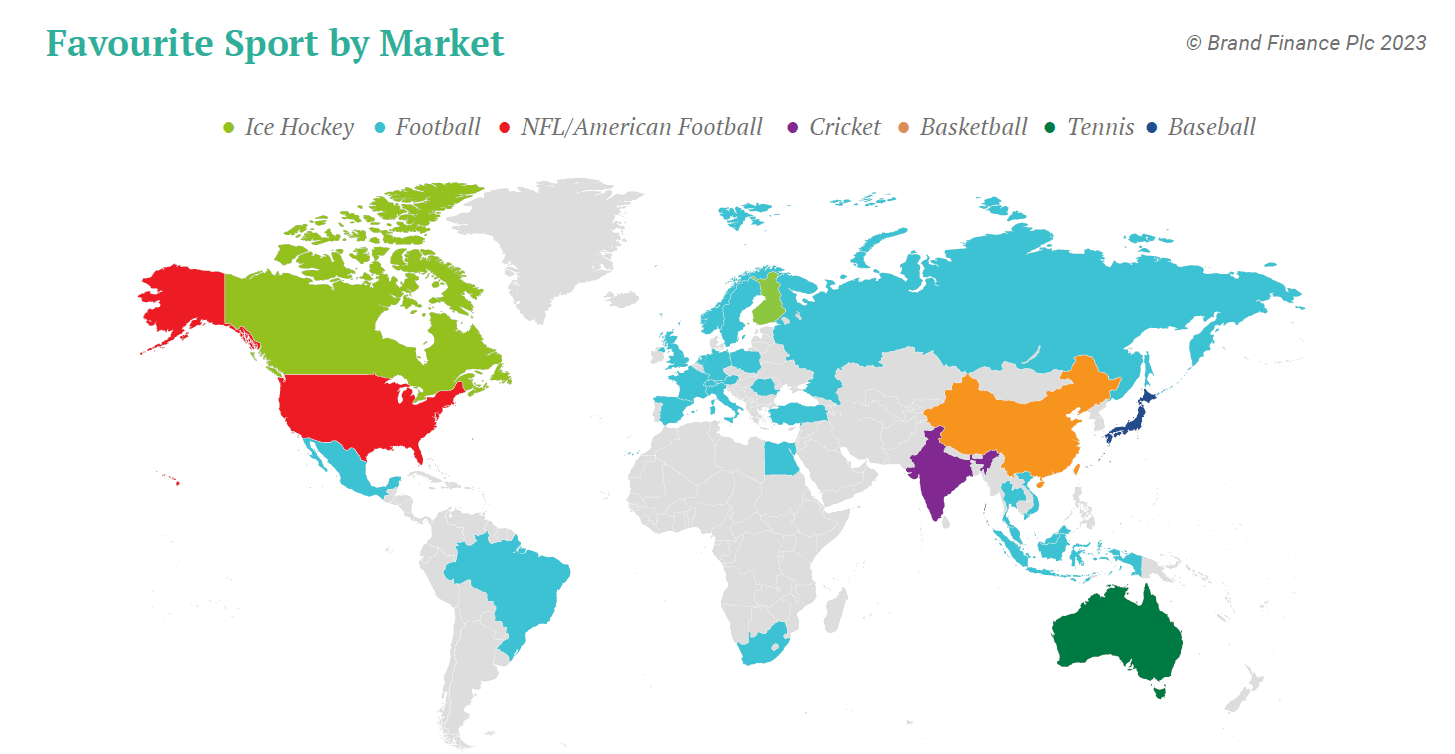 However, interest can vary widely – football (soccer) is the most popular sport globally, with 75% of Thai respondents claiming to follow, ahead of 73% of Brazilians; it leads in most markets, however some major population centres have other favourites – India (cricket), China (basketball), and USA (American Football).
Sport can also build relationships between nations, and although it shares causation with other values and historic factors, playing the same sport is shown to have strong correlation with familiarity and perceived influence of a nation.
For example, South Africa, winners of the 2019 Rugby World Cup, rank 7th in Familiarity and 16th in influence among New Zealanders, compared to 28th and 31th respectively among the global sample. The same follows for India, which scores strongly for Influence among respondents in the Caribbean compared to non-cricket playing nations, with a significant difference visible even between Caribbean nations which are members of the West Indies Cricket Team and those that are not.
Although it is clear that sport has exposure to huge audiences around the world, it is not a direct driver of a nation's Soft Power. The attribute "leaders in sport" is not a driver of Reputation or Influence.

The high exposure of sporting events mean that they act primarily as a platform from which other values and attributes can be showcased – such as "sustainable cities and transport" (a strong driver of reputation) or Culture & Heritage attributes ("arts and entertainment" is a key driver of Influence).
However, linked directly to exposure and media content is the insight that "a country whose affairs I follow closely" is strongly correlated to Influence, showing how mega-events that bring a lot of attention can cause a boost in Influence in this manner.
Returning to the biggest sporting Soft Power story of the past year, the Qatar 2022 World Cup, we see that the nation has improved on many dimensions. While all GCC nations increased Soft Power performance this year, Qatar leaps forward to the 25th place on Reputation (+5 ranks) and to the 14th place on Influence (+7 ranks) while other GCC nations gain less.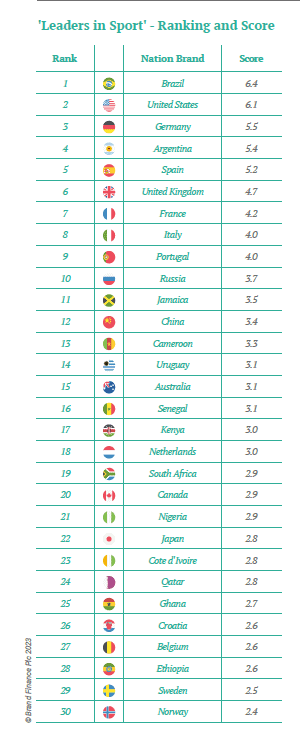 It should be noted that the research was conducted before the World Cup, while much of western media was suggesting an exercise in 'sportwashing', criticising FIFA for corruption in awarding the hosting to Qatar, and raising issues around conditions and treatment of migrant workers who had built the stadiums and infrastructure.
Following the excitement of the football on show, and the praise for a well-run and welcoming tournament in the small nation, it is likely that the scores will rise even further next year.
The issues raised and influence gained will not necessarily endure if the platform is not used to communicate the values of the nation, however, ownership in European football (Paris Saint Germain, and a bid for Manchester United) and a global sports broadcasting network (beIN Sports) suggest Qatar is focused on sport as a key lever for boosting Soft Power on an on-going basis.
The lesson for countries, cities, regions, royal families, or tech leaders looking to boost their reputation through ownership or engagement in sports is that sport alone is not going to deliver the desired influence, but it will highlight the existing attributes and values that can impact the perceptions and decisions of a wide range of stakeholders, and ultimately build Soft Power.