This article was originally published in the Brand Finance Middle East 150 2023 and Kuwait 10 2023 reports.
Telecoms brand Zain has continued to perform well in 2023, seeing a brand value increase of 14% to US$2.7 billion. This made it the 4th most valuable Middle Eastern Telecoms brand.
It is also the strongest brand in Kuwait, with a BSI of 78/100 and brand rating of AA+.
The brand has added 3.5 million active subscribers this year, and now serves a total of 52 million customers, a 7% increase from the previous year. Zain has been particularly boosted in the business-to-business market with strong enterprise revenue growth and acquisition of extra cloud-related services such as BIOS Middle East. These developments are reflective of Zain's strong brand, which they are continuing to leverage to consumers, with the launch of fibre-to-the-room and 5G technology, improving speeds and connectivity to users. In addition it has been focusing on Corporate Sustainability; Diversity, Equity and Inclusion initiatives and innovation as evidenced by its investment (US$ 1 billion annually) in digital technologies.

Zain is now the strongest brand in Kuwait, what are the key strengths you have developed over time to be able to achieve this?
This year, the Zain brand will celebrate its 16th anniversary as one of the most recognizable and loved brands in Kuwait and across the MENA region, not only in telecom but across all industries. The Zain brand is positioned to be simple, memorable, and easy to pronounce across the global markets. In Arabic, Zain means 'beautiful', 'good' or 'wonderful' and it is at the heart of everything we do. It is a promise to our customers, it defines our vision and drives our focus within the company.
As the region's only holistic telecom brand in all seven markets, we spend anywhere between US$60 to $80 million annually in marketing campaigns across various traditional and digital media channels. Zain's 2022 Ramadan and EID TVCs alone witnessed 200 million views on YouTube, given the impactful concepts of the TVCs. Apart from employing high calibre creative talents, Zain partners with and utilizes the best creative digital agencies across the region to ensure the Zain brand is loved by all peoples of the region and afar.
The brand's remarkable recognition some 16 years after rebranding from MTC and other country specific brands across our footprint, is testament to the investment Zain places not only in its brand, but more importantly the focus on Corporate Sustainability; Diversity, Equity and Inclusion initiatives; and its ongoing innovation and investment (US$ 1 billion annually) in digital technologies and network upgrades that result in 52 million customers receiving an exceptional telecom experience, making it one of the most respected and recognized corporate brands in the region.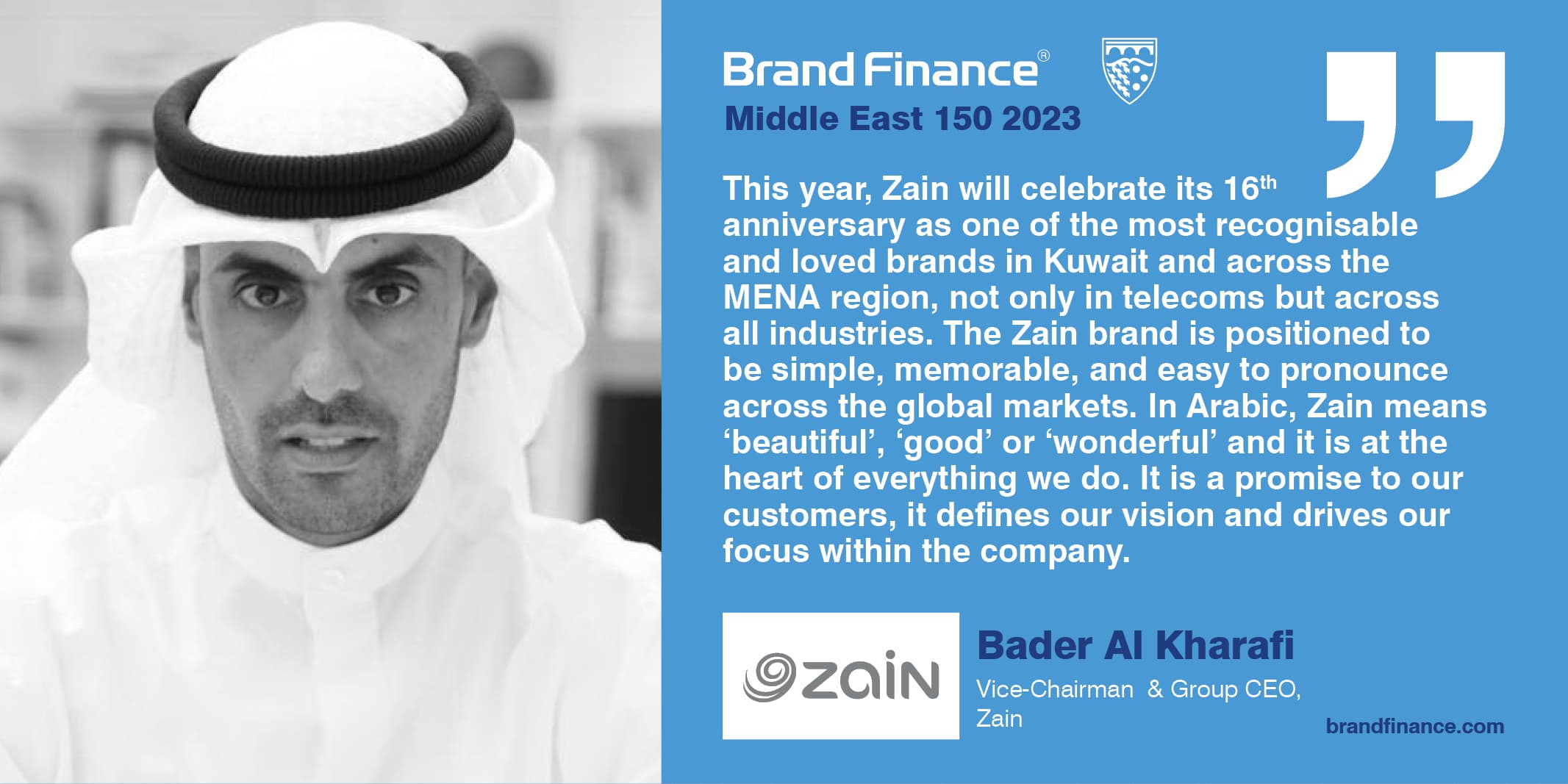 Zain is renowned for its group-wide Sustainability and Diversity, Equity and Inclusion (DEI) programs that have it earned praise from reputable global organizations. What's driving this focus?
As part of its '4Sight' strategy, Zain is proactively embedding its shared values into its DNA to drive our business, sustainability, and DEI agenda, enrichingour purpose for being as an organization.
Zain has transitioned the business to advance its sustainability agenda unlocking many opportunities that the UN's SDGs offer. We are guided by the four pillars of the company's five-year corporate sustainability strategy, centered on Climate Change, Social Business, Inclusion, and Generation Youth.
We have been one of the most active and vocal telecom operators in the region with regards to climate change actions, as we wholeheartedly believe protection of our environment should be a key priority for every organization and individual on the planet.
Notably, the A- score that Zain maintained in the latest 'CDP Score Report–Climate Change 2022', positioned us first in the region and among leaders globally with respect to climate control initiatives. We have recently committed to setting emissions targets in line with the Science-Based Targets initiative (SBTi) guidance to halve our carbon emissions before 2030 and achieve Net-Zero by 2050, highlighting our determination to foster sustainable systemic change and provide meaningful connectivity by integrating technologies to generate safe energy to help reduce global warming.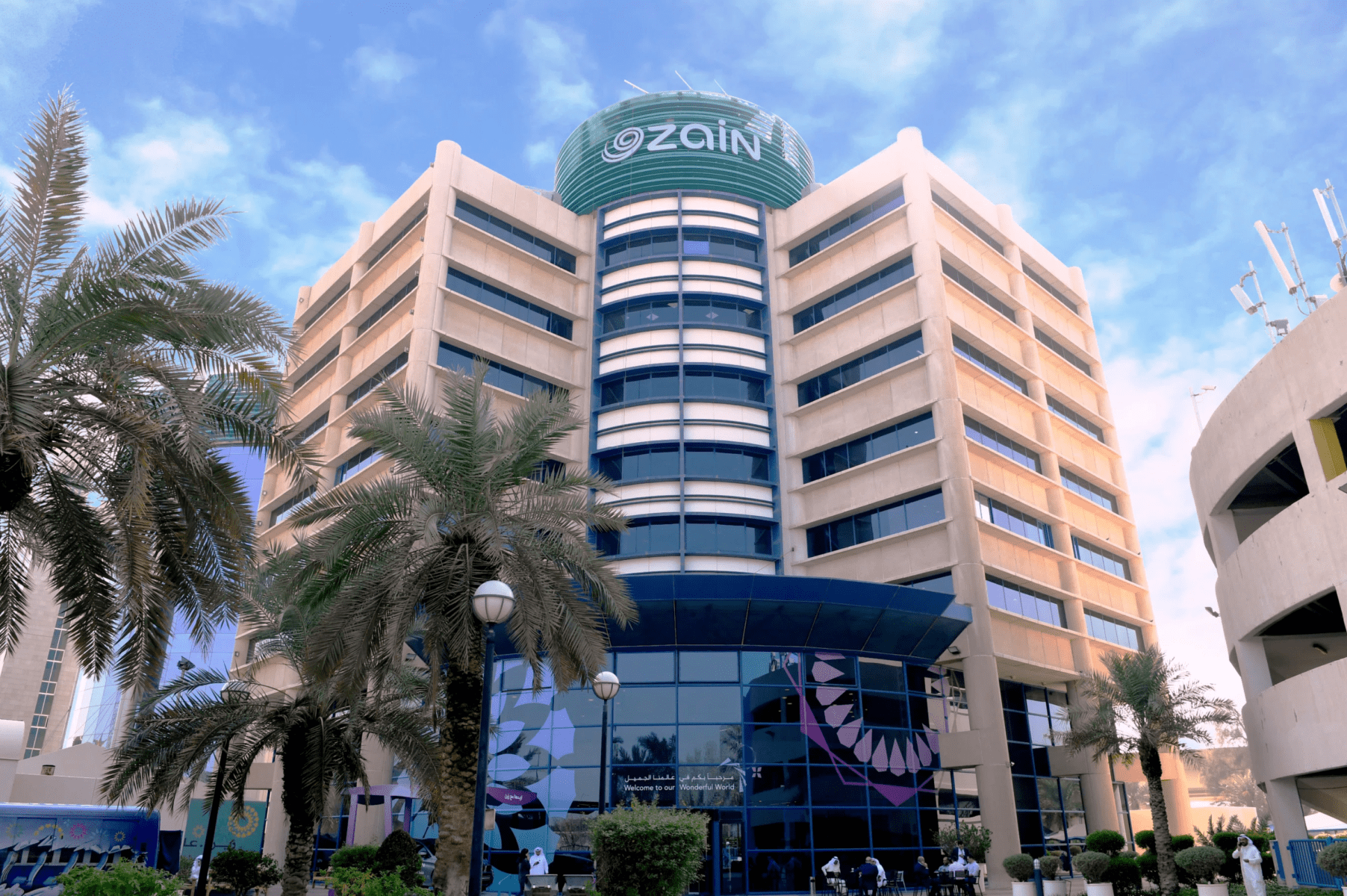 We also joined the United Nations (UN) Global Compact initiative — a voluntary leadership platform for the development, implementation, and disclosure of responsible business practices. With this announcement, Zain proudly united with thousands of other companies globally, and a select few telcos from the Middle East, in making this commitment to take responsible business action to create the world we all want.
Markedly, our focus on nurturing a diverse, equitable and inclusive (DEI) work culture through a series of programs and initiatives has become a key part of the fabric of the company, transforming how we hire, plan for succession, support and develop our people, which all work towards positively contributing to a vibrant, productive, and inclusive culture.
These efforts resulted in Zain being identified as the Best Employer in Kuwait as well as one of the top-10 employers across the Middle East by Forbes magazine. Additionally, Zain was recognized as having the Best Diversity, Equity and Inclusion strategy in the Middle East at Informa's Future Workplace Awards 2022, where Zain also won the award for Best Women Development & Leadership Program, solidifying the company's reputation as being one of the most exciting, progressive, and inclusive companies to work for.