This article was originally published in the Brand Finance BrandBeta® US 2021 report.
Synopsis
It is undeniable that companies with good corporate reputations enjoy a competitive advantage. But because a firm's market value is becoming driven by intangible assets such as brand equity, corporate reputation is also becoming increasingly important. The problem is that while many companies understand that their reputation is important, many don't take effective steps to protect it – leading to scandal and disaster.
A principal reason why companies experience reputational crises that could have been otherwise avoided or mitigated is that they prioritise positive internal perceptions of their brand over negative external signals to the contrary. This is partly because they miss changes in stakeholder values over time and also because they don't align internally on what different stakeholders want, so don't have a consistent picture of their reputation. There are five things a company can do to effectively measure and build their corporate reputation:
1. Centralise responsibility for reputation within your company
2. Use reliable mechanisms to assess stakeholder perceptions
3. Be honest when comparing what people think of you to what you really are
4. Identify strategies to close gaps between perception and reality
5. Monitor your reputation to assess changes over time
Introduction
Corporate reputation is described by many other terms, such as brand equity, employer brand, brand health or trust, but being thought well of by any other name would be just as advantageous. Among other benefits, Brand Finance has shown this advantage manifests itself in stronger customer preference, faster stock growth, lower financial costs, reduced regulatory risks, and lower employee cost.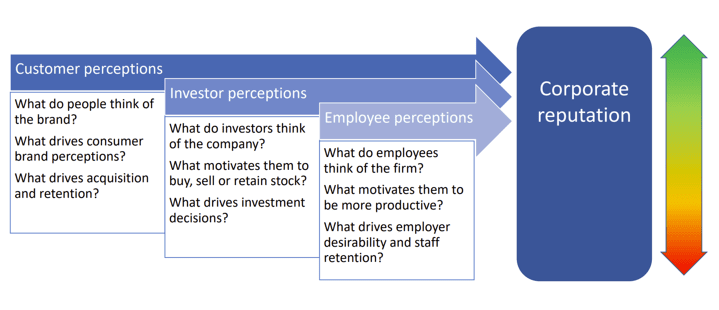 Due to modern market values becoming increasingly driven by intangible assets such as brand equity, corporate reputation has also become a key driver of company value. And the greater the opportunity to benefit from good reputation, the greater the risk of harm from bad reputation. Even worse is the calamity caused by a strong brand's fall from grace: as Warren Buffett says, "it takes 20 years to build a reputation and 5 minutes to ruin it". In today's economy where what a company stands for is as important as how a company makes money, understanding and protecting corporate reputation is a vital part of smart business strategy.
Compounding the complexity of the problem is today's fast-moving digital and social media landscape, where corporate reputation is a cocktail of customer, employee, and investor perceptions. One media post from an unhappy employee can rapidly spread across the internet, leading to a complete upheaval of the company. Facebook's recent re-brand into Meta is one such example.
The problem is that while everyone understands the importance of reputation, many companies don't establish what their reputation really is, or don't take effective steps to protect it. So rather than foreseeing and mitigating dangers that could harm their reputation, many companies instead are left scrambling to limit damage caused by scandal, for example, Boeing with their 777-MAX.
Why companies don't see reputational icebergs
The principal reason why companies experience reputational crises that could have been otherwise avoided or mitigated is that what they think they are, isn't who they really are. There are two reasons for this:
1. Missing the changing stakeholder zeitgeist
Corporate reputation was simpler in the past. With consumers trusting what brands said, reputation could be easily driven by advertising, and as long as products and services were sold profitably within regulatory guidelines, not much more was required from companies. Now, consumer scepticism and concerns over the harm of rampant capitalism have caused news of exploitative manufacturing processes, dismissiveness of climate change, and disinterest in diversity to all lead to brand boycotts.
Many companies assume the demands and wishes of their employees, customers and investors are static, but nothing could be further from the truth. To not follow what's important to stakeholders will inevitably lead to a brand no longer standing for what they want. And the longer the requirement for a company to adapt is missed, the greater the misalignment with stakeholder changing values, and the greater the damage to their reputation will be when they are found out.
2. Departments don't agree on or track what constitutes their company's reputation
The technology sector is awash with tales of marketing launches for products that weren't ready or had to be delayed due to faults. For example, five of Sony Ericsson's first six smartphones were failures riddled with usability issues, which caused the company significant harm among networks and consumers alike. A big reason for this failure was because the product teams failed to understand what customers truly wanted while the marketing teams presented the devices as completed products.
The role of understanding what stakeholders want in a company should be the domain of each department: Product and Marketing surveys customers, HR surveys employees, Investor Relations surveys investors and analysts, etc. While many companies do these things already, what many do not is coordinate results across stakeholder groups to identify similarities and differences in reputation.
How to stay on top of a reputation
There are 5 steps in ensuring a company can understand, maintain, and build its reputation over time:
Centralise responsibility for reputation within your company
Usually, responsibility for the brand sits within a marketing group. However, companies that are most interested in measuring their reputation across stakeholders have a brand department that's a central resource, much like IT or HR.
From here, they find a consensus on a company's reputation, coordinate the assessment of that among stakeholders and, by incorporating these different results into a central index, can give the company and its leaders a consistent and accurate picture of the company's overall reputation.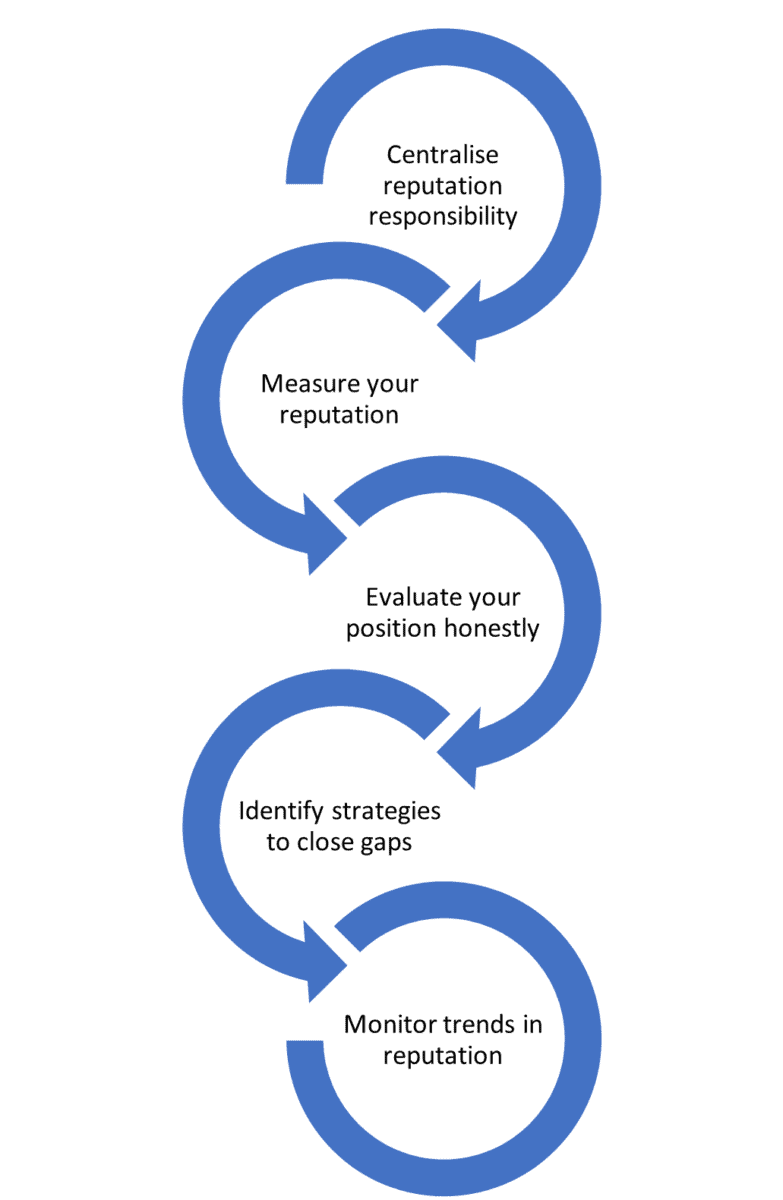 Use reliable mechanisms to assess your reputation
A brand's reputation is made up of all the things people perceive about a brand, be they good, bad, or ugly. As a collective of perceptions, they can be identified through exploratory investigation and validated through robust quantitative research.
Repeating this process across stakeholders such as customers, employees, and investors allows a firm to identify common perceptions across groups. Analyzing which perceptions drive key behaviours such as purchase and investment consideration, and employee engagement allows them to identify the most important to focus on.
Be honest when comparing what people think of you to what you really are
A key part of accurately measuring reputation is to implement a transparent, robust, and independent system that monitors reputation changes and diagnoses the causes of any change. Linking measures to index a company's reputation to metrics such as brand value are invaluable in showing when a company's reputation is helping to benefit it or is risking a slide in stock value. But all the metrics in the world will not matter if senior management disbelieves adverse numbers. People have a natural tendency to believe their firm's reputation is positive, and complacency can breed disbelief at indicators to the contrary that endangers efforts that could otherwise mitigate or avoid reputational damage. Vigilance against confirmation bias is critical in spotting reputation warning signs and identifying when a change in strategy is needed to maintain your reputation.
Identify strategies to close gaps between perception and reality
It is not unusual that a company's reputation is worse than its true character, but this is not an insurmountable problem. Companies as wide-ranging as Ford, Nestle, and Microsoft have at some time faced reputational headwinds. Rectifying a negative reputational gap uses public, employee and/or investor relations campaigns to change the perceptions of the company over time.
Nor is it particularly unusual for a company's reputation to be better than its true character, but companies in this situation face reputational risks to their market value, and the greater the gap the bigger the risk. Companies in this position must consider infrastructural changes to improve product quality, employee engagement, corporate social responsibility, or other significant changes in order to bridge the positive reputational gap.
Monitor your reputation to assess changes over time
It is critical to remember that corporate reputation is not a point-in-time assessment; as the collective of perceptions about a brand, it is ever-changing as people's perceptions develop over time.
Reputational monitors can track the ebb, flow, and evolution of a brand over time. They should also be scheduled frequently enough to be able to provide regular, actionable insight into where a brand's reputation is and how it is changing, but with enough time in between to allow for strategy to be designed and implemented to influence reputation.