Since the onset of the COVID-19 pandemic, citizens have faced extreme uncertainty and had to digest the numerous and diverse reactions from governments and corporations around the world, generating equal amounts of praise and criticism.
Once the crisis is over, these actions and initiatives will contribute to the overall reputation for nations and brands alike who reacted to the crisis in a timely, honest, and compelling fashion. For those nations and brands whose decisions protected their citizens and employees as well as other actors in their environment, we expect to see an increase in influence - both domestically and abroad. domestic and global influence. This goes far beyond military or economic power, and is what we define as "Soft Power", which is key in the construction of the nation brand.
Brand Finance Global Soft Power Index
The Global Soft Power Index, published in February 2020, is our first global study on perceptions of Soft Power. Our objective was to measure a "nation's ability to influence the preferences and behaviours of various actors in the international arena (states, corporations, communities, publics etc.) through attraction or persuasion rather than coercion."

Our methodology is based on 55,000 surveys of specialists and the general public, which were carried out in 100 countries, and incorporates a range of measures to provide a balanced and holistic assessment of nations' presence, reputation, and impact on the world stage. These include:
Awareness and Familiarity: nation brands which people know tend to have greater soft power
Overall Influence: the degree to which a nation is seen to have influence in the respondent's country as well as on the world stage
Overall Reputation: is this nation deemed to have a strong and positive global reputation?
Performance on the 7 pillars of Soft Power (Business & Trade, Governance, International Relations, Culture & Heritage, Media & Communication, Education & Science, People & Values)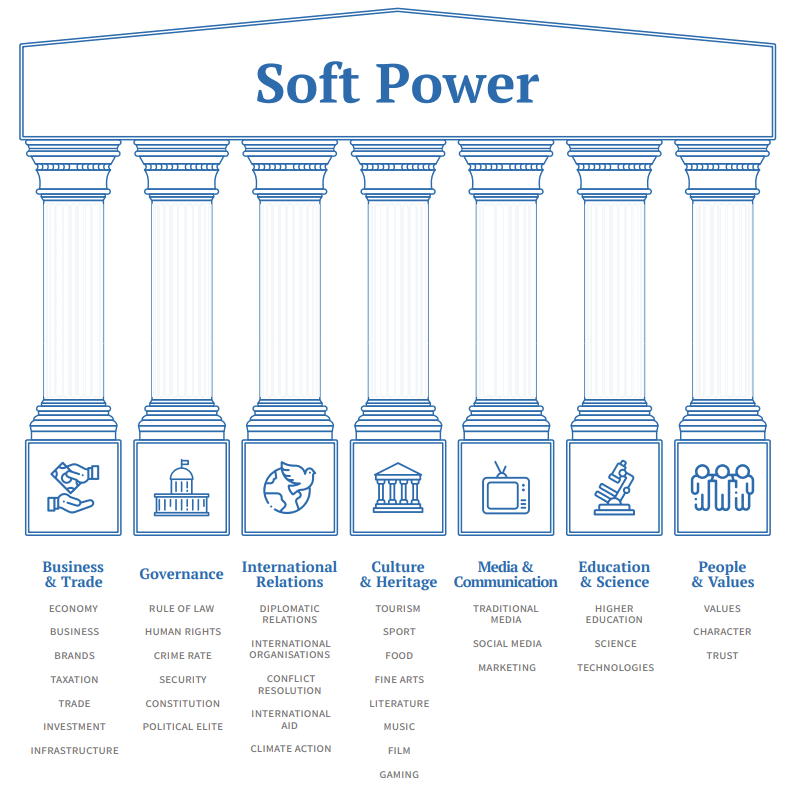 Although there are no quick fixes, by better understanding what drives soft power and the prosperity of a nation in general, resources can be allocated more effectively to improve performance in the seven pillars.
Just as perceptions do not change abruptly, optimal soft power cannot be reached, (or likewise lost), overnight. However, identifying and understanding these levels of influence is essential in delineating long-term strategies consistent with the national goals of public and economic diplomacy.
Among the public diplomacy tools and techniques that can positively impact soft power and strengthen the country's brand, "gastrodiplomacy" and "sports diplomacy" can play a fundamental role in building soft power by impacting one of its fundamental pillars: Culture & Heritage.
At the moment, we are witnessing an old type of diplomacy acquiring a renewed relevance: health diplomacy. With the United States hit hard by the pandemic, China is leveraging its experience and production capacity of medical equipment as a "soft power" tool. In mid-March, it announced that it would help 82 countries, and since then, has sent medical staff and equipment to Italy, and donated equipment to Pakistan, Japan, Argentina, and other Latin American countries.
Leadership Amid the Pandemic
According to the Global Soft Power Index 2020, the United States, Germany, United Kingdom, Japan, and China are the top five countries in terms of soft power, illustrating that soft power goes far beyond public policy.
The United States scores first in culture and entertainment, sports and brands, and products. This is a testament to the symbiotic relationship between the strength of a country's commercial brands and its global influence. That is, commercial brands act as ambassadors of the progress, dynamism, and business environment of a nation. Forging an optimal environment for innovation, including a fiscal, legal, and educational system that promotes it, is key when designing nation brand strategies. But what happens during a crisis of the magnitude that we are experiencing?
This is even more important. Over the last few months, we have witnessed how public-private collaboration is key to mitigating the effects of the health, social, and economic crisis. The French luxury group, LVMH, will dedicate its production plants in France to manufacture large quantities of hand sanitizers, which will be donated to hospitals. Armani has decided to convert part of its production capacity to put together PPE to support medical staff during the crisis. In an industry that has been among the hardest hit by the crisis, many other Italian fashion brands have also coordinated to produce millions of masks.

In Spain, Santander Bank and BBVA have donated financial resources to acquire medical equipment. The fashion giant, Inditex, will dedicate part of its productive assets and logistic network to making and facilitating the acquisition of medical supplies.

Many leading brands aimed to protect their employees long before governments confined them to their homes, putting their health above any economic consideration. Twitter, EY Spain, and Santander were among the first to react and implement working from home or "smartworking" policies. In the United States, CVS eliminated the shipping costs of medicines. Patagonia voluntarily closed all its stores, promising to continue paying employees' wages despite the losses it would incur.
These are all examples of brave brands, who understand that leadership in the 21st century exceeds economic power and revolves around the ability to have a positive impact on the world. In his work, "The Diary of the Year of the Plague", Daniel Defoe wrote: "Another year of the plague […] would end with animosities and would make us see with other eyes the same things that we have seen before." The brands we mentioned have understood that leadership and influence in today's world are all about cooperation.
Leadership and Soft Power
Similarly, and during the crisis, some countries have embraced this new concept of leadership and influence. They have understood that leadership today depends more on collaboration than on unilateral decisions based on short-termism and a thin concept of "value creation" which does not consider the impact of their decisions on the larger ecosystem of nations.
This is precisely the great opportunity that the pandemic represents for nations and brands in general: to generate soft power through proactive collaboration and cooperation with other nations, which will probably have a positive effect on their familiarity and reputation, as well as on international relations and perceptions associated with the "People and Values" pillar.

Although our research data does not cover responses to coronavirus, next year's data will reflect the impact of decisions and actions taken during the pandemic. And we know what to expect.
When we observe initiatives such as those of the Chinese government, who is supporting Europe, donating PPE, and sending medical experts to help to overcome the pandemic, the words spoken by Ban Ki-moon, the eighth Secretary General of the United Nations, during the Global Soft Power Summit hosted by Brand Finance hosted in London this February, take on a new meaning: "Soft power is key to creating a more sustainable world through cooperation, collaboration and mutual understanding." This is the true meaning of leadership and power in the 21st century.
Soft power and the pandemic:

Female Leadership and Soft Power: Do Women Outperform Men?
COVID-19: Brand Value and Leadership in Times of Crisis