Brand Finance market research suggests that certain sponsors may be overpaying to be associated with their respective clubs whilst others are getting significant value for money.
The corporate world continues to find the football industry attractive from a sponsorship perspective, as a way to gain greater visibility and also to broaden the reach of its own brands. As well as using major competitions like the FIFA World Cup and the UEFA Champions League, both high-profile media events, brands are increasingly drawn towards the sport's upper bracket, a group of clubs have assumed global status.
Sponsorship valuations in world football continue to soar with the likes of Arsenal and Manchester City receiving lucrative new kit sponsorships for the 2019/20 seasons. Whilst acting as a club's shirt sponsor or kit manufacturer may bring a brand widespread exposure, top clubs such as Manchester United have up to 50 official sponsors. Are all those deals worth it for the sponsors?
Act with confidence. Make sponsorship and brand partnership decisions using hard data. See our Consulting Services for more information. Or contact us directly. We love to talk.
The leading football club brands appear to have little difficulty in securing sponsorship from major corporates. Brands are relatively loyal to clubs although some do not seem to derive significant value from their relationships.
Furthermore, shirt sponsors in some leagues are now sharing the space, with a recently-added area of sleeve advertising. For example, Arsenal's shirt sponsor is Emirates, while its sleeve sponsor is Rwanda. Sleeve sponsorship opens up another revenue stream, but it is not widely prevalent as yet. The English Premier League and Germany's Bundesliga are the front-runners in introducing this opportunity.
Putting Value on a Shirt
Football sponsorship brings benefits to brands eager to break into new markets. This may result in some corporates being very generous in order to accelerate their expansion programmes. There is little doubt, however, that a blanket approach to sponsorship can quickly raise awareness of the corporate name. One example is Gazprom, the Russian energy company that has not only entered into the shirt sponsorship market but their association with the UEFA Champions League – notably their graphic TV advertising – has made them something of a household name across Europe.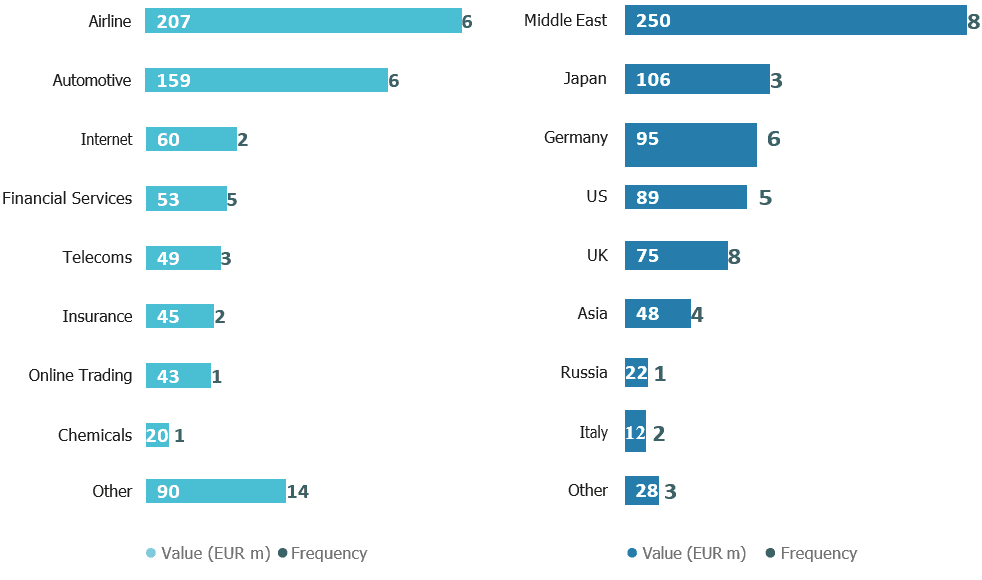 Similarly, Emirates, the world's fourth largest airline, has entered into a number of sponsorships, including shirts and stadium rights in a bid to become closely linked with the world's leading football clubs.
But are brands such as Emirates really achieving value for money from their sponsorship agreements? Research by Brand Finance suggests there is a low correlation between sponsorship amounts and the fan recall rate of the sponsors themselves. In other words, buying into this field does not guarantee instant success.
Given Emirates sponsors the shirts of Real Madrid, Arsenal, and Paris Saint- Germain, there is an argument to suggest they could be overspending on shirt sponsorship (€139 million for three top 10 football brands) versus the value of some of their clubs. However, the brand recall rate of Emirates implies they are gaining strong enough visibility thanks to their patronage of some of Europe's most coveted football brands. Interestingly, the Emirates recall rate (source: Brand Finance) differs among its clubs – with Real Madrid it is 48% while Paris Saint-Germain and Arsenal are both around 39%.
Overall, Emirates has the best sponsor recall rate in the Spanish market through its partnership with Real Madrid. As well as the aforementioned clubs, Emirates also sponsors Hamburg (Germany), AC Milan (Italy), Benfica (Portugal), Olympiacos (Greece), and New York Cosmos (USA).
The relationship between sponsor and sponsee is special. Each year we rank the 50 most valuable football clubs. This includes detailed analysis of these top clubs' relationships with their sponsors.
Favourite Shirts
Barcelona surprised many people with their shirt sponsorship deal agreed with Japan's Rakuten, but the agreement, totalling €55 million per season, was one of the most lucrative in football. Rakuten, which was relatively unknown at the time, has benefitted from the relationship with Barcelona, evidenced by the shirt sponsor recall rate of 50% being one of the highest among the top brands.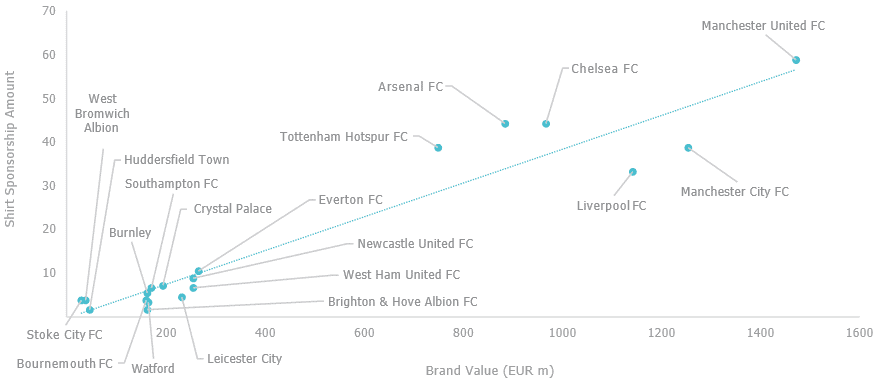 Manchester United's long-standing relationship with Chevrolet, at €58 million, is the second most lucrative shirt sponsorship deal, yielding a 40% recall rate for the sponsor – the best-recorded rate for the club's sponsors. From the US automotive brand's perspective, the agreement looks less attractive in view of United's brand value declining since 2018.
Manchester United is the Premier League club most often perceived as having a rich heritage and history, as shown in Brand Finance 2019 research, coming behind only the top Spanish clubs and Bayern Munich. These factors are the driving force behind the rewarding partnerships that the brand attracts – at first look Chevrolet seems an unusual sponsor, considering its target markets compared to the markets that Manchester United gives access to – but it is the associations with a globally recognised heritage that makes the sponsorship worthwhile.
The role that shirt sponsorships can play for commercial brands is limited, as beyond raising awareness levels the brand positioning cannot be conveyed beyond the choice of club to associate with.
This makes partnering with a club that shares the desired perceptions extremely important, in order to capitalise on activation opportunities that present and position the partner brand in the most effective way.
Etihad, the sponsor of United's neighbours, Manchester City, has a number of touchpoints that obviously assist brand recognition. Etihad is the shirt sponsor, a modest annual amount of cash compared to its peer group (€39m), but also has the stadium naming rights. In addition, the complex that includes the stadium has a dedicated tram stop, Etihad Campus, that also raises awareness of the brand. This all suggests that Etihad's recall rate (46%) is producing considerable value from their shirt sponsorship of Manchester City and in normal circumstances, the club could leverage this for a more lucrative deal.
Other clubs, such as Paris Saint-Germain, Liverpool, and Bayern Munich could arguably point to healthy recall rates for their shirt sponsors as a way to seek enhanced deals, either with existing or alternative providers. On the other hand, some sponsors, who have paid high sums for shirt sponsorship, are yet to see the benefit of brand recall. This scenario applies to Yokohama (Chelsea) and AIA (Tottenham) with rates of 30% and 33% respectively.
All Bets Are On
The football industry's appeal has certainly caught the imagination of gambling brands, particularly in the English Premier League where 45% of shirt sponsors are betting entities, casinos or other forms of gambling. Gambling and football have long been related although there is a school of thought that the sport is over-saturated with link-ups with the sector.
Gambling is an area that is very liquid, appeals to the football demographic and has expanded considerably due to the growth of online offerings and new technologies. Financial services account for 20% of shirt sponsors in the Premier  League and Airlines and Automotives 10% apiece. Interestingly, Germany's Bundesliga has not followed the same path and has a broad range of shirt sponsors.
Kit Managers
Kit sponsorship remains heavily dominated by Adidas and Nike, particularly among the top clubs, whose deals range from Real Madrid's €110 million agreement to Paris Saint-Germain's €19 million. The leading manufacturers spend over €600 million on kit sponsorship, with Adidas and Nike spending almost identical amounts and accounting for over €450 million of that total.
Real's kit sponsors, Adidas, benefit from the best brand recall of 51%, considerably ahead of Barcelona's €39 million deal with Nike. Paris Saint- Germain may have the lowest kit deal, but the French club can point to a 34% recall rate for Nike. This gives PSG a strong basis for negotiation for an improved kit deal, especially as the club's brand grew by 21% in the past year. Bayern Munich and Tottenham Hotspur could also argue that their kit deals with Adidas and Nike are in need of revision as their brand values have risen by 13% and 19% respectively.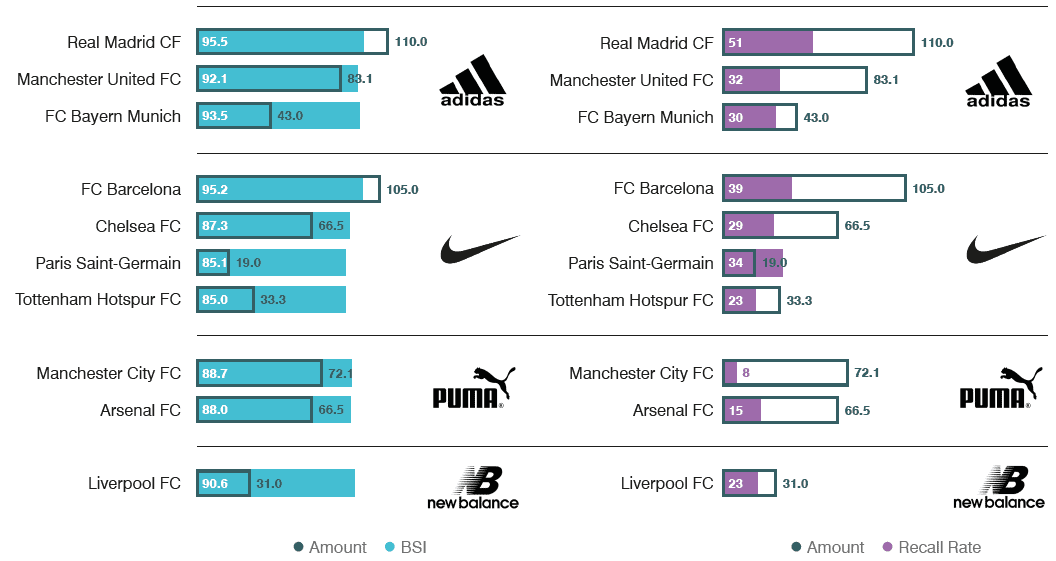 Manchester City has one of the best kit deals with €72 million from Puma, but their recall rate is currently a very disappointing 8%. This is largely due to the Puma agreement being recently agreed and therefore the brand awareness is still low. Puma, in fact, fares relatively poorly compared to Adidas and Nike despite having more Premier League brands than any other provider; this new sponsorship could signal an update in strategy as they pay a premium in an attempt to associate with the very best teams.
As Puma switch to Manchester City, Adidas take over their sponsorship of Arsenal. Kit sponsors in the Premier League change more frequently than in Spain and Germany, reflecting the changing dominant forces in the league. In contrast, Barcelona and Real Madrid have been consistent for over 20 years and Bayern Munich's loyal partnership with Adidas is now into its 45th year.
Conclusions
With match attendances high in the leading football leagues, most notably the Premier League and Bundesliga, and broadcast coverage at an all-time high, sponsors will undoubtedly continue to seek opportunities in big-time football. Indeed, clubs themselves are constantly seeking new ways to monetise the broad appeal of the game.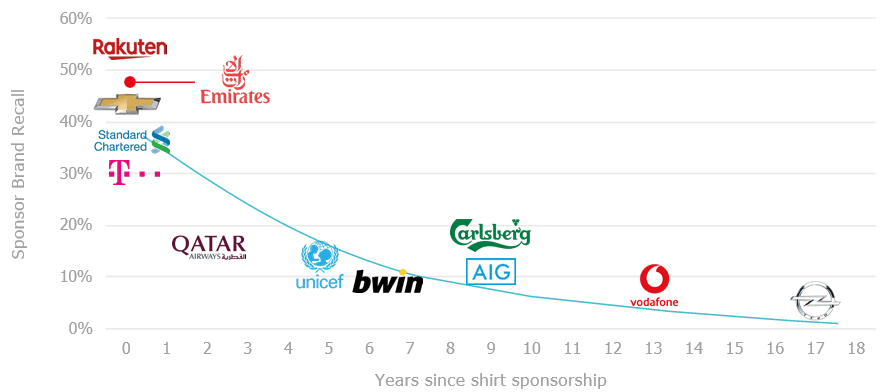 While some sceptics might argue that football is a bubble waiting to burst, there is no apparent sign of cooling of commercial and consumer appetite. If there is a word of caution, it should be that the global economy, a decade after the financial crisis, by historical standards is due for a downturn. With football increasingly reliant on income streams that are predominantly the output of discretionary spending, the effect of another downturn cannot be underestimated.
Sponsorship is no different from any other form of marketing expenditure - it requires clear and concise evaluation against its aims to justify its existence. Sponsorship evaluation can be used to assist brand owners either to investigate the use of sponsorship properties as a marketing tool or to assess the current effectiveness of an existing sponsorship programme.
Sponsorship 101:
Sponsorship Valuation: Understanding the True Value of Sponsorship