No corporate growth strategy or vision is created without a significant review of the current business. The review of an organisation's brand architecture, how it is managed and performs will be no exception.
A corporate growth strategy will likely include inorganic investments and new brand partnerships which will require an integration strategy. Current (organic) brands and brand relationships will also have a spotlight turned on them, and their ability to deliver to the evolving business strategy will be tested.
Any changes to a brand portfolio will bring about many logistical challenges, but they will also provide a window of opportunity to start leveraging your brand architecture to maximise growth and trim away latent inefficiencies. A robust brand architecture review will require a strategy that extends beyond basic measures (i.e. an aesthetic review of the logo and visual identity ) if it to be respected (and not unravelled) by the C-suite.
Avoiding the 'Efficiency' Trap
When organisations look to review their brand architecture, a common approach is to focus on energy and effort on 'tidying up brand and logos' at the earliest opportunity.
The process will often begin with a brand identity audit, then a search for synergies to see how the brands fit together as a family (or don't). This is then mapped onto customer journeys, and finally, certain brands will be chosen to be rebadged.
Decisions to back a certain strategy over another may be backed by market research, but more often they are acted out on impulse or precedent. There may be some light strategic analysis to support decision making but the exercise is typically logo and brand identity focused.
There will be internal stakeholders who will back the simple solution, for a good reason: it is quick and cheap. This is a tempting but risky perspective. M&A deals teams may be more focused on operational efficiencies post-acquisition, rather than the long term health of a brand portfolio.
Immediate rebadging without consideration for strategic migrations, or status quo placements of brands, can give rise to the customer, brand, and business performance risk. The counter-intuitive effect of this mindset is that rushing this process may undo business strategy and value-generating objectives.
How to Choose a Brand Architecture Strategy to Suit Your Business
Often companies will have a pre-existing brand portfolio strategy. The five most common strategies used by organisations are:
'Masterbrand' (trademark + descriptor)
'Sub-Brand' (trademark + trademark)
'Endorser Brand' (trademark by trademark)
Freestanding Brands, (trademark)
Hybrid Brand (mixed architectures).
---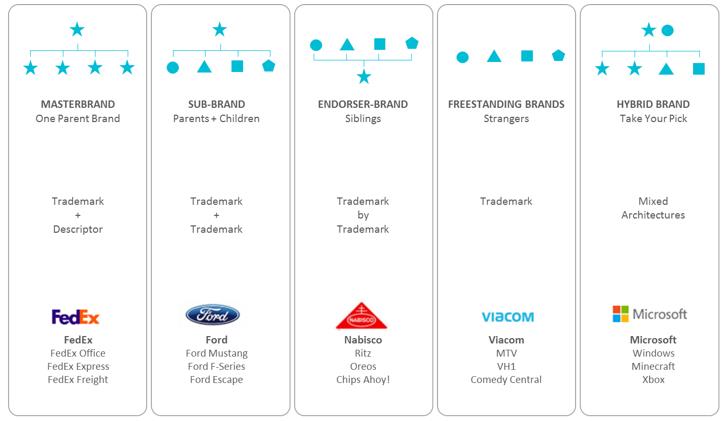 ---
It's likely that companies with large brand portfolios and/or active inorganic growth strategies will have a 'Hybrid Brand' strategy in place. And this makes sense. For a group with a portfolio of unique and strong IP, there can not be a one size fits all approach.
It is easy to understand the urge to simplify and seek out synergies where they lie between brands in your portfolio. It would be a lot cheaper and easier to promote 3 brands instead of 300. However, this kind of tactic overlooks hard-earned brand equity and can lead to the avoidable losses of hundreds of millions of dollars in brand and customer value.
The approach of finding quick logo synergy to visually exemplify the brand relationships across a group is common - even though we know brands (and how they deliver value to an organisation) are so much more than 'just a logo'.
Yet, when many businesses consider brand architecture, logos seem to become a proxy for delivering desired organisational synergy and the main route for perceived value generation (regardless of the realities).
In our post on Brand Transitions, we go into more detail on the risks at play when implementing your brand architecture strategy.
Should I Use a Masterbrand Brand Architecture Strategy?
A one size fits all approach to your brand architecture strategy may either be a recipe for value, or competitive dilution. The simplicity of using a Masterbrand strategy is very alluring to business leaders, but it is another common trap.
This is particularly relevant where a Masterbrand strategy needs to be executed across home markets (typically established or incumbent Masterbrand) AND growth markets (typically challenger Masterbrand activated through M&A programs).
Flexibility in the delivery of the strategy needs to be considered to recognise equity and value held by acquired or partner brands. Otherwise, you are opening yourself up to the risk of untimely retirements and a hit to your bottom line.
In this case, a best practice approach to architecture management will consider a 'Two-Speed Activation' plan:
Fast: A more aggressive approach to Masterbrand adoption and dominance can be applied assuming the parent brand holds dominant strength in organic and inorganic brand relationships - likely the case in home markets. This can quickly deliver to the target monolithic strategy and begin to build consolidated brand value.
Gradual: In growth markets where the Masterbrand is likely to be less mature, careful assessment of local brand relationships and the role played by the Masterbrand in these relationships is recommended
Of course in some instances, a strong brand (in penetrated markets to date) won't require a slow placed transition as it moves into growth geographies through M&A activity.
For example, Vodafone as it embarked on its global expansion strategy, realised that in many markets the Masterbrand was considered superior to the local acquired brands – on network coverage, reliability and other choice drivers – despite not yet being present in the market. In these markets, there was a swift opportunity for Masterbrand value uplift made possible through the immediate retirement of acquired brands.
Not Just a Logo
The exercises of logo and brand identity review have its place as a strategic focus but it can blur the true value of a complete brand architecture strategy. Sure, logos and identity are part of a brand's toolkit, but really they are just one of a number of strategy activators.
As symbols, they may convey a sense of ownership or belonging, but in the same way that merchandise can indicate fandom, this sense can be active or passive. Logo and visual connectivity are important to brands, but of course, they're not the totality of the brand or the sole source of value.
When presented with the logo and identity review marketing and business leaders would be well advised to pressure test with a wider brand and business value led discussion. The following questions should be answered before any moves are made:
Can logo and visual identity alignment really deliver business connectivity and value-generating experiences for customers? Are these experiences that build demand, NPS, and revenues?
Can a tidy up of logos really breakdown internal silos (that are often inherited through mergers and acquisitions)?
Does cleaning house deliver improved business integration and strategic coherence, and add a competitive advantage through seamless customer experience?
Can a review of logos and identity alone reveal the business value opportunities (and value at risk) in an organisation's brand architecture – current or proposed?
Most importantly, can a review of logos and brand identity really asses and set a strategic course for building branded business value for an organisation?
A common scenario for businesses is that this level of discussion is often sidetracked by politics, ingrained brand loyalty, or even just gut feeling alone. It's easy to be biassed towards a brand that you have been building for years, especially if it's on the chopping block.
Our suggestion is to resist oversimplifying the issue to logos and identity, and instead, position this train of thought as an enabler of strategy and a more comprehensive strategic assessment.
To help achieve this, businesses should first consider a more complete definition for brand architecture strategy and to establish their ambition and approach accordingly:
'The organisation and structure of a company's brand relationships that define and order the roles and relationships that connect them to both organisational values, business strategy and the generation of brand and business value.'

Brand Architecture Definition
With this definition in mind, the focus becomes less about tidying up, integrating logos, and identity, and more about looking at the strengths, weaknesses, and value of the brand relationships within a portfolio.
Breaking Down Brand Architecture
Once you start to zoom out it becomes easier to understand the flow of equity and value between the assets in your portfolio and how they deliver (or not) to the overall business strategy. A review of logos, visual identity, and customer journey change-out may come, but it's certainly not the starting point.
We call this a 'Branded Business Value' approach to Brand Architecture strategy. The approach offers a comprehensive range of qualitative and quantitative analysis to inform strategy and decision making (not limited to the exercise of Brand Valuation alone).
We underpin the process with 'Brand Research + Brand Valuation + Brand Strategy' capability, the components of which can be individually applied or integrated to meet the needs of a business across a range of brand architecture scenarios.
Brand Valuation; Brand Contribution to business; Brand Stretch testing; Migration Planning and Optimization; Brand Proposition Testing; Maximising the value of Trademarks and Licensing; Quantitative strategic planning are some examples.
In our experience, there are some stand out stages and conditions in an organisation's lifecycle, or during design and delivery of strategy, where a Branded Business Value approach should be considered for maximum impact (and where logo and identity synergy alone will likely fall short).
Establishing a futureproofed brand architecture strategy, rooted in hard data, and focused on the macro health and performance of the business is a complex task. In our guide on brand architecture, we will be unpacking why this is the case, and how to start making changes that optimise on the value built into your portfolio.
Brand Architecture Strategy in Practice
We have worked with a number of global and regional businesses who both executed aggressive M&A growth programs or market defensive strategies and saw a need to review and optimize their brand architectures and business ROI.
We work closely with these organisations to help define the risk/reward to business value across a range of portfolio adjustment scenarios. In a number of cases this analysis (incorporating positive brand cost-benefit and customer demand analysis) has recommended immediate and significant consolidation of architecture.
While in some cases churn, reputation and revenue risks have been identified under such a wholesale approach, resulting in the recommendation for more gradual migrations and/or retention of other brands within a hybrid portfolio.
However you slice it, a fully fleshed out brand architecture strategy warrants a place as part of any corporate business strategy/vision. But it goes beyond just a logo tidy up, or setting up a one-time strategy, and hoping that it is futureproofed for all M&A scenarios. A brand portfolio needs tending, and certain brands abilities to drive value back to the business will likely change with time.
Brand Architecture 101:
10 Tips to Inform a Successful Brand Architecture Strategy
Brand Architecture Case Studies: Telstra, Virgin, and Vodafone